OnePlus has released the Nord Buds 2 their budget truly wireless earbuds alongside the latest OnePlus Nord CE 3 Lite 5G smartphone. It's the third TWS earbuds from OnePlus under the Nord lineup, after Nord Buds and Nord Buds CE. The brand has made some upgrades and added some new features like Active Noise Cancellation and better audio drivers. The Nord Buds 2 comes with a slightly updated design to improve the looks and the useability of the earphones.
OnePlus Nord Buds 2 Review
OnePlus Nord Buds 2 retails for INR 2,999 ($59) and comes in two color options: Lightening White and Thunder Grey. We got the thunder grey for this review.
OnePlus Nord Buds 2: Unboxing
Before getting to the review, let's see what else we get in the package.
OnePlus Nord Buds 2
Two pairs of extra tips
Type-C cable for charging
User Manual
OnePlus Nord Buds 2: Design and Comfort
The OnePlus Nord Buds 2 carries on a similar design and form factor to its predecessor with a slightly redesigned case. OnePlus has trimmed down the sharp edges of the case and made it slightly compact. This helps the case to easily slide down the pockets, it is still not perfect though. The case opens like a clamshell, without any slit or notch between the lids and the base, this makes it hard to open the case with one hand. I hope OnePlus will address this and fix it for their next version of Nord Buds.
The whole case is made of polycarbonate and has a very unique finish on it. Instead of making the whole unit looks similar, the lid has a smoother finish than the rest of the case having a glittery finish, which I am not a very big fan of. Even the buds have this same finish on them which in my opinion doesn't look very good. Moving on, we see OnePlus branding on top and some information about the buds at the bottom. Around the back, we see a Type C port for charging and a pairing button that seamlessly blends in with the rest of the body.
The earbuds look similar to the previous generation, with a flat stem design with a similar glittery finish all over the stem. The tips on the buds are angled and the charging points are also located on the buds instead of the stem. Each bud weighs around 4 grams, and the case with both buds placed in weighs 48 grams. The buds are IP55 certified so you don't have to worry about rain or sweat seeping in and damaging your buds.
Comfort and Fit
When it comes to comfort and fit I must say that these buds are good but it needs improvements. They fit perfectly in the ears but because of the unique design, sudden movements will make them fall off. I tried the fit with different ear tips as well but got the same results which mean these buds are not for your daily workouts. Overall the buds are great and you would love them if you like the in-ear design headphones. The design is also unique from traditional TWS earbuds.
OnePlus Nord Buds 2: Features
OnePlus Nord Buds 2 comes with a large 12.4mm driver to provide a louder and crisper sound. The brand has used titanium metal in the drivers to keep the sound stiff and clear. These buds come with Dolby Atmos support to provide a better surround sound experience, for OnePlus phones the Dirac Audio tuner makes the experience even better.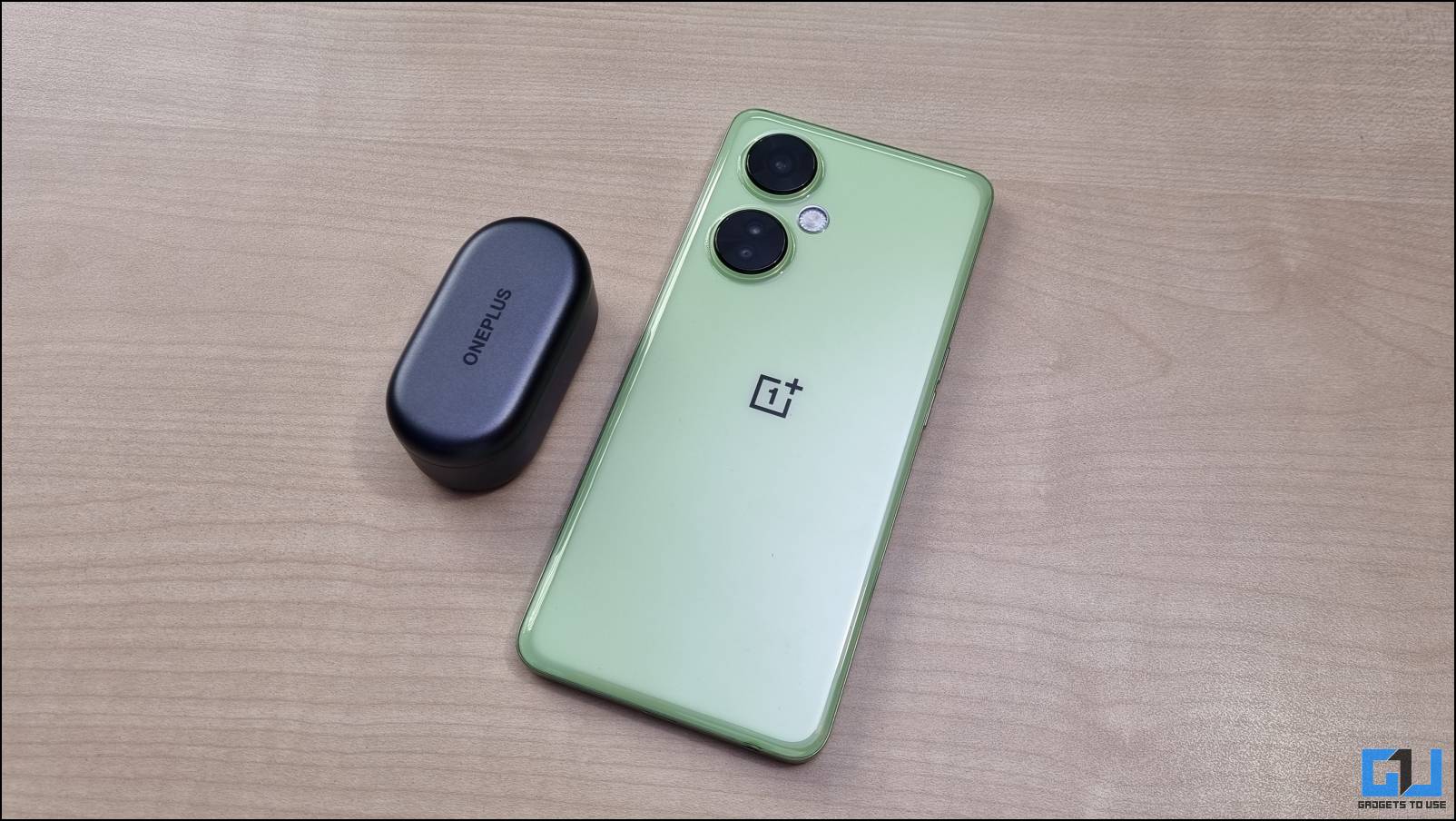 You also get the "Find my buds" feature as well, which lets you find your buds if you lost them around your house. It works with OnePlus smartphones only and I really want OnePlus to bring this "Find Buds" feature to the HeyMelody app as well. These buds can also be used as a shutter button for your smartphone camera. The built-in "Game mode" also lowers the latency in the connection to make the gaming experience better.
OnePlus Nord Buds 2: Sound Quality
Despite being the same 12.4mm size drivers, the Nord Buds 2 sounds way louder than the previous ones. The bass is thumpy and the sound quality is just better in all aspects. I listened to all kinds of music through these earbuds and found that these buds are perfect if you listen to electronic music a lot. The bass is very precise and stiff, there's no wobble to it at all unless the song has it.
The bass is already very powerful and if you want to tweak it, the HeyMelody app comes with a BassWave feature to boost the bass. This result is where the mids start to fade away but it's good that OnePlus is giving you this feature on the buds. Nord Buds 2 is a treat for all of you guys who like to listen to rock, soft rock, or metal, the electric guitar sounds very crisp and clear.
OnePlus Nord Buds 2: ANC
OnePlus blessed the Nord Buds 2 with Active Noise Cancellation which is a big upgrade over last-gen Nord Buds. It comes with noise cancellation with 25dB depth and it also features a Transparency mode. The noise cancellation doesn't work as I expected, while it does remove background noise but it fails at certain places.
Even with the noise cancellation turned on, you can hear a certain noise that sounds like it added a noise-canceling filter on it. I tried it on a busy road, where it canceled most of the sound but I was able to hear loud engines and car horns. Overall the Noise cancellation is mediocre, it is best to use it when you are at your workplace and want to completely turn off ambient noises.
OnePlus Nord Buds 2: Software and Gestures
OnePlus Nord Buds 2 can be connected to OnePlus smartphone seamlessly, and you can access and control all the features of the Buds without any app. In the case of any other Android device, you need to install the HeyMelody app that supports all OnePlus and Oppo earphones. Though some exclusive features can only be found on OnePlus phones, like find my buds.
The buds come with a few touch-sensitive fully customizable gestures from the app and you can set different gestures for each earbud. You can control your music and toggle ANC mode from the app as well. There's an equalizer in the app to fine-tune the sound through the earbuds.
OnePlus Nord Buds 2: Connectivity
The Nord Buds 2 comes with Bluetooth 5.3 and supports the Google Fast Pair feature that lets you quickly connect it to your Android smartphone. The dual-pair mode lets you quickly switch between your paired devices for more convenience. The game mode makes a slight difference, it's good for campaign mode but not for multiplayer fps games like PUBG. The connection distance is also pretty decent, you can walk around your room, and the connection stays strong even through walls which is great.
OnePlus Nord Buds 2: Battery and Charging
The Nord Buds 2 comes with a 480 mAh battery that gives you 7 hours of total usage per session and with the case, it goes to 36 hours. If you use the ANC feature then it will bring down the battery life to 5 hours per session and 27 hours with the case battery. It comes with fast charging as well which gives you 5 hours of usage with just 10 minutes of charging. In our testing, I easily got more than a week of usage which includes 3 to 4 hours of daily usage with ANC off.
OnePlus Nord Buds 2 Pros and Cons
After spending my time with the Nord Buds 2, here are the Pro and Cons to summarise my review:
Pros
Better case design than last gen
Great sound quality
Decent Active Noise Cancellation
Long battery life
Find my Buds feature
Cons
Finishing can be improved
No wear detection
OnePlus exclusive features
OnePlus Nord Buds 2: Final Verdict
OnePlus Nord Buds 2 is going to be the best option for you if you like bass-heavy songs. I found it to be comfortable throughout the usage but the fit is not as secure as it should be. ANC is one of the selling points for these earphones but it may disappoint you. The battery is a solid ten on ten, and if you love your buds to last long then you will love the Nord Buds 2.
You might be interested in:
You can also follow us for instant tech news at Google News or for tips and tricks, smartphones & gadgets reviews, join GadgetsToUse Telegram Group or for the latest review videos subscribe GadgetsToUse YouTube Channel.