The temperature sensor on the Pixel 8 Pro is intriguing to many, including iPhone users. It's not the first time a phone has a temperature sensor, but what's interesting is how effectively Google is marketing its usefulness in daily life. If you, too, want to measure how hot your coffee is, whether the room is aptly cool, or if you have a fever using your iPhone, do not worry. Here's how to measure ambient temperature with an iPhone.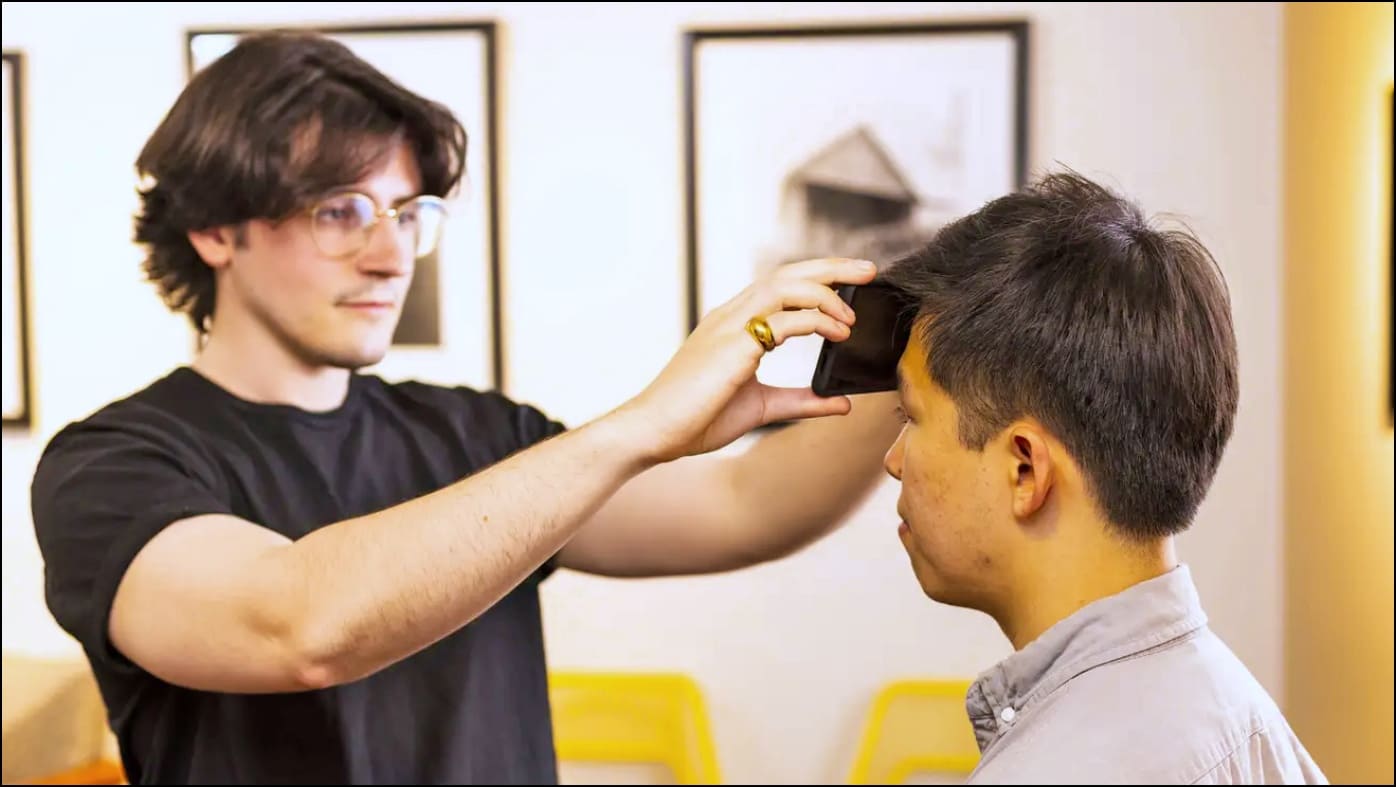 Can Your iPhone Measure Temperature?
iPhones typically have multiple thermosensors or temperature sensors. But like any other smartphone, they monitor the device's internal temperature (components like SoC and battery) to prevent overheating. It also helps avoid damage by shutting down the device in extremely hot or cold temperatures.
Measuring air temperature would require an externally placed sensor. And that, too, would be a tricky job, considering the heat from the phone's processor and battery may influence the readings.
Since there's no built-in protruding thermosensor, you cannot gauge the ambient temperature with an iPhone. But that doesn't make it impossible; you can integrate your iPhone with external sensors that can measure the temperature of skin and objects, which we'll discuss further below.
How to Measure the Temperature With Your iPhone?
While iPhones do not have ambient temperature sensors, you can use wired or wireless thermometers to detect the temperature of your surroundings and show readings via the companion app on your iPhone. Alternatively, you can also purchase a detachable thermal camera accessory.
SensorPush HT1 Wireless Thermometer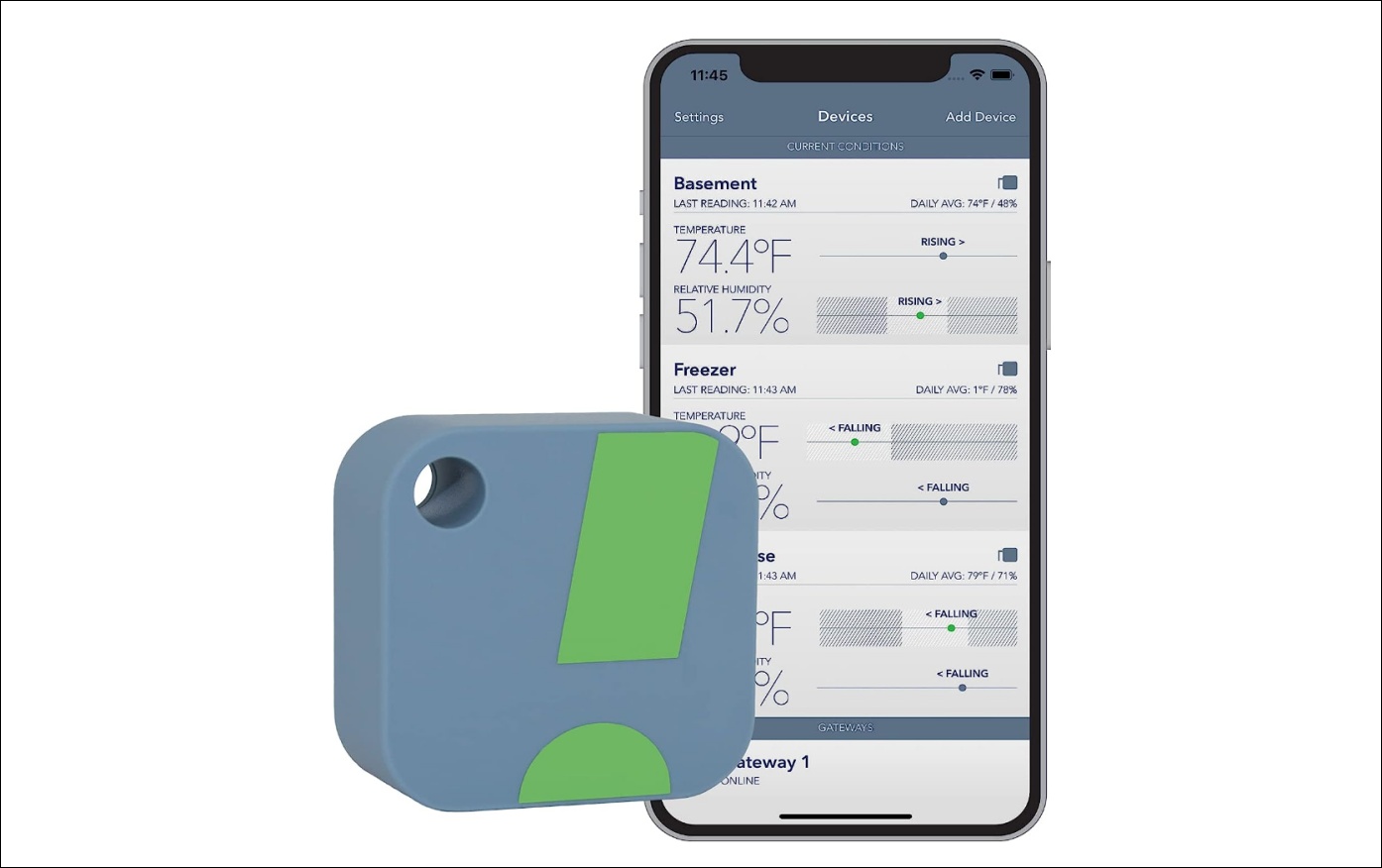 SensorPush wireless thermometer lets you measure room temperature and humidity on your iPhone over Bluetooth. It can measure temperatures from -40°C to 60°C (-40°F to 140°F) with an accuracy of  ±0.3°C / 0.5°F.
The sensor is small and can be carried anywhere. You can also mount one or multiple across your home, safes, or garage. It uses a user-replaceable cell with a long battery life of over a year.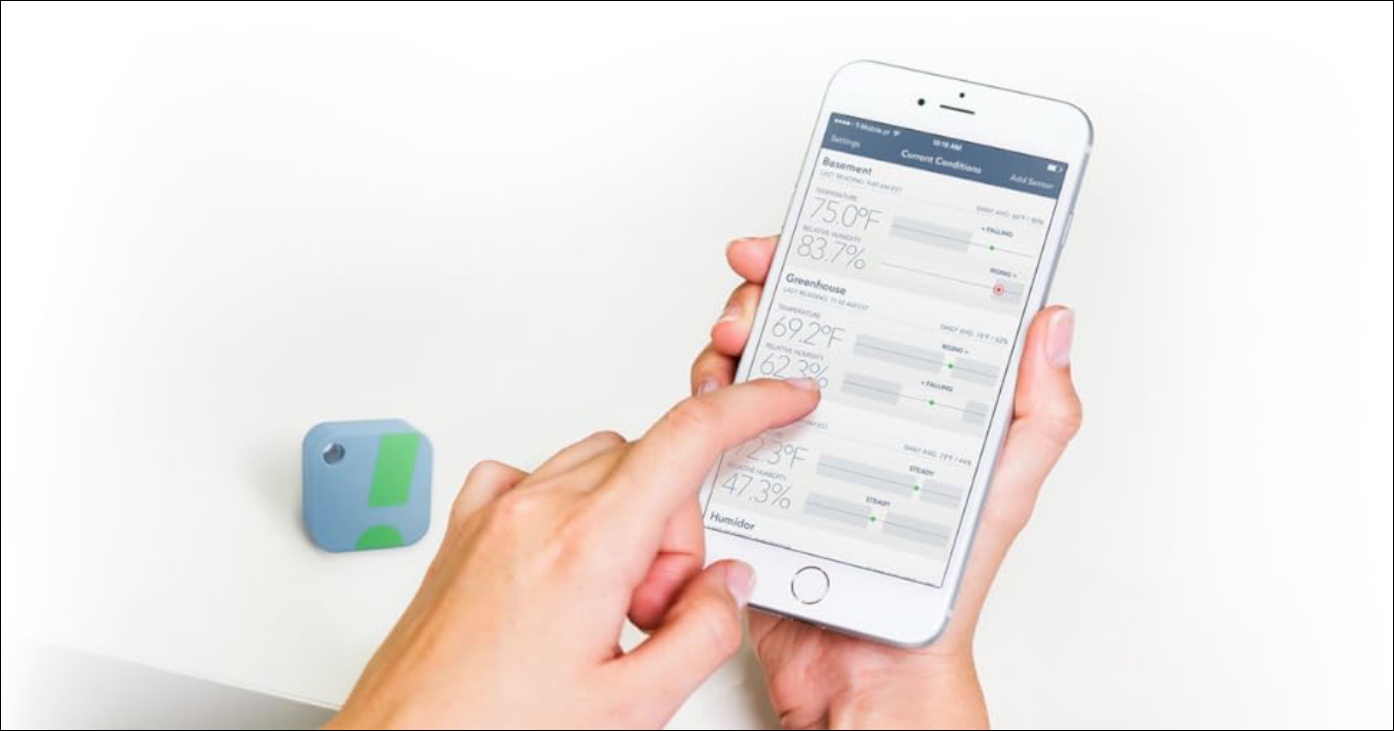 Once connected, you can see the current temperature, humidity levels, and historical graphing with 20 days of storage on the sensor and unlimited in-app storage. You can also export the data to CSV for analysis and calibration.
The sensor can be connected to the internet for alerts and integration with Alexa. However, it requires the SensorPush G1 WiFi Gateway, which is sold separately.
Check on Amazon: SensorPush HT1
InkBird WiFi Thermometer Hygrometer
Inkbird WiFi thermometer is a similar device but can connect directly to a 2.4GHz WiFi network without requiring an additional gateway. This means you can monitor temperature data on your iPhone over the internet from nearly anywhere.
It can measure temperatures ranging from -20℃ to 60℃ (-4℉~140℉) with a detection accuracy of ±0.3℃/±0.5℉. You can also calibrate the sensor from the InkBird app.
It supports temperature alarm notifications, low battery reminders, and data export. The sensor runs on three AAA batteries. And thanks to its tiny size, it can fit in potted plants, baby rooms, wine cellars, and other environments.
Check on Amazon: InkBird Wifi Thermometer
FLIR One Gen 3 Thermal Camera for iPhone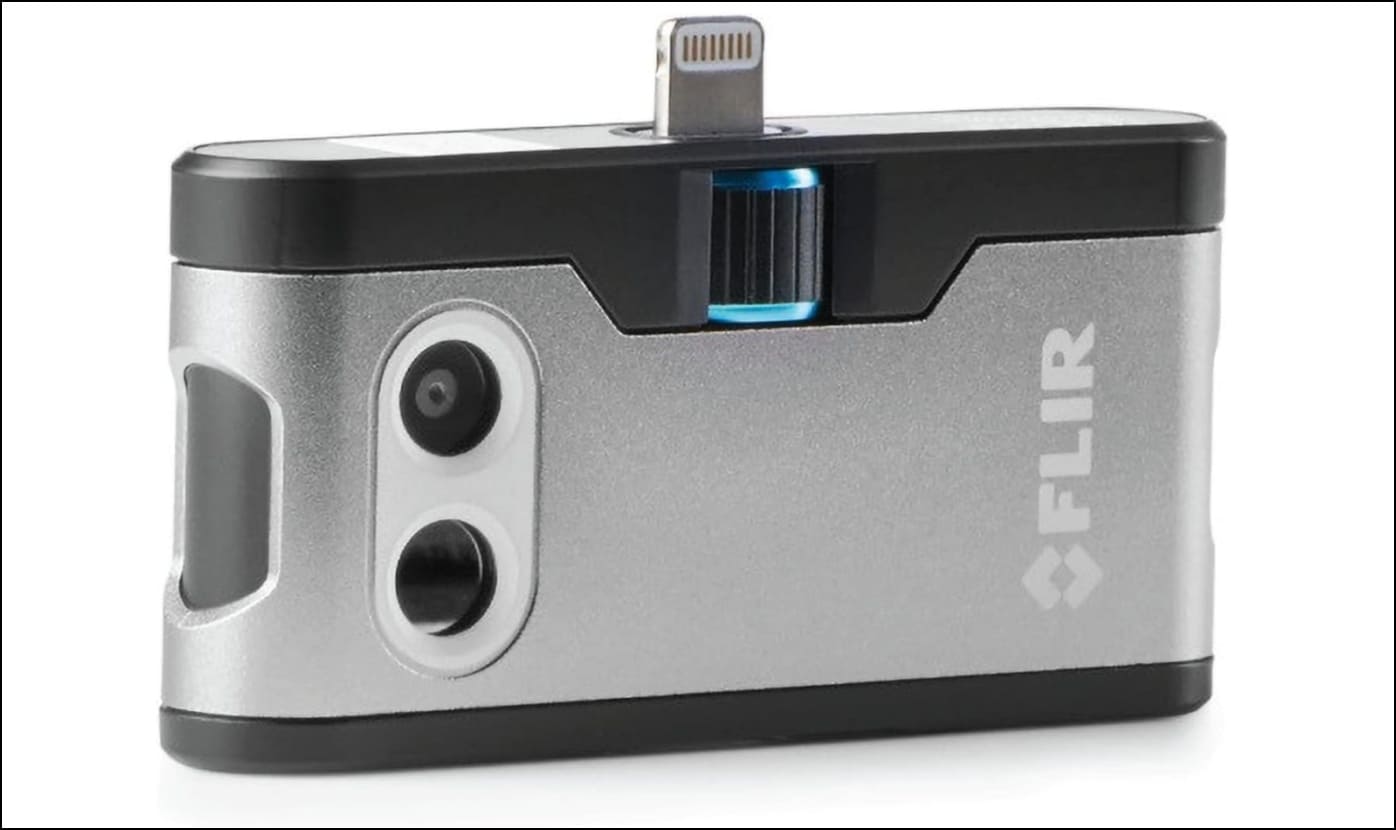 FLIR One is a lightweight accessory that transforms your iPhone into an infrared thermal camera. All you have to do is plug it into the iPhone's lightning port, install the Flir One mobile app, connect the accessory, and boom. It will show you thermal images with the real-time temperature of objects around you.
The camera can measure temperatures ranging from -20 °C  to 120 °C. You can accurately measure the object's temperature and also find which part is the hottest. The best part is that it can be used for other tasks like finding your pet or knowing where's all the heat coming from.
It costs upwards of $200 and is not cheap by any means. So, if all you want is to get your skin temperature or know if your coffee is hot enough, a regular thermometer will be more than sufficient. But if you ever want to have fun around your household, you know what to buy.
Check on Amazon: FLIR One Thermal Camera
MindField eSense Temperature

MindField eSense is a small sensor that measures your skin temperature with the audio jack on an iPhone or Android phone. It supports all iPhones running iOS 15 and newer (6s and onwards), and for models that do not have an audio jack port, you can use Apple USB-C or Lightning to 3.5 mm adapter.
After you buy the eSense temperature sensor, download the companion app from the App Store. Connect the sensor to your phone and wrap the velcro electrodes around your index and middle fingers. Start measurement and wait for a few minutes to measure skin temperature.
The app will show your current temperature and whether your body is relaxed or stressed. eSense is currently available for € 149,00 ($156) online. You can find similar other products on Amazon, eBay, and other retailers online.
Check Out: Mindfield eSense Thermometer
Measure Temperature Shifts in Your Body Using Apple Watch
If you have an iPhone and want to monitor shifts in your body temperature (and not the actual temperature), an Apple Watch can be useful.
The Apple Watch Series 8, Series 9, and Ultra have two temperature sensors – one on the rear case near your skin and another under the display. The two sensors work together to reduce the outside environment's influence, which sounds quite effective since Apple claims an accuracy of 0.1°C.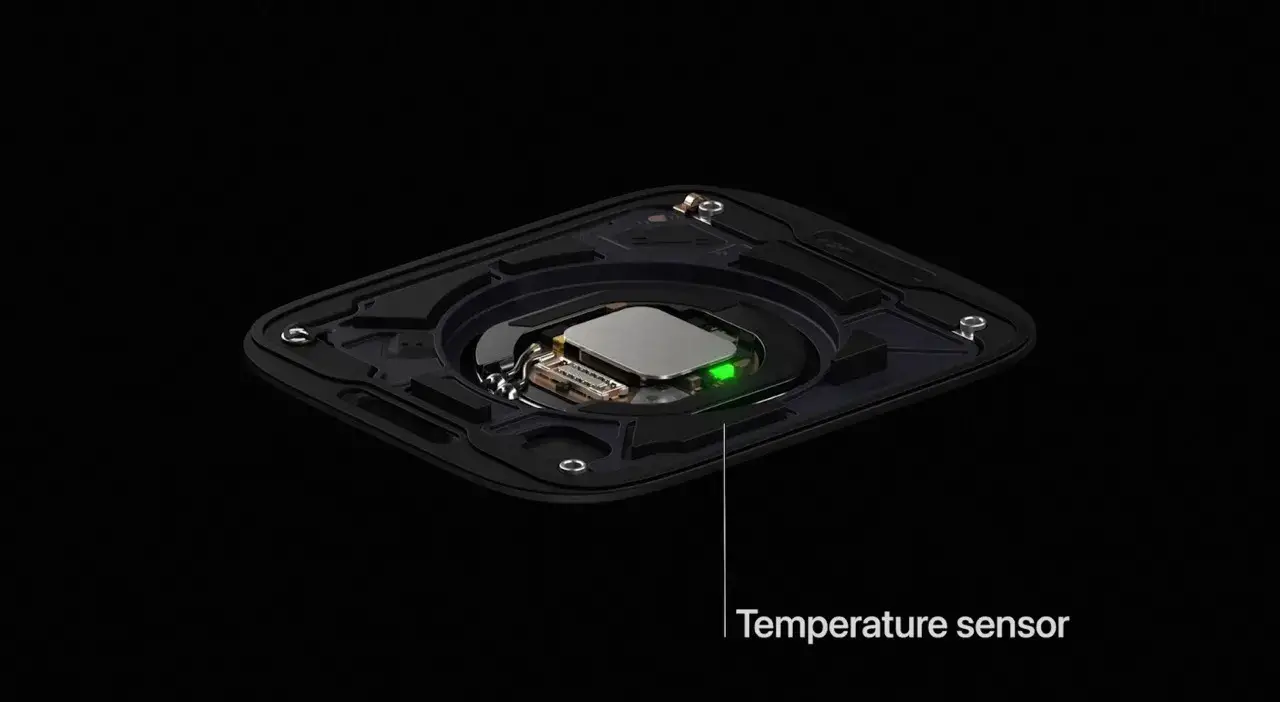 No, Apple doesn't directly show you the skin temperature. Instead, it measures your temperature throughout the night while you're asleep. And once you've worn it for five days, your Apple Watch will start showing the nightly shifts in your baseline temperature.
The shifts can be caused by jet lag, alcohol consumption, illness, or ovulation. Body temperature (that occurs in response to changing hormones) can also indicate ovulation, which is why the feature helps females who want to keep track of their cyclical patterns.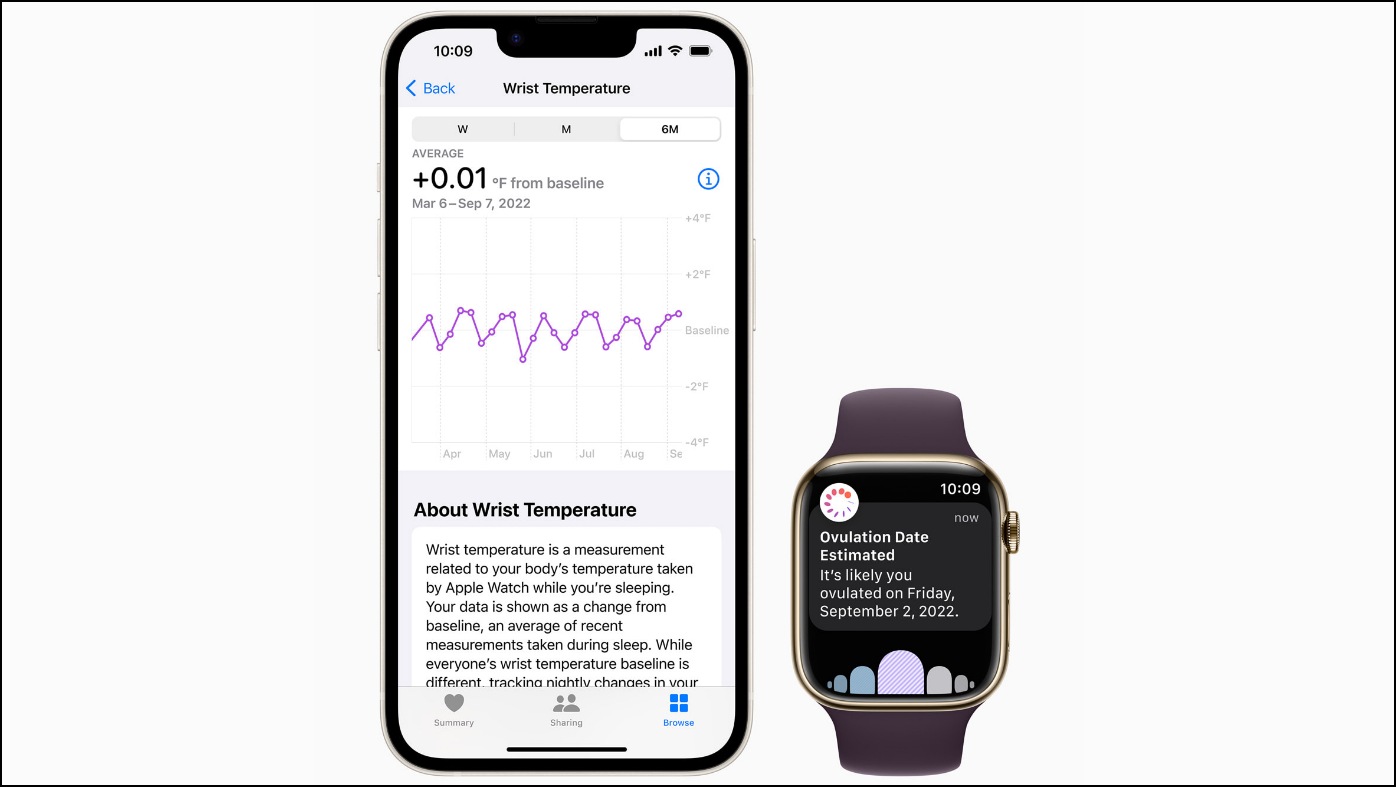 Apple Watch will notify you of any such indications. You can also see your weekly, monthly, and half-yearly baseline temperature graph in the Apple Health app.
To use it, you must have the required Apple Watch model and sleep schedules set up with "Track Sleep with Apple Watch" enabled. Again, note that it is not a thermometer and cannot provide wrist temperature measurements on demand.
Do Not Trust Thermometer Apps!
The App Store is full of thermometer apps, typically of two types- ones that claim to measure the temperature and others that gauge temperature using supported thermometers. Be wary of the first kind; any app cannot tell you your temperature until it connects to a supported thermometer to pull data from.
Most will not only deceive you into believing this can be done without the required hardware but also annoy you with pesky ads on board. So, in short, do not trust thermometer apps.
Smartphones with Temperature Sensors Exist!
Yes, smartphones with temperature sensors do exist, with the first released a decade ago. We're talking about the Samsung Galaxy S4 from 2013, which had a built-in thermometer and hygrometer sensor. It could measure ambient temperature and humidity through a small hole at the base.
Samsung had also developed an algorithm to prevent the battery and chipset heat from affecting the readings. It had an accuracy of 1°C, but you did have to leave the phone idle for a minute or so.
Then came the Samsung Galaxy Note 3 with the same set of sensors. Since then, other phones like Honor Play 4 Pro and Dogee S86 Pro have been released with external temperature sensors during and after the pandemic.
The whole thing has been brought back to the mainstream with the newly unveiled Pixel 8 Pro. And it will be interesting to see if Google continues to offer it in future models and if other brands take inspiration.
Wrapping Up
While iPhones don't have built-in thermosensors to measure temperature, you can use connected thermometers or plug-and-play thermal camera accessories to know how hot or cold your surroundings are. Anyway, do you think Apple will eventually knit a temperature sensor into its iPhones? Let us know via comments.
You might be interested in:
You can also follow us for instant tech news at Google News or for tips and tricks, smartphones & gadgets reviews, join GadgetsToUse Telegram Group or for the latest review videos subscribe GadgetsToUse YouTube Channel.