Google Maps is a no-brainer to know the best route and traffic details to any destination.  But it does not tell you how many traffic or speed cameras you will pass through en route to the destination. Today, we'll discuss a few tricks to find the perfect route to your destination on Google Maps without speed or traffic cameras. This will ensure you reach your destination faster without worrying about getting a ticket.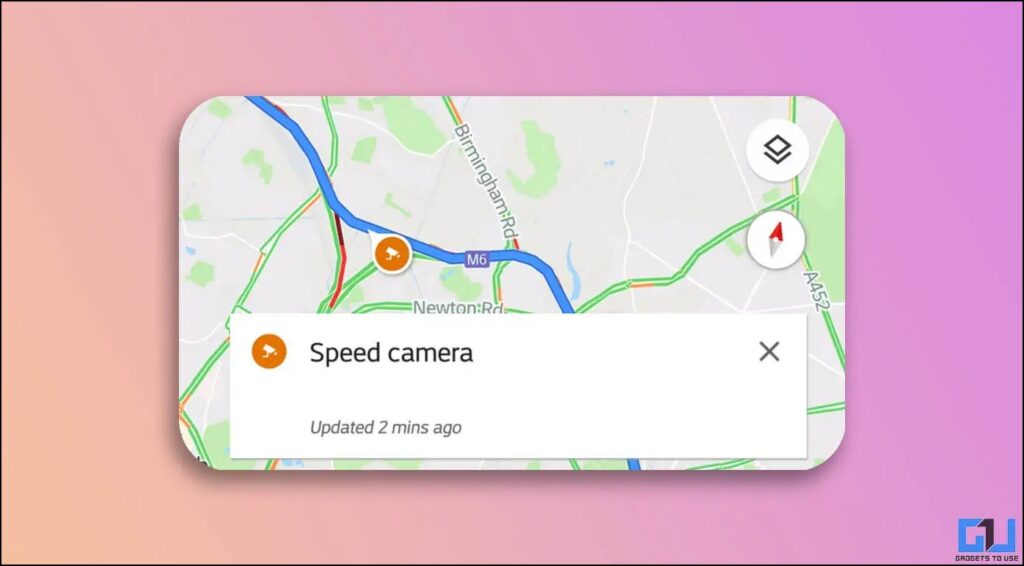 How to Find a Route With No Traffic or Speed Cameras?
We found a couple of methods to find the perfect route, avoiding any traffic or speed cameras on that route. You can use these methods to avoid speed tickets by palling a route and avoiding the traffic cameras.
Method 1 – Use Google Maps (Not for India)
One of the easiest ways to find the route to your destination, avoiding all speed cameras, is to use Google Maps. Google Maps allows users to mark or report a new speed camera. Here's how to find a route without any speed camera.
1. Launch Google Maps on your phone and enter the source and destination address as follows.
2. Tap the Directions button to see a preview of the map.
This preview will show all the reported speed cameras between the source and the destination.
Method 2 – Avoid Traffic or Speed Cameras Using Google Bard
Bard is Google's homegrown AI chatbot available to the public. Mr. Abhishek Bhatnagar (Founder of GadgetsToUse), shared a post where he used Bard to find a perfect route on the map with no traffic or speed cameras. Here's how you can do it yourself using Google Bard AI chatbot.
I just found out a google map route using bard which does not have traffic or speed cameras on the route. Something which you can't do with google maps app 😀 pic.twitter.com/yEFvmH7EOl

— Abhishek Bhatnagar (@abhishek) September 19, 2023
1. Open a browser and navigate to the Google Bard website.
2. Sign in to your Google account.
3. Enter a prompt asking about a route between the source and destination without traffic cameras, as follows:
Tell me a route on Google Maps from (source) to (destination) avoiding speed cameras.
4. It will give you a response with a route on the map. You can click on the map to open the route in the Google Maps.
This will be helpful for you if you want to reach somewhere quickly while avoiding traffic cameras. You can change the source and destination accordingly.
Method 3 – Avoid Traffic and Speed Cameras Using Radarbot App
Radarbot app is a community-driven app available for both Android and iOS. This app records all the traffic cameras spotted and fed into it. Here's how to use this app to avoid traffic cameras while on your way.
1. Install the Radarbot app on your smartphone from the Google Play Store or App Store.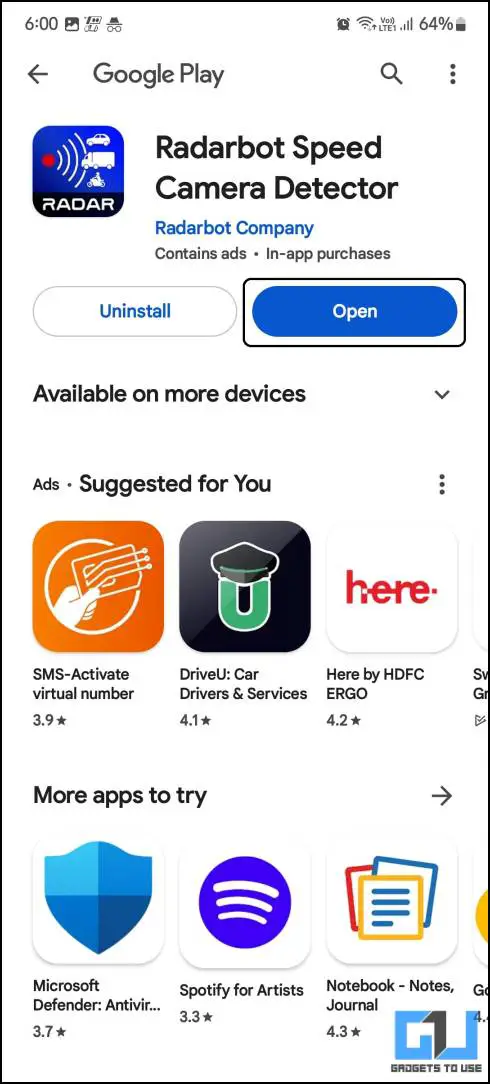 2. Launch the app and sign up using your Google account. Or you can ignore it; the app will work just fine.
3. Enable the phone's GPS, and the app will show you all the traffic cameras around you on the map.
4. Now, minimize the Radarbot app and use the Google Maps app to navigate to your destination.
5. The RadarBot app will notify you whenever you are about to reach a traffic camera.
This app has a built-in navigation feature but is locked behind a paywall. If you want, you can buy a Gold subscription to avoid switching between apps to get notified for traffic cameras.
FAQs
Q. How to Find a Map Route Without Speed or Traffic Cameras?
There are a few methods to find a map route with no speed or Traffic cameras on your smartphone. You can ask Google Bard about this or in install the Radarbot app on your smartphone that warns you about traffic cameras while you are on the move. Check out the detailed step-by-step guide above in this article.
Q. Radarbot App Is Asking Money to Use the Navigation Feature, How to Use It?
You can run and minimize the Radarbot app and use any other app for navigation. Radarbot will remind you about any upcoming speed or traffic cameras. Refer to the detailed steps about it in the guide above.
Q. Does Google Maps Have Speed Camera Detection?
Yes. Google Maps does mark speed cameras en route to your destination. However, this does not work in India; earlier, it was available, but after orders from the authority, the said feature was removed from Google Maps. Users in India can use the above-mentioned tricks to avoid speed cameras.
Wrapping Up
These are the ways to avoid traffic and speed cameras on your route to reach faster without worrying about speed tickets. Make sure to use this trick while keeping your safety in mind. Keep reading GadgetsToUse for more amazing tips and tricks about smartphones and gadgets, and check the ones linked below.
You might be interested in the following:
You can also follow us for instant tech news at Google News or for tips and tricks, smartphones & gadgets reviews, join GadgetsToUse Telegram Group, or for the latest review videos subscribe GadgetsToUse Youtube Channel.