At the Global Fintech Fest 2023, the National Payment Corporation of India (NPCI) launched UPI Lite X as a new, fast, and convenient way to make UPI transactions nationwide. It is built on the same secure and reliable framework as UPI Lite but offers more advanced features like NFC payments in offline mode. In this read, we'll discuss setting up and using UPI Lite X in offline mode to make payments via NFC.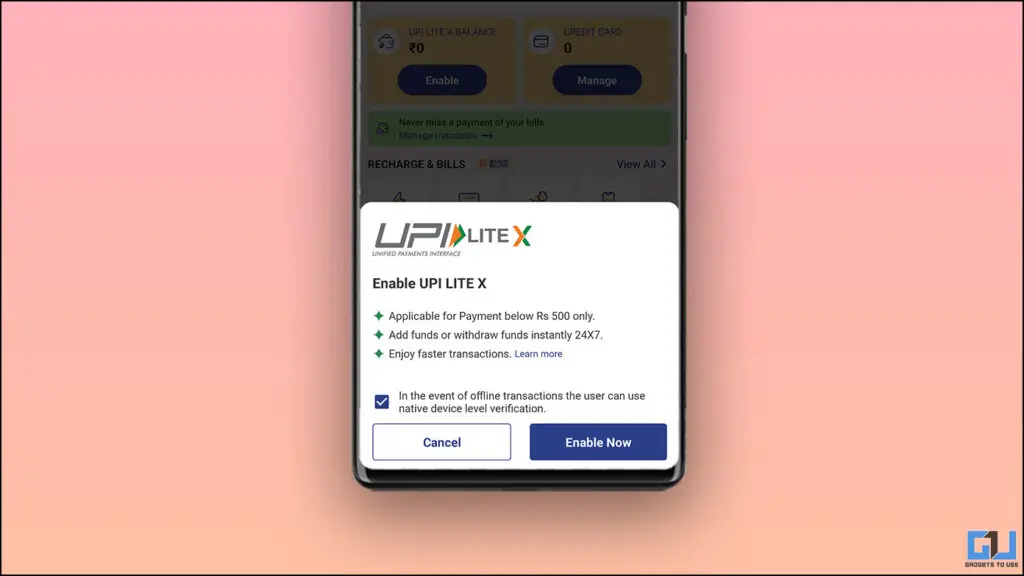 What is UPI Lite X?
UPI Lite X is an on-device wallet, like your UPI Lite or Paytm wallet, from which you can do petty transactions of up to INR 500. However, the added advantage is that the transaction can be done without any internet connection, in offline mode, using NFC.
Steps to Setup and Use UPI Lite X on the BHIM App
Now that we have learned what UPI Lite X is, let's look at how to set it up and use it to make offline payments via NFC. As of now, it is available only in the BHIM app.
1. Launch the BHIM UPI app on your smartphone.
2. Tap the UPI Lite X Balance option from the home screen. (If you don't see it, update the app from the Google Play Store or Apple App Store.)
3. Tap on Enable Now from the pop-up menu.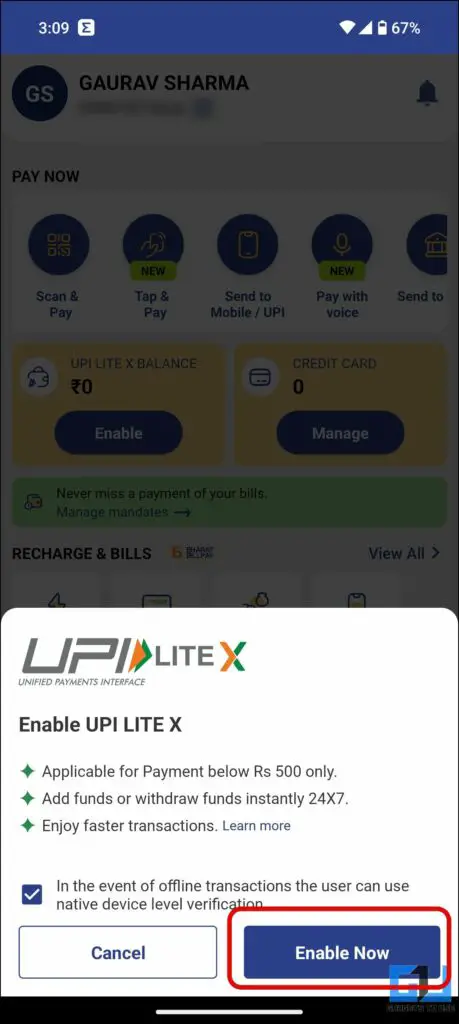 4. You can add up to a maximum of INR 2000 in your UPI Lite X wallet. Tap on Enable UPI Lite X.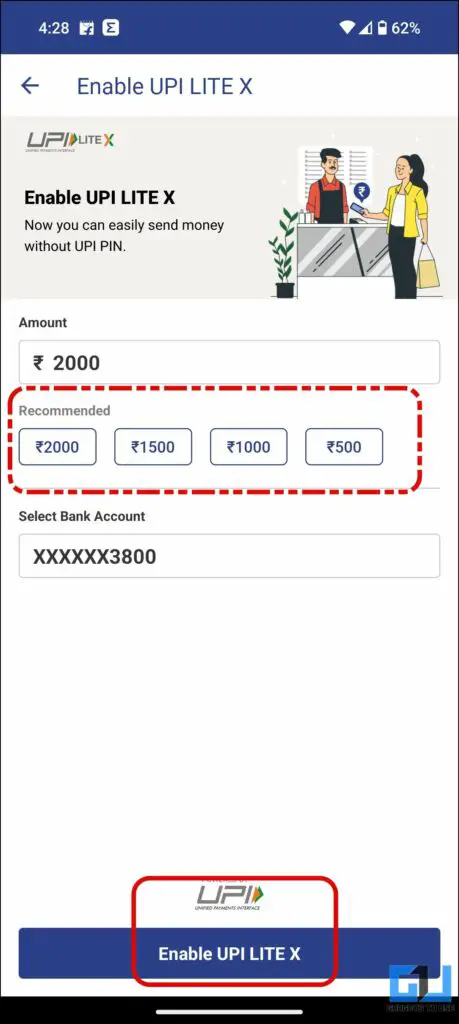 5. Once the amount is added to the UPI Lite X wallet, tap on Go to UPI Lite X.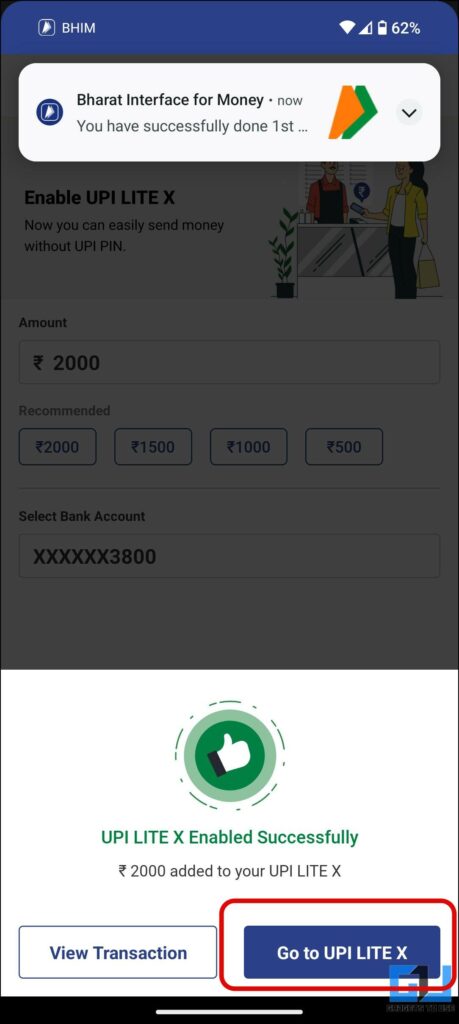 6. To make a payment, tap on Tap & Pay.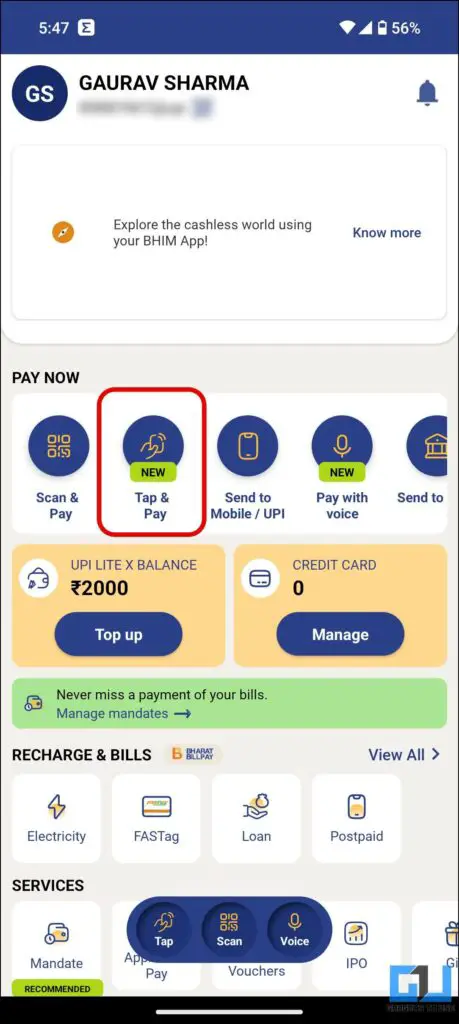 7. Enter the amount, select the UPI Lite X balance from the drop-down menu, and tap Confirm.
You can also add remarks about the transaction for ease of use, and manage your statement.
8. Tap your phone on the PoS machine or any other device that accepts payments via NFC to make the payment. We tested this on phone-to-phone transfers, but the transaction failed due to an internal server error.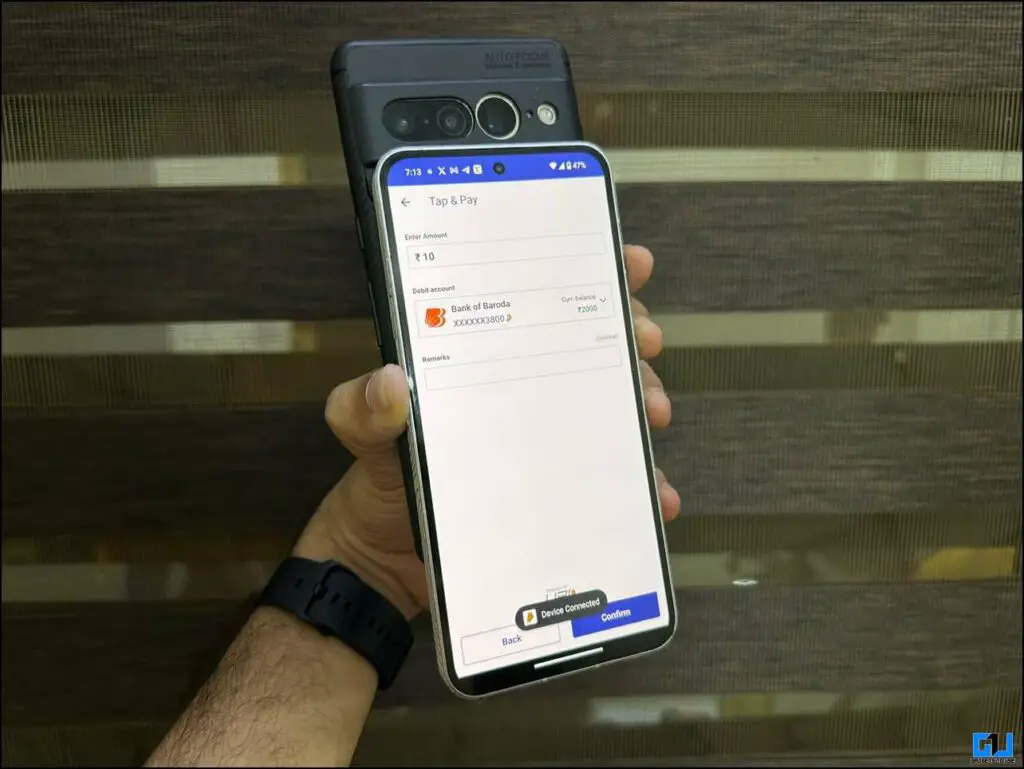 Steps to Close UPI Lite X Wallet
If you have decided to part ways with UPI Lite to switch to a new phone, you don't need to make offline payments as the internet connectivity is good in your area. Here's how to close your UPI Lite X wallet and transfer the money back to your bank account.
1. Tap your name at the top of the BHIM app to access the menu.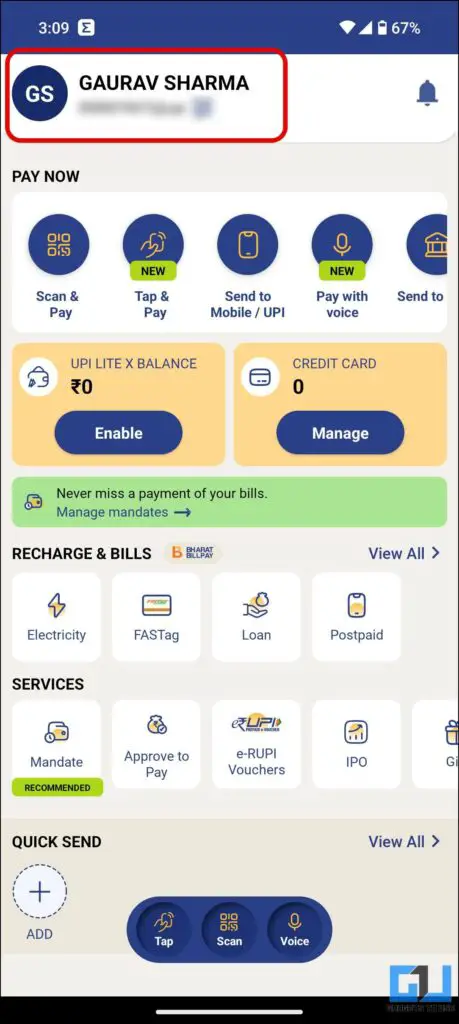 2. From the menu, tap on your bank under the My Linked Bank Accounts section.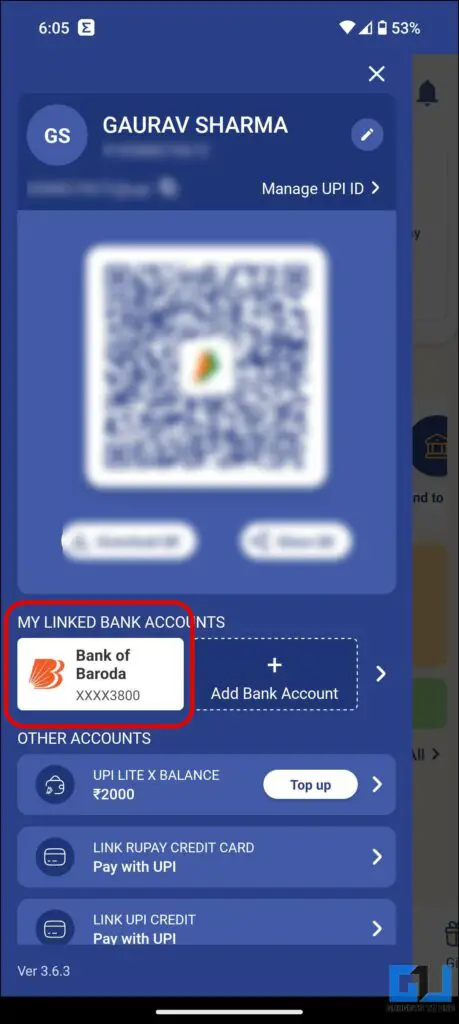 3. Now, tap on the UPI Lite X balance.
4. Tap on Close UPI Lite X Account to transfer your wallet balance to your bank account.
FAQs
Q. Is There Any Transaction Limit for Upi Lite X?
Yes. The per transaction amount of UPI Lite X is capped to a maximum of INR 500, with a daily limit of a maximum of up to INR 4000. A user can hold up to a maximum of INR 2000 in the wallet at any point of the day.
Q. Does Upi Lite X Work Without Nfc?
No. UPI Lite X transactions cannot be made on phones without NFC support. You can use the regular UPI Lite wallet, for phones without the NFC chip.
Q. Which Banks Support UPI Lite X?
Currently, the following 11 Indian banks support UPI Lite X, with more banks to be added shortly.
Canara Bank,
HDFC Bank,
State Bank of India (SBI),
Kotak Mahindra Bank,
Axis Bank,
Punjab National Bank,
Indian Bank,
Union Bank,
Utkarsh Small Finance Bank,
Central Bank of India, and
Paytm Payments Bank.
Wrapping Up
So this is how you can set up and use UPI Lite X on your phone to make offline payments using NFC-compatible phones and other devices. UPI Lite X is available only on the BHIM app, but in the future, we can expect it to arrive on other apps like Paytm, PhonePe, etc.  Stay tuned to GadgetsToUse for more such reads, and check other useful content linked below.
You might be interested in the following:
You can also follow us for instant tech news at Google News or for tips and tricks, smartphones & gadgets reviews, join the GadgetsToUse Telegram Group, or subscribe to the GadgetsToUse Youtube Channel for the latest review videos.