HP Victus series gaming laptops bring powerful hardware to everyone at a budget-friendly price. The HP Victus 16 has powerful hardware packed in a slim form factor. For gaming, it packs RTX 3050 GPU and 16 GB DDR5 memory. It comes in two gorgeous colors, i.e., the Mica Blue and Performance Silver. The price starts from Rs 86,999. Let's see how much value you get for that amount of money in this review of HP Victus 16.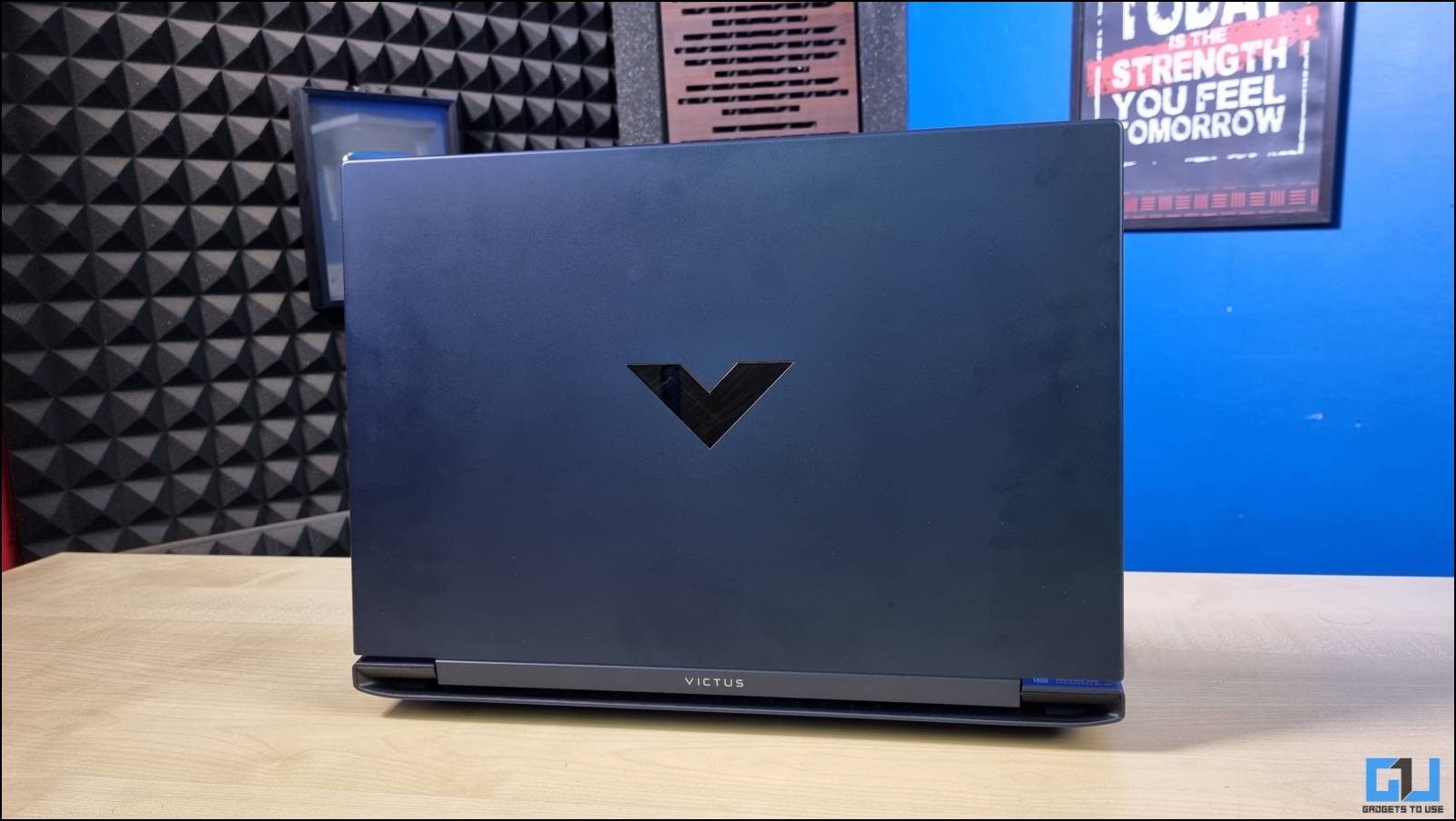 HP Victus 16 Review
The HP Victus 16 brings a wild combination of "Team Red" and "Team Green" together in a single machine. This laptop is meant to cater to students who love gaming but also need horsepower for college projects.
HP Victus 16: Unboxing
We got the HP Victus 16 in Mica Blue, and the packaging is not very exciting. You get the following things in the package:
Victus 16 laptop,
200W charger, and
Quick start guide.
HP also ships a free wireless mouse if you order it from the official online store.
HP Victus 16: Design and Build Quality
The Victus 16 laptop gives off a very elegant look with a matte finish all over. It easily blends in any situation, whether you are gaming or in a class taking your notes. The glossy "V" logo on the lid elevates its elegance to the next level. You can also see the Victus branding and the numeric "16" branding on the hinge part.
The finish picks up the smudges quickly if you have sweaty hands like mine. This same finishing is provided on the deck as well, which gets smudgy, especially after a writing session. This creates a need to keep a cleaning cloth handy all the time. The deck also has a mesh above the keyboard for the fans to pull in the fresh air for better cooling. You can find more Victus and other necessary brandings on the inside as well.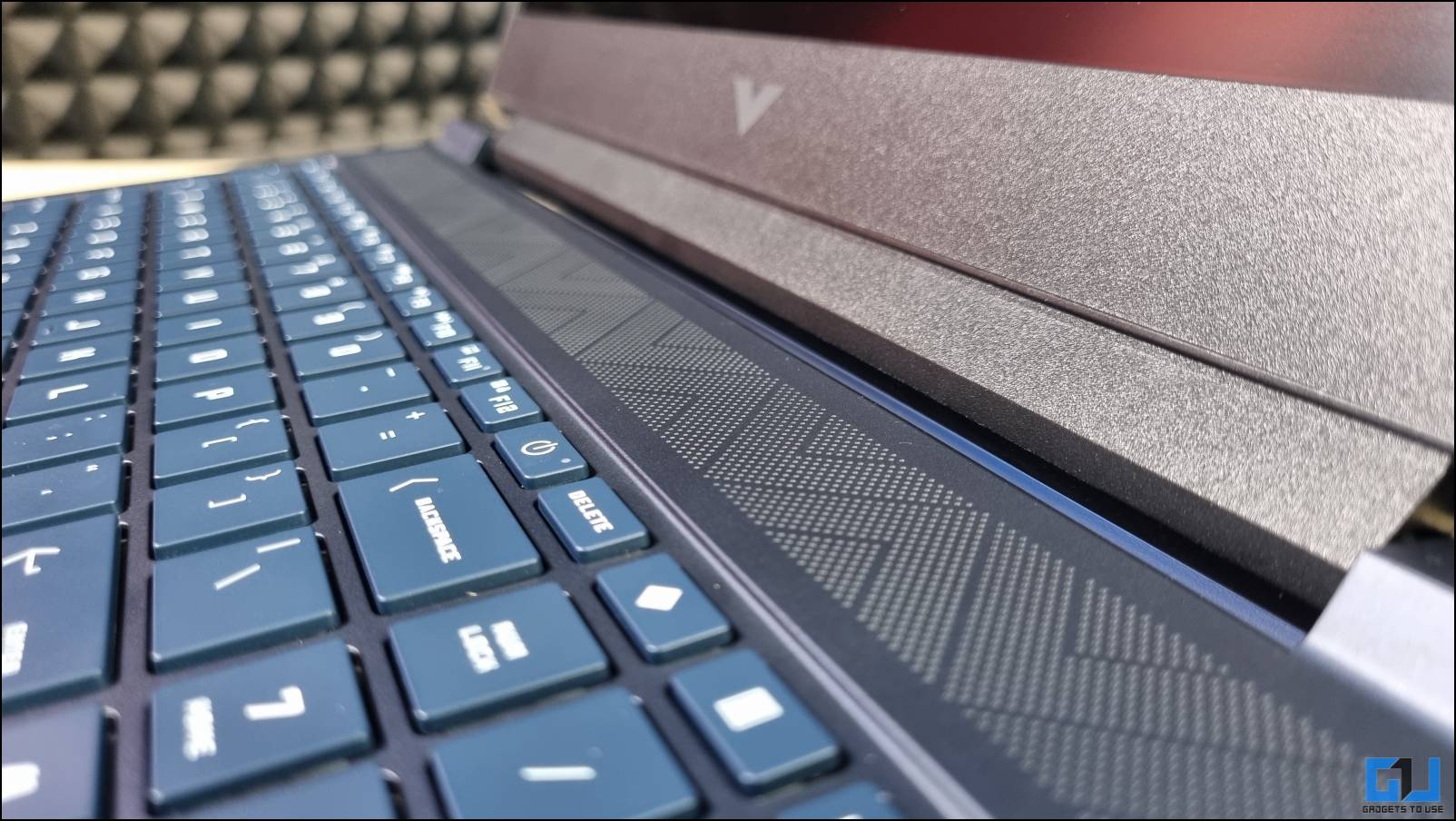 It has a full-size keyboard with a number pad and trackpad, which is also a bit bigger than on most laptops. This deck also carries the same color and finish as the lid. There is a large vent at the bottom of the laptop, and we again see the same color and finish here. Apart from the large vents, there are long rubber feet here as well to keep the laptop steady and to improve air circulation.
Ports and Vents
Since Victus 16 is a powerful gaming laptop, you expect to see air vents on the sides. But surprisingly, HP kept the sides of the laptop only for the ports. The primary and only vent is provided at the rear of the laptop. This vent runs across the laptop's length, and there are no partitions that do not look aesthetically pleasing.
HP provided a sufficient number of ports on the side of the laptop so you can connect all your peripherals to the Victus 16. The left side has an Ethernet port, a USB Type-A port, and a 3.5 mm audio port. The right side is populated with a power port, two USB Type-A ports, an HDMI port, and a USB Type-C port. This Type C port can be used as a video out or to charge other devices at higher wattage.
Even after most of the ports on this laptop, you might miss the SD card slot, which should be. While it may not be a must-have for some, in my opinion, it should be made standard on laptops by now.
Build Quality
HP Victus 16 comes with polycarbonate material all over the device. This includes the top, the deck, and the bottom of the laptop. The quality is not a concern here as it feels solid, like a metal build, thanks to the finish and color that HP chose to use here. The laptop is 23.9 mm thick at the thickest part, which is a bit more than today's standards, but it is still pretty manageable.
This hefty gaming laptop weighs about 2.3 kg, which is fine according to industry standards. There is minimal flex on the deck, and the display barely wobbles when adjusting to an angle. Overall, I loved the design and build of the HP Victus 16 for a gaming laptop.
HP Victus 16: Display
The display you get on HP Victus 16 is a large 16-inch IPS panel with 144Hz refresh rate. With full HD 1080p resolution, you can game at the highest possible frame rate with crisp picture quality. It features a peak brightness of 250 nits, which is a bit lower, but it's fine since you will be using the laptop indoors to play games most of the time.
The display is covered with an anti-glare layer to reduce reflections when using the laptop outdoors. It also uses DC dimming technology so that it won't strain your eyes in low ambient light. This decent display is packaged with the hardware you get on an HP Victus 16 laptop.
I played many games on the HP Victus 16 and streamed a bunch of content on YouTube and streaming services like Netflix, Amazon Prime, and more. The first thing that I noticed is that the brightness is comparatively lower than other laptops I've tested recently with similar display specs.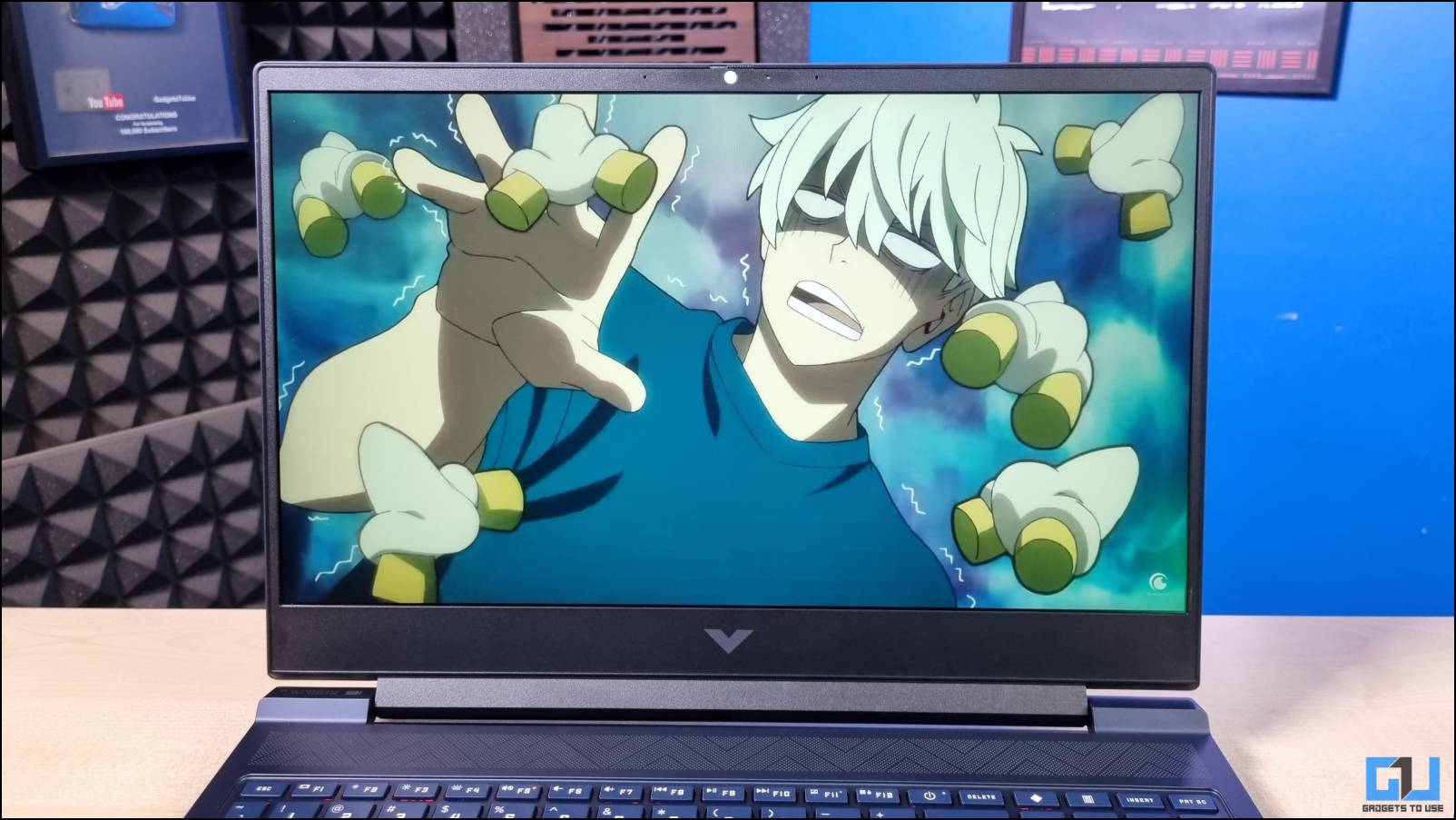 The second thing that I found a bit disappointing is that the color reproduction of this display is a bit underwhelming. Other than that, the display looks fantastic, and it comes with thin bezels around it. The top bezel houses the webcam with a manual shutter for privacy. We will talk about the webcam quality later in this review.
HP Victus 16: Keyboard and Trackpad
The Victus 16 features a full-size keyboard with a number pad and a regular-sized trackpad. I am not a big fan of HP's keyboard and trackpad, and this laptop is no exception. The keyboard is decent enough, but the trackpad is not as responsive as it should be in a laptop at this price.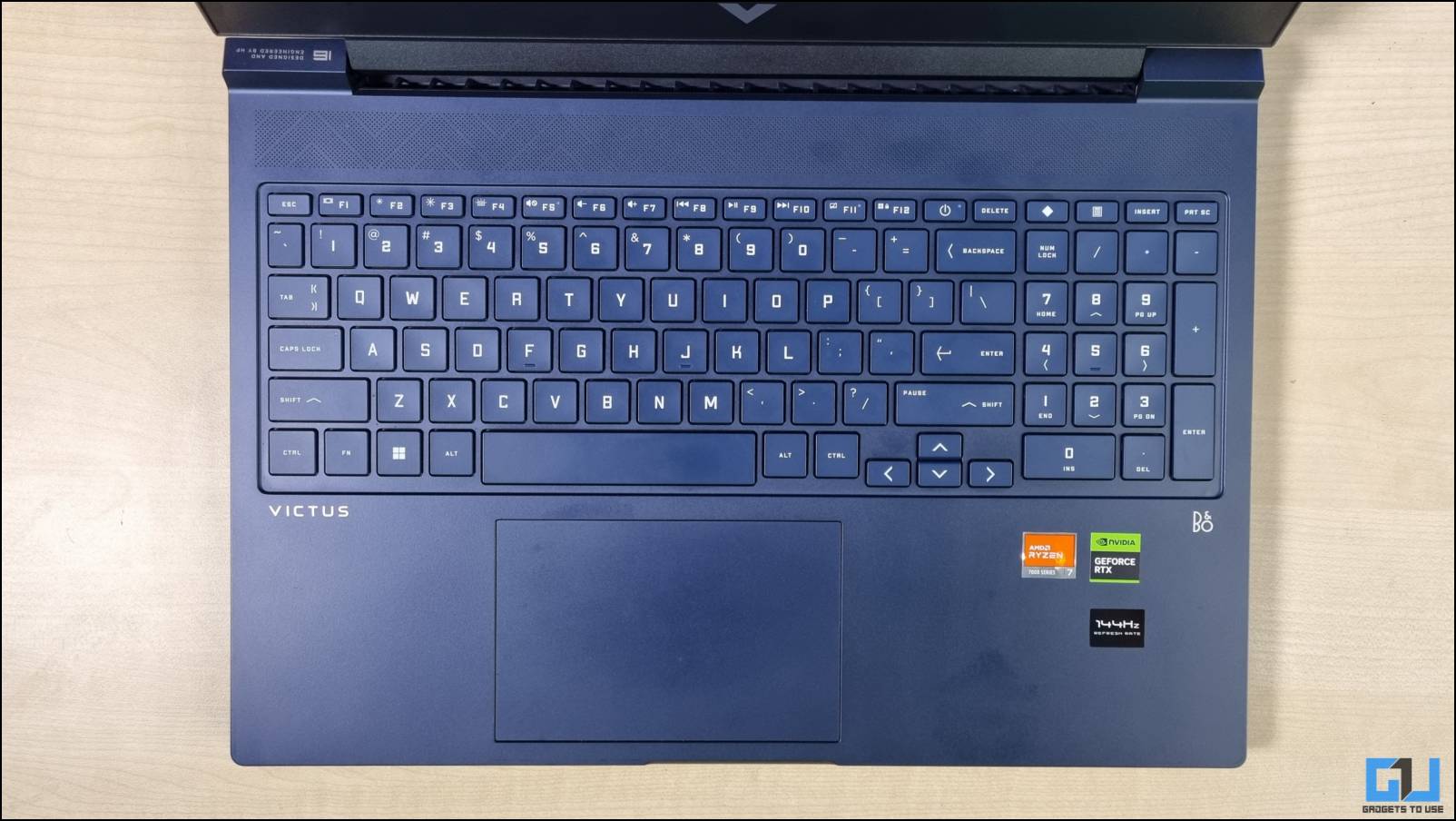 There is a 1-zone RGB lighting on the keyboard with brightness adjustment. The keyboard is decent, but I found the keys to be a bit cramped. Even though my hands are small, it still took me some time to get used to this keyboard layout. Overall, I think HP needs to rethink the keyboards on their laptops completely.
HP Victus 16: Performance
HP Victus 16 is a powerful laptop boasting an AMD Ryzen 7 7840HS processor with 16GB DDR5 RAM and 512GB NVMe storage. For gaming, it features the NVidia RTX 3050 GPU, which is a bit outdated hardware but still powerful enough to run most AAA titles. This combination can easily give you great performance in single-threading and multithreading applications.
The AMD Ryzen 7 7840HS is an 8-core and 16-thread processor with a boost clock of 5.1 GHz. As far as the GPU is concerned, it comes with 6GB GDDR6 video memory to load large maps quickly. I decided to run some synthetic benchmarks before throwing some AAA games to test the gaming performance.
Synthetic Benchmarks
I ran Cinebench R23, Geekbench, and a render test on Blender, and the results came out pretty great. We got 2111 for single-core performance and 10510 for multicore performance, which are great scores. In Cinebench, I got 15545 in multi-core and a 1407 score in the single-core test. While in Blender, it got 1328 points, which is again a good score. These scores are good, but to test the real performance, I ran some games, and here are the results.
Gaming Test
I ran multiple games on the HP Victus 16 and got good average frame rates. One of my favorite online multiplayer games, Apex Legends, ran at a whopping 100 fps on average. The second game that I ran was Star Wars: Jedi Fallen Order, and it averaged around 90 fps throughout the game. I enjoyed gaming with this laptop, but let's talk about the thermals.
HP Victus 16: Thermal Performance
HP Victus 16 has a dual fan design for active cooling and keeping the thermal throttling under control. While HP did a great job keeping the laptop's temperature under control during the gaming session, the fan noise gets bothersome if you are not using headphones. You can customize the fan speed curve, but when in doubt, the Auto mode controls everything efficiently.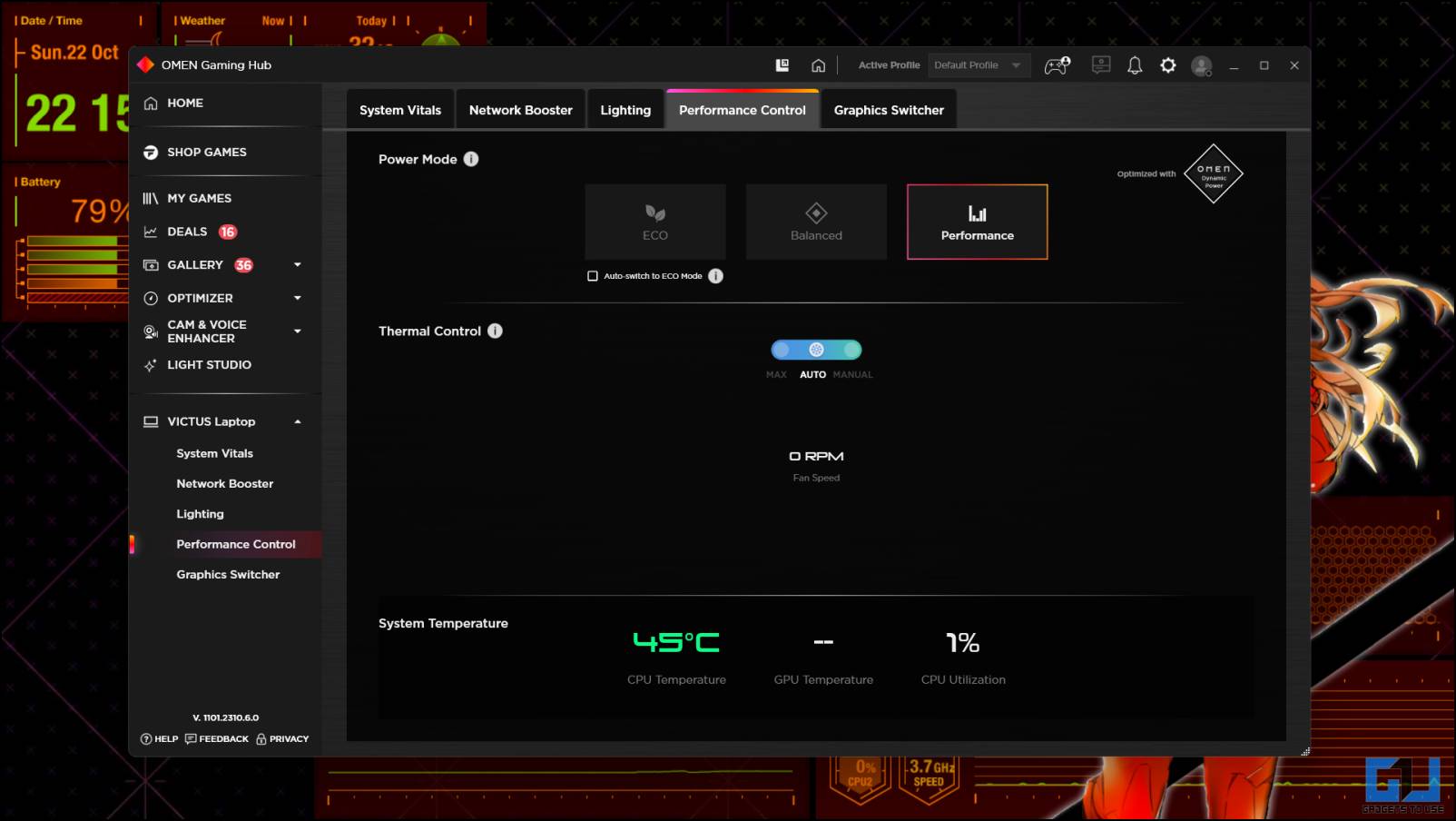 To HP's credit, the fan stays quiet when you are not gaming or not performing heavy tasks. I even noticed while writing this review that the fans weren't even running, which is commendable. So, if you prioritize better, uncompromised performance over loud fan noise, then I will recommend this laptop at that.
HP Victus 16: OS and Software
HP Victus 16 runs on Windows 11 Home version out of the box and supports upcoming updates. Apart from the OS, there are a lot of proprietary software and utilities provided by HP to control and customize most of the aspects of the laptop. This includes the performance, fan speed, keyboard lighting, and more.
One thing I noticed is the presence of more than ten tools to customize different things. I've tested an HP Omen laptop before and found this same thing on that one laptop, too. HP should address this problem and create a single utility to control all the laptop's hardware and features.
Moving that multiple apps things aside, I loved the number of customization options that HP provides. From RGB lighting to the fan speed curve, you can customize and fine-tune everything you like. This gives better control to all the try-hard gamers who cannot manage a single frame drop during a sweaty multiplayer match.
HP Victus 16: Battery
The Victus 16 laptop has a large 70 Whr battery for a long gaming time. It does come with a 200-watt power brick to charge up this gaming laptop. This power brick refills the 50 percent battery in just 30 minutes. This is not the biggest battery I have seen on a gaming laptop, but it is still good enough for daily usage.
During my testing, I used this laptop to do my daily tasks and write my stories. I was easily able to squeeze out 4 to 5 hours of run time easily. The maximum runtime I got from this laptop is 5 hours and 15 minutes. Overall, the battery life is decent, with a good backup for everyday tasks like surfing the internet and streaming movies.
HP Victus 16 Review: Pros and Cons
After spending time with it, here are the pros and cons to summarise my HP Victus 16 review:
Pros
Beautiful design and solid build.
Decent display.
Unbeatable performance.
Good 5-hour battery backup.
Cons
Outdated GPU.
Mediocre keyboard and trackpad.
Underwhelming loudspeakers.
HP Victus 16 Review: Final Thoughts
HP Victus 16 comes with a great hardware and software combination to find right now. It may not be the best choice for the current price because of the last-generation GPU. But if you can look past that and consider other factors like design, build, and battery, this laptop will serve you well.
Check out our other reviews:
You can also follow us for instant tech news at Google News or for tips and tricks, smartphones & gadgets reviews, join the GadgetsToUse Telegram Group, or subscribe to the GadgetsToUse Youtube Channel for the latest review videos.