The ASUS Zenbook S 13 OLED 2023 is a fantastic laptop that is both portable and powerful. It offers more features and performance than competitors like the MacBook Air and other lightweight Windows laptops. The laptop is incredibly thin, measuring just 1 cm, and weighs only 1 kilogram. It is also more affordable than other ultrabooks in the market, with the top model available for Rs 1,24,990 on the ASUS online store.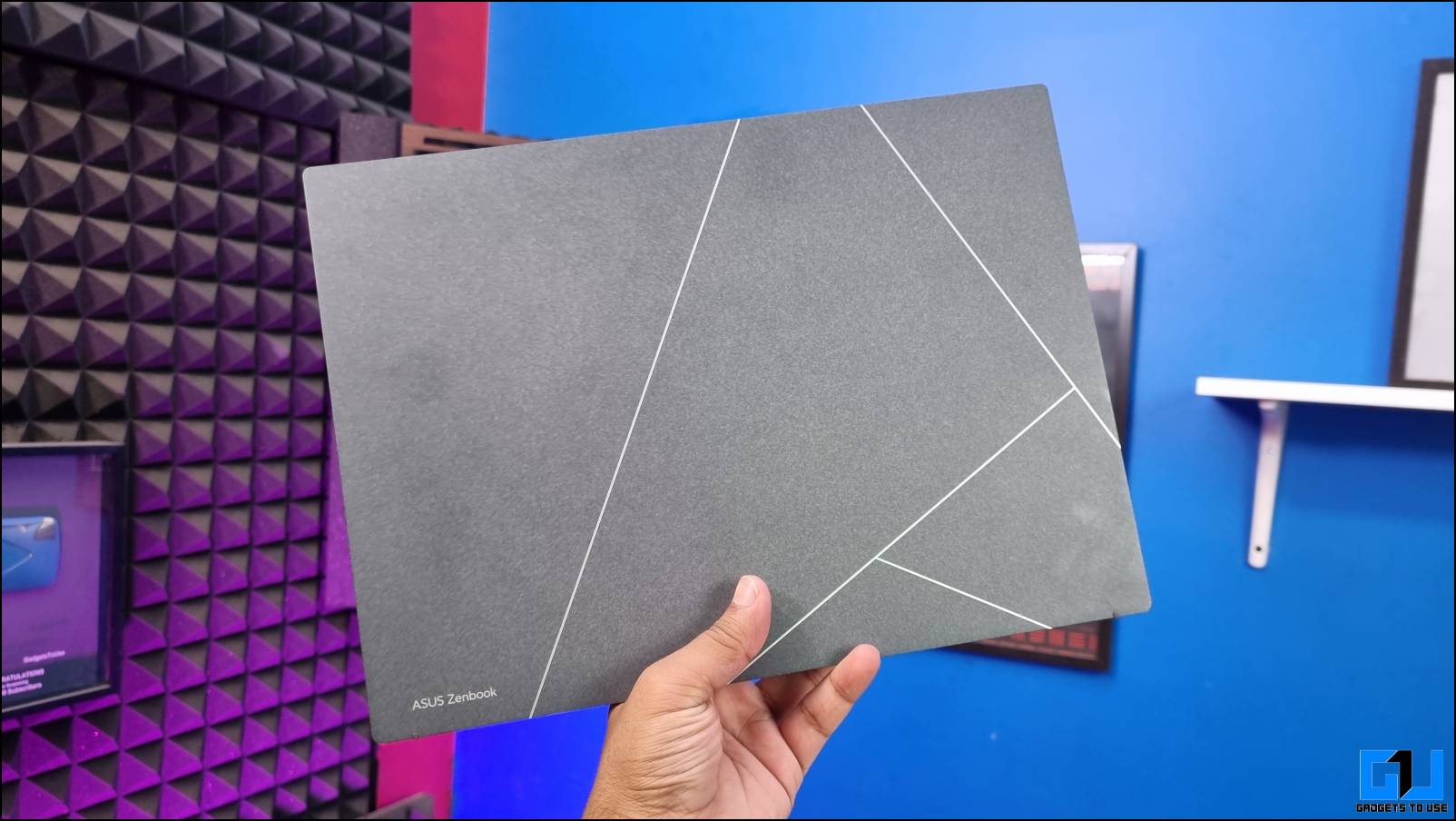 Asus Zenbook S 13 OLED 2023 Review
The model we have here for review is the top variant, equipped with the Intel Core i7 13th Gen processor, 32GB RAM, and 1TB NVMe storage. The unboxing experience was confusing because we got two boxes for the laptop and charger inside the main box. Anyways, here's my review of Zenbook S 13 OLED after using it for a couple of weeks.
Specifications
Weight: 1.00 kg (2.20 lbs)
Dimensions: 29.62 x 21.63 x 1.09 ~ 1.18 cm
Color: Basalt Grey
Processor: Intel Core i7-1355U (10 cores, 12 Threads)
Graphics: Intel Iris Xe Graphics
Display: 13 inches, 2.8K (2880 x 1800), 16:10 aspect ratio, OLED
Memory: 32GB LPDDR5 on board
Storage: 1TB M.2 NVMe PCIe 4.0 SSD
I/O Ports: 1x USB 3.2 Gen 2 Type-A, 2x Thunderbolt 4, 1x HDMI 2.1, 1x 3.5mm Combo Audio Jack
Camera: FHD camera with Windows Hello
Battery: 63WHrs
Charger: 65 W with Type C Connector.
ASUS Zenbook S 13 OLED 2023: Ceramic Design
ASUS has always aced up its sleeve, creating products in the category already dominated by tech giants like Apple. This time, this is with the gorgeous ceramic finish on the Zenbook S 13 OLED lid. This enhances the beauty of the Zenbook S 13 OLED and sets it apart from the numerous ultrabooks with the same old boring design. The lid has a ceramic finish that pleases the eyes and the fingers when you touch it.
ASUS has added a large brand logo on the lid that looks great, with a small and subtle Zenbook branding in the corner. The laptop's rear is very plain looking, with two tiny air vents. Apart from that, two long bar-type rubber feet keep the laptop steady on a flat surface. Two slits are also provided on either side at the back for the speakers.
The back finish is unique; it is a mix of smooth and rough textures, making it a little difficult to clean off compared to other laptop parts. I accidentally got a small ink spot on the deck and had difficulty cleaning it. This also stands for the top ceramic part, so you must be careful with it.
Unlike the laptop's small form factor, the keyboard and trackpad are appropriately sized, and the color combination also looks great. The bezels around the screen have a glossy finish to match the glossy finish on the display. ASUS has used a Display Layer Infusion tech to make the lid slimmer than previous generations leading to a much thinner form factor. Opening the laptop raises the keyboard to an angle, slightly improving the typing experience.
I/O Ports
Usually, a thin form factor often comes with a compromise on the number of ports. That's not the case with the Zenbook S13 OLED, as it has all the ports you may need in your daily tasks. A USB Type-A port on the right is paired with a 3.5mm combo audio port. On the left are two Thunderbolt 4 ports and a full-size HDMI port. And while we are here, you can see that the laptop is barely as thick as a full-size HDMI port.
Storing the Zenbook S13 is a no-brainer, as it can fit in any backpack, no matter the size or thickness. I love to carry it without any backpack or sleeve because ASUS built this laptop with military-grade durability, so a couple of bumps don't hurt much. Plus, it also looks attractive and adds to your look. Overall I loved the Zenbook S 13 OLED's unique design with no compromise on portability, durability, or performance.
Durability, Weight, and Certifications
This satin finish on Zenbook S13 OLED is achieved by adding a ceramic layer to aluminum metal. ASUS calls it "Plasma Ceramic Aluminum," named after the fabrication process. This finish adds a little bit to the overall weight of the laptop; despite this, the whole package weighs just 1 kg making it one of the lightest ultraportable laptops. Putting it into perspective, the latest 13 inches MacBook Air weighs 1.24 kg, and the Lenovo X1 Carbon weighs 1.12 kg.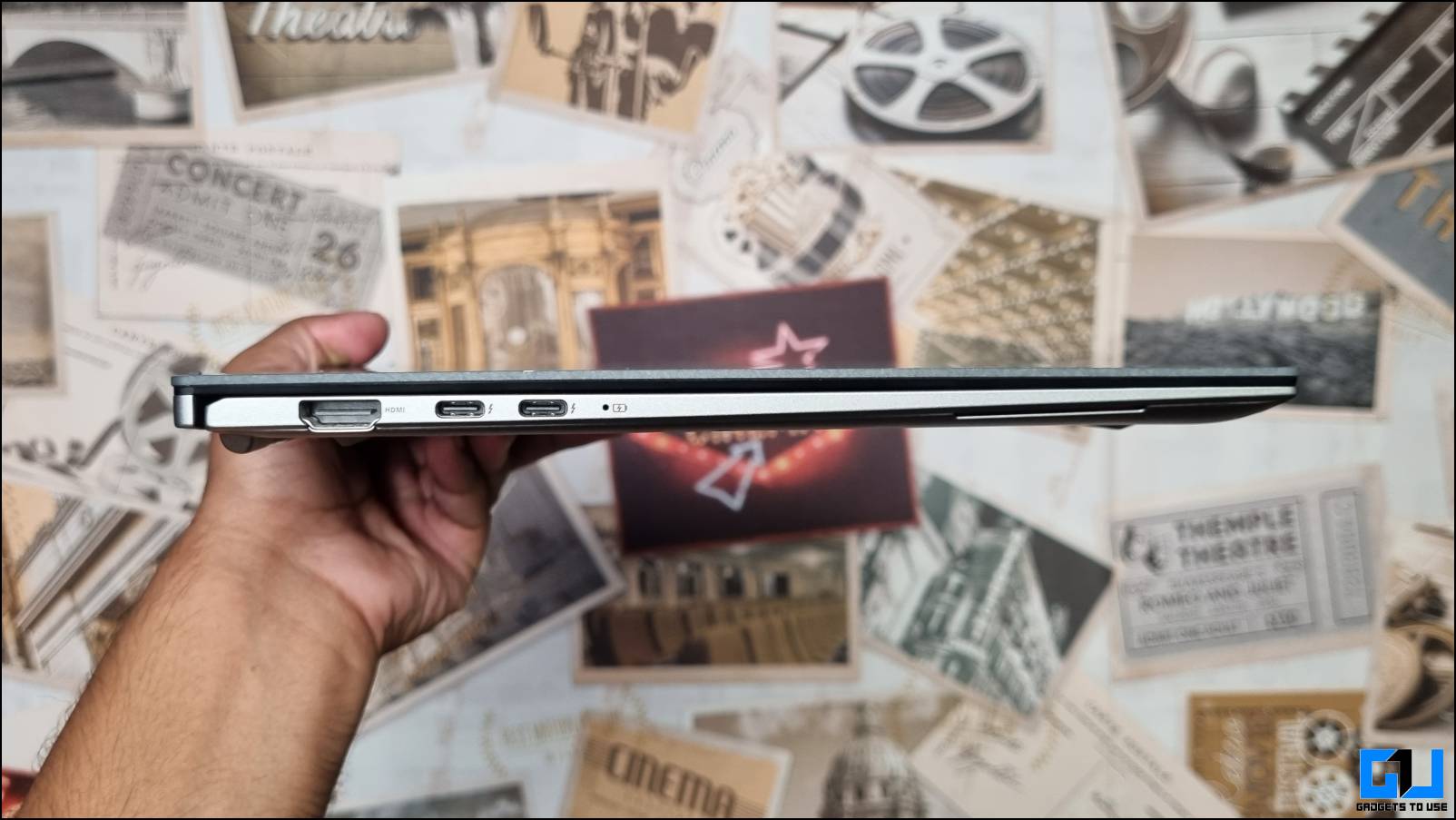 Only the LG Gram comes neck to neck with Zenbook S 13 OLED at 1 kg, but there are some compromises there, like the IPS display and slightly higher price. In comparison, ASUS has managed to cram all that in a super lightweight and ultrathin package. The laptop is only 1 cm thick, making it the slimmest among popular ultrabooks, including MacBook Air (1.13 cm), Thinkpad X1 Carbon (1.4 cm), and LG Gram (1.6 cm).
CNC machining has been used to carve this slim and lightweight chassis. That's not all; this also enhances the device's overall durability by removing the need for joints. ASUS has done rigorous tests on the laptop to prepare it for the real world, including shock, vibration, extreme temperature, dust, and altitude tests. The ASUS Zenbook S13 also has US MIL-STD-810H certification, ensuring military-grade durability.
Besides that, we didn't find any significant flex on the deck. The lid wobbles when adjusting, but no flex was also experienced there. The hinge is also very solid and goes up to 180 degrees for those who like to put the laptop on a stand. Another thing that you need to watch out for is the sharp edges, which can be a bit unpleasing to use on your lap.
ASUS Zenbook S 13 OLED 2023: Lumina Display
ASUS is known for the best OLED displays on laptops, and Zenbook S 13 OLED got the same treatment. This 13-inch Lumina OLED display has a 2.8K resolution, perfect for content creation. The 16:10 aspect ratio provides that tad bit of extra display estate. It is an OLED display with sharp contrast, deep blacks, and punchy colors.
The super thin glossy bezels around the display match the glossy finish on the display. The top bezel houses a camera system with IR recognition for Windows Hello support; it would have been great if there had been a physical privacy shutter. To compensate for this, a shortcut switch on the keyboard disables the camera whenever not in use.
ASUS has fine-tuned the display to ensure the colors appear natural and true to life. Additionally, they have obtained the Dolby Vision certification, making it an excellent option for streaming high-quality content from popular services like Netflix or Amazon Prime. The laptop is also VESA certified for HDR and Pantone Validated, which improves color reproduction.
I usually write my reviews at night when there's no one to bother me. This laptop has been really helpful because it has a very dim screen. The DC dimming and low blue light certification also help to reduce eye strain. The compact form made it my go-to machine for my daily commute to work, and its bright display surprised me, even in the well-light ambiance around me.
ASUS is doing a great job adding its best on a premium offering. Brands usually compromise on display for a laptop this size, but this one is worth your money. The only thing that would have been icing on the cake is an addition of a touch screen. While setting up this laptop, I touched the display multiple times but got disappointed every single time.
Asus Zenbook S 13 OLED 2023: Keyboard and Trackpad
The keyboard and trackpad are two things on a laptop that manufacturers cheap out all the time, no matter how expensive the laptop is. ASUS has also done a good job here, but this is not the best keyboard I've experienced on an ultrabook laptop. The keyboard has chicklet-style keys with sufficient spacing and a decent layout. The key size is also decent enough for all hand sizes.
It comes with a backlight with two brightness settings, and it can also be set to automatic to brighten up automatically when required. What I didn't like about this keyboard is the typing style; the keys have significant travel. Also, they sound a bit mushy; I like more clickiness with a keyboard. I know expecting all in this form factor is a bit far-fetched, but a man can dream!
The trackpad is amazing here; you get a glass-top trackpad with a very smooth and satisfying finish. This is a precision trackpad with very good sensitivity. Being a glass top means it will look the same for years. It is large and takes a big chunk of the wrist wrest section of the deck. So while typing on this laptop, it will recognize a mistouch with your palm resting on this trackpad. If ASUS can improve the palm rejection with updates, this trackpad will be better than it already is.
ASUS Zenbook S 13 OLED 2023: Performance
ASUS Zenbook S 13 OLED has an Intel Core i7 1355U processor with Intel Evo certification. This processor is power efficient and built to stay connected all the time. It is a 10-core processor with 12 threads, proving it is not performance-heavy. But it still can go up to 5.0 GHz when required. The lowest TDP that this processor can run on is 12 Watts which is impressive.
Paired with this processor is 32 GB onboard DDR5 RAM and 1TB PCIe 4.0 NVMe SSD. Both of these make the laptop smooth and efficient at the same time. Unfortunately, this means this laptop has little to no chance of upgradability. You must replace the current SSD with a new one to increase storage. As for the RAM situation, it's good that it comes with 32 GB RAM because this is also soldered to the motherboard and can't be replaced or upgraded.
I did not face any problems in my day-to-day tasks like browsing the internet with tens of tabs open simultaneously. With basic video and photo editing, it did not lag or stutter once. I thought a few light games wouldn't do much damage, and I was right. The CS GO ran smoothly, and I tried a few more lightweight games. The laptop handled everything easily, and I experienced no lag in any game.
ASUS Zenbook S 13 OLED 2023: Software
The Zenbook S13 OLED runs Windows 11 Home out of the box with a few ASUS utilities. I found more utilities than required, which you won't need anytime. My ASUS utility controls various smart features of the laptop, and I think it does the job perfectly. Many laptop care features are provided here, like extending battery health or preventing burn-in in the OLED display.
It can also track your laptop's warranty or even purchase an extension from that app. You can also control camera features and a tab to connect to customer support anytime. With this laptop, you get an MS Office student and Xbox Game Pass to enjoy free trials. This may save you a couple of bucks while purchasing the laptop.
ASUS Zenbook S 13 OLED 2023: Battery
Despite its size and thickness, the Zenbook S 13 OLED features a large 63 WHr battery. ASUS claims 14 hours of OLED streaming, but I couldn't stretch my long work hour to test it. Overall I loved the battery backup and got more than 5 hours of backup no matter what I did on this laptop. To squeeze about 6 hours of battery back out of this laptop, some settings must be tweaked, and some features must be turned off.
It comes with a 65 Watt power brick with the traditional "laptop charger" design for charging. I was expecting a modern, premium charger like a GaN charger but was disappointed, as it can't be stored in a slim office bag along with this laptop. But the good thing is that any third-party 65W PD charger can be plugged in easily to charge it conveniently.
ASUS Zenbook S 13 OLED 2023:Pros and Cons
After spending my time with the ASUS Zenbook S 13 OLED, here are the Pros and Cons to summarize my review:
Pros
Beautiful design and solid build
Amazing display
Decent performance
Plenty of RAM and storage
Large battery
Cons
Mediocre sound quality
Thermals need to be improved
No room for upgradability
ASUS Zenbook  S 13 OLED 2023: Final Verdict
The ASUS Zenbook S 13 OLED is almost a perfect ultrabook for those seeking an alternative to the MacBook. Additionally, it offers a superior display, face unlock through Windows Hello, and ample RAM and storage. However, it falls short in terms of its speaker system, keyboard, and cooling capabilities. The reasonable price also makes it a great choice if you are looking for an ultrabook to match your style and daily workflow.
Check out our other reviews:
You can also follow us for instant tech news at Google News or for tips and tricks, smartphones & gadgets reviews, join GadgetsToUse Telegram Group or for the latest review videos subscribe GadgetsToUse YouTube Channel.