For ages, Facebook has been a great platform to connect with friends and family. However, not all friendships and relationships last for eternity, and some turn sour, compelling you to maintain distance from them. The Take a Break feature on Facebook is designed especially for this cause, helping you keep your calm by avoiding all interactions without actually blocking someone.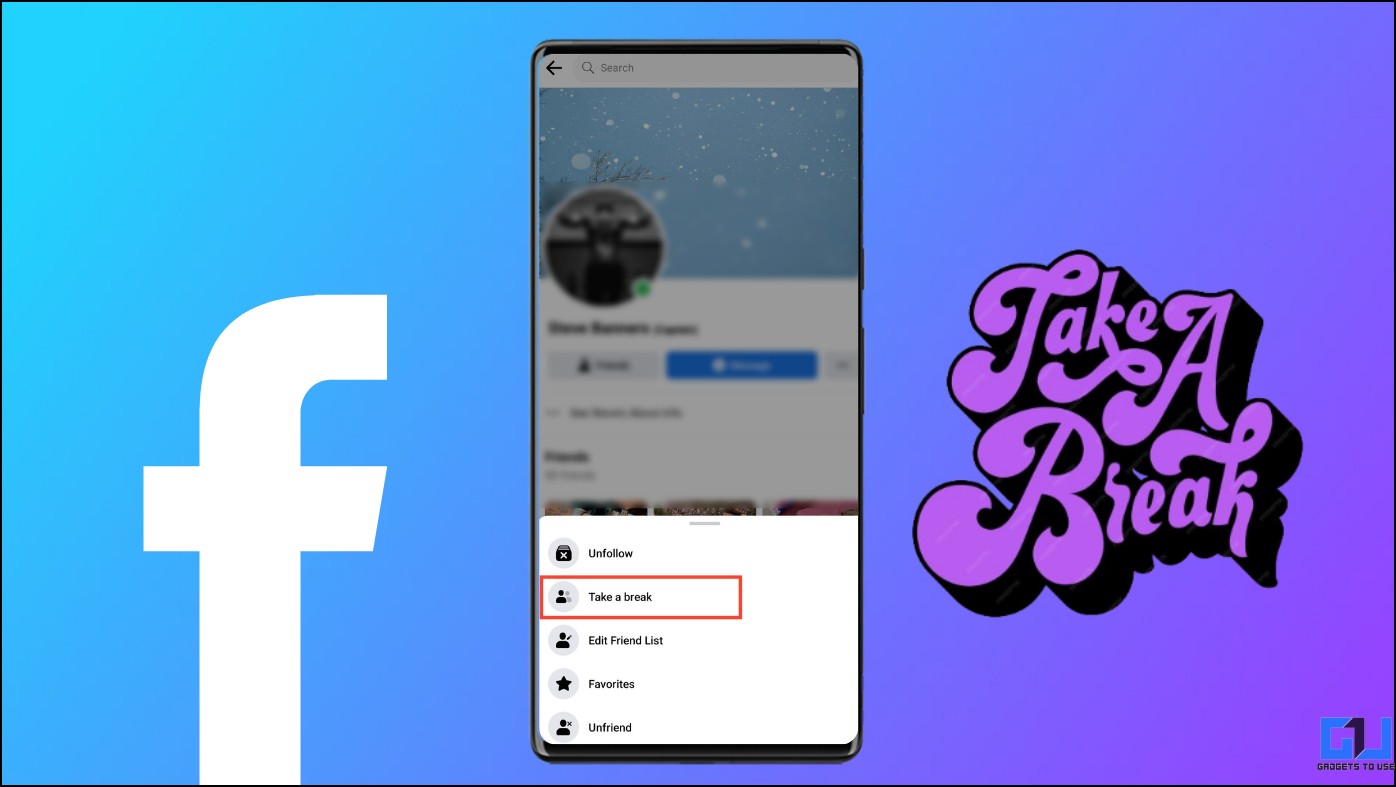 What Is Facebook's Take a Break Feature?
As the name suggests, the 'Take a Break' feature lets you mute a Facebook friend so you cannot see his/her posts and vice versa. What makes this feature unique is that you can do this without unfriending or blocking anyone. This can prove helpful when a relationship is over, and you do not want to seem rude by blocking or unfriending their account.
Key Takeaways
When you take a break from someone on Facebook, the restricted person will not be informed.
Once you enable 'take a break,' you will not be able to see posts of the restricted friend on your timeline. However, you can manually visit their profile anytime to view updates.
Additionally, you can limit what your restricted friends can see by configuring your account privacy settings on Facebook.
Finally, you will be untagged from the individual's posts. If you have posted anything on the restricted individual's timeline, it will be deleted, and vice versa. This also applies to shared albums, where you won't be able to add more photos if you've shared it with the Facebook account you're taking a break from.
What Remains Unaffected?
When you take a break from someone on Facebook, you can still send them messages. Head to Facebook Messenger and tap the account name to send a new message.
If you haven't restricted the user you're taking a break from in your Facebook privacy settings, you can post on each other's timelines.
Finally, you can view each other's comments if they are posted on a common friend's post/timeline.
Steps to Use the Take a Break Feature on Facebook
Thanks to the new interface, taking a break from a Facebook friend's updates is simple. Head to the desired account and tap your friendship to 'take a break' from it. Here's what you need to follow:
On Smartphone
1. Open the Facebook app and tap Search to find the friend you wish to take a break from.
2. Next, press Friends and tap 'Take a Break.'
3. Facebook will now display a list of changes to help you take a break from the chosen account while staying friends on the platform. You can also press 'Take a Break from someone else' to switch to a different user than selected.
4. Tap See Options under the 'See Less of Profile' setting.
5. Next, set up a new profile limitation and update your privacy setting to Limit seeing the restricted profile in your News Feed.
6. Further, tap 'Limit what a restricted profile can see' and update your account privacy settings to Hide your posts.
7. Finally, you can edit settings for past posts where you can decide to keep them intact or untag your account from them.
That's it! You've successfully taken a break from your Facebook friend(s) without informing them about it. These changes will stay enforced unless you decide to revert them manually (as discussed in the next section).
On PC
1. Visit the Take a Break Feature page on Facebook.
2. Search the Facebook profile in the search bar to configure your privacy settings for taking a break.
3. Click 'See less of a profile'.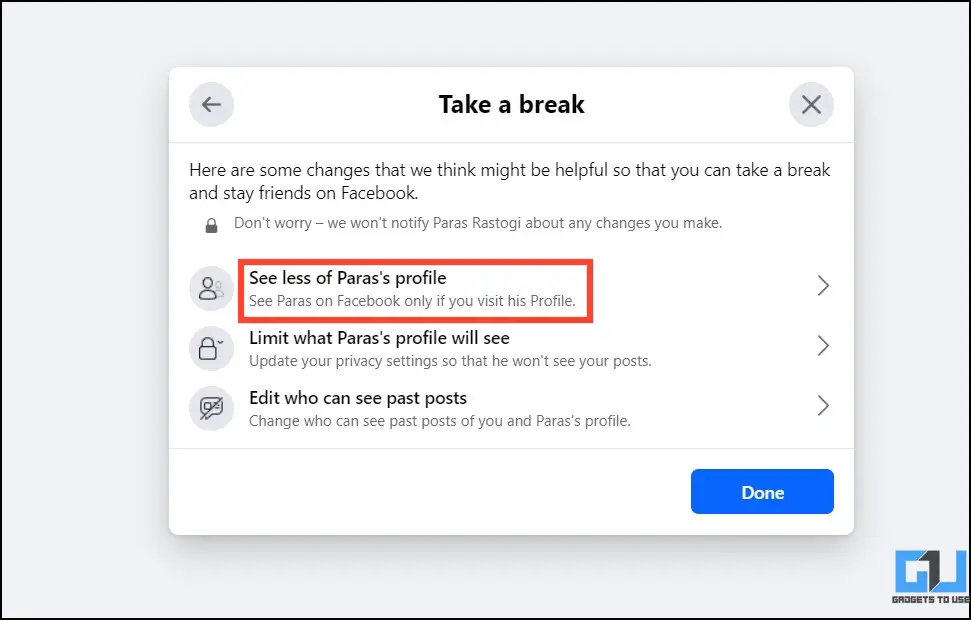 4. Update your account settings to limit where you can see the selected profile.
5. Next, configure 'What other profile will see.'
6. Set your privacy settings to hide your posts from the picked Facebook account.
7. Finally, click 'Edit who can see past posts.'
8. You can keep previous posts intact or edit individual/all posts to untag yourself.
How to Remove 'Take a Break' From Someone on Facebook?
If things between you and the person you're taking a break from have improved, you can remove the existing privacy restrictions to restore them to normal. Follow these steps for an easy fix:
1. Open the Facebook profile you've restricted earlier and tap on Friends.
2. Press Take a Break to open the existing privacy settings of your account for the selected user.
3. Next, tap various 'take a break' filters to restore them to normal settings.
FAQs
Q. What Happens When You Take a Break From Someone on Facebook?
Once you've enabled the 'take a break' feature for someone on Facebook, you will see fewer of their posts on your timeline and vice-versa. Additionally, the feature also lets you decide if you wish to untag yourself from previous posts shared with the person you wish to restrict. Check the steps above to take a break from your Facebook friend.
Q. How Long Does 'Take a Break' Last on Facebook?
Taking a break doesn't have a defined time limit. This means that it lasts indefinitely until you decide to revert the changes manually. Read the steps above to learn to remove an active 'take a break' restriction on Facebook.
Q. How Do I Reverse 'Take a Break' on Facebook?
Facebook recently updated its interface to remove the 'Restricted friends' option that earlier served as a one-stop place to undo the take-a-break restriction. However, you can still reverse it by manually accessing the profile and reverting the earlier privacy changes.
Wrapping Up
We hope you've understood the nits and grits of Facebook's 'take a break' feature to make the most of it. If you found it useful, forward it to your friends and subscribe to GadgetsToUse for more informative reads. Also, don't forget to check the below links to learn nifty Facebook tips and tricks.
You might be interested in:
You can also follow us for instant tech news at Google News or for tips and tricks, smartphones & gadgets reviews, join GadgetsToUse Telegram Group, or for the latest review videos subscribe GadgetsToUse Youtube Channel.