At one point of time, Indian manufacturers used to be one generation behind Chinese manufacturers, but the scene has changed by quite a bit now. In simpler terms, about a year back, Chinese manufacturers were rolling out devices based on dual core processors while Indian manufacturers were still stuck with the out-dated single core CPUs. But thanks to the huge interest garnered by enthusiastic Indian buyers, Indian manufacturers are now on par and sometimes a step ahead of their Chinese counterparts.
Taking the trend forward is the Wickedleak Wammy Passion Z, a quad core device with a 5 inch 1080p Full HD display. Yes you read right, a Full HD display, which takes the pixel density to a whopping 443ppi. As can be read in the linked report, the Wammy Passion Z comes with a superb price tag of 14,990 INR excl. tax. Comparisons with the Micromax Canvas HD A116 were inevitable, here's what we feel about it.
Display And Processor
Both these phones are based on the MediaTek MT6589, so there won't be much to choose from. However, something worth noting is that since the Wammy Passion Z comes with a Full HD display, it takes a toll on the CPU/GPU combo to fill the screen. A 1080p display has more than double (2.22x to be precise) the number of pixels on a 720p, you can imagine how much tougher it will be to be driven.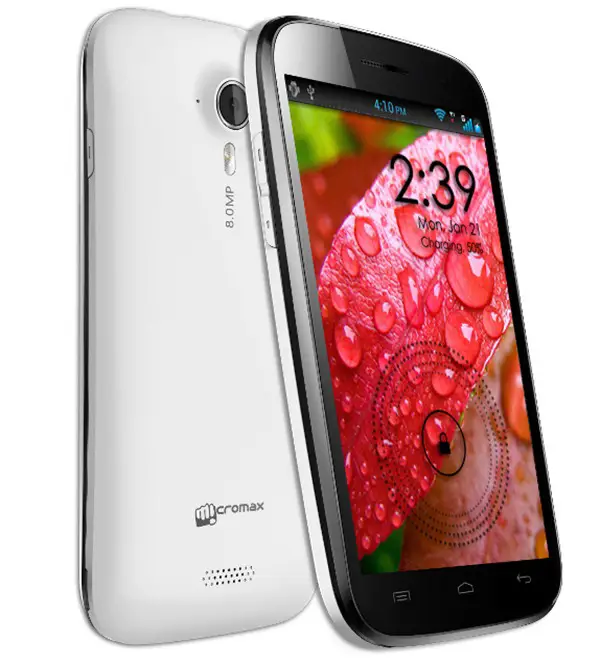 What does this mean? This means that graphic intensive games will me much smoother on the Micromax Canvas HD A116 when compared to the Wammy Passion Z.
As we said earlier, although there is nothing much to choose from in between these two devices, the Wammy Passion Z does have an upper hand thanks to the Full HD display panel and a bigger battery.
Camera And Memory
Since both these phones are based on literally identical internal hardware, there can't be one winner. Both these phones come with the MT6589 chipset which has a quad core 1.2 GHz Cortex A7 processor, and a PowerVR 544 GPU which is quite a powerful combo. Both devices come with dual SIM features, and have the standard set of connectivity features, i.e., Bluetooth, WiFi, WiFi hotspot, 3G on either SIM, GPS, etc.
What is left to be seen is the build quality on the Wammy Passion Z, whether or not it is better than the Canvas HD.
On the camera front, the Wammy Passion Z's 12MP main camera surpasses the Canvas HD's 8MP rear, which makes it great value for money. The front camera on both these devices stays at 2MP, which means both phones will have decent video from the front camera for video chat and an occasional self-portrait.
Battery And Features
Comparing the batteries, the Canvas HD comes with a 2100mAh standard battery which we see on most budget phones today. The Wammy Passion Z, however, has taken the battery segment up by a notch and offers a 2500mAh unit along with the device. Although the battery is 400mAh units larger than the Canvas HD's 2100mAh, the difference in actual shouldn't be much since more battery will be used by the Full HD panel on the Wammy Passion Z.
Real-life tests will make the picture clearer, but we would suggest that both phones would have almost the equal amount of run-time.
Here are the key specs of both these devices put up in a table for easy comparison:
| | | |
| --- | --- | --- |
| | Canvas HD A116 | Wammy Passion Z |
| Chipset | MediaTek MT6589 | MediaTek MT6589 |
| SIM support | Dual SIM | Dual SIM |
| 3G | Yes | Yes |
| Display | 5 inch IPS LCD, 1280x720p | 5 inch IPS, 1920x1080p |
| RAM | 1GB | 1GB |
| ROM | 4GB | 4MB |
| Camera | 8MP | 12MP |
| CPU | 1.2 GHz quad core | 1.2 GHz quad core |
| Battery | 2100mAh | 2500mAh |
Conclusion
The Micromax Canvas HD A116 is a proven performer, and has been in the market for a few months now. The Wickedleak Wammy Passion Z however will start shipping by mid-June, so we will have to wait to have the device in our hands. The Wammy Passion is the winner when it comes to features (Full HD display, 25000mAh battery), but the quality of hardware still remains to be seen. If the Wammy Passion Z indeed turns out with better or even equal hardware in terms of quality, it is a no-brainer, the Wammy Passsion Z wins hands-down.