Large screen smartphones are a thing of the past now. Or at least, this is what the 'mini' versions of flagship devices from Samsung and HTC are trying to convey. The launch of the Galaxy S4 Mini first, and then the expected launch of the HTC One mini has already started to spark off competitions between the two knocked down devices. Although the pricing of the HTC One mini is yet to be declared, the phone is expect to cost about as much as the S4 Mini, which is priced at 27,990 INR.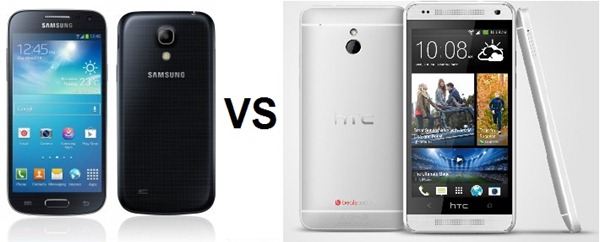 Which device emerges as the ultimate winner in this battle of knocked down devices would be interesting to know, and only time will tell. Until then, have a look at our take on this war of 'mini' flagships!
Display And Processor
Both these devices feature 4.3 inch displays, which leaves you nothing to choose from in terms of size. However, the HTC One mini does better on the resolution front with it's 1280x720p panel against the S4 Mini's 960x540p. This means that, just like the full-sized HTC One, the One mini will again have a superb pixel density, which outdoes the S4. Samsung stick to their tried and tested formula of Super AMOLED screens, while the HTC One mini takes a slightly different approach and gets an LCD2 panel, capable of producing 16M colours.
Both devices feature the Qualcomm Snapdragon 400 chipset. However, the phones come with processors clocked at different rates; the HTC One mini gets a 1.4GHz dual core whereas the S4 Mini gets a slightly updates 1.7GHz dual core version, which means the S4 Mini would be marginally ahead in terms of performance when compared to the HTC One mini.
This lead is further extended by the presence of 1.5GB of RAM on the S4 Mini, which sounds much more 2013-esque when compared to the 1GB on the HTC One mini.
Camera And Memory
The S4 Mini comes with an attractive set of cameras, i.e, an 8MP rear shooter coupled with a 1.9MP front shooter. Although you can get a phone with an 8MP camera for much lesser, we would like you to know that you can expect much more from a Samsung 8MP phone vs a domestic/Chinese 8MP phone.
The 1.9MP front camera shouldn't be much of a problem, and should suffice for most.
On the other hand, HTC follows the 'Ultrapixel' approach, where the focus is on the components and not numbers. This means that the HTC One mini gets a 4MP Ultrapixel rear camera and a 1.6MP front camera capable of doing 720p video.
Although no direct comparisons can be made on the cameras since both use completely different technologies, it is a known fact that the 4MP Ultrapixel shooter on the One was exceptional in daylight but suffered in low light situations. This means that the S4 Mini would be a more all round solution, whereas the HTC One mini can be classified as a daylight expert.
On the memory front, the S4 Mini packs 8GB of on board storage whereas the HTC One mini comes with 16GB. However, the HTC One mini does not feature expandable memory, while the S4 Mini can take microSD cards of up to 64GB in size.
Battery And Features
The S4 Mini again beats the One mini, albeit marginally. The S4 Mini features a 1900mAh unit compared to the One mini's 1800mAh. However, sheer capacity is not everything to look in a battery; HTC is known to provide better quality batteries than their competitors. The fact that the battery is non-removable helps in reducing heat losses and in turn, improving battery life by a bit. We feel that a removable battery is one of the most over-rated features on a smartphone.
Key Specs
| | | |
| --- | --- | --- |
| Model | HTC One mini | Samsung S4 Mini |
| Display | 4.3 inches 720p HD | 4.3 inches 540p |
| Processor | 1.4 GHz dual core | 1.7 GHz dual core |
| RAM, ROM | 1GB RAM, 16GB ROM | 1.5GB RAM, 8GB ROM expandable up to 64GB |
| OS | Android v4.2.2 | Android v4.2.2 |
| Cameras | 4MP front, 1.6MP rear | 8MP rear, 1.9MP front |
| Battery | 1800mAh | 1900mAh |
| Price | To be announced | About 27,000 INR |
Conclusion
In terms of sheer specifications, the S4 Mini does beat the HTC One mini, we have to admit. But, the build quality on HTC phones generally tends to be better than what you see on Samsung phones; you can feel the better quality in your hands. Also, it is not likely that the One mini costs much lesser than the S4 Mini; for all you know, the One mini might well be a few thousand dearer. Pricing would play an important role in determining the success of the One mini, and we would like to see it being priced at a similar amount. This would really bring it neck to neck.