Most of our readers are already aware of the capability of Android devices to share their internet connection with other users, via a WiFi hotspot and Bluetooth tether, and honestly, this feature does come in handy very frequently for people like me. You can rest assured of having an internet connection on your computer or any other phone or device which works with WiFi.
However, have you ever wondered if you could use your computer's internet connection on your smartphone or any other Android device running Android v4.0 and up?
Here's your answer – you can reverse tether and use your computer's internet connection on your Android device by using a simple tool! What the tool basically does is that it fools your device into thinking that there is a working data connection when there actually isn't one. This is because, your device needs to know it is having a working internet connection – cellular or WiFi – to be able to send and receive data over the network using any app of your choice.
This is exactly what the Reverse Tether tool does for you; it fakes an internet connection so that your apps can talk to the internet for you. Also, this is something not permitted by the Android OS and thus, you need a rooted device.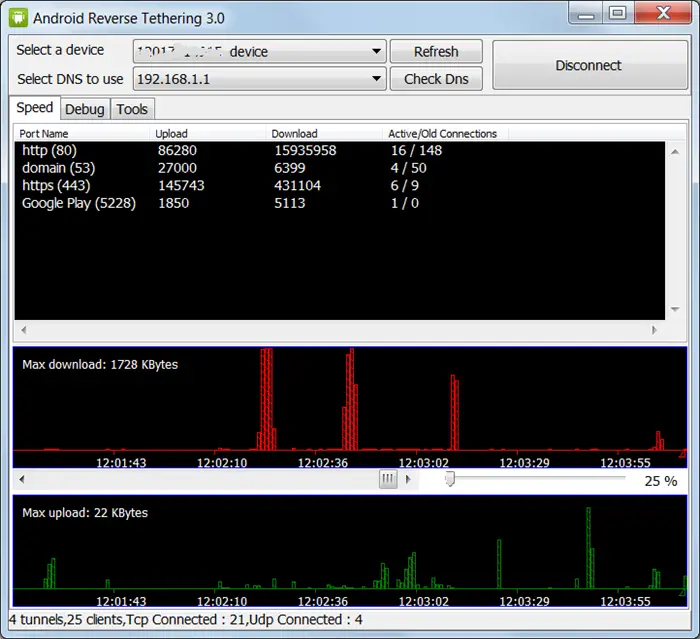 Here's what needs to be done to get your PC's internet connection working on your Android:
Make sure your device is rooted. You can check via the Root Checker app.
Download this tool – Reverse Tether for Windows.
Second, go to settings – Developer Options and enable USB debugging.
Connect your device to your computer via USB cable, and launch the Reverse Tether app downloaded previously.
Under 'select a device', you'll probably see one listing only, which is your Android device. If there are more, you need to go the trial and error way.
Make sure you've selected a DNS server from the table on the right – if not, just add 8.8.8.8 (Google's DNS) as the address.
Hit connect, and you're good to go!
It is advisable to turn off notifications in your SuperUser app so that you don't get flooded with those, since the Reverse Tether app usually invokes permissions very often, which results in a notification each time.
Credits go to capslock66 over at the xda-devs forums for making this wonderful tool!
Disclaimer: We will not be responsible for any damage, if caused, to your device in case anything goes wrong. Rooting your device might void your warranty, discretion advised.