OPPO has officially announced its much awaited flagship device OPPO N1. This New phone from OPPO sports a 5.9 Inch Display and OPPO's Color Operating system based on Android 4.2. The unique highlighted body design feature is the camera module which shifts 206 degrees and this allows the primary camera to act as secondary camera as well!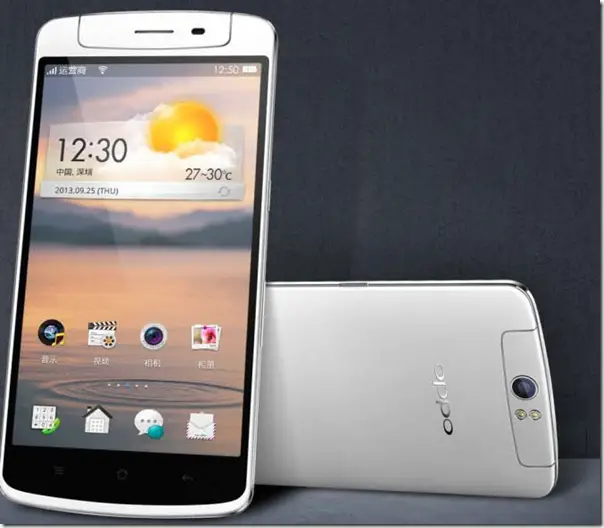 This phone is powered by 1.7 GHz Snapdragon 600 quad core processor with Adreno 320 GPU. The RAM capacity of 2 GB will ensure smooth UI transitions and multi tasking. The Internal storage is not expandable and is fixed at 16 GB / 32 GB in two variants.
The 5.9 Inch Display features Full HD resolution of 1920 x 1080 pixels thus resulting in 377 ppi. The display is super sensitive like Sony Xperia Z1 which implies you can also operate it using gloves.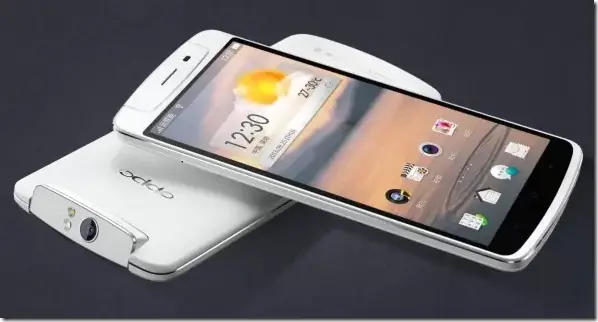 The camera is a major highlight of this phone. The 13 MP CMOS sensor camera (from Sony) features 6 lenses stacked over one another. The wide Aperture f/2.0 camera is supported by Fujitsu IPS imaging chip. Dual LED flash is also present to assist you with low light photography.
The Swivel mechanism which lets the camera module rotate by 206 degrees has been tested for 100,000 swivels, which implies that you don't have to worry about mechanical deterioration for many years.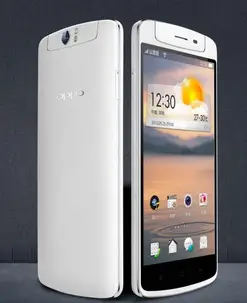 The area below the camera is touch sensitive. This feature has been named as O-touch. Using O-Touch you can play music or browse the web or perform other custom function using various gestures. OPPO has also made a Bluetooth accessory O-Click with this phone which allows you to click pics from up to 50 meters away!
The battery capacity is 3650 mAh which sounds just about right considering the size of the smartphone. OPPO has also included a tachograph for recording your speed while driving. Other connectivity features include WiFi, Bluetooth, NFC, 3G, etc.
This new phone from OPPO comes with a revolutionary design and impressive built quality similar to OPPO Find 5. As expected focus as been on the Camera features in this new flagship device. This phone has been priced at around $571. This phone will be available in china from next month but the world wide availability has not yet been specified.
Key Specifications
| | |
| --- | --- |
| Model | OPPO N1 |
| Processor | 1.7 GHz Snapdragon 600 Quad core |
| Display | 5.9 Inch, Full HD |
| RAM | 2 GB |
| Internal Storage | 16 GB/ 32 GB |
| O.S. | Color Operating System based on Android 4.2 |
| Camera | 13 MP camera with Swivel |
| Battery | 3650 mAh |
| Price | $ 571 |