Few months back Micromax launched Micromax Canvas 4 (Full Review) which was expected to feature MT6589T SoC, but didn't fare well on those expectations. Gionee Elife E5(Full Review) which is now available in the same price range offers MT6589T with a unibody design. Let's compare these phones together to find out which one is a better option.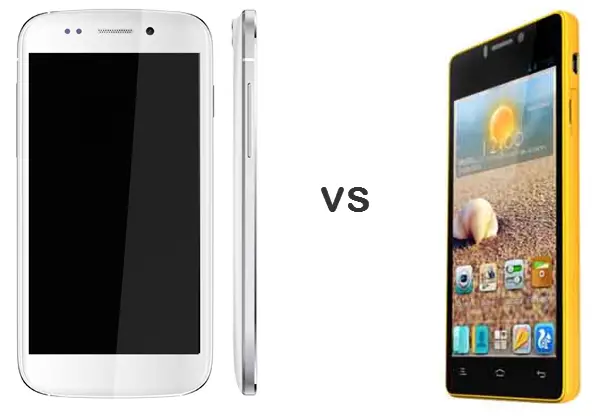 Weight and Dimensions
Gionee Elife E5 is quite sleek with only 6.85 mm thickness. With marginally smaller 4.8 Inch Display, Elife E5 is more compact and sleek with 137x69x6.85 mm body dimensions. The larger and broader Canvas 4, with body dimensions of 144.5 x 73.8 x 8.9 mm is also heavier at 158 grams as compared to 128 gram Elife E5.
The thing that hugely differentiates Micromax Canvas 4 from other predecessor canvas series devices is its improved build quality. The device indeed looks quite premium with the Aluminum chassis around the edges and leaves nothing to be complained about. Gionee Elife E5 on the other hand is more compact and sleek.
Display and Processor
Gionee Elife E5 features 4.8 Inch display wit 1280 x 720 HD resolution. The display type is AMOLED which will give you darker darks, due to absence of Backlight. The display of this device is quite vibrant and colorful. The viewing angles are pretty good as well.
Micromax Canvas 4 comes with a 5 inch IPS LCD display with 720 p HD resolution with 294 pixels per inches. This display is also quite vibrant and rich. On the specification front both of these displays are similar. The display on Micromax Canvas 4 has Corning Gorilla Glass protection.
Elife E5 has a better MT6589T quad core processor which is clocked at a higher frequency of 1.5 GHz as compared to the 1.2 GHz Quad core MT6589 SoC in Canvas 4. Both of these chipsets employ Power VR SGX 544MP GPU. The GPU is clocked at 286 MHz in MT6589 and 357 MHz in MT6589T. In our comparison of both these chipset we found MT6589T to work better while playing graphic intensive games.
Camera and Internal Storage
The Gionee Elife E5 comes with an 8 MP camera which is capable of Full HD video recording but the frame rate is quite less at 15 fps. HD videos will show blur if the frame rate is less than 24- 30 fps. The front facing camera is of 5 MP and comes with wide angle lens.
The Micromax Canvas 4 has better camera performance. This phone comes with a 13 MP camera at the back and a 5 MP camera at the front. The camera is capable of full HD video recording at 30 fps. The camera also comes with a Vertical Panorama feature, which allows you to capture tall images.
The internal storage of Canvas 4 is 16 GB out of which around 10 GB is available at the users End. You can also further extend the storage to 32 GB using MicroSD card. Gionee Elife E5 features 16 GB internal storage which cannot be extended. Out of this 16 GB, 13 GB will be available at the users end. Thus in this regards too Micromax Canvas 4 has an edge.
Battery and Features
Both of these phones come with a 2000 mAh battery which can give you one day back up with moderate usage. The smartphone batteries have limited charge cycle and they began to degrade in performance over a period of time.
The Micromax Canvas 4 battery is removable and can be easily replaced. Gionee Elife E5 has a non removable battery which will cost you time and money when it starts underperforming. Non removable battery can be a drawback for many users especially in India where most people don't yearn for durable gadgets.
Micromax has incorporated various software features in Canvas 4 which include Blow Air to unlock, software pinning, easy answer and soft pause. The performance and accuracy of these features is moderate. Micromax Canvas 4 also has the advantage of Dual SIM functionality which is very important to many users in markets like India. This also adds to the advantage of Micromax.
Micromax Canvas 4 will offer you stock Android 4.2 Jelly bean operating system whereas Elife E5 runs on Amigo O.s. based on Android jelly bean. We found this UI to be sluggish on Gionee Elife E5 in our time with the device.
Key Specs
| | | |
| --- | --- | --- |
| Model | Gionee Elife E5 | Micromax Canvas 4 |
| Display | 4.8 inches 720p | 5 inches720p HD |
| Processor | 1.5 GHz quad core | 1.2 GHz quad core |
| RAM | 1GB | 1GB |
| Internal Storage | 16GB | 16 GB, MicroSD support |
| OS | Android v4.1 Based Amigo | Android 4.2 Jelly Bean |
| Cameras | 8 MP rear, 5MP front | 13MP rear, 5MP front |
| Battery | 2000 mAh | 2000 mAh |
| Price | ~17,890 INR | ~17,000 INR |
Conclusion
Yes, most people were disappointed by Micromax Canvas 4 because it didn't show the expected improvement in its specs sheet considering the predecessors. We expected it to feature Full HD display and MT689T processor. Though Gionee Elife E5 full fills the turbo chipset requirement, it lacks in camera performance and has non expandable memory and a non removable battery when compared to Micromax Canvas 4. It is also priced higher.