Moto G's sales are out of the roof because of the impressive hardware coupled with a pretty low price tag it brings to the Rs 10,000-15,000 price bracket. Another device whose sales are nothing short of impressive is the Nexus 5 (Quick Review) which is pretty much the best Android device on sale. But somehow, the Moto G makes a lot more sense if you are not into too much gaming. Let us tell you why is that so.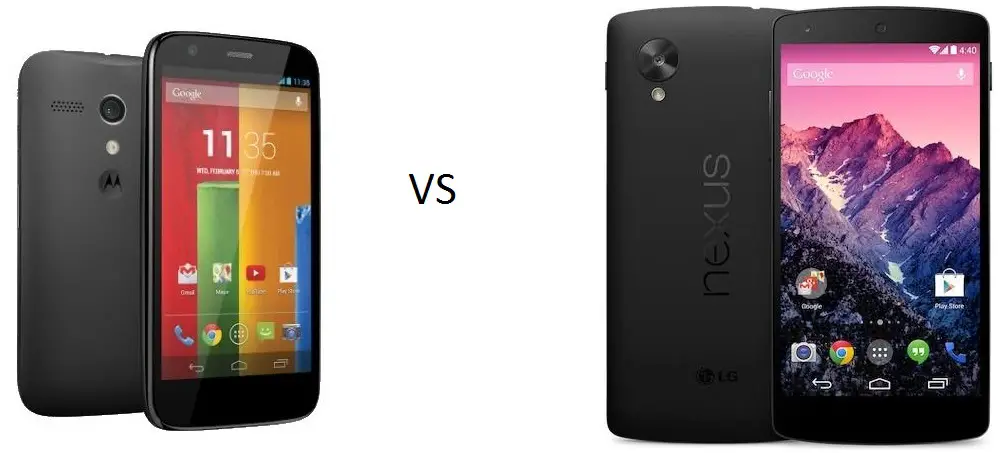 Display and Processor
The Moto G has a 4.5 inch display with a 720p resolution and a pixel density of 329ppi with Gorilla Glass 3 on top of it. On the other hand, the Nexus 5 has a 5 inch display with 1080p resolution and a pixel density of 445ppi and even this one has Gorilla Glass 3 on top of it. Both of them are IPS displays and offer good viewing angles but Moto G does better in single handed operations and costs half as much.
The Moto G gets a 1.2 GHz quad core Snapdragon 400 processor whereas the Nexus 5 comes loaded with a 2.3 GHz quad core Snapdragon 800 processor. The Nexus 5 may have the best in class chipset but the one which Moto G brings gets things done too at half the price barring some pretty heavy applications.
Camera and Memory
The Moto G gets a 5MP rear camera with a LED flash and a 1.3MP front camera. Nexus 5 on the other hand gets an 8MP snapper with OIS and a LED flash at the rear with a 1.3MP front snapper. So if you are not much into imaging and hardly click pictures, you'd be better off with the Moto G as it will click your occasional pictures decently well and we are pretty sure you are not missing out on much without the Nexus 5's camera.
The Moto G comes in two memory options: 8GB and 16GB with no expandable storage and the Nexus 5 gets 16GB and 32GB memory options without any expandable storage as well. The Moto G features a 1GB RAM for multitasking and the Nexus 5 features a 2GB RAM. The Nexus 5 surely outshines the younger sibling but it does come at a price at which you can buy 2 Moto G and still save some money.
Battery and Features
The Moto G has a 2,070 mAh battery unit and it will easily last you a day with moderate to heavy usage. On the other hand, the Nexus 5 features a 2,300 mAh battery unit which requires a charge twice a day if you plan on using it a lot. So the Moto G does better in the battery department.
Moto G runs on Android 4.3 with a promised upgrade to Android 4.4 around the corner whereas the Nexus 5 runs on Android 4.4.2 and will be upgraded as well in future which the Moto G might miss out on.
Both of them feature 3G, Wi-Fi, Bluetooth and GPS for connectivity but the Nexus 5 gets 4G and NFC as well but given the price difference, we can live without them
Key Specs
| | | |
| --- | --- | --- |
| Model | Nexus 5 | Moto G |
| Display | 5  inch, full HD | 4.5  inch, HD |
| Processor | 2.3 GHz Quad Core | 1.2 GHz Quad Core |
| RAM | 2 GB | 1 GB |
| Internal Storage | 16 GB/32 GB, Non-Expandable | 8 GB/ 16 GB |
| OS | Android 4.4 | Android 4.3 |
| Cameras | 8 MP/ 1.3 MP | 5 MP/ 1.3 MP |
| Battery | 2300 mAh | 2000 mAh |
| Price | Rs. 28,999/32,999 | Rs. 12,499/ Rs. 13,999 |
Conclusion
There are no two ways that the Nexus 5 will outshine the Moto G but the Moto G commands not even half the price when the 16GB variants are taken into consideration. Moto G is a lot more value for money but it a'int that Nexus 5 is pricey. The Moto G comes across as a practical and a cheaper alternative to the Nexus 5. Some might say it is the poor man's Nexus 5. We couldn't agree more.