It is often the case with an android customer that he finds himself in utter confusion due the presence of multiple choices. As much as the presence of numerous options can be considered a boon for the user, it may also lead to an undesired and unnecessary headache.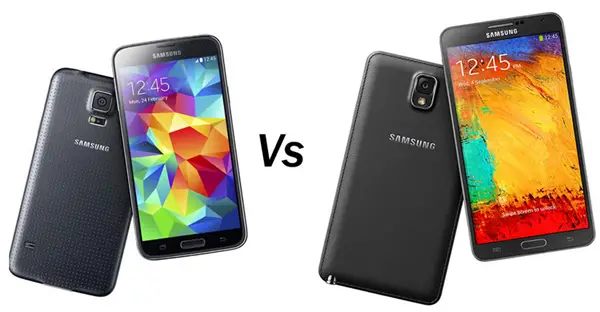 It is quite normal for a customer to ponder over which brand to go for – whether to select a high end brand such as Samsung, Apple, HTC etc or to opt for a low end manufacturer who might provide him with a device quite similar in functionality but cheaper in price, the cheapness achieved through a compromise in quality. However, it is not unlikely for a customer to find himself comparing two devices from the same manufacturer, both similar in functionality yet with different USPs which make both devices look attractive. Such is the case with Samsung's two current flagship devices, Galaxy Note 3  and Galaxy S5.
While Galaxy Note 3 has been launched in September last year, S5 was launched in India during March, 2014, and will be available in India starting from 11th of April, 2014. Let us compare different aspects of these devices and consider what they offer.
Display and Processor
The S5 is the first flagship Phone from Samsung to have a 5+ inch display – usually Samsung reserves this size for the esteemed Phablet segment of its arsenal. While there is no official confirmation from Samsung on this, the resolution is considered to be 432 ppi, as per the 1080 X 1920 resolution and 5.1 inch size being offered. The excellent 386 ppi resolution of the 5.7 inch Note 3 sounds diminished in comparison but you wouldn't notice much difference due to the fact that resolutions of both these devices are very fine and crisp. The screen on S5 does look somewhat brighter though in comparison. Both devices feature Super AMOLED displays. In our time with the device, Galaxy S5's display was better, but Note 3 is in no way a slouch.
The S5 comes with an Adonis Prime2 (Quad 1.9GHz + Quad 1.3GHz) chipset and an Adreno 330 GPU by Qualcomm along with 2GB of DDR3 RAM . Thus any concerns over performance can be thrown out of the window, with the quad-core chip being clocked at a monstrous 2.5 GHz. Multitasking, gaming, and watching high resolution videos will all thus be joyful and stutterless experiences on the S5.
The Galaxy Note 3 uses a similar Exynos 5 Octa 5420 core chipset with a quad-core 1.9 GHz Cortex-A15 and a quad-core 1.3 GHz Cortex-A7  Adreno 330 GPU. Therefore, in this area the performance is very much comparable – it performs every task with similar effectiveness. The Note 3 is a clear winner in the RAM department with 3GB of DDR3 RAM. Benchmark scores that have surfaced on the internet so far however put S5 ahead of the Note 3 – on both AnTuTu and Quadrant, S5 is the leader.
Camera and Memory
S5 sports a new 16-megapixel camera with a 1/2.6" ISOCELL sensor (1.12 micron pixels). An F/2.2 aperture along with a LED flash makes in an excellent choice. Numerous functionalities have been attached to the camera, which include Super fast Autofocus, and some new shooting modes exclusive to the S5 – like Selective Focus and 3D Tour. Selective focus will shoot several snaps with different focus one after another. 3D tour is kind of an upgraded Panorama – you shoot continuous pictures of your surroundings creating a string of interconnected images.
For the Note 3, a 13-megapixel, 1/3.06" CMOS sensor (also 1.12 micron pixels), with F/2.2 aperture and, of course, an LED flash is provided. While the Camera may sound and turn out to be unimpressive in comparison to S5, it is a good camera on a good device . The S5's camera is however better and thus snaps much more detailed and sharper images than the Note 3, with slightly better color reproduction.
The Note 3 and S5 both come with 32GB variants with the 32GB version of the S5 to be launched later on and both offer an expandable external storage via a microSD card, up to 64GB for the Note 3 and up to 128GB for the S5, which will allow users to expand the storage cheaply. In this department at least there seems to be a tie between the two devices.
Battery and Features
The S5 comes with a 2800 mAh battery which Samsung claims to be good for 21 hours of talk time and 16.2 days of standby time on a 2G network, in comparison to Note 3's 3200 mAh cell with 25 hours of talktime and 22 days of standby time on a 2G network. This is to be expected with the smaller size of the S5.
However, the S5 comes with an added battery saving feature – the Ultra Power Saving mode. This feature will be very helpful for someone whose battery has little fight left when no charging options are in sight.
Both devices come with the stock Samsung functionalities which include Air View, Air Gestures, Smart Scroll etc. S Health is a newly introduced fitness and wellness hub which can be used to save your daily calorie intake, heart rate etc. Download Booster is a feature which allows the user to achieve faster downloads by combining the Wi-Fi and 4G LTE connections.
Galaxy S5 comes with new feature which is the fingerprint sensor, embedded into the Home button. Unlocking and locking your device through the sensor is an different experience altogether and it would be interesting to see how this feature is received by the customers. The S5 also comes with a water and dust resistant body which is likely to entice buyers.
On the other hand, Note 3 has a very exclusive feature which is considered one of its foremost selling points – the S-pen. It allows Samsung to provide an important central value to its consumers – that Samsung devices are for 'creative' people, and thus the S-Pen comes off as a useful tool.
Key Specs
| | | |
| --- | --- | --- |
| Model | Samsung Galaxy S5 | Samsung Galaxy Note 3 |
| Display | 5. 1 Inch, Full HD | 5.7 Inch, Full HD |
| Processor | Adonis Prime2 (Quad 1.9GHz + Quad 1.3GHz) | Exynos 5 Octa (5420) core |
| RAM | 2 GB | 3 GB |
| Internal Storage | 16 GB | 32 GB |
| OS | Android 4.4 KitKat | Android 4.4 KitKat |
| Camera | 16 MP/ 2 MP | 13 MP/ 2 MP |
| Battery | 2800 mAh | 3200 mAh |
| Price | 51,500 INR | 42,000 INR |
Conclusion
It could be said that overall, S5 is a tad bit better than the Note 3 where the processor and functionality are concerned. However, the Note 3 is a very comparable device which holds its own in this fight with a device which is newer by almost 8 months.
The chipsets used in these devices makes one wonder whether they justify the high price tag which comes with these devices – Rs. 45000+ for each of them, with the S5 launched at a heavy Rs.53500.
An important feature which might incline buyers towards the S5 is its dust and water resistant casing. However, presence of the S-pen and a very similar though better Camera and Processor may lead to the customer deciding between the two devices on the basis of individual choices via exploration of the two devices. Both devices offer a premium product, therefore not considering the unjustifiable price tags, in either case the customer will turn up with a winner.