India's leading online fashion and apparel store Jabong has launched its free mobile shopping app for iOS and Android platforms. With this app, consumers can purchase latest apparel and accessories anywhere and anytime using their smartphone or tablet. Also, the Jabong app brings forward a faster, smoother and superior shopping experience to its consumers in the current fast paced lifestyle. To download the mobile shopping app of Jabong, users will have to visit Playstore or give a missed call to 8067-747-747.

Using Jabong
The Jabong app is very simple to use on both smartphones and tablets. It allows users to shop from a wide range of products at their convenience irrespective of where they are. Also, they can pay using payment gateways such as debit card, credit card and net banking. The app allows users to enjoy benefits such as cash on delivery, free shipping and instant return to mention a few.
Highlights of Jabong App
As per Jabong, the iOS app is compliant to the iOS 7 platform and it is one of the very few ventures with complete native checkout and it can work on both iPhones and iPads. On the other hand, the Android app has a design that is optimized for tablets and it has a clean and minimalist layout. There is provision for native payment gateway and quick access to recently viewed products.
Communication with Users
Like any other shopping app, Jabong claims that this official shopping app will stay communicated with its users by sending regular updates regarding new arrivals, promotional offers, daily deals and other offers that are running.
Refine Search
Before you scroll down a category, you will see a refine search option. You can tap on this option to further narrow it down to the bracket you are searching in. you can sort by popularity, color, price, schemes and by Brands.
Brand list
Jabong also allows you to browse through items of only your particular brand spread across all accessories. So if you have brand loyalty issues, you can easily narrow it down to exactly what you are looking for
Share with Friends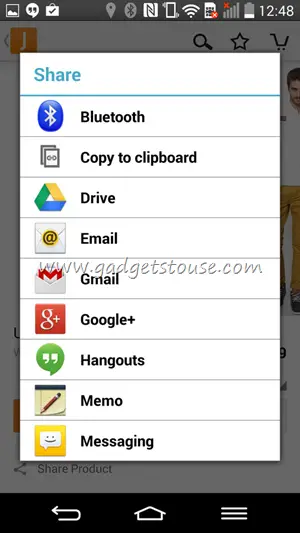 The App allows you to share products you like easily with your friends using various apps. This is a very handy option which lets you consider other people opinions before you go ahead.
Check Delivery Time
When you zero in on a product that you need to buy, you can enter your pincode and check your delivery time, weather cash on delivery option or exchange is applicable and Return period. Jabong offers 30 days return period on several products that we checked which is commendable.
What's New
If you are a fashion enthusiast, which you probably are if you like to visit jabong often, you will agree that finding everything new in one place is very convenient and handy. Jabong has included this feature in the categories as well to further enhance your experience.
Conclusion
You can add items to cart, save your favorite ones and select through various sizes. Yes, Jabong is a simplistic shopping apps for apparels and accessories and the USP of this app is that Jabong has kept it simple and uncluttered. The shop is mainly meant for those looking for what's hot out there with peace.