Micromax has officially announced its Windows Phone devices – Canvas Win W121 and Canvas Win W092 with Windows Phone 8.1 onboard. Both phones have interesting hardware and even more interesting price tag. The High end Canvas Win W121 priced at 9,500 INR will compete with Microsoft's own Lumia 630 (Full Review), the only phone selling with Windows Phone 8.1 out of the box at present.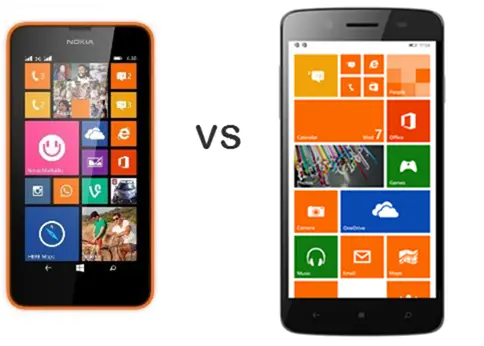 Display and Processor
The Lumia 630 comes with comparatively smaller 4.5 inch display with lesser WVGA pixel resolution. The pixel density is about 207 ppi and the display, although quite responsive, is slightly grainy. The display is also protected by Corning Gorilla Glass 3 which makes it more durable than Canvas Win W121 Display. Below the display you will find Software navigation keys in Lumia 630 which further reduce the display size.
Canvas Win W121 features a 5 inch display with 720p resolution. The display resolution is certainly better with pixel density of 294 ppi. Both displays seemed good in terms of colors but we liked the display on Win W121 better in our Initial time with the device.
The processor employed in Lumia 630 is Snapdragon 400 quad core clocked at 1.2 GHz with Adreno 305 GPU and 512 MB RAM support. Canvas Win W121 on the other hand comes with slightly inferior Snapdragon 200 quad core clocked at 1.2 GHz and aided with Adreno 305 GPU, but with double 1 GB of RAM. The RAM would have made more of a difference on Android OS, but Lumia 630 can sail quite smoothly with 512 MB RAM.
Camera and Internal Storage
The Lumia 630 comes with a 5 MP rear shooter with a 1/ 4 Inch sensor capable of recording 720p HD videos. There is no front camera on Lumia 630. Canvas Win W121 has an edge in this segment with an 8 MP rear camera and also a 2 MP front camera for those interested in video calling.
The internal storage is 8 GB in both devices but you can extend the storage by 128 GB in Lumia 630 against 32 GB of MicroSD support in Canvas Win W121. For most users, this won't make much of a difference, but Lumia 630 will be more appealing to those who need some extra large SD card storage.
Battery and Operating System
The Battery is rated at 2000 mAh for Micromax Smartphone and whiles it's too soon to comment on Canvas Win W121's backup, you won't be disappointed by Lumia 630's 1830 battery which faired quite decent in our time with the device.
The operating system is also same Windows Phone 8.1 on both smartphones but you can expect faster updates on Lumia 630. Lumia 630 also has the benefit of Nokia Camera Apps and SensorCore, which collects data from various sensors without taxing battery and can share it with other apps.
Key Specs
| | | |
| --- | --- | --- |
| Model | Micromax Canvas Win W121 | Nokia Lumia 630 Dual SIM |
| Display | 5 Inch, HD | 4.5 Inch, WVGA |
| Processor | 1.2 GHz Snapdragon 200 Quad Core | 1.2 GHz Snapdragon 400 Quad Core |
| RAM | 1 GB | 512 MB |
| Internal Storage | 8 GB | 8 GB |
| OS | Windows Phone 8.1 | Windows Phone 8.1 |
| Cameras | 8 MP/ 2 MP | 5 MP |
| Dual SIM | Yes | Yes |
| Battery | 2000 mAh | 1830 mAh |
| Price | 9,500 INR | 10,500 INR |
Price and Conclusion
The Price difference isn't much between the two devices and thus you get to choose on the basis of what hardware will be more appealing to you. Lumia 630 has the advantage of Gorilla Glass 3 and slightly better processor along with Microsoft support where as Canvas Win W121 features more palatable display and better camera along with a neat faux leather back cover.