HTC Desire 816 was a competitively priced mid range offering from HTC which managed to grab lots of attention. After a long time, HTC had managed to present an admirable combination of hardware for a well suited price tag. The company presented the successor of HTC Desire 816, the Desire 820 at IFA 2014 which has also been well appreciated world wide. Let's take a look at how much HTC has improved with the Desire 820.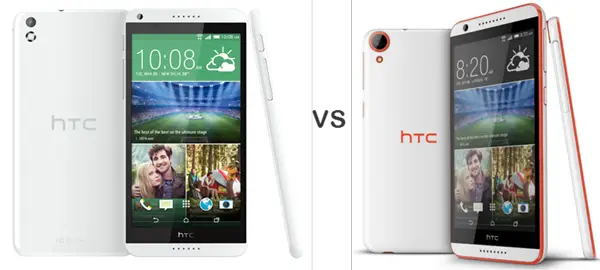 Display and Processor
Both smartphones use the same display technology. The Desire 816 and Desire 820 sport a 5.5 Inch SLCD 2 display with 1280 x 720 pixels amounting to 267 pixels per inches. We liked the display on HTC Desire 816, which surprisingly handled multimedia very well.
The processor is the main differentiating factor here. The Desire 820 is the first Android smartphone with 64 bit Snapdragon 615 octa core SoC. The chipset is based on big.LITTLE configuration with 4 Cortex A53 cores clocked at 1.5 GHz and other 4 at 1 GHz. The chipset is aided by 2 GB RAM and better Adreno 405 GPU.
So mostly the OS will treat it as a quad core device, but the chipset can have all 8 cores active if load demands it. The Cortex A53 cores are 64 bit equivalent of Cortex A7, based on ARMv8 architecture ditching the age old ARMv7 in 32 bit cores. The Cortex A53 is expected to be much more power efficient and faster than Cortex A7, even while running 32 bit code.
The Desire 816 on the other hand features 1.6 Ghz Snapdragon 400 quad core backed by 1.5 GB RAM and Adreno 305 GPU. The Desire 820 offers a significant update in Chipset department.
Camera and Internal Storage
The 13 MP, 4160 x 3120 pixels, autofocus rear camera remains same for both smartphones but the front camera cam has been bumped up to 8 MP from 5 MP in Desire 816. Both front and rear cameras can record 1080p full HD videos on both devices.
The internal storage has also been bumped up to 16 GB from 8 GB in Desire 820. Both phones support 128 GB of microSD expansion.
Battery and Other Features
Battery capacity remains same at 2600 mAh but with more power efficient chipset, Desire 820 is expected to last longer. According to official data, the standby time has improved from 424 hours to 737 hours.
The Desire 816 runs on Android 4.4.2 Kitkat with HTC Sense 6 UI on top. The Desire 820 will offer similar software experience with Android 4.4.4 Kitkat based HTC Sense 6. HTC promises a timely upgrade to Android L, which will enable 64 bit chipset to function at its full potency.
On the outside, HTC has introduced a dual shot styling with Desire 820, adding another color ascent to the primary color. The Desire 820 also corrects the button layout of Desire 816 thus making power key and volume rocker more accessible.
Key Specs
| | | |
| --- | --- | --- |
| Model | HTC Desire 820 | HTC Desire 816 |
| Display | 5.5 inch, 1280 X 720 HD | 5.5 inch, 1280 X 720 HD |
| Processor | (1.5 GHz Quad Core + 1 GHz Quad Core) Snapdragon 615 Octa Core | 1.6 GHz Snapdragon 400 |
| RAM | 2 GB | 1.5 GB |
| Internal Storage | 16 GB, Expandable | 8 GB, Expandable |
| OS | Android 4.4.4 KitKat, Upgradeable to Android L | Android 4.4.2 KitKat, |
| Camera | 13 MP/ 8 MP, Full HD video Recording | 13 MP/ 5 MP, Full HD video Recording |
| Battery | 2600 mAh | 2600 mAh |
| Price | To be Announced | 21,000 INR Approx. |
Conclusion
The HTC Desire 820 is a decent upgrade to Desire 816 but will HTC manage to keep the pricing just as right? With HTC Desire 816 now selling for 21,000 INR approx and HTC One E8 at 32 K, we can expect this one to be priced somewhere in the middle at 25K to 26K INR. We will know for sure very soon on September 23. The HTC Desire 816 seems to be a step in the right direction.