Microsoft presented three more Lumia Phones – Lumia 730, 830 and 930, after demonstrating Windows Phone 8.1 on surprisingly fluid Lumia 630. On the inside all three offer the same unified software experience but have different hardware according to their respective prices. We have had the opportunity to spend some time with all three phones. Let's take a look at how all three differ and if the difference really blends with the wide difference in Price tags of the three.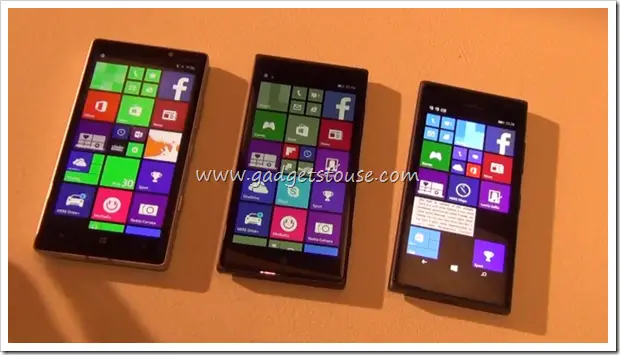 Display and Processor
Nokia Lumia 730 and 930 both have super AMOLED displays with characteristic awesome blacks and high contrast, while the Lumia 830 features a 5 inch bright IPS LCD panel, more suited to those who prefer great whites. All three have Gorilla Glass 3 protection and Nokia signature ClearBlack technology to improve sunlight visibility. You won't see pixelation on any of these three, but Lumia 930 is sharper and crispier with 1080p resolution, while the other two are more than decent 720p HD displays.
The Lumia 730 and Lumia 830 feature the same Snapdragon 400 chipset with 1.2 GHz quad core Snapdragon 400 with cortex A7 cores and Adreno 305 GPU aided by 1 GB RAM. The Lumia 930 belongs to a separate league with Snapdragon 800 high end SoC clocked at 2.2 GHz with Krait 400 cores, 2 GB RAM and Adreno 330 GPU.
Camera and Internal Storage
In the selfie cam race, Nokia Lumia 730 leads with a margin, thanks to its 5 MP front cam with wide angle lens capable of 1080p video recording and well optimized with Nokia Camera App. Microsoft has designed it to be a selfie centric smartphone and in case your prioritize selfies, Lumia 730 is the way to go.
That doesn't mean Lumia 730 falters when it comes to rear camera. The 6.7 Inch rear camera with carl zeiss high end optics is a great performer as well and can give Nokia's affordable Lumia 830 a run for its money. The Lumia 830 has a PureView 10 MP camera with OIS and Lumia 930 features top notch 20 MP PureView rear camera with the largest size sensor of the three and dual LED flash.
Lumia 730, 830 and 930 have 8 GB, 16 GB and 32 GB native storage in line with what you have to shell out for each. Storage is expandable by another 128 GB MicroSD support for Lumia 730 and 830, but Lumia 930 doesn't have a MicroSD card slot.
Battery and Other Features
In spite of the difference in price tag, the battery capacity on all three phone remains similar, at least on paper. The Lumia 730 employs a 2220 mAh unit while the Lumia 830 is powered by a rather smaller 2200 mAh unit. According to official stats, Lumia 730 will last longer.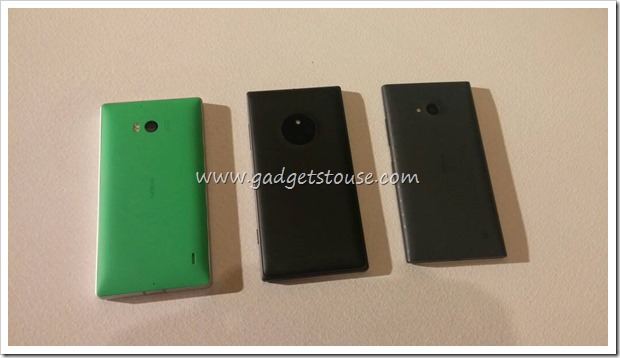 The Lumia 930 on the other hand features a 2450 mAh battery which is good, but not as great as we would expect from Nokia flagship. Lumia 830 and 930 support wireless charging. All three phones won't disappoint you with the battery backup.
Software is same on all three phones and sails smoothly on all three as well. you will get the latest Windows Phone 8.1 with denim update features pre-installed, thus offering the best of Windows Phone platform.
The prominent difference between the three lies in terms of build quality and in this regards, you get what you pay for. Lumia 730 is on the lower rung of the ladder with a polycarbonate casing, both Glossy and Matte finish depending on the variant you choose. Lumia 830 feels more premium with metal running around its edges and the tough and sturdy Lumia 930 takes the lead with the most premium design worth of Lumia flagship title.
Key Specs
| | | | |
| --- | --- | --- | --- |
| Model | Lumia 830 | Lumia 730 | Lumia 930 |
| Display | 5 Inch , 1280 x 720 | 4.7 Inch, 1280 x 720 | 5 Inch, 1920 X 1080 |
| Processor | 1.2 GHz Quad Core | 1.2 GHz Quad Core | 2.2 GHz Quad Core |
| RAM | 1 GB | 1 GB | 2 GB |
| Internal Storage | 16GB, Expandable | 8 GB, Expandable | 32 GB |
| OS | Windows 8.1 | Windows 8.1 | Windows 8.1 |
| Camera | 10 MP/ 1 MP | 6.7 MP / 5 MP | 20 MP/ 1.2 MP |
| Battery | 2200 mAh | 2220 mAh | 2450 mAh |
| Price | 28799 INR | 15299 INR | 38,689 INR |
Conclusion
Lumia 730 is what we see best situated out of the three. For 15,299 INR, the phone offers the same software, great camera, Expandable storage and great battery life. It doen't have hints of metal on the outside, but that shouldn't matter as the good quality polycarbonate shell is befitting to the price tag. Lumia 930 finds its place as the Lumia flagship and justifies that spot in several ways. The Lumia 830 however sounds misplaced. Microsoft wanted it to be the affordable PureView camera device, except that it doesn't sound very affordable in Indian Market at 28,799 INR.
Nokia Lumia 730 VS 830 VS 920 Comparison Review, Features, Camera, Built Quality and Value for Money[Video]