Nokia Lumia 830 and 730 are now available for purchase on Indiatimes Shopping for 28,799 INR and 15,500 INR. Both Lumia smartphones were announced last week along with the flagship Lumia 930 in India.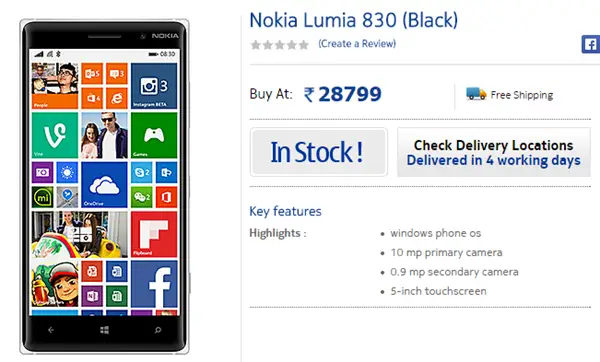 The Lumia 730 is the selfie centric Lumia phone with the latest Windows 8.1 software and sturdy polycarbonate casing. For the respective price, the phone offers admirable imaging hardware including a 6.7 MP rear shooter and a 5 MP front camera for wide angled and crisp selfies.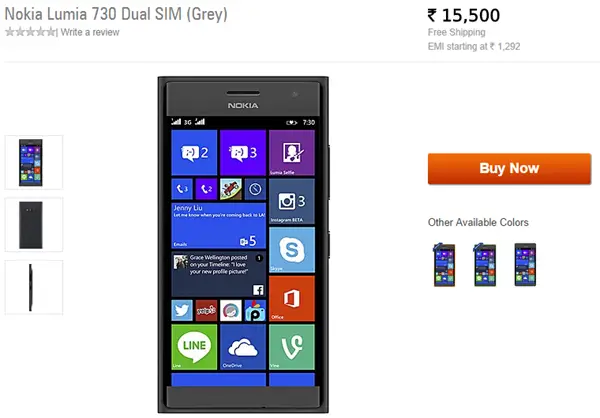 The Lumia 830 on the other hand is a mid range Lumia device with a PureView 10 MP rear camera and a 2 MP front shooter. Both phones are powered by a 1.2 GHz quad core Snapdragon 400 with 1 GB RAM and Expandable 8 GB/ 16 GB internal storage. Considering the price range, Lumia 730 seems better placed in Indian market out of the two.
Both the smartphones offer the best of Windows Phone ecosystem and we are expecting the price to fall a bit in coming weeks. Which Lumia phone seems most enticing to you? let us know in the comment section below.
Key Specs
| | | |
| --- | --- | --- |
| Model | Lumia 830 | Lumia 730 |
| Display | 5 Inch , 1280 x 720 | 4.7 Inch, 1280 x 720 |
| Processor | 1.2 GHz Quad Core | 1.2 GHz Quad Core |
| RAM | 1 GB | 1 GB |
| Internal Storage | 16GB, Expandable | 8 GB, Expandable |
| OS | Windows 8.1 | Windows 8.1 |
| Camera | 10 MP/ 1 MP | 6.7 MP / 5 MP |
| Battery | 2200 mAh | 2220 mAh |
| Price | 28799 INR | 15299 INR |
Lumia 830|Lumia 730