As the number of smartphone users is increasing by the minute, the features that such devices provide are also increasing. Moreover, Android is the widely used smartphone platform and there are numerous applications that help users to perform activities similar to PCs on these smartphones. One common task that is done using PCs is accessing PDF files and it has always been tough for the end users. Notably, PDF reads are not preinstalled on Android devices usually.
For some users, PDFs are useful for business documents and forms and they would require PDF apps that can edit and fill out forms. Another set of users prefer keeping their books in PDF format and this would require a PDF app that doubles as an eBook reader. As it is tough to figure out which PDF apps are the best suited for your usage, we have come up with a list of some of them that would be useful.
Adobe Reader
Adobe Reader is the first option that would strike the minds of PDF readers. It has a renowned standard for PDF files and facilitates viewing and interacting with PDF documents. Adobe PDF reader app is one of the best PDF reader applications for Android. There are standard features expected from a PDF reader and a slew of others as well and it is recommended for business users. The app lets limited annotation and if the file needs editing, it has to be converted to other formats and would require other apps to edit.
ezPDF Reader
ezPDF Reader is much like Adobe Reader as it is aimed at the business users largely. Unlike Adobe Reader, ezPDF comprises of some features aimed at users who require the app to function as a reader. The most notable features of this reader include FormFiller, ePub support and multimedia PDF support. The free version of the application will not provide all of these features, but the full version will definitely offer them. If your needs are addressed with the free version of the ezPDF, you can get away with it without tossing a few additional bucks in upgrading it.
Radaee PDF Reader
Radaee PDF Reader is another PDF application that is also useful for reading. This application has some basic editing features that are also available in the other similar PDF applications. Radaee claims to provide better than average language support and quick rendering that translates to good performance. The application features a simple interface and some reader features such as page turning animations. This is seems to be more like a reader than a business PDF app and it is free to download.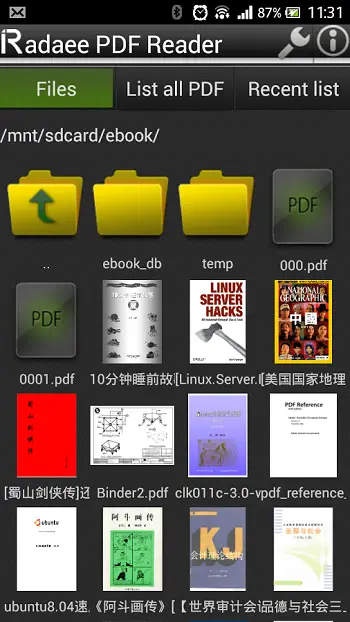 Kingsoft Office + PDF
Kingsoft Office + PDF is basically an office app, but there are few features that let you to deal with PDFs as well. You can save documents in PDF format if required and open the whenever required. The application lets you to print or read the PDFs on the go without any hassle.  It does not have a lot of features that others provide, but if you need basic PDF functionality, this could be the best option as it will not require another office app to be installed on your smartphone as it comes with a highly rated and popular office suite.
Foxit MobilePDF
Foxit MobilePDF is also more like a reader in terms of functionality and the features it provide. However, there are some features that are targeted at the business users as well including the annotation feature and the ability to sign PDFs. There is cloud support that is a welcome feature these days and is focused predominantly on opening PDFs quickly and in rendering a smooth operation. Notably, this application is available in a free version, but it is a bit expensive if you want to upgrade to the full version.
Other Similar Applications
The Google Play Store has a swarm of PDF reader applications and besides the ones we have mentioned above, there are other useful applications including AnDoc – PDF & DJVU Reader, CamScanner – Phone PDF Creator, MuPDF, PDF Reader,  qPDF Notes Pro PDF Reader and others.
Conclusion
An Android PDF reader app is an essential one that should not be missed out on your smartphone. If you were looking for a PDF reader app, the ones we have mentioned here would definitely be of help and you can go ahead an install them on your device. These apps will let you read all your PDF documents on your smartphone with a similar experience as on desktop.