Have you ever faced the need to block some certain websites on your android smartphone and yet, you don't really know how to actually do this rather than just turning off your data pack or wifi router? If yes, then this article is for you only my friend!
There are several apps available in the playstore which you can use to block any specific or particular category of websites across the globe. The only thing which needs to focused while selecting them is that how easy-to-use their UI is ? how secure their filter framework is ?
So, Here is the list of 3 Ways to Block Certain Website on Android:
Safe Browser – The Web Filter
Safe Browser is a cloud based app which works with real time data collection and just in time web filtering operations. Their cloud servers regularly monitors millions of websites and billions of webpages  to keep their database up-to-date with the latest online privacy & security threats so that they can protect their users.
Just go to the play store & download it for free in your android smartphone. Once it is installed in your device,
From the items listed on the menu, select "Admin". You will then be asked to set your desired admin password. Enter your password then re-enter it to confirm. Keep in mind to set a strong password that has a combination of eight or more alpha-numeric characters. Once you're done, press "OK".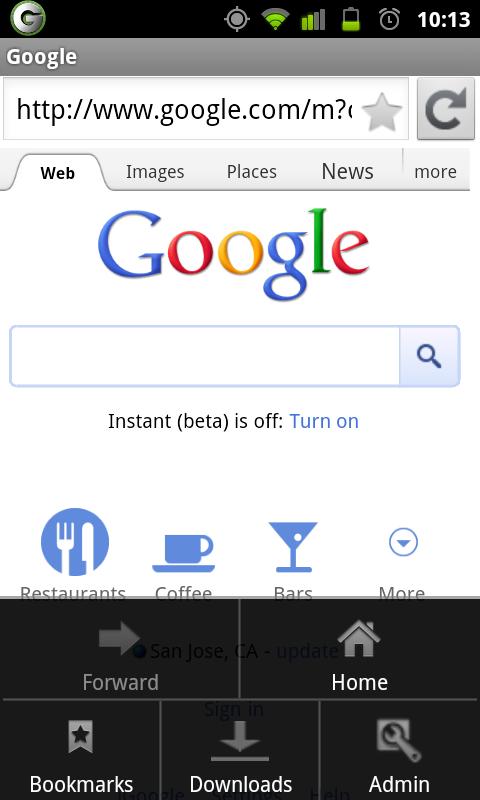 In the wake of setting up your password, the application will directly log you in as "administrator". As an administrator, you have the authorization to limit access to certain websites or any particular category.To block a particular site, sort the site's location on the browser's URL bar then tap on "Go". When the site is opened, you should do nothing more than to press the menu icon and after that press "More". On the sub-menu, select "Add to Blacklist". After which, the application will consequently restrict access to that website.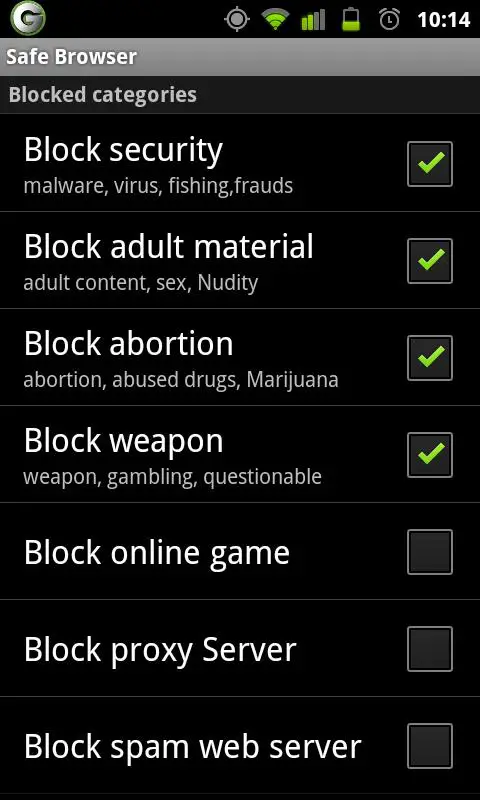 One important thing to remember is that once a website is blocked(i.e. added to blacklist) even admin can't open it through the browser.
Kaspersky Parental Control Android App
Download & Install Kaspersky Parental Control android app for free from Google Play Store.
Open the app to configure it. Select the website categories you want to restrict on your smartphone. It selects inappropriate categories by default. You can add or remove categories as per your choice.
You can also select the apps you want to block on your android device. Standard android apps like Phone dialer etc are allowed by default. You can add or remove apps to the list.
After configuring the app just make sure to set default browser for surfing the web. This selected web browser will only be able to access the websites. Other browsers are restricted by default to avoid accessing blocked websites. You also require to give device administrator permission of this app so that It can not be uninstalled by your kids.
This app is compatible with most of the android smartphones and tablets including Samsung Galaxy Note 2, HTC , Nexus 7 etc.
Trend Micro Mobile Security App
Go to Google Play Store and search for "Trend Micro Mobile Security " , Download the app and install it on your android smartphone. Now go to settings option and tap on safe surfing.
You would see URL blocking option there.
There you will discover options i.e. safe surfing, parental control and history. Go to parental controls. Tap on setup account, and make new Micro account with your login id and password. In the wake of making a account, you will discover block list option, there you can discover the same number of URL as you need to restrict on your android tablet or smartphone.
After creating a block list in app. When any user will attempt to access any restricted/blocked website on Chrome browser on android ,the blocking warning notification will appear.
Conclusion
These URL blocking/filtering apps are really useful for ensuring privacy and security from new emerging cyber threats and malicious webpages. Also, It can be useful for providing good web surfing environment to kids. Have you used these apps to block certain websites in past ? Do let us know If you're using any other apps to block websites on your android devices in the comment section!