Lenovo has today launched K3 Note in India for 9,999 INR and if you recently paid 8,999 INR for the A7000, this could make you go furious. Let's compare the two smartphones against each other and check what extra features Lenovo is offering for the marginal increase in price.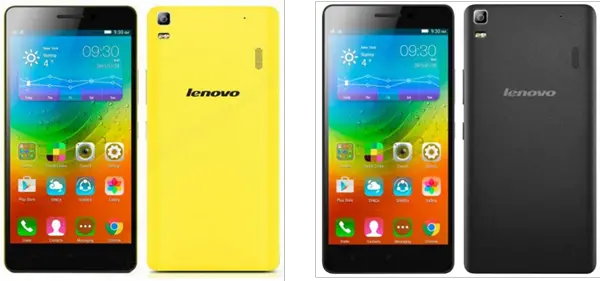 Key Specs
| | | |
| --- | --- | --- |
| Model | Lenovo A7000 | Lenovo K3 Note |
| Display | 5.5 inch, HD | 5.5 inch, Full HD |
| Processor | 1.5 Octa Core MediaTek MT6752M | 1.7 Octa Core MediaTek MT6752M |
| RAM | 2 GB | 2 GB |
| Internal Storage | 8 GB, Expandable up to 32 GB | 16 GB, Expandable up to 32 GB |
| OS | Android 5.0 Lollipop with Vibe UI | Android 5.0 Lollipop with Vibe UI |
| Camera | 8 MP/ 5 MP | 13 MP/ 5 MP |
| Battery | 2,900 mAh | 3000 mAh |
| Dimensions and Weight | 152.6 x 76.2 x 8 mm and 140 grams | 152.6 x 76.2 x 8 mm and 150 grams |
| Connectivity | Wi-Fi, 4G LTE, 3G, GPS with A-GPS, Glonass, Bluetooth 4.0 | Wi-Fi, 4G LTE, 3G, GPS with A-GPS, Glonass, Bluetooth 4.0 |
| Price | Rs 8,999 | Rs 9,999 |
Points in favor of Lenovo K3 Note
Full HD Display
Better Camera
More 16 GB Native storage
Display and Processor
Both phones occupy the same footprint, but K3 Note has a sharper full HD 1080P display compared to the 720p HD display used on A7000. The difference is noticeable when you place both handsets side by side, but again first time users won't be disappointed with either of the two.
Processor sees a slight upgrade too. The Lenovo A7000 includes MT6752M and the K3 Note is powered by MT6752. Both have 8 Cortex A53 cores, but the chip in K3 Note has a higher clock frequency, but it has to do more work too pushing all those extra pixels.
Camera and Internal Storage
Both the rear camera and internal storage see significant improvement with K3 Note. 8 GB in A7000, with 4 GB available at user end, cast aspersion on long term performance durability, even though apps and other data could be transferred to SD card to an extent.
Besides most consumers asks for a '13 MP' camera in this budget as most rivals like Yureka and Redmi Note 4G already offer those specs. K3 Note increases the Megapixel count, but also the camera performance with a 13 MP Ombivision large size sensor and wide aperture lens on top.
Battery and Other Features
Battery capacities are again similar. Lenovo A7000 includes a 2900 mAh power unit, while K3 Note packs in extra 100 mAh, to offset higher clock frequency and full HD resolution. Lenovo assures that you can fly through one day of moderate usage on both handsets comfortably.
Software and connectivity options on both handsets remain similar too. There is Android 5.0 Lollipop to cherish and since Lenovo is pretty good with software updates, you can be assured that performance glitches and bugs, if any, will be eliminated with time. Both phones have exactly same design.
Conclusion
Lenovo K3 Note is what Lenovo A7000 should have been in the first place. What A7000 owners are missing on is 16 GB native storage and a better camera. Having said that, both phones are very capable and offer great value for your money