It has started as a good year for Samsung so far, especially the flagships from the company- Galaxy S7 and S7 Edge have been the real show stealer. It's too early to call them the best of this year, but we are pretty sure that it is the better one among all that we have seen so far. Both of them are topped with great hardware, next-gen camera and a sleeker body.
It has been more than one month since we are testing both the smartphones, just because we wanted to put it to real test just to know what all it has to offer and in which areas it falls behind. There are a lot of similarities between the two in terms of performance but the small changes make them two different pieces of absolute beauty.
Samsung Galaxy S7 and S7 Edge Full Specs
[table id=380 /]
Samsung Galaxy S7 Edge and S7 Unboxing, Hands-On Review [Video]
What are Usage Reviews, Tests and Opinions?
This review is based on our quick tests and usage done with the phone, we try to push the device to its limits and find out the results which will matter if you plan to buy this phone. We hope this review helps you to get your queries answered about the device.
Performance
In terms of performance, both the phones have the same set of hardware and handle every task you throw at it with great ease. With a powerful Exynos 8890 processor and 4 GB of RAM, we were fully satisfied with the speed and performance of both the handsets.
App Launch Speed
Apps took almost no time to launch, even the heavier games like GTA San Andreas were able to load in no time.
Multitasking and RAM Management
Out of 4 GB, around 2.6 to 2.8 GB RAM was free on both the phones and with this much amount of free RAM, it was handling every task with an ease. You can run multiple games at once and resume them from where you left it.
Scrolling Speed
Scrolling speed was good, we did not notice any glitch or lag while scrolling heavy webpages or feeds.
Heating
Yes, we noticed some heating around the camera and on the sides after recording long videos, and also while charging. But it was never too hot to hold.
Benchmark Scores
[table id=435 /]
Camera
The Galaxy S7 features a Sony IMX260 Exmor sensor and Galaxy S7 Edge has Samsung's SLSI_S5K2L1 sensor, with a CMOS type Sensor at the primary camera is and an ISOCELL type sensor for the secondary camera. The aperture size on both the sensors is f/1.7, which makes it great for low light photography. It has a 12 MP rear camera with increased pixels from 1.2 microns to 1.4 microns. The front camera is 5 MP.
[table id=437 /]
Camera UI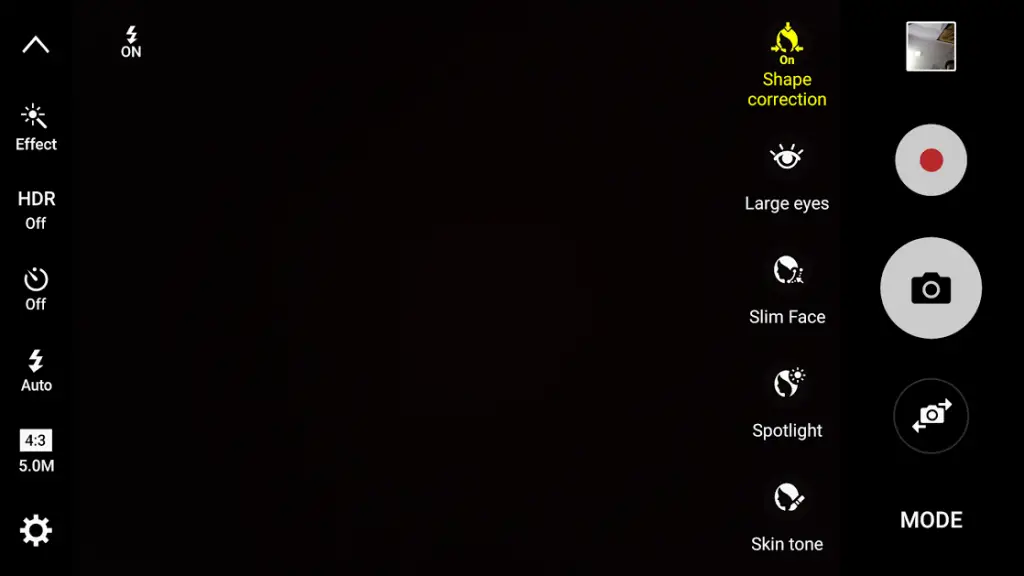 The camera app on the Galaxy S7 is exactly the same that we have seen in the phones like Note 5 and Galaxy A series 2016 edition. It is one of the easiest to use and offers number of modes and features to play with the mighty hardware it boasts of. It offers quick toggles for HDR mode, flash, camera settings and filter effects.
Day Light Photo Quality
For natural lighting conditions, this camera is the one that can be considered the next big thing in the smartphone camera technology. DSLR grade picture quality and super fast focus was a treat. Auto mode works the best to capture in any condition, but the natural light pictures looked just too good. It captures natural colours, and rich details under natural light.
Low Light Photo Quality
When it comes to low light pictures, the Galaxy S7 is one name that has changed the definition of smartphone cameras. The rear and front camera on the S7 are capable of capturing great amount of light with the help of wider aperture. I was amazed to see the picture quality, as I compared it with the iPhone 6s in terms of low light photography. It absorbs light out of nothing, and that's all I can say.
Selfie Photo Quality
As far as clarity and details are concerned, both the camera capture amazing colours, great details with wide area. Honestly, the day light and indoor light quality is not much changed from the front camera but it definitely has some improvisations for dim conditions.
Video Quality
Battery Performance
Samsung has used bigger batteries to increase the backup on both the phones. Galaxy S7 comes with 3000 mAh battery and Galaxy S7 Edge has a 3600 mAh battery.
Both support fast charging, during wired or wireless charging.
Charging Time
The Galaxy S7 took 85-88 minutes to get charged from 0-100% and the S7 Edge was able to get charged from 0-100% in almost 95 minutes.
Battery Drop Rate Table
[table id=439 /]
Looks and Design
The Galaxy S7 looks a lot like its predecessor in terms of design, the size is almost the same and the shape is slightly changed. The S7 has curved back, which we have seen in Note 5 earlier, it's just like the edges from the Galaxy S7 edge have been moved to the back. In hand, the new design feels more comfortable and handy and feels much premium if compared to the S6.
The Galaxy S7 Edge also looks like the previous S6 Edge model in terms of language but there is a difference between the two, mainly on the back. Galaxy S7 Edge comes with a 5.5 inch curved display and has the same curved back which is found on the Galaxy S7. Galaxy Note 5 was the first Samsung phone to come with that sort of back though. It looks really classy and sits perfectly in hand, just like a polished pebble.
Samsung Galaxy S7 Photo Gallery
Samsung Galaxy S7 Edge Photo Gallery
Quality of Material
Both are thoroughly made up of metal and glass, and it feels amazing from almost every aspect of design. The IP68 certification has made it void of any rubber flaps to cover up the USB ports and headphone jack.
The IP68 certification means that both the smartphones are waterproof and dust-proof, this is something that is really amazing for a smartphone that looks so stylish and is still so durable.
In-hand-feel
Both the smartphones have a curved back with glass finish, which makes is feel like a pebble in hand and sits perfectly to suit you one handed usage. The S7 has a smaller form factor and feels better to use in day to day usage but the ones who love curved displays or bigger displays will surely love the S7 Edge. The only thing goes against the design is the accidental touch which keeps happening on the Galaxy S7 Edge if you are not used to a curved screen.
Display Clarity, Colors and Viewing Angles
Galaxy S7 comes with a flat 5.1 inch and S7 Edge has 5.5 inch WQHD resolution (2560x1440p) curved Super AMOLED display.  Galaxy S7 has a pixel density of 577 ppi where the density on Galaxy S7 Edge is 534 ppi, obviously because of the bigger display size. Both the smartphones feature almost the same display panel except the size and curve. The always on technology has been added to allow users to see notifications without turning the main display on.
Viewing angles are great and the colours look absolutely stunning from every aspect. The display looks very crisp and clear, it feels amazing to watch high resolution videos on these phones.
Outdoor Visibility (Full Brightness)
Outdoor visibility is good. The screen looks very bright and clear.
Custom User Interface
Galaxy S7 comes with the latest version of Android Marshmallow out of the box, but as usual you will find Samsung's own custom UI on top of it. The UI is surely streamlined and optimized after the S6 was released but this time we did not notice any major upgrade in the interface. It has all the older features like side-by side multitasking, themes and more. With a powerful Exynos 8890 processor and 4 GB of RAM, the UI was pretty smooth and did not show any issues with the performance and handling. Although the devices we tested at the event were unused and clean.
Sound Quality
The speakers are placed at the bottom of the phone and they are loud. It is not the loudest but still great for outdoors and indoor usage.
Call Quality
The call quality is as good as you would expect from any high end smartphone. We have no complaints with the quality.
Gaming Performance
Gaming performance on the Galaxy S7 and S7 Edge has blown my mind. While playing any game, I did not notice any sort of lag or frame drops, and I did play some intense games as well. The best part about gaming with the phone was that the phone just did not want to heat up at all. This is probably because of the liquid cooling that you find in the smartphone.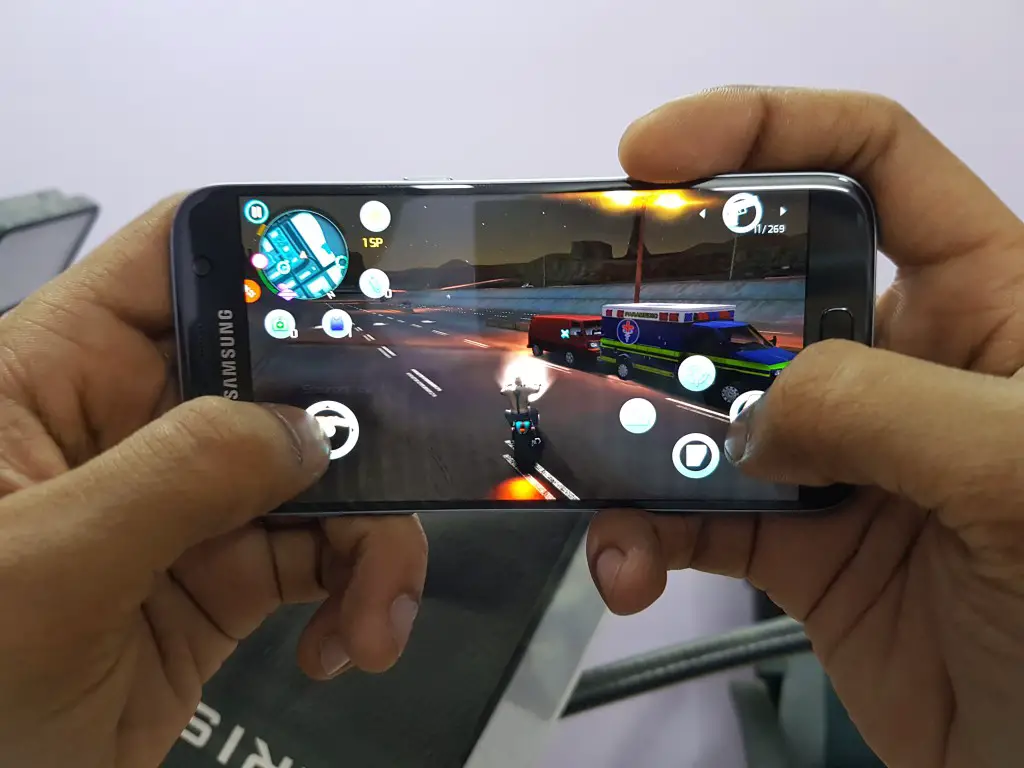 For testing out the gaming performance on these devices, we played Asphalt 8, Dead Trigger 2, Modern Combat 5 Blackout on the Samsung Galaxy S7 Edge, and Gangster 4, and UFC on the Samsung Galaxy S7. Here are the battery drain and temperature gain stats for both these smartphones.
[table id=434 /]
[table id=438 /]
Game Lag & Heating
After playing multiple high-end games, we did not notice any unusual lag, even though some framedrops were seen when I was playing the Gangsta Vegas 4 but there were occasional and minimal.
Conclusion
The Galaxy S7 siblings are undoubtedly excellent smartphones, and have all the qualities one would ask from a flagship. If you need real power with incredible offering in almost every other area and money is not a problem, then the S7 and S7 Edge are great options. It offers much more than just the svelte body and heavy power.
It has great battery life, best in class camera, top-notch gaming performance, IP68 certification, pebble like design and special Concierge services from Samsung. The only thing that makes it a bit ordinary is the software that has remained the same we have seen in previous iterations. Otherwise these phones are the finest Android flagships available currently in the market.