Have you lost or misplaced your Aadhaar card or Aadhaar enrolment id? What can you do in such a situation? Visit the Aadhaar enrolment center? Well, here's the hassle-free way to get a duplicate Aadhaar card from the comfort of your home.
With the increasing need of Aadhaar, losing or misplacing the Aadhaar card can be a problem. So, if you have lost your Aadhaar Card, and also have lost or misplaced your acknowledgment slip that you got during the time of registration, UIDAI, the Aadhaar issuing authority has made it possible to download a duplicate Aadhaar card through a simple procedure.
How to get a duplicate Aadhaar card?
In order to get the duplicate Aadhaar card, you need to visit www.uidai.gov.in to download the copy of Aadhaar. On the UIDAI website there is this option under the 'Aadhaar Online Services' Header, 'Retrieve Lost UID/EID'.
What is needed?
The only thing needed to get the duplicate Aadhaar card is your registered Mobile Number or Email address which you had provided at the time of enrolment. This is necessary because you will receive an 'OTP' (One-time password) which is required to retrieve your Aadhaar or enrolment number.
Now, click on the option 'Retrieve Lost UID/EID'. First, you are asked to choose whether you want to retrieve Aadhaar Number (UID) or Enrolment Number (EID). On choosing any of them, the website will redirect you to another page. Here, you will be asked to fill in details including full name as on Aadhaar, Email or Mobile number.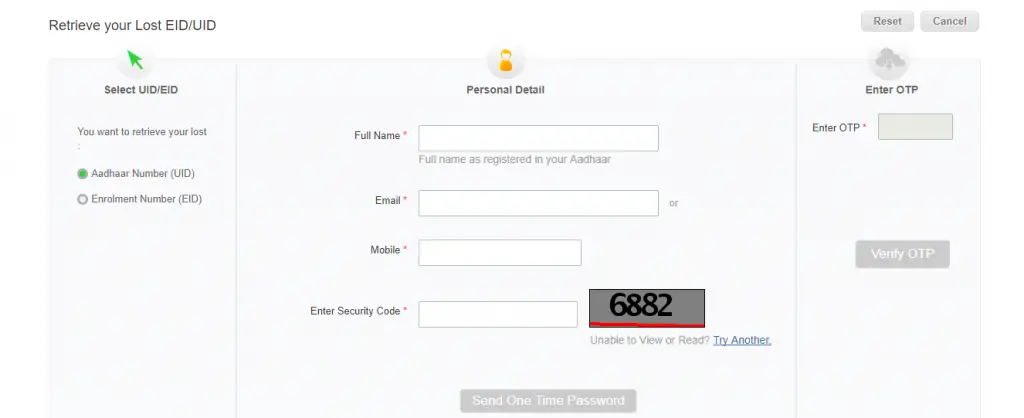 Now, click on 'Send One Time Password'. You will receive the OTP on your mobile or email ID whichever you have chosen. Now, enter the OTP and click Verify OTP.
Once the OTP received by you has been entered in the field and verified as correct, you will receive your Aadhaar number on your email or mobile whichever is mentioned by you earlier.
Now, you can use your Aadhaar number/enrolment Id received by you on the email or mobile to download the duplicate copy of your Aadhaar.
Download duplicate Aadhaar Card
Now, to download your duplicate Aadhaar card, you have to click on the 'Download Aadhaar' option under Aadhaar Online Services column. You will be redirected to the new page to fill the credentials.
Here, you are required to enter the details like Aadhaar number or Enrolment ID whichever you have just retrieved, your full name as per Aadhaar, and pin code of your home address. Now, click on 'Get One Time Password' option and you will again get an OTP on mobile number or Email.
Now, enter the OTP received and click on 'Validate and Download' the e-Aadhaar copy on your computer. It is to be noted that the downloaded PDF file will be password protected. The password to open the duplicate Aadhaar file is the pin code of your home address.
Other features of UIDAI website
Apart from retrieving lost UID or Enrolment number, you can also do certain other things on UIDAI website as well. For instance, you can find Aadhaar Enrolment centers in your area, check your Aadhaar card status, update your Aadhaar card details, and verify Aadhaar number/phone number or email id. Moreover, you can also lock or unlock your biometrics details.
As we all know Aadhaar card has become a mandatory document these days and has multiple usages. Recently, the Government of India also made it compulsory to link and re-verify all the mobile numbers with the owner's Aadhaar number.
The process of Aadhaar SIM linking is going to be online from coming December 1. Apart from that, it has also become mandatory to link your bank account and insurance policies with Aadhaar, and the deadline for this is December 31, 2017.
Moreover, UIDAI had also launched its mAadhaar app for Android users back in July. So, from now you can also access all your Aadhaar details including bank account linking status from your mobile phone. Download the mAadhaar app from Play Store.