Dark mode has indeed gained a lot of traction on Android in recent times. And why not? I mean it really helps in protecting your eyes from strain, and while most phones come with Bluelight filter, nothing comes close to a full-fledged dark mode. Moreover, it's also a life-saver for phones having OLED displays, helping improve the overall endurance.
Unfortunately, most of the devices out there skimp on a built-in dark mode. And while Google has announced the same for Android Q, the update will take time in reaching to masses. That said, the easiest way you can get perks of black theming is by using a custom Android launcher.
Therefore, we are here with a list of top 3 Android launchers with Dark mode that not only bring black theming options but also offer a slew of whole new customization features.
Launchers with Dark Mode for Android
Nova Launcher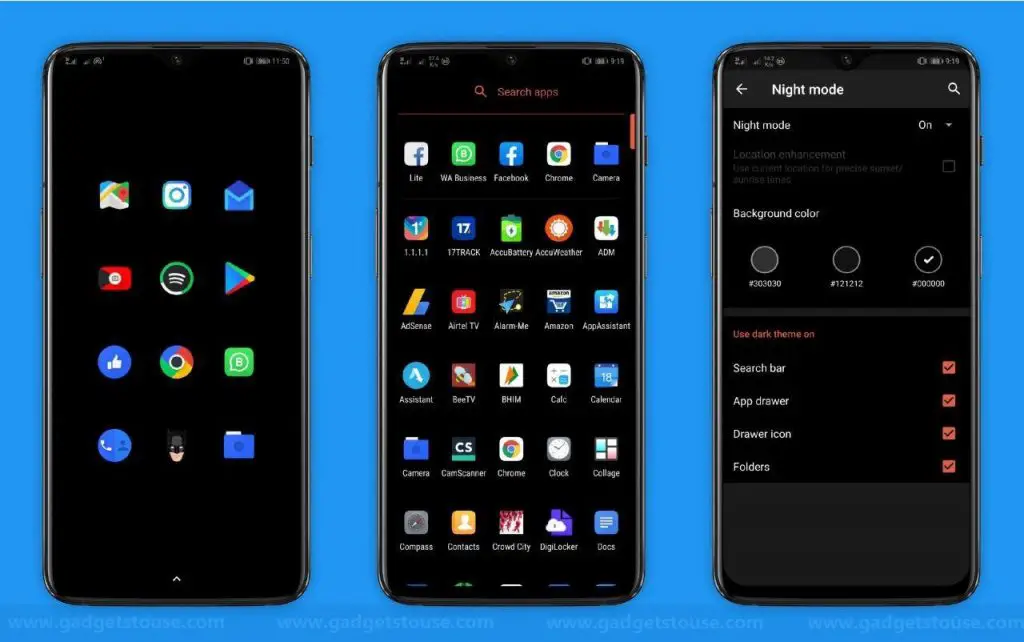 Dark mode has been available on the popular Nova Launcher since the very beginning. However, instead of a pure black theme, it employed a dark gray mode which was useless for the most part. Anyways, the launcher was updated recently by TeslaCoil to feature a pure black theming option.
Using the revamped Night mode in Nova Launcher settings, you can individually apply dark mode on the search bar, app drawer, drawer icon, and folders, giving you the feel of Android Q at least on the home screen. As noted, you can still opt for slightly lighter shades in case you don't want AMOLED black colors. Cool enough, there's also an option to schedule the night mode as per your liking.
Amongst other features, Nova offers a pixel-like interface and the ability to tweak around with navigation buttons, app drawer, icon size, font, shadows, and more. As for now, the Nova Launcher is available for free on Google Play Store, but if you want to unlock more features, you can go with the Prime version.
Microsoft Launcher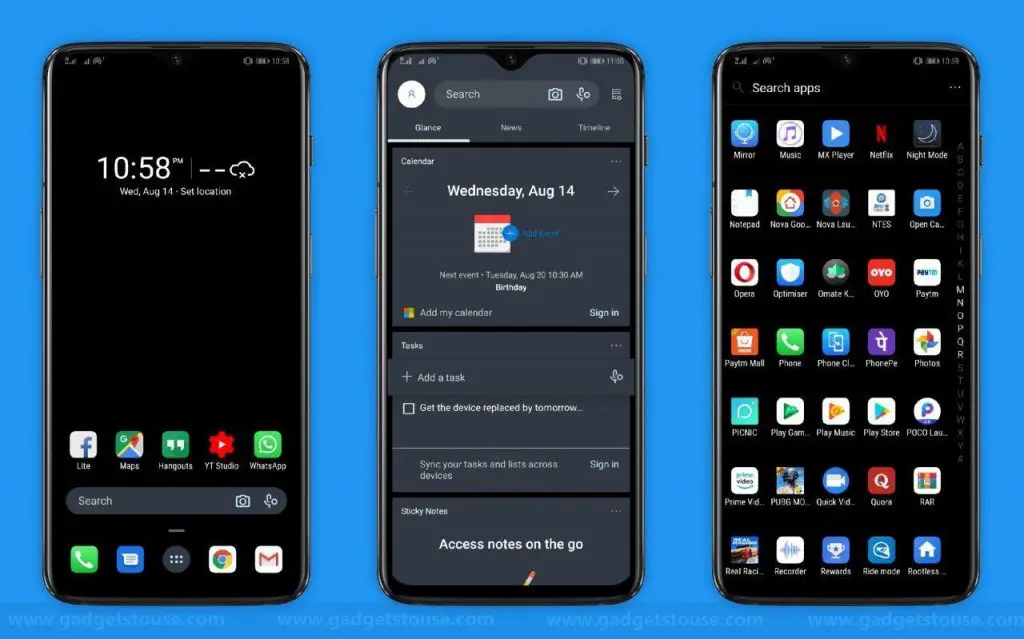 Microsoft launcher is yet another popular launcher for Android that brings a whole bunch of productivity features alongside a full-fledged dark mode. It incorporates a subtle dark tone, applied to the launcher settings, app drawer, and built-in widgets.
The dark mode further extends to the search menu, followed by the timeline and news feed. To make the best use of the dark theme, you can set a dark-colored wallpaper, which will also make the folder backgrounds appear dark.
Besides, the launcher lets you read the news, add notes, check calendar events, and access your contacts right from your home screen. It also offers a quick settings menu at the bottom that can be revealed by a simple swipe gesture. And how can we forget Cortana? It's sitting right above the dock.
Moving further, there's a Continue on PC feature which offers seamless work integration with apps on your PC like Edge browser, Office 365 and Clipboard. In all, Microsoft launcher is a great tool for those who are into the Windows ecosystem, need productivity features, quick setting toggles, and more with a dark mode.
Poco Launcher 2.0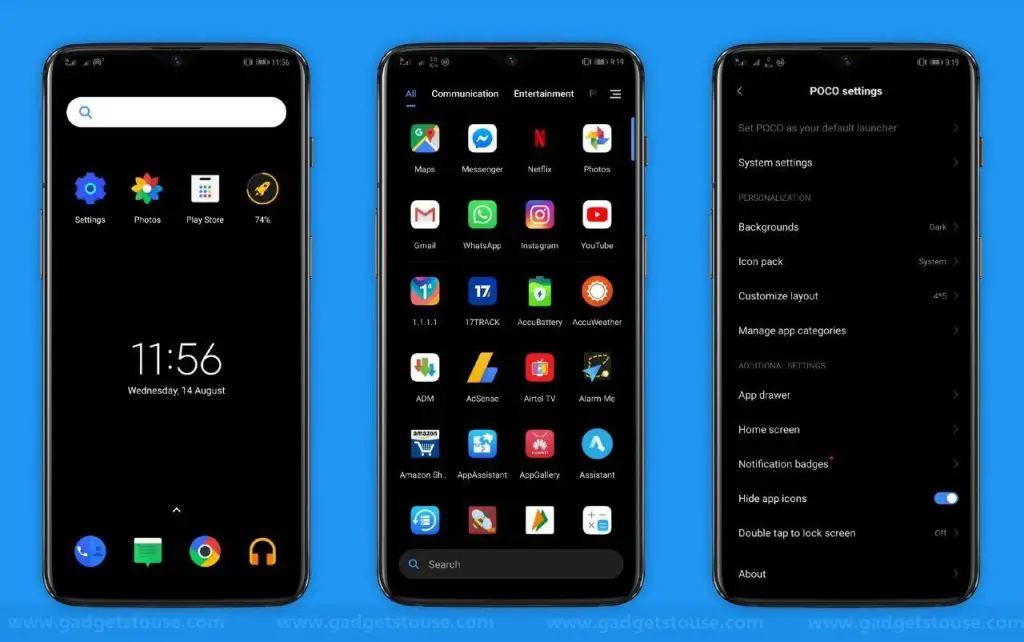 As the name suggests, Poco Launcher is the default home app that Xiaomi is using for the PocoPhone. Just like Nova, it was updated a few months back with the much-awaited dark mode feature.
While it's quite good, compared to other third-party launchers such as Action and Nova, it doesn't offer much customization. Also, the dark mode is restricted to the app drawer. Yet, it's way better than stock launcher and offers nifty features like hiding icons, grouping them by color, and customizing the layout.
So if you're in the market looking for a simple and stable launcher that supports dark mode and runs fast even on low-end devices, Poco Launcher is the way to go.
Wrapping Up
Well, we've gone through a long list of launchers including Lawnchair, Rootless, Pear, Action launcher and more. But in the end, this is what we got as top 3 Android launchers with dark mode.
By the way, what's your favorite out of these? Let us know in the comments below. In case if you further want to dark-ify your Android, here's how you can enable dark mode in Google Chrome and WhatsApp.