Are you searching for non-Chinese alternatives to SHAREit? Well, it's one of the most popular offline file sharing apps available on the Play Store with over one billion downloads. However, it's developed in China and is full of annoying ads. Since some of you wish to replace it, we are here with the top five non-Chinese alternatives for the Shareit app that you can download right now.
Also, read- List of Top Chinese Apps On Indian Phones 2020 #Boycott China Apps
Free, Non-Chinese SHAREit Alternatives
1. Files by Google
Files by Google is a multi-purpose app that lets you share files with other phones wirelessly. Simply install the app on both phones, connect the devices, and you're ready to share anything ranging from apps, videos, images, audio, and more without the internet.
The app adopts Google's material design and also supports dark mode. Plus, it's completely free to use and doesn't contain any ads. You can also use it as a file manager and junk cleaner to browse files and de-clutter your phone.
2. JioSwitch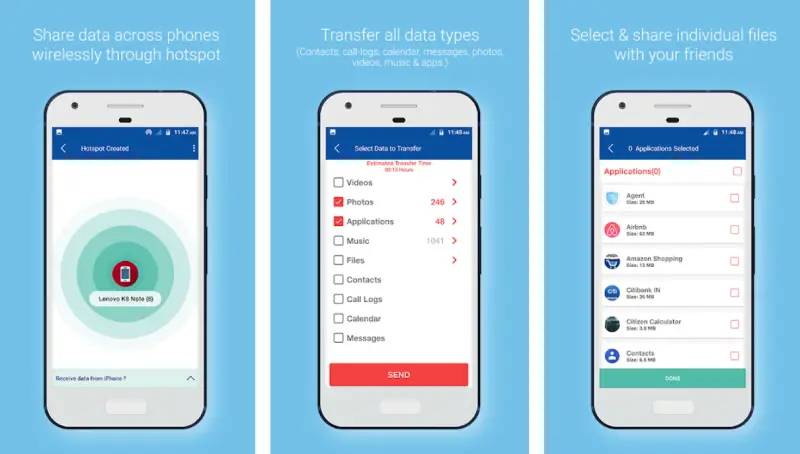 JioSwitch is a simple and straightforward file-sharing app with options to share videos, photos, apps, music, and other files. You can also share stuff like contacts, call logs, calendar, and messages in case you plan to switch to a new phone.
There is no limit on file size or file types. Plus, the app doesn't offer any ads onboard. Apart from Android, you can also share files between Android and iOS devices.
3. Share All
Similar to Jio Switch, ShareAll is an Indian file-sharing app developed by Delhi-based company. Using it, you can send and receive files, movies, videos, apps, and pictures with other Android phones without the internet or any other limitations.
Interestingly, ShareAll supports secure file sharing with password protection. Currently, the app is available only for Android. However, the developer is expected to release iOS and web versions in the coming time.
Note that the app shows on-screen ads and may not be liked by everyone.
4. Send Anywhere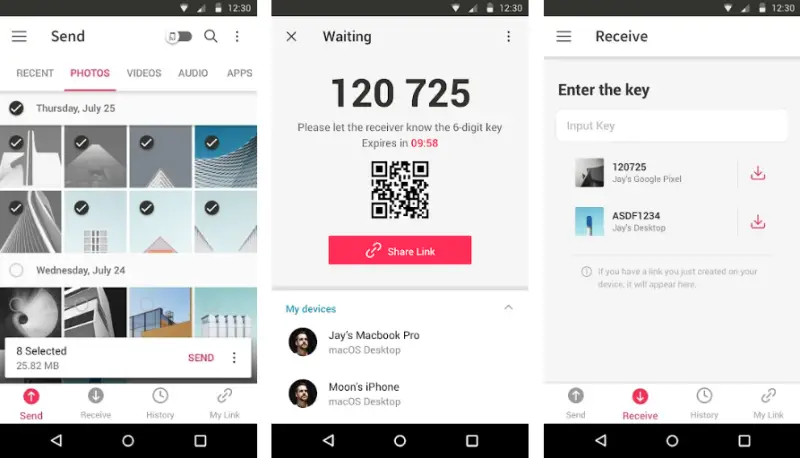 Send Anywhere lets you share almost all types of files using Wi-Fi Direct. All you need is a six-digit key to pair with other devices, be it Android, iPhone, or a computer running Windows or macOS.
The app uses reinforced file encryption (256-bit) for secure file sharing. Plus, you can create a link for files you can't transfer in real-time or want to share with multiple people via social media and messaging apps.
It is available on all major platforms with support for cross-platform sharing, including Android, iOS, Windows, Linux, macOS, and Amazon Kindle.
5. SuperBeam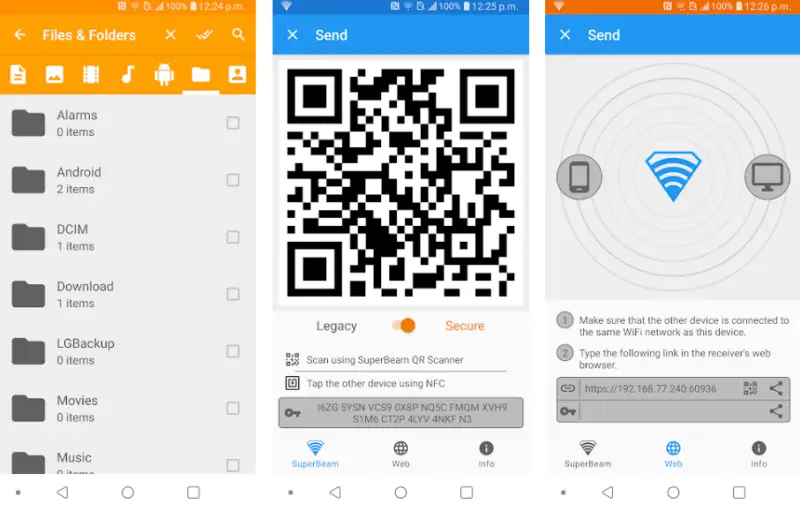 SuperBeam uses Wi-Fi Direct to share files, including photos, videos, zip files, APKs, contacts, and more. Devices can be paired by either using QR codes, NFC, or via manual sharing key.
You can also share files with devices that do not have SuperBeam through the web interface. It gets material UI with light, dark, and AMOLED color theme options. However, you're required to pay for the removal of ads, sharing with PC, and other extras.
Wrapping Up
These were the five non-Chinese alternative apps to SHAREit that are available for free on Google Play Store. Some are also available on iOS and other platforms. Out of all, my personal favorite is Files by Google for its multi-purpose approach.
Anyway, which one did you like the most? Do you have any other app to suggest? Let us know in the comments below. We've also covered 15 popular Chinese apps and their Alternatives in case you're interested.
Also, read- 5 Best Non-Chinese Free Alternatives to CamScanner App