The growing tension between the Indo-China border has hit an anti-China wave in India. People have started boycotting made in China goods and are demanding a ban on Chinese applications. Amid the same, we now have a new app that lets you check if a product is Chinese or Non-Chinese using your phone's camera.
Check if a product is Chinese or Non-Chinese
The new application named "Made In India" has been published by Gurgaon-based developer The91Apps on Google Play Store. It was released on June 12 and currently has about 1,000 installs with a total user rating of 4.6 out of 5.
The app claims to find the consumer product company's origin country through the barcode given on the product or its packaging. The main idea behind the app is to provide an opportunity for those who wish to support and promote local products.
Steps to Find if a product is Chinese or Non-Chinese
1] Download and install the Made in India App from Google Play Store.
2] Open the app and grant access to your phone's camera.
3] Press Scan Now and point the phone's camera at the product barcode. You can also manually enter the code number in the Search option.
The barcode can usually be found on the product's packaging or on the item itself. Within no time, the app will tell you the origin country of the product's company.
How does the 'Made in India' App Work?
For starters, every consumer product being sold in the market has a unique barcode for identification. The barcode majorly comprises of country code, manufacturer's code, and the product code.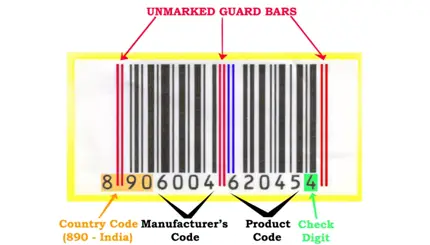 The initial three digits to the left represent the country code- 890 is for India, while 690-692 is for China. Now, the country code denotes the country of origin of the barcode number, not of the product.
Since companies generally use the barcode from the country they're headquartered in, the app may be using it to find the company's origin. One can also manually figure the same out by looking at the country code.
As mentioned, the barcode doesn't indicate where the product has actually been made. So, the app won't tell you if a product is 'Made in India' or 'Made in China.' It just shows where the product company is based in.
Useful Tip: 5 Non-Chinese Alternatives to SHAREit App
Wrapping Up
This was all about how you can find if a product comes from a Chinese or Non-Chinese company. The anti-China sentiment has indeed made developers think out of the box to develop unique apps. Previously, an app named Remove China Apps gained immense popularity but was later suspended from Google Play Store. Yet, we have other apps like Bleave which helps you find alternatives to Chinese apps on your phone
Also, read- 15 Popular Chinese Apps and Their Indian and US Alternatives