Needless to say, privacy is the topmost criteria for a lot of people while using instant messaging apps like WhatsApp, Telegram, and Signal. If you're someone concerned about your privacy, you may want to keep your chats as secret as possible from the platform you're chatting on. In this article, we'll tell you how you can chat secretly on WhatsApp, Telegram, and Signal Messenger.
Chat Secretly on WhatsApp, Telegram, and Signal
WhatsApp, Telegram, and Signal are currently the three of the most popular messaging apps with different features, which we compared in our previous article. If you're using any of these, below is how you can chat securely on them, making sure that your privacy isn't compromised.
Chat Securely on WhatsApp
By default, WhatsApp uses end-to-end encryption for chats, introduced in 2016. Every call you make and every text, photo, video, or audio message you send is end-to-end encrypted, including group chats.
Therefore, only you and the person you're chatting with can read what is sent, and nobody in between, not even WhatsApp, can intercept the chats. All of this happens automatically. You don't have to turn on settings or set up secret chats to secure your messages.
To confirm that the messages and calls you send are end-to-end encrypted:
Open a chat on WhatsApp.
Tap on the name of the contact at the top to open the contact info screen.
Tap Encryption. Or click three-dots and select Verify Security Code.
You'll now see the QR code and 60-digit number.
If you and the other contact are physically next to each other, one of you can scan the other's QR code using the "Scan Code" option. Alternatively, you can visually compare the 60-digit number.
Related- 7 Questions WhatsApp Answered About Its New Privacy Policy
Chat Securely on Telegram
Things are different in Telegram. It natively uses server-client encryption for all chats. However, it does offer Secret Chats for people who prefer end-to-end encryption.
To Start a Secret Chat on Telegram:
Open the profile of the user you want to chat with on Telegram.
Tap the three dots at the top right corner.
Click on "Start Secret Chat."
A new secret chat window will open where you can chat privately with the other person.
The secret chat uses end-to-end encryption and leaves no trace on Telegram servers. It also has a self-destruct timer and does not allow forwarding. Further, one cannot take screenshots of chat for privacy reasons.
Why Doesn't Telegram Offer End-to-End Encryption by default?
Telegram does not offer E2E by default to allow chat backups in Telegram's own secure cloud storage. Plus, features like sending large files, instant media forwarding without re-upload, minimizing storage usage, support for multiple devices, and access to chat history are impossible with end-to-end encryption in place.
Those who favor more security and privacy over these features can opt for Secret Chats.
Related- How to Move Your WhatsApp Group Chats to Telegram
Chat Securely on Signal Messenger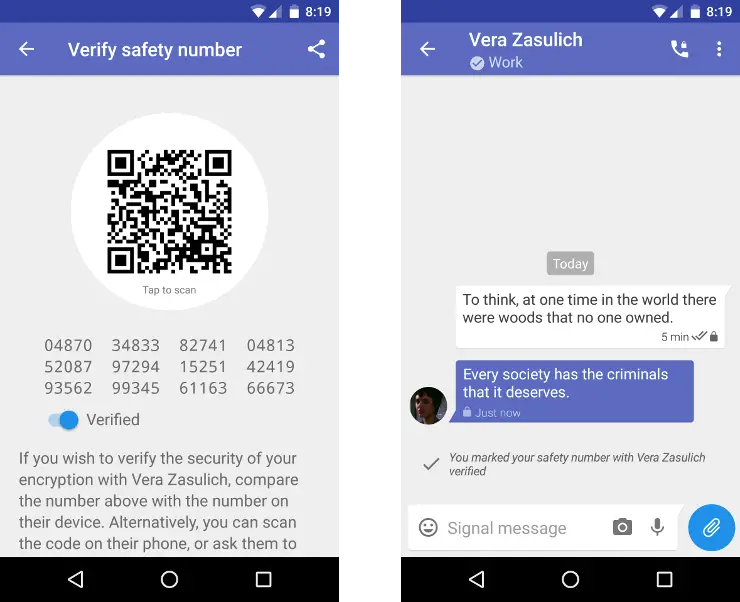 Similar to WhatsApp, Signal enforces end-to-end encryption across the chats. All the messages, photos, videos you send, and the calls you make are encrypted across both ends. As a result, the data cannot be accessed by Signal or any third-party.
To verify the security of encryption with another contact, open the chat, click the contact name at the top, and select Verify safety number. Now, either scan the QR code from either of the devices or compare the numbers to verify the encryption.
Besides, Signal has a dedicated Relay Calls feature which re-routes your calls through Signal servers. Usually, after establishing the call, your IP address could be revealed to your contact. When Relay is enabled, they only see Signal's IP and not yours.
To Enable Relay Calls in Signal: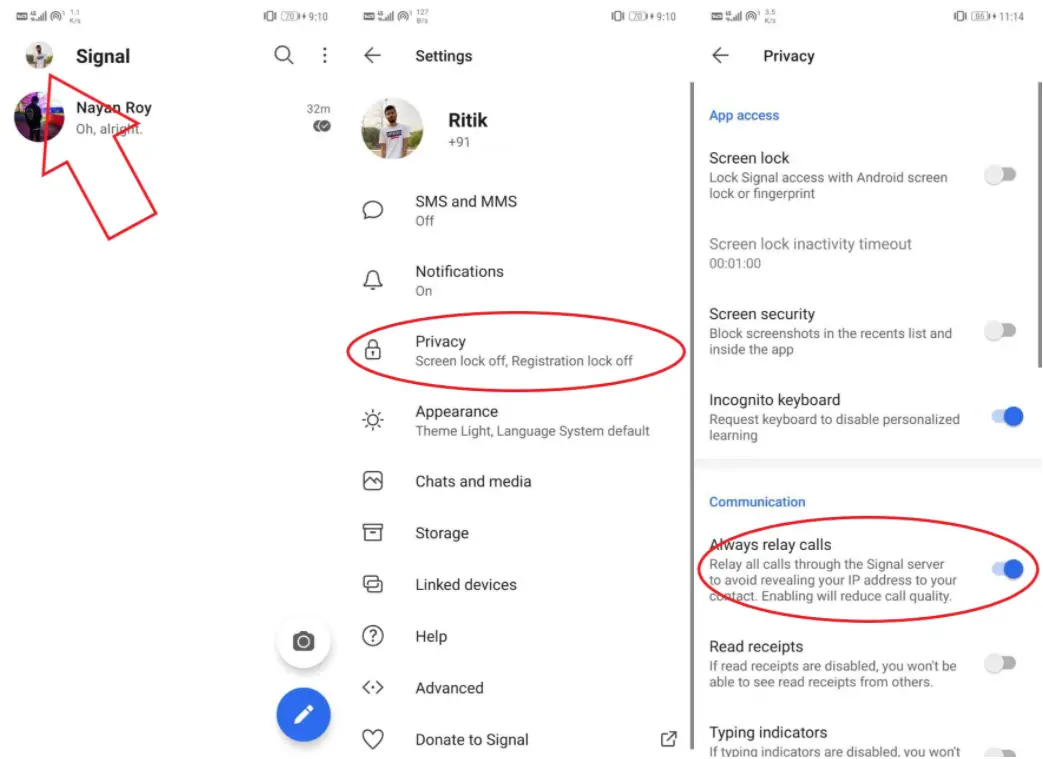 Open Signal Messenger on your phone.
Go to Settings > Privacy.
Enable the toggle for Relay Calls.
Related- Top 9 Signal Messenger Tips & Tricks to Use
Use Passcode Lock
All three apps- Whatsapp, Telegram, and Signal, come with built-in app locks. You can use them to secure your chats from unauthorized access by other people.
To lock WhatsApp: Go to Settings > Account > Privacy > Fingerprint Lock. Enable it.
To lock Telegram: Go to Settings > Privacy and Security > Passcode Lock. Enable it.
To lock Signal: Go to Settings > Privacy > Enable Screen Lock.
Wrapping Up
So, this was all about how you can chat securely and secretly on WhatsApp, Telegram, and Signal. Notably, Telegram users will have to use the given Secret Chats mode for best security while chatting. Whereas the other two apps readily use end-to-end encryption across all chats, which means no other party can read your messages.
Also, read- Top 5 WhatsApp Features Missing in Signal Messenger.