Taking care of your health has always been so important. If you have a breathing issue, then you should be more vigilant, especially due to this Covid pandemic. So, it's a good thing to keep track of our health data. We know that smart wearables these days come with such functionalities. But you know you can also do these things on your smartphones. Here we are telling you some ways to measure heart rate and breathing rate on your phone.
Disclaimer: Measuring Breath or Heart rate is not intended to diagnose, cure, or prevent any disease or medical condition. You should consult only your doctor about any of your health issues.
Also, read | 5 Fitness Apps That Can Help You Workout At Home During Lockdown
Ways To Measure Heart Rate, Breathing
There are some apps including's Google Fit app that can measure breathing on Android phones. Read on to know how to measure heart rate and respiratory rate.
1. Measure Breathing Using Google Fit App
These features for Google Fit were first introduced on Pixel phones, so they may not be available on every Android phone at present.
Here's how Google Fit can only measure your respiratory rate on some smartphones:
1. On your phone, install & open the Google Fit app.
2. Log in to your Google account.
3. Now, under the "Track your respiratory rate" card and tap on "Get started".
4. Allow, camera access to the app and position yourself in the frame.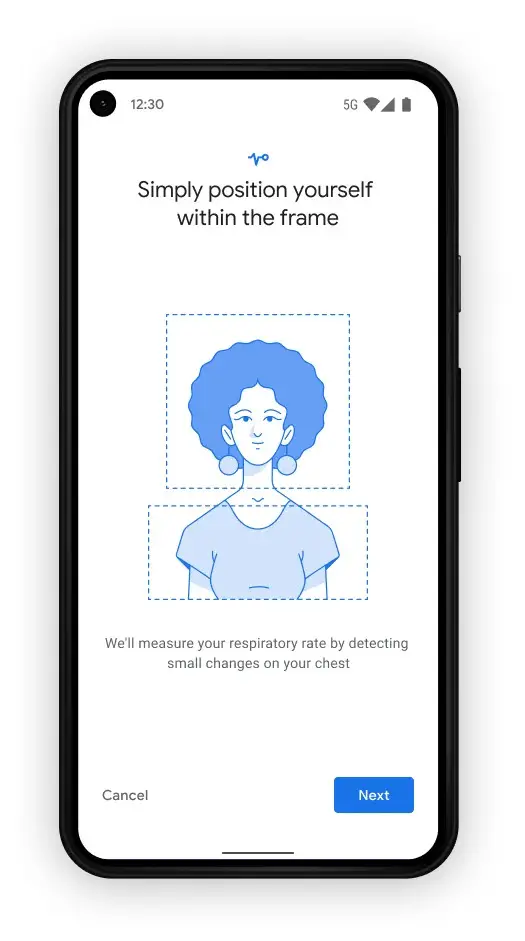 5. Follow the instructions, remain still, and breathe normally until tracking is complete.
That's it. You will see your breathing rate on your screen. You can also tap on Save to this to your account for future references.
2. Check Your Heart Rate with Google Fit
Google Fit can also track your heath rate on some smartphones including the Pixel series using their camera. Here's how you can do this:
1. Open Google Fit and look for the "Check Your Heart Rate" or the "Heart Rate" card. If you don't see these then the feature is not available on your phone.
2. Tap on "Next" to proceed and you will see instructions to place your finger over the camera lens. Tap on "Next" again.
3. Next, you'll need to allow camera access to the app to proceed.
4. Now, place your finger on the main camera lens and tap on "Start Measurement."
5. The camera viewfinder will open and place your finger completely covering the lens. Make sure to stay still while the app is measuring.
6. Once the process is complete, you'll see your heart rate measurement. You can tap on "Save Measurement" to save it to your account.
As per Google, the result isn't meant for any diagnosis or analyze other medical conditions. Also, you won't get the same accuracy as the medical equipment.
3. Breath Counter App
There are also some third-party apps that let you measure your breath by running a counter on your phone screen. One such app is the "Breath Counter App" which can analyze your breathing rate. The app is simple to use and no configuration required and it detects everything automatically using advanced signal processing.
To calculate your breath rate using this app:
1. Download and install the app on your phone.
2. Now, launch the app and tap on "Start".
3. Place the phone on your abdomen and breathe for 60 seconds, and that's it.
You will get instantaneous results of your breath count.
Note: On some smartphones, the app works if the device is placed vertically on the abdomen. So if it doesn't work for you, try in the vertical orientation.
The app also lets you compare your breath rate against the standard ranges so you can find if you have a normal respiratory rate or not. You can share your history via Facebook, Twitter, and email. Also, you can save your history for later reference.
These were the ways to measure heart rate and breathing on your Android phone. If you don't see the feature in the Google Fit app, you can try a third-party app.
Also, again these measurements are only for your own tracking and these are not meant for any medical conditions. Stay tuned for more such informative articles.
You can also follow us for instant tech news at Google News or for tips and tricks, smartphones & gadgets reviews, join GadgetsToUse Telegram Group, or for the latest review videos subscribe GadgetsToUse Youtube Channel.