BGMI is getting a complete overhaul in terms of its July 2021 patch update, adding new weapons, new vehicles (including hoverbike to run on water and land,) new missions, a new ranking system, a robotic pet dog, and a whole lot more. I have compiled all the details about this Battlegrounds Mobile India July Patch update (1.5.0), in this article so you don't need to look through the game to understand the changes, rather save your time and start playing as soon as you get the patch.
Also, Read | 7 Hidden Important Changes in New PUBG For India | Battlegrounds Mobile India
How to Get Battlegrounds Mobile India 1.5.0 Update?
The latest Battlegrounds Mobile India July update carrying all the changes will be pushed via Google Play Store on 13th July 2021, at 7:30 PM (IST). Players need to download the latest patch from Google Play Store, following the update, players might have to wait for a few seconds/minutes while loading the game until the game downloads the resources. Players are also likely to manually download some in-game maps and settings to finish the BGMI 1.5.0 update installation.
Also, Read | How to Enable 90fps in PUBG Mobile on OnePlus Smartphones
What is the Download Size of BGMI 1.5.0 Update?
The download size of the BGMI 1.5.0 update is around 420MB, however, the size will slightly vary depending on the device the player is using. It is likely that players need to manually download some in-game maps and settings to finish the BGMI 1.5.0 update installation.
Also, Read | FAU-G Game Review: Is it Better than PUBG Mobile?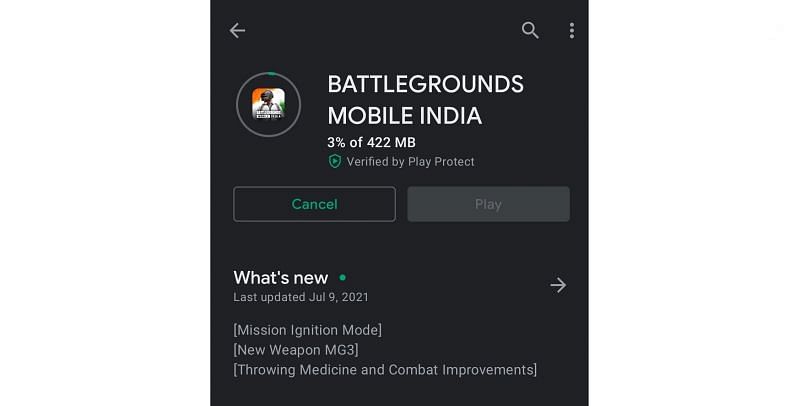 What has changed in Battlegrounds Mobile India's 1.5.0 July update?
With this new Patch Update, BGMI has added a lot of interesting stuff, relocated some things and weapons, and removed a few things as well. Here are the detailed changes in the 1.5.0 July Update of BattleGrounds Mobile India.
Also, Read | Battlegrounds Mobile India Registration Open: How to Register & Get Rewards
Weapons
M249 LMG has excluded from airdrops, and now can be found in the field drop in all classic maps (except the Karakin Map)
A new weapon called MG3 has taken place of M249 LMG in the airdrop and will be available only in the Airdrop. Some key features of MG3 are:

It is a Lightweight machine gun
Continuous Firepower Capability
Shoots 7.6mm ammo & can hold up to 75 bullets in one magazine
Supports up to 6x Zoom Scope, and no other attachments can be used with it
No single shot mode
Option to switch between 660 and 990 RPM
Comes with a BiPod, which auto deploys when players lay prone
Reload time is a bit longer

Players can throw healing consumables to their teammates, in order to do so players need to select the consumable and tap the Throw Button. The trajectory needs to be mapped correctly, because if thrown wrongly the consumable may bounce off the objects.
Updated Ranking System
With 1.5.0 Update two New tiers have been added between ACE and 'Conqueror' tiers, called ACE Master and ACE Dominator. Along with this, their icon and the level-up animation have been updated. Seasonal series rewards are given to players achieving high-tier in a particular season.
A Challange Points System has been added to the Ranking Season, where players can earn challenge points, and use them to reduce the loss in ranking points after losing a match. Players can earn challenge points by doing these things:
Complete Full Game without neglecting teammates
Not leaving the game midway
Not Attacking own teammates
Mission Ignition Mode
With the 1.5.0 update of BGMI, a new Misson Ignition Mode has been added to the Erangel map. This new mode has added 6 new High tech regions namely Transit center, Georgopool, Tech center, Sosnovka security center, Logistics Agency, and Energy Center. The results of these matches will be reflected in the Classical Ranking Score. Here's what is new in this mode:
Names of Cities will appear in 3D, can be viewed while parachuting to the ground
Automatically drop to the pinned area on the map
A new Hyperline, which is an advanced, levitational line for trans-island travel across the map, runs on preset routes at specific times. The station location can be found on the mini-map.
Tesla Semi Trucks can be found carrying high-level crates, running on specific routes, same as PUBG Mobile, also present on this high-tech Erangel map. Players can attack these trucks for good loot, like level 3 armor and helmet.
There is a new G-38 Gravity Free Motorcycle that hovers above the ground and can run on both land and water. The sitting capacity is limited to two players at a time.
There's another new update called Air Conveyors spread around the map that catapults players above the ground to easily transport them to a distant location on the map. These are much like the vertical ziplines that are there in Apex Legends. This can also seat up to two players at a time.
A robotic patrol dog can be found when the 'puppy' icon on the mini-map is followed, it marks the location of rare and high-end items on the map.
There's also a new Tactical Marking Device that allows players to automatically check the direction of teammates' firing, enemy's location, and street information on the minimap, it also alerts if any grenade is detected nearby.
A deployable Riot Shield, which is an impenetrable shield, is also added in this BGMI new mode, once fixed the player will not be able to place it again or change its position.
This new mode has a new weapon as well, called ASM Abakan, here are the key feature of this gun:

Shoots 5.56mm ammo & loads up to to 30 bullets in a magazine
Supports Fully Automated Firing mode, Burst Mode, and Semi-Automatic mode
Scopes, Canted Sights, and Varios Gun attachments and magazines can be used
Other Changes in the 1.5.0 Update
The sensitivity level of each gun can be changed manually.
Weapon sensitivity settings can be stored in the cloud.
Auto switch to the next weapon, once the current one runs out of ammo.
New "do not auto pick-up dropped scopes" setting added.
Flare guns with no ammo will not be auto-picked.
Different colors for remaining mag: YELLOW is below 25%, and RED is below 10%.
Advance pick-up option added for automatic attachment replacement.
Field of view slider added for third-person mode.
Teammates engagement status can be viewed on their personal status bar.
Graphic option lower than 'Smooth' added for low-end devices.
New 90fps option added for high-end devices.
Gyroscope and camera tilt sensitivity can be adjusted now.
Glass windows added to some buildings in Erangle and Miramar.
The gallery option has been turned off.
A bronze statue of the player can be added after a win.
Update Cycle for Royal Pass has reduced to 1 month, compared to 2 months previously.
New NPC mini TV Ray has been added for notification alerts of announcements and messages in the Lobby. It will appear when you start the game and will help you navigate through the lobby. Also, NPC mini TV Ray will play pranks on you, so watch out for those.
That's all for the new 1.5.0 July Update of BattleGrounds Mobile India, get I hope you found this compilation article useful and got familiar with all the changes. Now, get ready to land into your game, and have some Chicken Dinner!! ?
You can also follow us for instant tech news at Google News or for tips and tricks, smartphones & gadgets reviews, join GadgetsToUse Telegram Group or for the latest review videos subscribe GadgetsToUse Youtube Channel.