If you are an Android user and want to know the true potential of your phone. There are three elements you need to check the performance of, i.e., RAM, Storage, and CPU. We have already covered 3 ways to check RAM type and speed of your Android phone. and today we will be checking out ways to Storage Type, and CPU of your phone.
Also, Read | 4 Ways to Check Internet Speed on Your Android Smartphone
3 Ways to RAM, Storage, and CPU in any Android Phone
Smartphones have become advanced over time that we can do pretty much most tasks without looking for a laptop or pc. Such tasks require a faster CPU, RAM, Storage. Sometimes a smartphone manufacturer doesn't mention the type of RAM or Storage used, there could be multiple reasons for it, maybe the component used is inferior then what is claimed or the brand doesn't want to disclose the component used.
Also, Read | This Simple Trick can Speed Up Internet on Android, iOS, Windows and Mac
2 Ways to Find out Storage of your Android Phone
There are different types of Storage used from a super-cheap phone to a high-end flagship. Here's a chart for a better understanding.
eMMC stands for embedded Multi-Media Card
UFS stands for Universal Flash Storage
| | | |
| --- | --- | --- |
| Storage Type | Sequential Read Speed | Sequential Write Speed |
| eMMC 4.5 | Up to 140 MB/s | Up to 50 MB/s |
| eMMC 5.0 | Up to 250 MB/s | Up to 90 MB/s |
| eMMC 5.1 | Up to 250 MB/s | Up to 125 MB/s |
| UFS 2.0 | Up to 350 MB/s | Up to 150 MB/s |
| UFS 2.1 | Up to 850 MB/s | Up to 150 MB/s |
| UFS 3.0 | Up to 2,100 MB/s | Up to 410 MB/s |
| UFS 3.1 | Up to 2,100 MB/s | Up to 1,200 MB/s |
Also, Read | 3 Ways to Use Android Phone With Broken Volume Buttons
Device info HW
You can check the type of storage used in your phone, using the Device Info HW app. Just download the app from the link below, after launching the app, you can find the storage just below the RAM. In case the app fails to show anything, then follow the next method.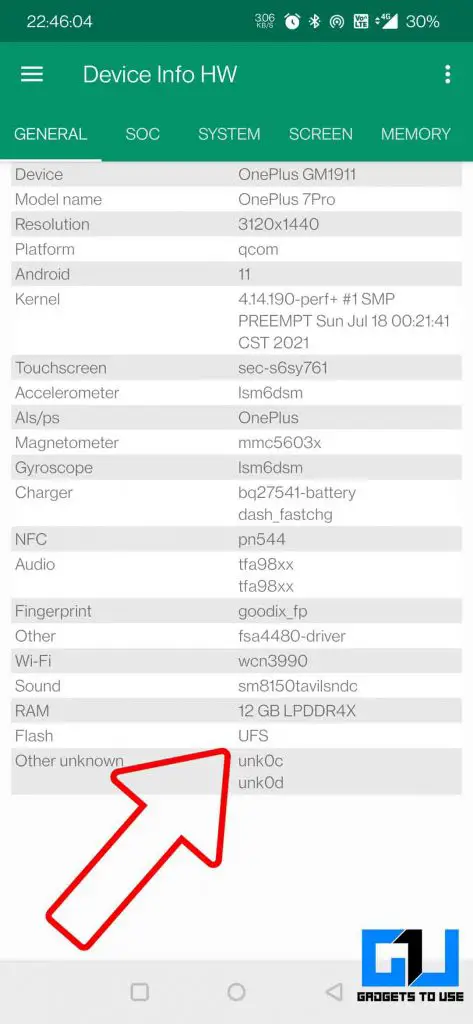 Andro Bench (Storage Benchmark)
There are chances that the smartphone brand can apply measures to stop any app to find the storage type used. In that case, we can judge the storage type used by running a speed test using the Androbench App. You can find out the type of storage used by referring to the chart mentioned above.
Also, Read | 9 Ways to Fix Camera App Crashing or Not Working on Android Phone
3 Ways to Check the CPU of your Phone
Just like RAM and storage, you need to have a fast CPU in your phone. There are multiple brands that make the CPU for phones. A few of them are Qualcomm, Mediatek, Samsung, Huawei, and now even Google has their own CPU called Tensor. With all these, it becomes hard to know which CPU is present in your phone, and what is its frequency is, how well it performs?
DevCheck
Dev Check is one such app where you can find out the name, cores, frequency, architecture, and more about the CPU and GPU of your phone. Just install and launch the app from the link below, and switch to the hardware tab.
Other Apps to Know CPU and GPU
In case DevCheck doesn't show the exact name and other details, then you can try out these apps to know about the CPU and GPU inside your phone.
CPU Throttling Test
Usually, we measure the performance of the CPU and GPU of our phones in terms of Antutu scores, i.e., the better the score the better the performance. But that's not the right thing to do, as it has been noticed many times that brands manipulate the Antutu scores on their phones. What's better is to check how long the CPU can perform consistently. It can be checked by running a CPU throttling test. You need to run the test for around 3 to 5 minutes, if the graph falls below 80% and remains low then it means, the manufacturer of your phones has downgraded the capabilities of the CPU of your phone.
Drawbacks of Throttling
The full performance of the CPU cannot be utilized
Degraded Gaming performance
The phone can start to hang over the time
Benefits of Throttling
Also, Read | 9 Ways to Cool Down Your Android Phone Instantly Without Turning it Off
So this is how you can check the performance of RAM, Storage, CPU, and GPU of your Android Smartphone, and know its capabilities. With this, you can get to know if your brands have delivered what they promised about your phone, or was it just a faux claim. Also, you get to know whether your phone can cope up with today's requirements or is it time to buy a new one.
You can also follow us for instant tech news at Google News or for tips and tricks, smartphones & gadgets reviews, join GadgetsToUse Telegram Group or for the latest review videos subscribe GadgetsToUse Youtube Channel.