Sometimes we just get bored of Instagram, yes that's true in some cases. Or sometimes we create a second account that is no longer in use now. In such cases, deleting the account is always an option. However, just like Facebook, you have two options to delete your Instagram account- either temporarily disable it or permanently delete it. If you want to delete your Instagram account permanently, here are the ways to do so.
Note: Before you delete your account permanently, make sure to download your Instagram data so that you don't lose all those memories that you have posted online.
Ways To Delete Instagram Account
Once you save your Instagram data, you can go ahead with the steps to delete your account. Deleting Instagram can only be done on a browser, however, you can use any device mobile or desktop.
On Desktop
1. Go to the "Delete your account" page from a browser on your computer.
If you aren't already logged in to your Instagram, you'll need to log in first.
2. Now, on this deletion page, select an option from the drop-down menu next to "Why are you deleting your account"?
3. After that, re-enter your Instagram password.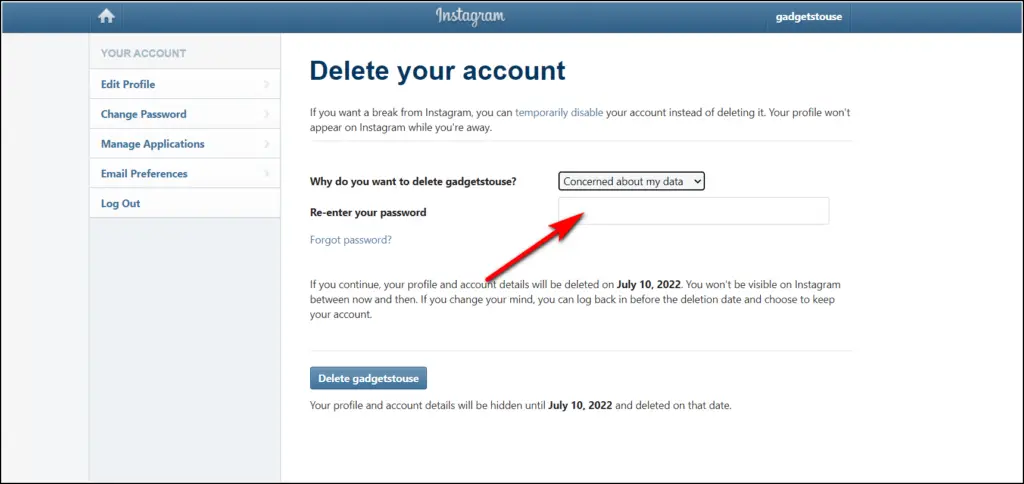 4. Then, click on "Delete my account."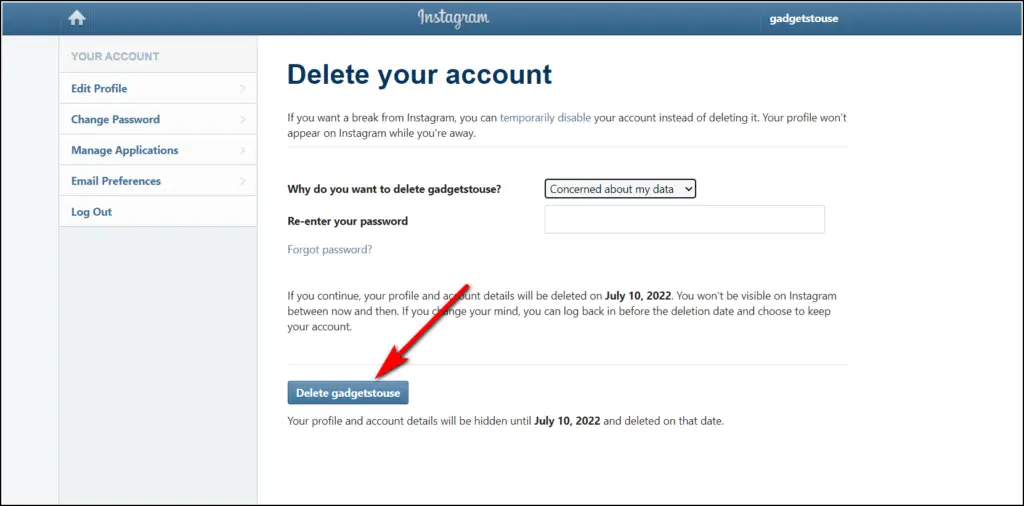 That's it. Your account will be deleted after 30 days. However, it will be visible to anyone on Instagram right after you submit the deletion request. In the future, if you change your mind, you can log back in before the deletion date and keep your account.
However, after 30 days, your account and all your data will be permanently deleted and no recovery will be possible.
On Mobile Phone
You can't delete or disable your Instagram account on the mobile app. However, if you open Instagram on a browser on your phone and it can be deleted then. The steps are similar to the web.
1. Open Instagram's "Delete your account" page on a mobile browser.
2. Now login with your details if you haven't already.
3. Once logged in, select the reason for deleting your account from the drop-down menu.
4. Now re-enter your password and then tap on "Delete my account".
That's it. Now your account will be deleted after 30 days and as mentioned above, you can restore it within this time period.
Disable Instagram Account
The third trick here is not about deleting an Instagram account permanently but about disabling it for a certain period. However, it's no different than deleting as your account won't appear online to others, and also has one benefit that you can get back your account any time. Here's how to disable your Instagram account on your phone or web:
1. Open Instagram on your phone and go to your profile page.
2. Now tap on three horizontal lines and select "Settings" from the menu.
3. From there select "Account."
4. After that, scroll down and select "Delete account".
5. On the next page, select "Disable Account".
6. Next, select your reason for disabling your account and re-enter your password.
7. Lastly, tap on "Temporarily Disable Account".
That's all. Your account will be disabled until you sign back in. So to restore your disabled Instagram account is very easy. Just log in with your details and you'll be back.
So these were the methods to delete an Instagram account permanently or temporarily. If you're deleting your Instagram account, just to take a break from social media, you might also consider using the "Instagram's take a break" feature.
For more such tips and tricks, follow us on social media!
You can also follow us for instant tech news at Google News or for tips and tricks, smartphones & gadgets reviews, join GadgetsToUse Telegram Group or for the latest review videos subscribe GadgetsToUse YouTube Channel.