WhatsApp's voice messages feature is really useful for the time when you don't want to type a long message and just send it by speaking to your phone. However, sometimes in a hurry we record something inappropriate or some background noise makes its way to the recording and we don't get to know until we send it. Now, WhatsApp has addressed this issue and you can preview WhatsApp voice message before sending them.
How to Listen A WhatsApp Voice Message before Sending?
There are a couple of ways to listen or preview a WhatsApp Voice message before sending it to someone. We have discussed each of them.
Steps to Preview WhatsApp Voice Message
WhatsApp has now rolled out the feature for both Android and iOS users and they can now preview voice messages before sending. Follow the steps mentioned below:
1. Launch WhatsApp on your phone and go to that chat in which you want to send a voice message.
2. Now tap on the mic button to record your message and swipe up to lock it.
3. You will see a separate recording window below. This will include a delete button, a stop button, and send button.
4. Once your recording is done, tap on the stop button and you will see a play button before the recording.
5. Tap on this play button and you will be able to listen to your voice message before sending it to someone.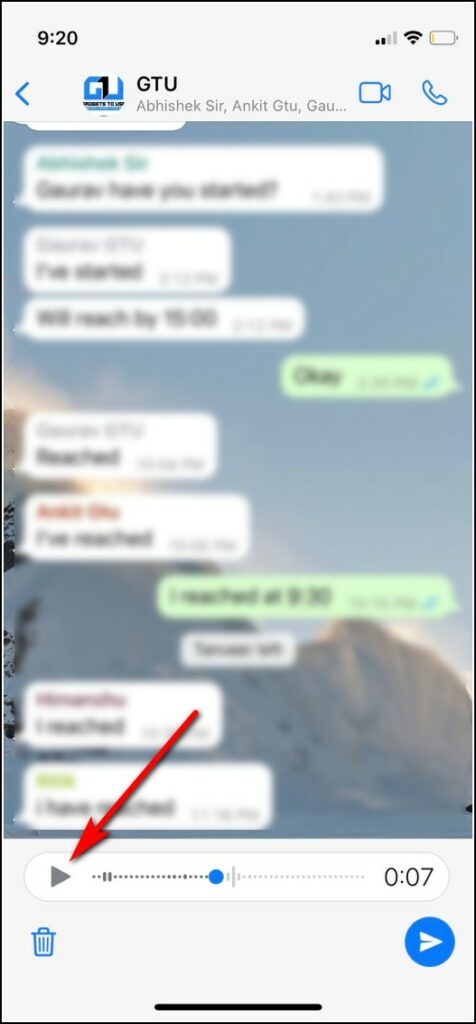 Another Trick to Preview WhatsApp Voice Message
If the above feature isn't yet available on your phone, you can use another trick to preview your WhatsApp voice messages. Follow the steps mentioned below:
1. First, open WhatsApp and open that chat where you want to send the voice message.
2. Now tap on the Mic button to record a message and swipe up to lock the recording button.
3. Record your voice message and immediately go back to the home screen by swiping up or tapping the home button.
Note: Do not close the WhatsApp from the recent app switcher or this trick won't work.
4. Now, open WhatsApp again. You can now preview the message using the Play button or delete it using the Delete button from the bottom of the screen.
5. You can also send it using the send button if everything sounds right.
Send WhatsApp Voice Message to Yourself
Another way to preview or listen a WhatsApp Voice Message before sending is to start a WhatsApp chat with yourself, and send a voice message. You can play and listen to it, if everything seems good, simply forward it to the person or group you want to send it. The best part is when you forward anything from own chat, it won't carry the forwarded text above it.
Bonus: Use the Native Recorder App
If you don't want to pile up the failed voice messages in your WhatsApp chat, it's better to do enough practice to be on the safer side. One quick way avoid all this, is to record the audio from the native voice recorder app on your phone, listen and send only if it good as per you. Another added benefit in this method, is that you can record audio in advance, or when there's no internet connectivity, and later send it.
Wrapping Up
There you go! These are the four ways you can preview WhatsApp voice message before sending it to anyone.  If you would like to share this voice message with more people, you can set this voice message on your WhatsApp Status as well. Check out other interesting tips linked below, and stay tuned for more such tech tips and tricks.
You might be interested in:
You can also follow us for instant tech news at Google News or for tips and tricks, smartphones & gadgets reviews, join GadgetsToUse Telegram Group, or for the latest review videos subscribe GadgetsToUse Youtube Channel.