If you own an Echo smart speaker, you and your family may have had countless conversations with Alexa. But did you know that Alexa records and saves all of these conversations and they're recorded and saved? So if you want to learn how to access and review these recordings, stick around as we go over different ways to listen and download Alexa recordings on phone and PC.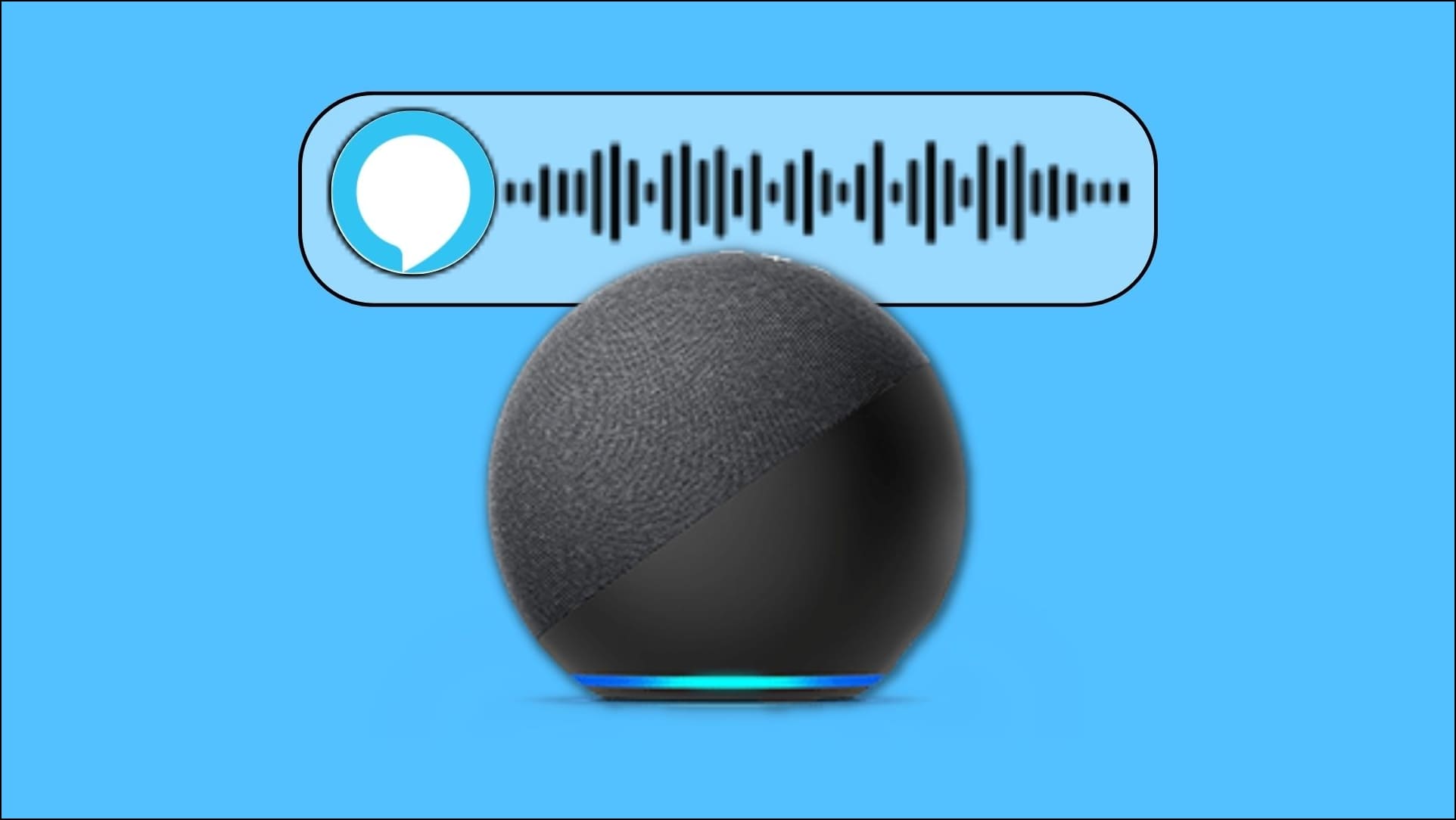 How to Listen and Download Echo Alexa Recordings?
It is well known at this point that Alexa records your voice and the conversations. It does that for internal testing and to improve the accuracy of your speech. But it might also seem privacy invasive as Alexa may accidentally record a conversation you didn't want it to hear.
But the good thing is you can listen and review these recordings and even delete them. Here are a few ways you can do so on PC and smartphone.
Method 1- Listen to Alexa Voice Recording History on the Web
You can go to Alexa's privacy settings page and sign in to access your voice recordings. You can do this method on your phone and PC using the web browser.
Step 1: On your browser, visit Amazon's official website.
Step 2: Sign in to your Amazon account.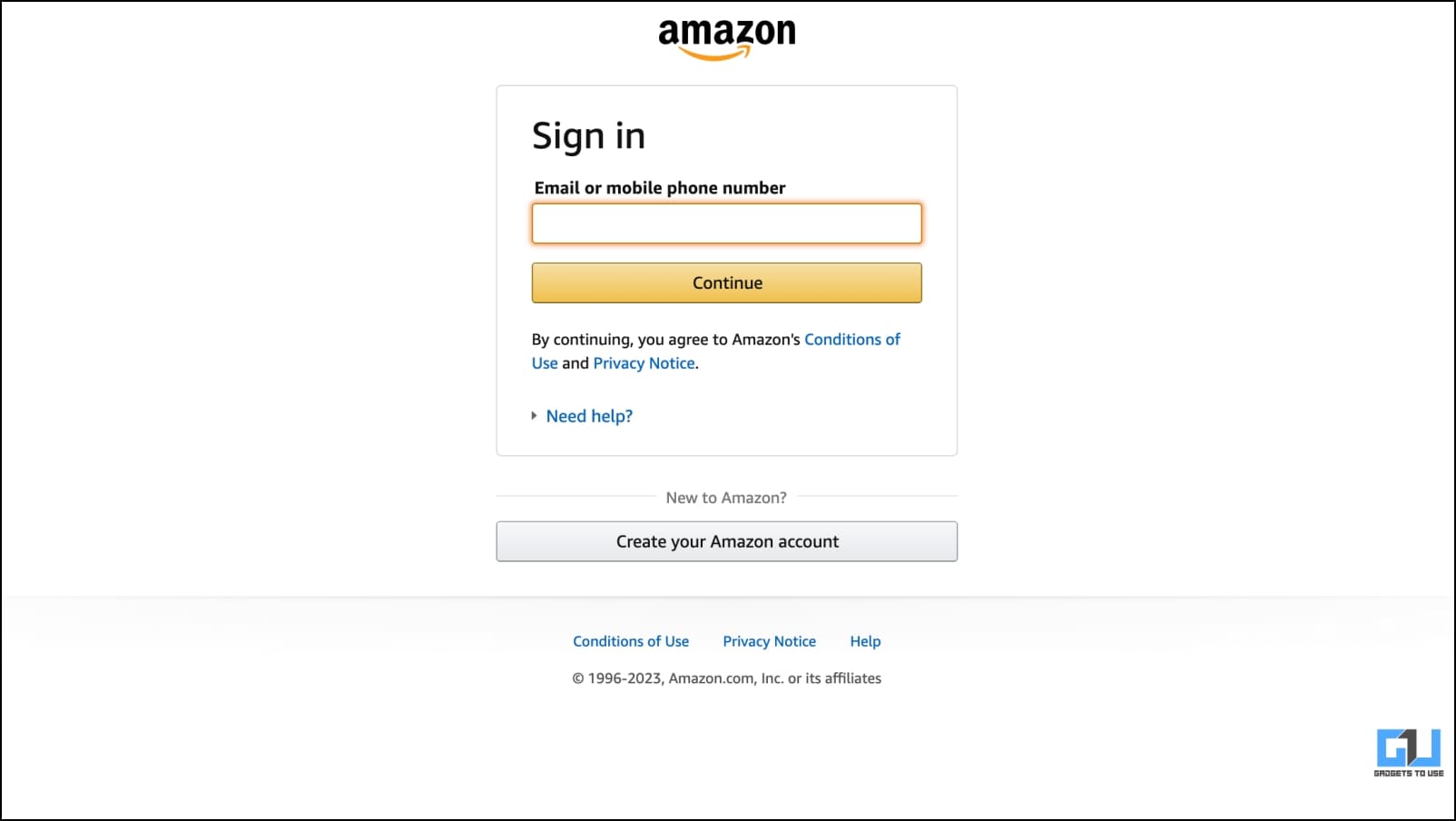 Step 3: Hover the mouse cursor over Account and Lists.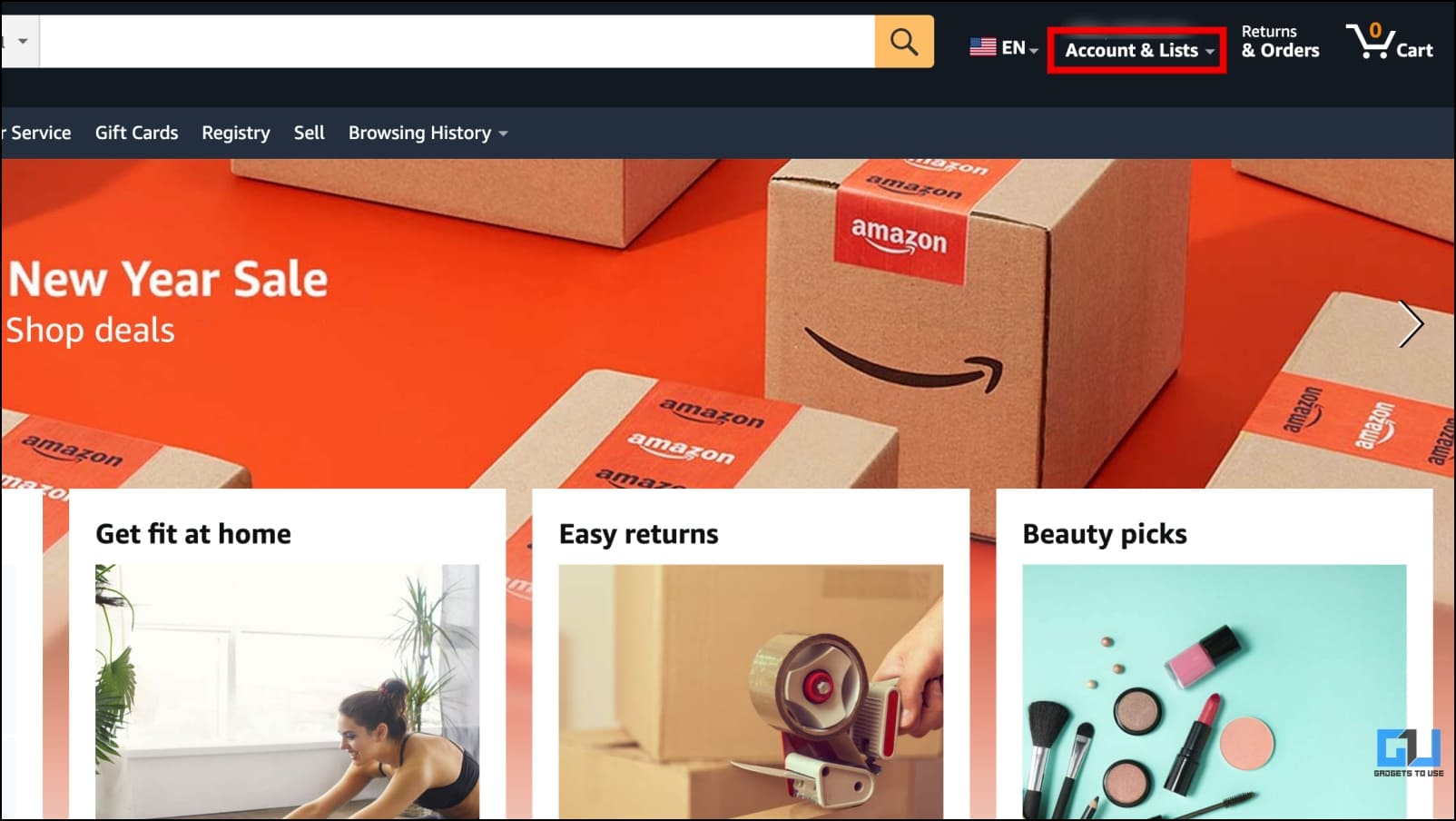 Step 4: Click on Manage Your Content and Devices from the drop-down list.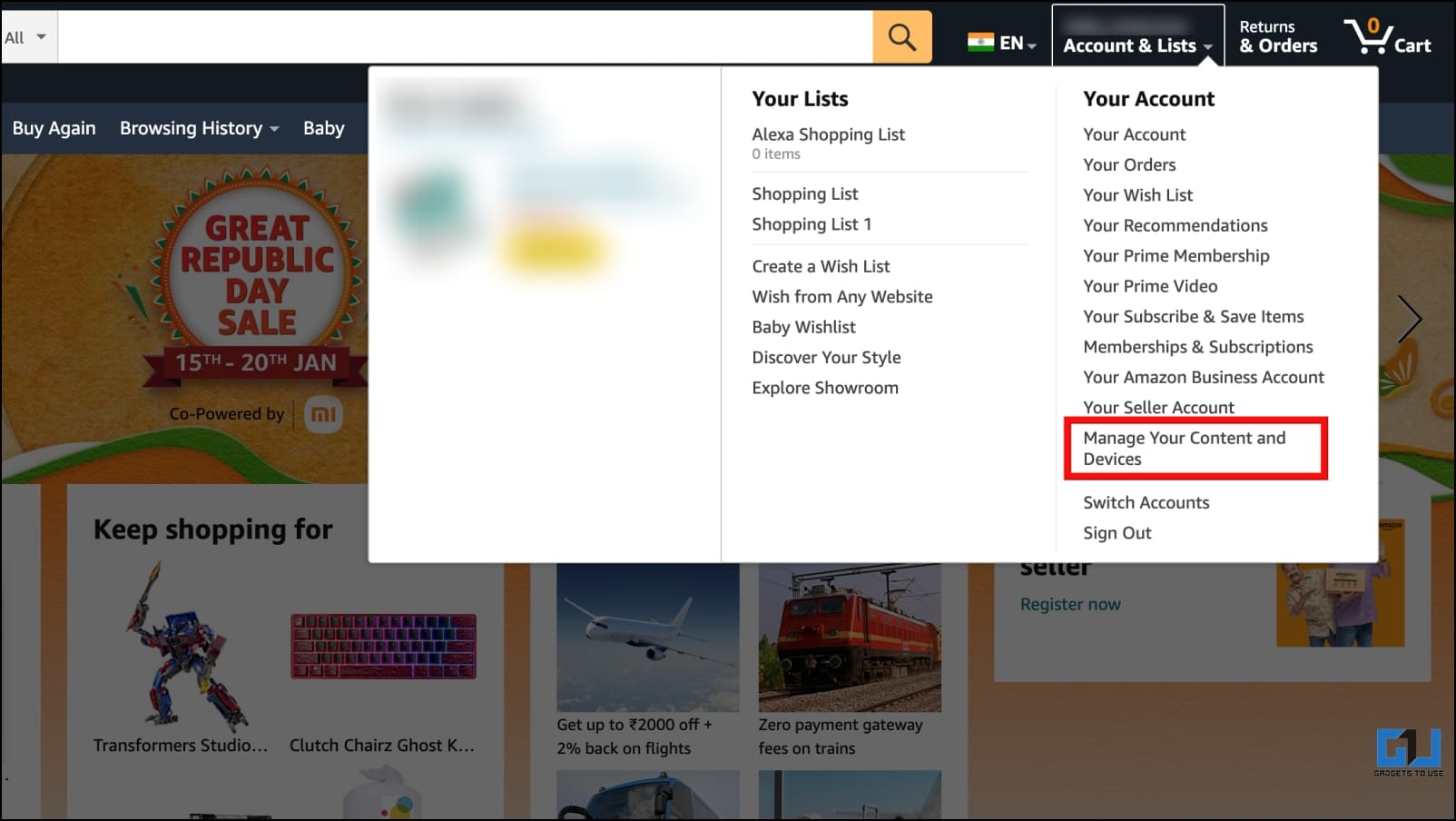 Step 5: Here, hover the cursor over Privacy Settings and select Alexa Privacy.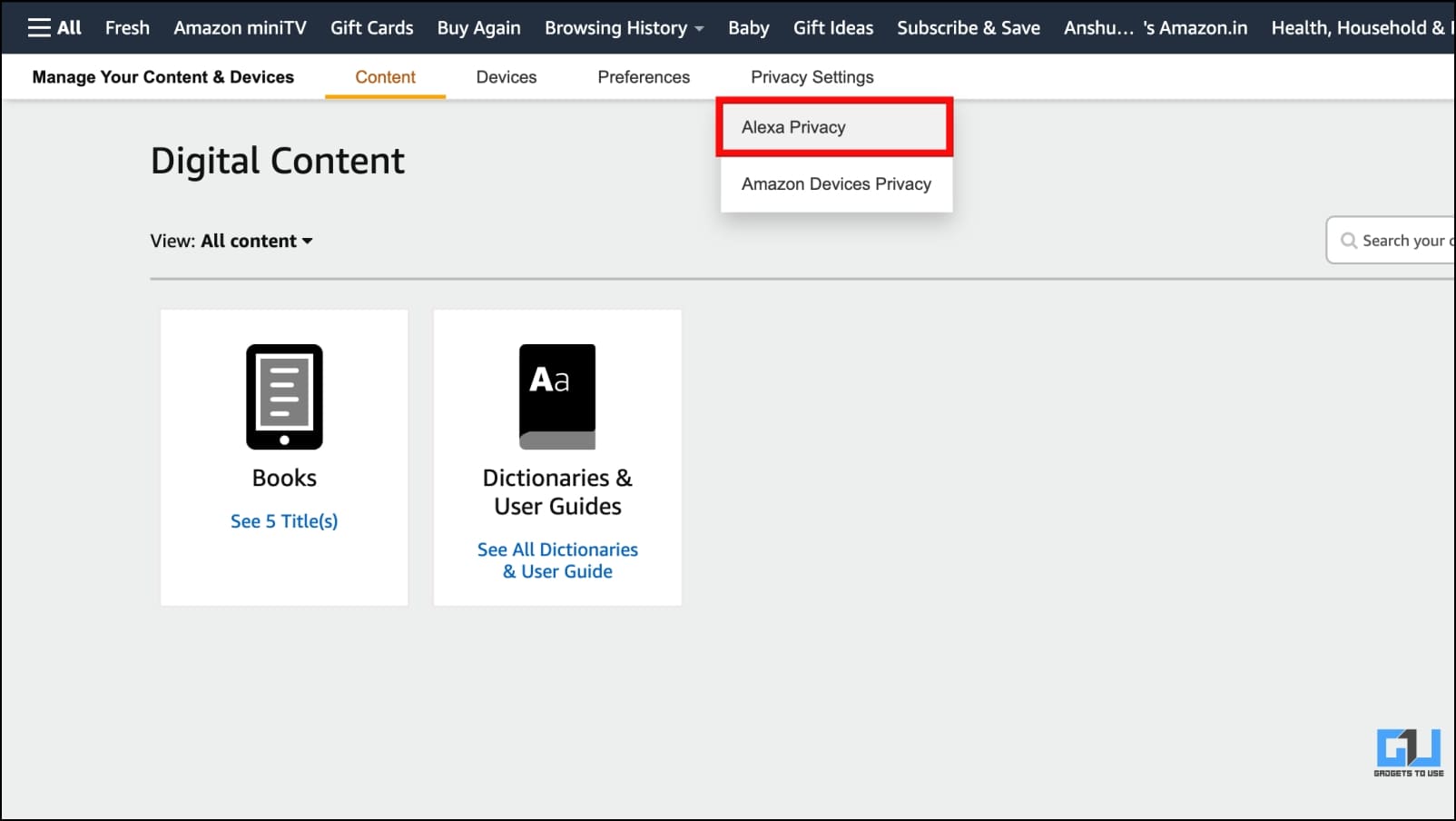 You can skip these steps and directly open the Alexa Privacy page.
Step 6: Now, go to the Review Voice History section.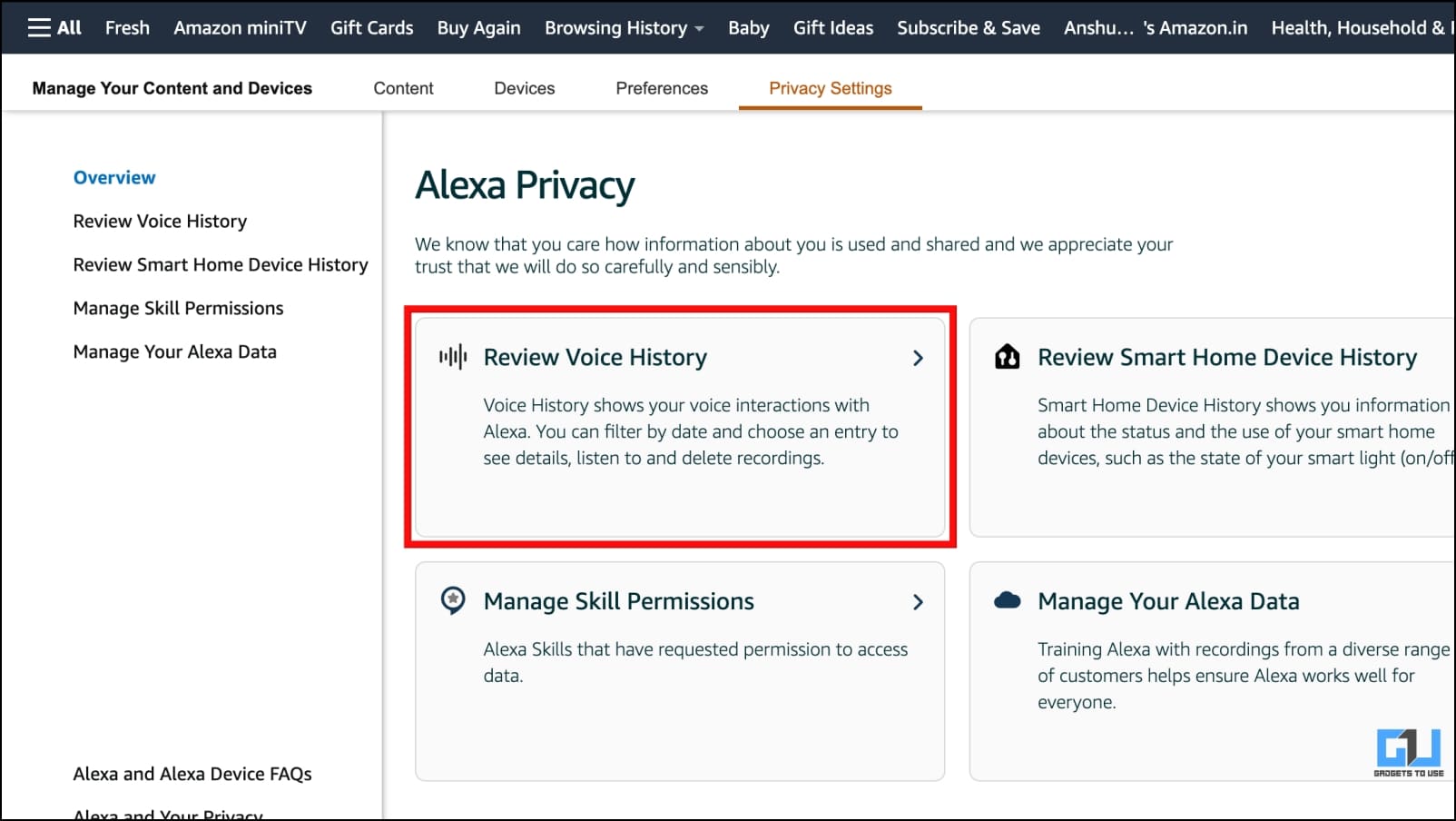 Here you will be able to see all the saved Alexa voice recordings.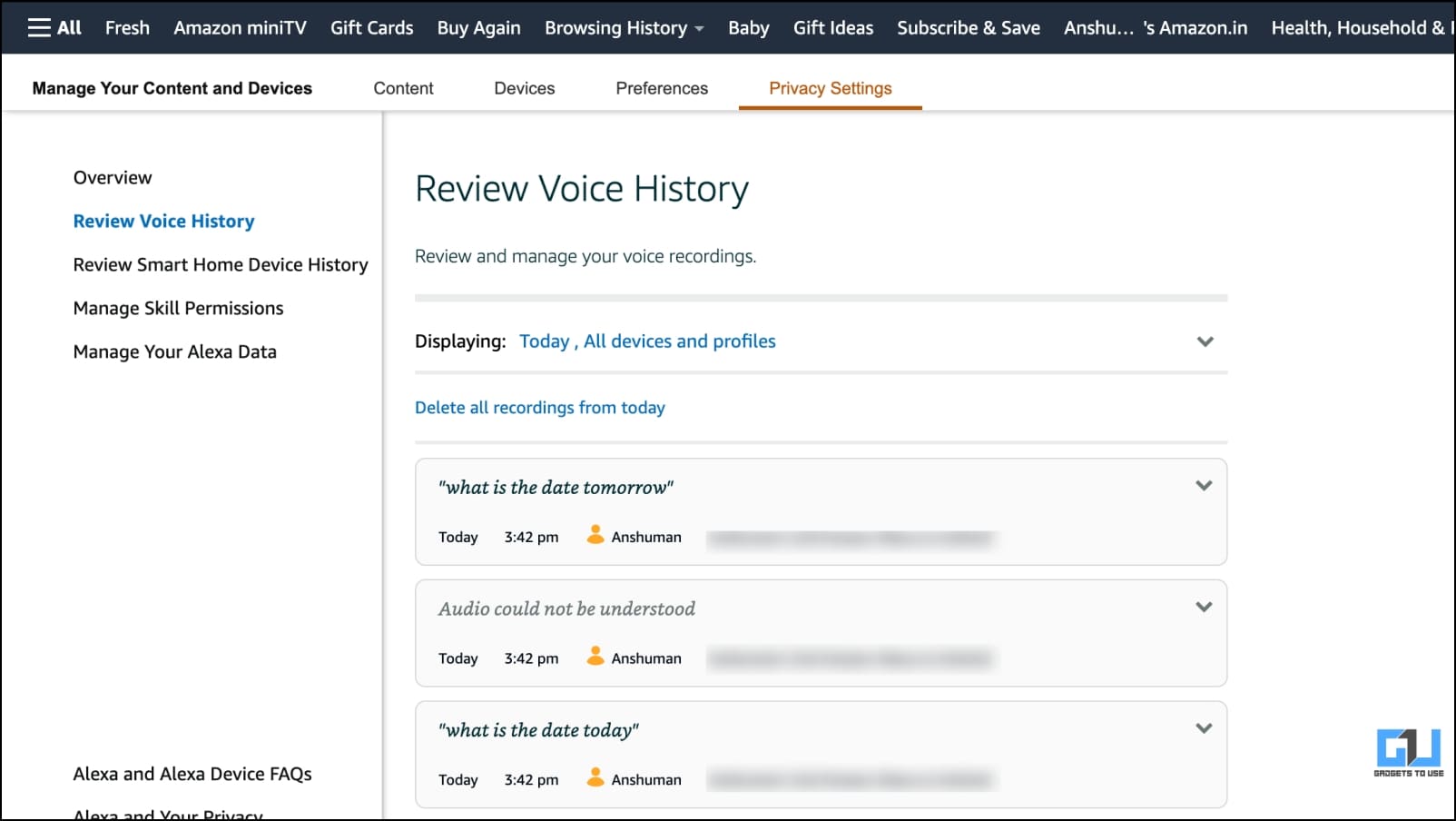 Step 7: Next, select any entry and click on the small arrow on the right.
Step 8: Click on the Play button.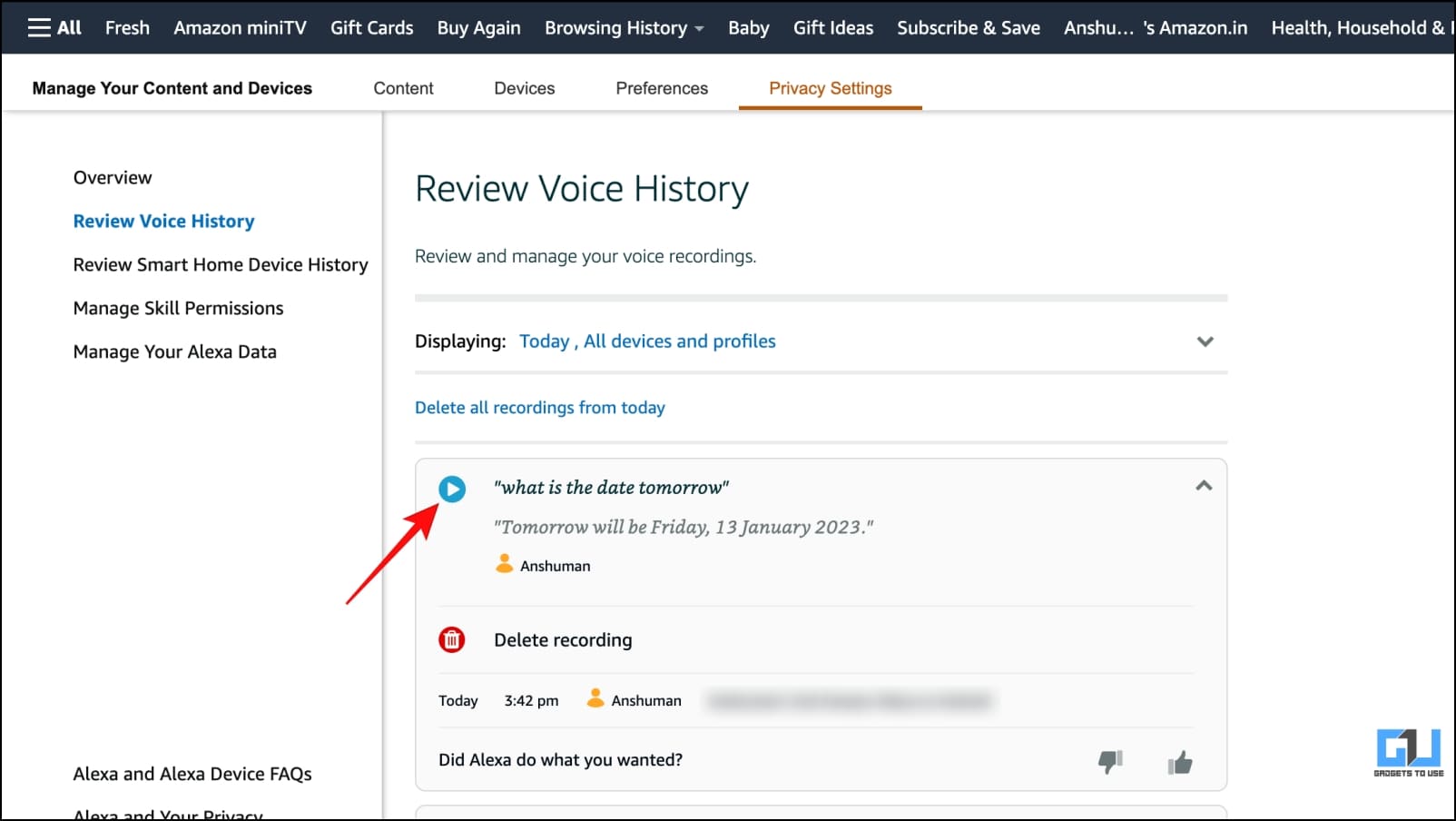 It will play the command or query you had with Alexa. You can also filter conversations by date and User Profiles.
Method 2- Hear Voice Recordings on Alexa Mobile App
Alternatively, you can check the recording history in the Alexa mobile app. You can access and play everything you've said to Alexa so far, be it on your Amazon Echo speaker or via the Alexa app. Follow the steps below:
Step 1: Open the Alexa app on your smartphone.
Make sure you are signed in with your Amazon account.
Step 2: From the bottom toolbar, select More.
Step 3: Go to Settings.
Step 4: Tap on the Alexa Privacy option.
Step 5: On the next page, select Review Voice History.
Step 6: Select any entry and tap on the small arrow on the right to expand it.
Step 7: Tap on the Play button to listen to the recorded conversation.
Just like on PC, you can tap on the arrow next to the Displaying option to filter recordings by date and User profiles.
Method 3- Download Alexa Recordings by Submitting a Request
Though the above method lets you listen to all the recorded data, you still don't get an option to download them. In order to download all the Alexa recordings, you will have to submit a request for your information on Amazon. Here is how you can do that.
Step 1: On your desktop browser, go to the Request My Data page on Amazon. 
Step 2: Sign in to your Amazon account.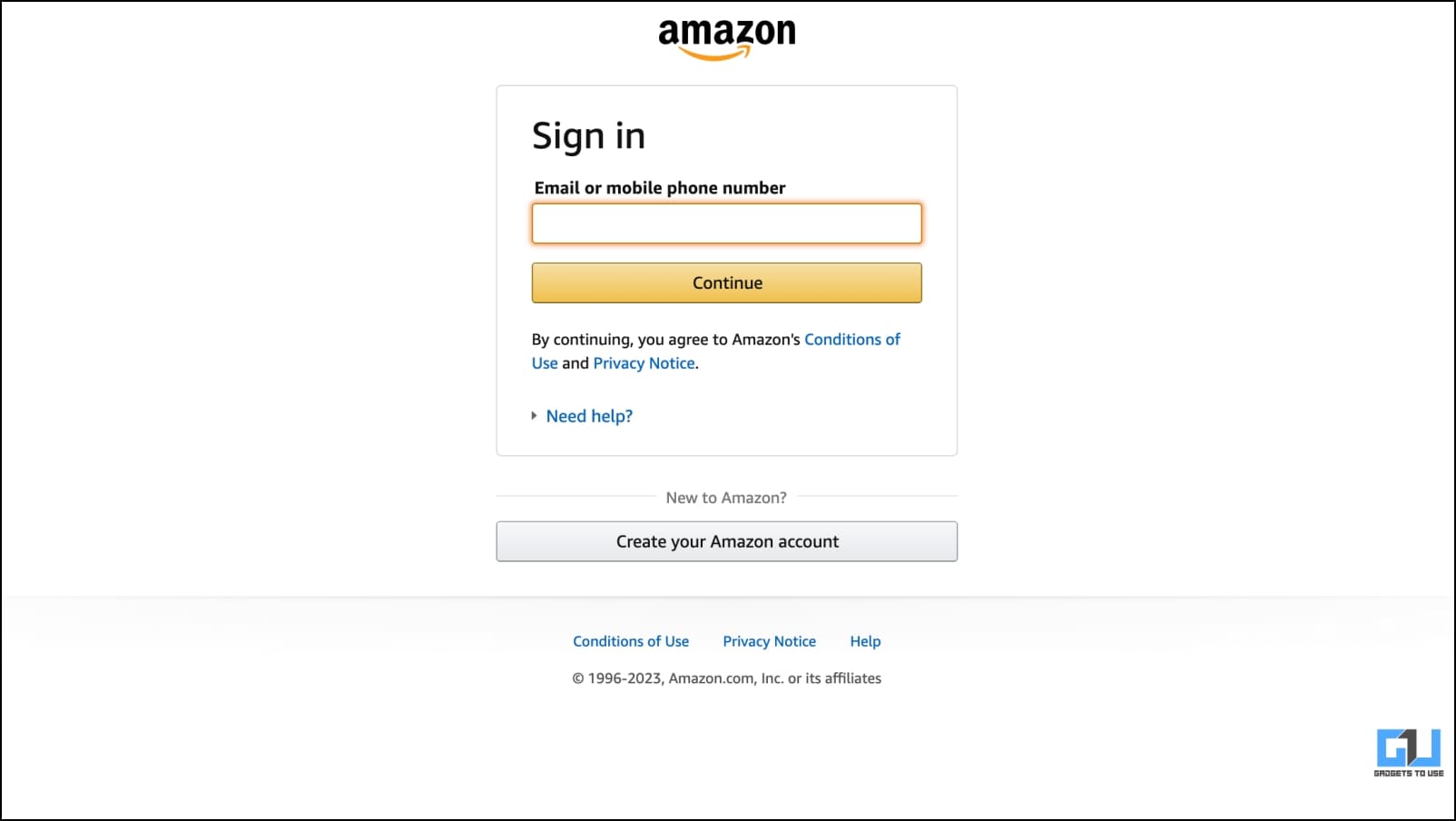 Step 3: Click on Select Data Category.
Step 4: Select Alexa and Echo devices from the list.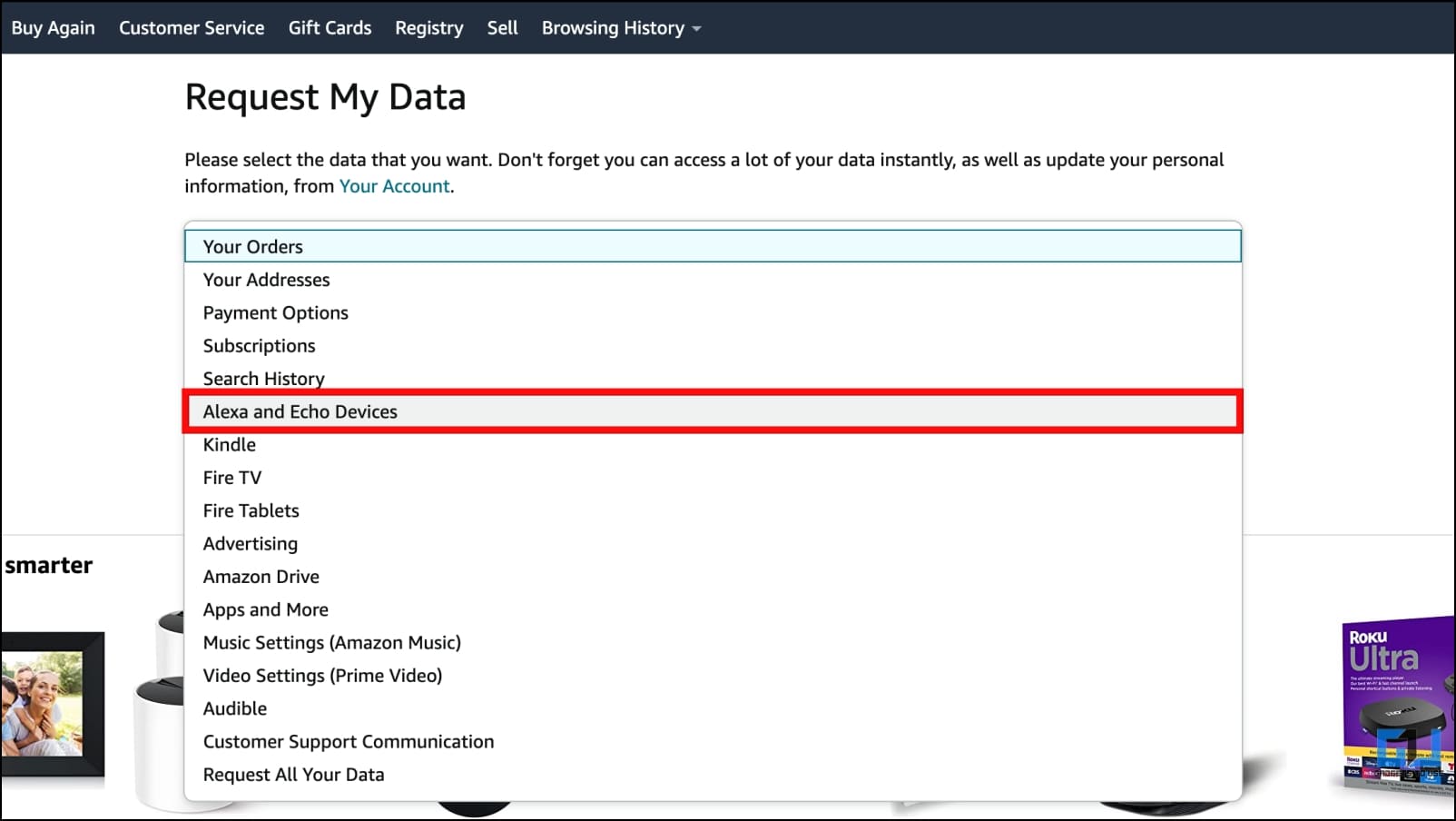 Step 5: Click on Submit Request.
Amazon will then send an e-mail to the e-mail address registered with your account. The subject line of the email will be Your Data Request Confirmation.
If you are unable to find this email, check the spam folder.
Step 6: In the e-mail, click on the Confirm Data Request button.
Once you have confirmed your data request, Amazon will send you a secure download link to all the Alexa voice recordings and other related data to your e-mail.
Frequently Asked Questions
Q. Why Does Alexa Record Conversations?
Alexa records your interactions with her to train its voice model, improve the accuracy of its response, and learn more about you to differentiate your voice from other users.
Q. Is Alexa Actively Listening and Recording your Conversations?
No. Alexa is an always-on device that actively listens for the trigger phrase, "Alexa," and anything you say after that is recorded.
Without the phrase word, Alexa will not record your conversations. However, it may mishear the trigger phrase, leading it to record the conversation you were having.
Q. Is It Possible to Know if Alexa is Recording Me?
Yes. If the blue ring light is turned on on your Echo device, you have triggered Alexa, and it is recording whatever you are saying.
Q. How Can I Auto Delete Alexa Voice Recordings?
To set your voice recordings to auto-delete, visit this link to open Manage Your Alexa Data > Choose how long to save recordings > select Time range and click on Confirm.
Wrapping Up
Alexa is a fun and engaging smart assistant, which is why it has gained so much popularity around the globe. But the fact that it saves its user's recordings and other background noise might not sit well with everyone, which is why Amazon decided to let users listen to and download their Alexa recordings. If you have any queries related to this article, please let us know and stay tuned for more such updates.
You might be interested in:
You can also follow us for instant tech news at Google News or for tips and tricks, smartphones & gadgets reviews, join GadgetsToUse Telegram Group or for the latest review videos subscribe GadgetsToUse Youtube Channel.