Linking your Aadhaar with a PAN card has been made mandatory by the Government of India, as per CBDT Circular No.7/2022 dated 30.03.2022. Those who haven't yet linked their Aadhaar with their PAN card, will not be able to use their PAN card and will be liable to a fine also after the deadline is over. The government has extended the deadline for Aadhaar linking with a PAN card many times before and now it is March 31, 2023. So if you have not done this as of now, you can check these easy ways to link your PAN with your Aadhaar card.
Pre-requisites to Link Aadhaar and PAN Card
You need to link your Aadhaar Card and PAN card if the following apply to you:
Aadhaar PAN linkage is not done before 31/03/2022

Valid PAN

Aadhaar number

Valid mobile number
Exceptions to link Aadhaar and PAN Card
As per Notification number 37/2017 from the Department of Revenue Notification, dated 11th May 2017. If any of the following applies to you, then you don't need to link your Aadhaar card and PAN Card:
NRIs
Not a citizen of India
Age > 80 years as of the date
State of residence is ASSAM, MEGHALAYA, or JAMMU & KASHMIR
How to Link PAN card with Aadhaar card
The IT department has made it quite easy for taxpayers to link their PAN cards with their Aadhaar. You can do this with a simple online process or by sending an SMS via your registered number. Here's how you can link your Aadhaar card with your PAN card.
Online via Income Tax Website
One of the easy ways to link Aadhaar and PAN card is the income tax website, in a simple two-step process. Keep your Aadhaar Number and PAN handy, and proceed with the following steps:
1. Visit the official website of the Income Tax portal, and click on the 'Link Aadhaar' option from the left pane.
2. On the next page, enter details like your PAN number, and Aadhaar number, and click on Validate.
3. Next, click on the continue to Pay Through e-Pay Tax button.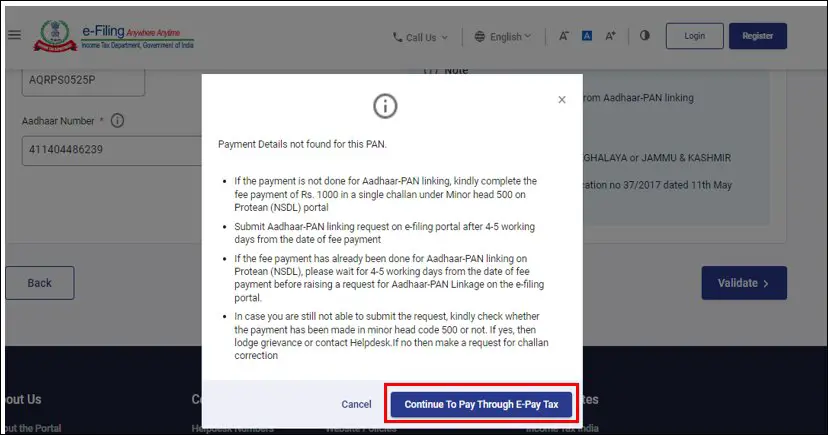 4. Here, you need to Enter your PAN, Confirm your PAN, and your  Mobile number to receive OTP.
5. After the  OTP verification, you will be redirected to the e-Pay Tax page, click on Continue to proceed.
6. On the next page, click on the Income Tax Tile.
7. Now, you need to select AY (2023-24) and then change the Type of Payment to Other Receipts (500) and Continue.
8. On the next screen, you will see the amount pre-filled, simply click on Continue to make your payment.
If the Aadhaar name is completely different from the name on PAN, then the linking will not be done from here and it will fail. In such a case, you will need to change the name in either your Aadhaar or in the PAN database.
Link Aadhaar with PAN through SMS
The Income Tax Department has also facilitated taxpayers to link their Aadhaar with their PAN, using an SMS-based facility. You can link your Aadhaar and PAN card by sending an SMS to either 567678 or 56161. Send an SMS to any of these numbers from your registered mobile number in the following format:
UIDPAN <SPACE> <Aadhaar Card Number> <Space> <PAN Number> and send it to 567678 or 56161.
Example: UIDPAN 543212346789 ABCDS1234T
The process of linking Aadhaar with PAN is also available after logging in to the Income Tax website. For this, you need to first register yourself at the Income Tax e-filing website, if you are not already registered.
Visit Your Bank to Link Your Pan and Aadhaar Card
Lastly, if you want to avoid paying any fee for linking your Aadhaar card and PAN card, then you can also visit your bank branch. Simply, ask them to link your Aadhaar Card with your PAN card, and they will do it for you without any charges.
How to Check if PAN and Aadhaar Are Linked?
If you are not sure that your Aadhaar and PAN cards are linked, you can check the status both online as well as offline. Keep your PAN and Aadhaar cards handy to enter details.
Here's how you can check the status:
1. Again visit the income tax e-filing portal and Navigate to Aadhaar status from the left pane.
2. Enter your PAN card and Aadhaar details in the provided boxes.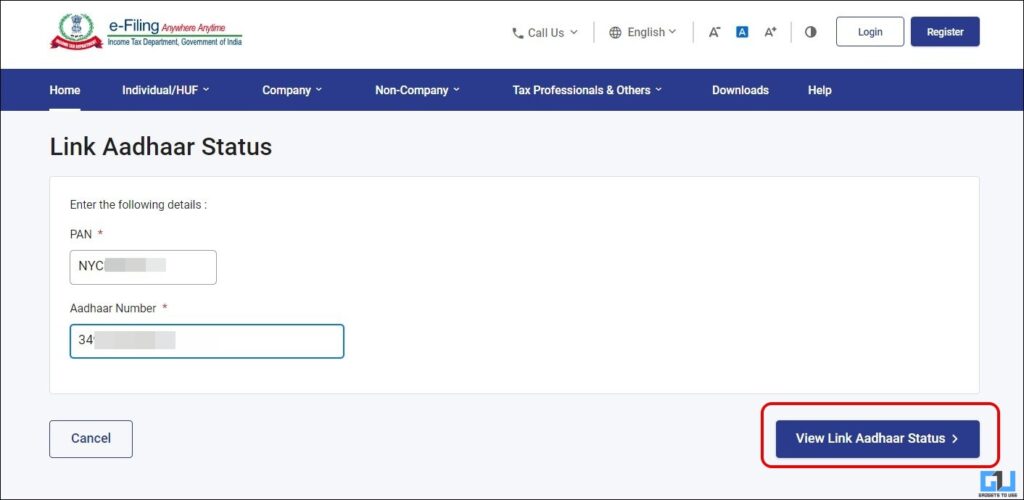 3. Now click on the 'View Link Aadhaar Status' option below.
A new page will open up and display the status of your Aadhaar and PAN linking.
FAQs
Q: How to check If my PAN Card and Aadhaar Card are linked or not?
A: You can check the status of your PAN card and Aadhaar linking via the Income Tax Portal. We have shared the detailed steps to do so in the article above.
Q: How to link PAN with Aadhaar online?
A: You need to visit the income tax portal, in order to link your Aadhaar Card with your PAN card for a nominal fee of INR 1,000.
Q: How can I link my Aadhar card with a PAN card for free?
A: In order to link your Aadhaar Card with your PAN Card for Free, you should visit your Bank branch and ask them to do it for you.
Q: Can I link my Aadhar with my PAN without login?
A: Yes, using the income tax portal, you can link your Aadhaar card, and PAN card, without logging in to your account. Follow the detailed steps mentioned above to do so.
Wrapping Up
In this read, we discussed the three easy ways about linking your Aadhaar card and PAN card. If you fail to not link it by 31st March 2023, you may be liable to pay INR 1,000 penalty, and your PAN Card will become inoperative. Check out other useful tips linked below, and stay tuned to GadgetsToUse for more such reads.
Also, Read:
You can also follow us for instant tech news at Google News or for tips and tricks, smartphones & gadgets reviews, join GadgetsToUse Telegram Group or for the latest review videos subscribe GadgetsToUse Youtube Channel.