Musk's acquisition of Twitter not only monetized the critical text 2FA feature but also made the verification badges look more colorful. While these colored verification checkmarks (blue, gold, and grey) might look unnecessary at first sight, they pack in more useful features and recognition than one can anticipate. Today, this detailed explainer will discuss everything about the Twitter Gold Verification tick with steps to apply for it. Additionally, you can catch up on our top tips to secure your Twitter account.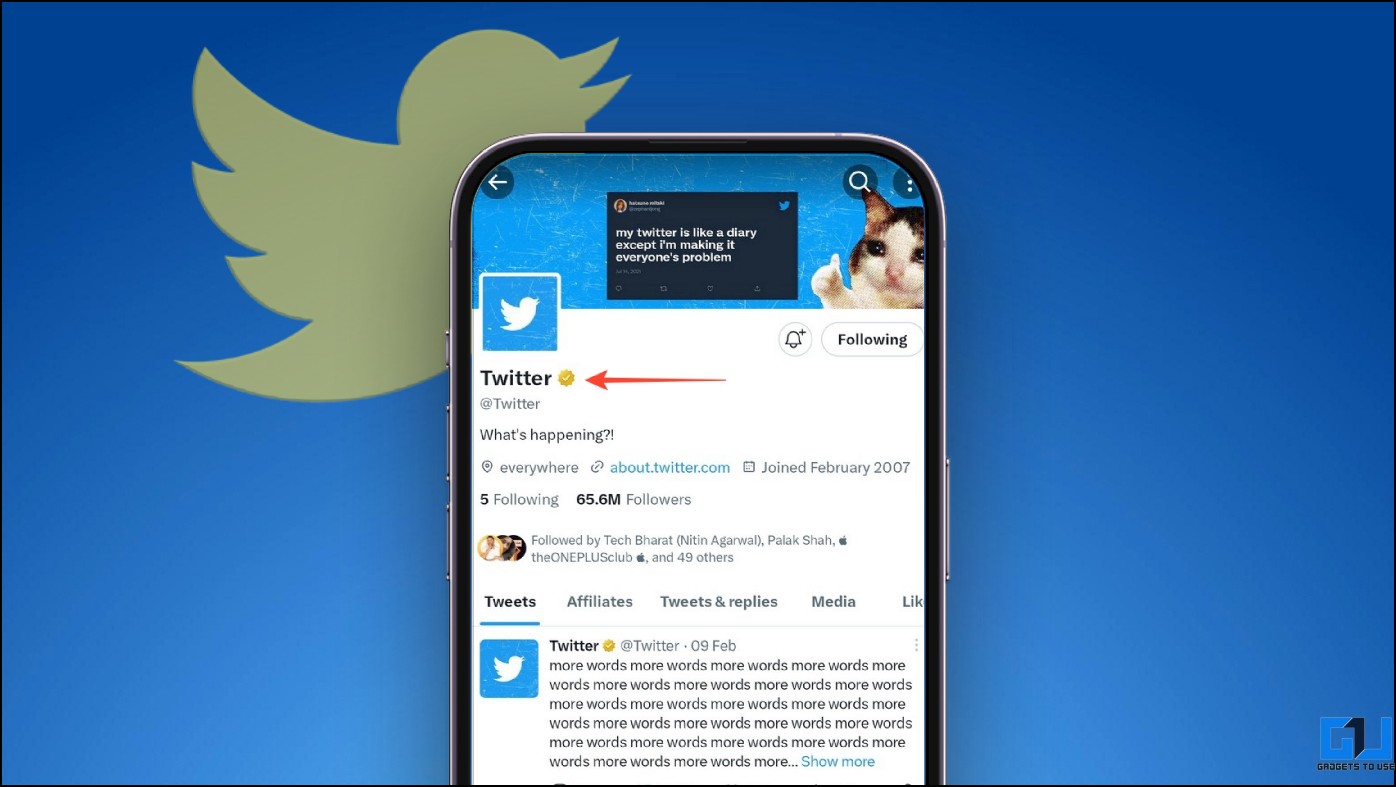 What Does Gold Verification Tick Mean?
In an attempt to provide recognition and acknowledge the presence of official business accounts, Twitter introduced the Golden Verification checkmark for all business and non-profit organizations approved by the Twitter Verified Organizations. Consequently, you can now clearly distinguish them from other verified Twitter profiles, which were earlier marked with the 'official' label and blue checkmark.
In addition, organizations approved by Twitter for getting the Gold verification tick, have the power to set up affiliates easing the profile verification and identification of their associates on the platform.
Benefits of Getting the Gold Verification Tick
Organizations with the Gold Verification Tick on Twitter are entitled to the following benefits:
Official Recognition on Twitter: Such verified accounts have a square profile picture with a golden checkmark next to their account name.
Affiliation: The Gold Verified Organizations receive a new tab of Affiliates helping visitors find and locate all their associates in one place.
Credibility: Since these organizations are reviewed thoroughly by Twitter Verified Organizations, they hold high credibility and provide a sense of trust to visitors.
Requirements
To get a Gold verification tick for your organization's account, you must fulfill the following eligibility criteria, as laid out by Twitter Verified Organizations:
While signing up, an organization must provide a matching active Twitter account, email address, and website domain.
The organization must manage and have access to the Twitter account they wish to verify, as re-authenticating the account will be required to activate the purchased Gold subscription.
If necessary, Twitter might ask the applicant to provide additional details for verification.
Once your account review gets completed, you will receive a confirmation mail on the provided email address to activate your Verified Organization account (with a Gold checkmark) after the payment is successful.
How to Apply for Twitter Gold Verification Tick?
In order to get the Gold Verification checkmark on your Twitter profile, follow these easy steps:
1. Visit this official link to apply for the Twitter Verified Organizations.
2. Fill in the required form details and press the Submit button to file your application for review.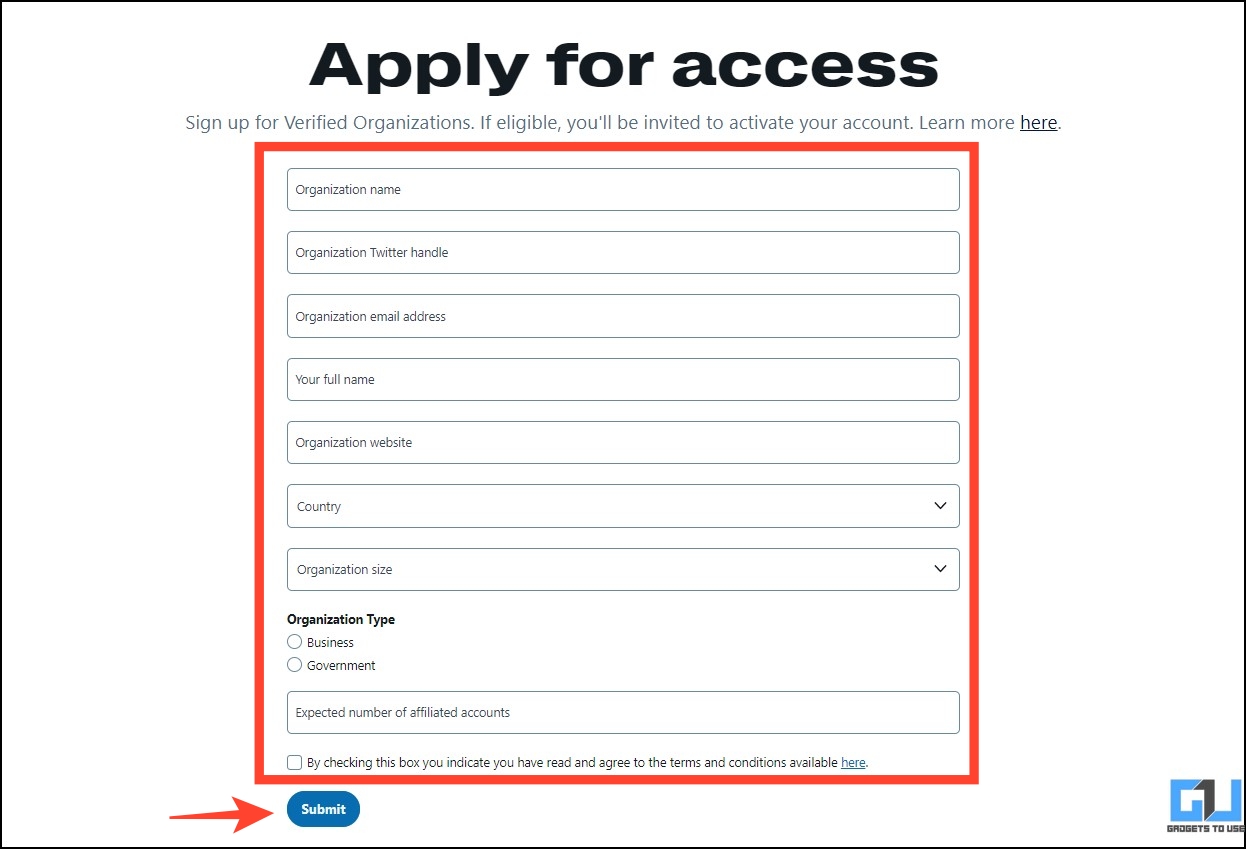 3. If your review is successful and you meet the eligibility criteria, you will receive a confirmation mail about the same on your provided email address which you have used while filling out the form.
Steps to Activate Gold Verified Account After the Review is Successful
Now that you've successfully passed the Twitter review, perform the following steps to pay and activate your Twitter Golden Verification subscription:
1.  Open the Activation mail received on your provided email address and tap the embedded link to access the Authentication page.
2. Sign in with your Twitter account credentials and agree to the terms and conditions.
3. Finally, add the required payment details and follow the on-screen instructions to pay for the Twitter-verified organization subscription.
4. That's it! You can now experience the subscription benefits along with the Golden Verified tick on your Twitter profile.
5. Additionally, you can add as many affiliates as you want by clicking the Add Accounts button in your profile. Once the invited account confirms your request, they will immediately get a checkmark and a verified affiliation badge on their profile.
Pricing
Contrary to Blue, the Twitter Verified Organizations subscription for the Gold checkmark costs $1,000 per month, with $50 per month for each additional affiliate in the U.S. (exclusive of taxes). For more price-related details, check the official pricing table below:
Types of Profile Labels and Verified Marks on Twitter
Besides the Golden verification tick, Twitter offers several other checkmarks to provide a unique visual identity to different classes of Twitter accounts. These are as follows:
1. Blue Checkmark
The Blue checkmark signifies that the account is an active Twitter Blue subscriber. However, accounts that held the blue verification badge before Twitter Blue was introduced have been categorized as 'Legacy-Verified' and will soon be withdrawn from their verified badge from April 1, 2023.
2. Gold Checkmark with Square Profile Picture
As explained above, the Gold verification checkmark indicates that the account is an official business as approved by the Twitter Verified Organizations. You can find this tick next to various organizations, such as businesses, non-profit, and institution accounts, on Twitter.
3. Grey Checkmark
The Grey checkmark signifies that a particular Twitter account represents a government/multilateral organization or a government official. You can locate this checkmark easily next to popular political personalities or political accounts on Twitter.
4. Affiliation Badges
Affiliation Badges on Twitter signify that an account is connected to an organization on Twitter. All such affiliated accounts can have gold, grey, or blue checkmarks (depending on the connected organization) and contain a profile photo of the verified organization next to their account checkmark.
5. Affiliation Labels (State and Government)
Twitter accounts containing affiliation labels are controlled by certain state-affiliated media entities or individuals working closely with them. In addition, you can also spot certain government labels on Twitter accounts that are heavily involved in geopolitics and country-related diplomacy.
6. Automated Account Labels
The Automated Account labels let you identify whether a human or a bot operates a Twitter account. In simple words, bot accounts on Twitter, such as a chatbot for a certain organization, will be labeled as 'automated' for easy identification.
7. Self-Selected Labels
The Self-Selected Labels are professional category labels picked by users when they switch to a Twitter professional account. Since these labels are out of Twitter's jurisdiction, you can change them anytime.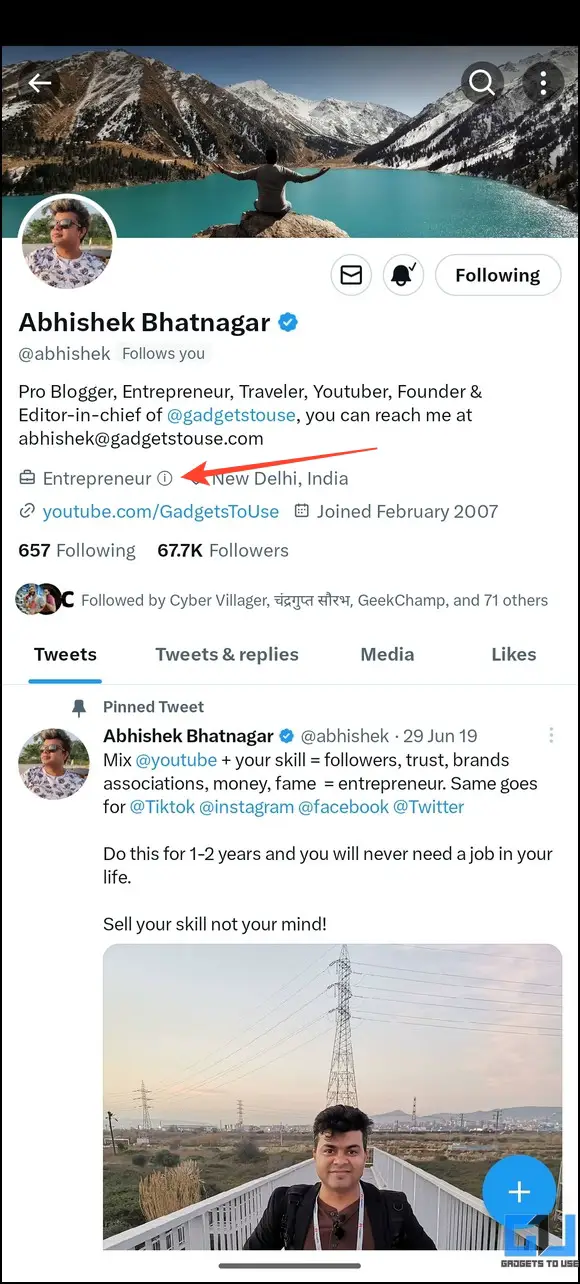 FAQs
Q. How to Get the Twitter Gold Verification Checkmark on Your Account?
You need to fill out the Twitter Verified Organization form to get the Gold Verification checkmark on your Twitter account. Follow the easy process in this explainer to do so.
Q. What Is the Cost of Buying the Twitter Gold Checkmark Subscription?
The Twitter Gold Verified checkmark subscription costs $1,000 per month, with $50 per month for each additional affiliate to your account in the U.S. For more details, refer to the pricing section above.
Q. What Are the Different Types of Profile Labels on Twitter?
Broadly speaking, you can come across seven different types of profile labels and checkmarks on Twitter. Check this explainer's dedicated section to learn more about them.
Wrapping Up
We hope this article has answered all your unaddressed concerns about getting the Twitter Gold Verification tick on your profile. If you find it informative, forward it to your friends or colleagues. Check the below linked useful reads, and stay tuned to GadgetsToUse for more awesome walkthroughs.
You might be interested in the following:
You can also follow us for instant tech news at Google News or for tips and tricks, smartphones & gadgets reviews, join GadgetsToUse Telegram Group, or for the latest review videos subscribe GadgetsToUse Youtube Channel.