Twitter Blue is Elon Musk's new trick to make Twitter Profitable. This subscription-based verification system offers a bunch of features like the Twitter verified tick mark, NFT profile picture, Golden Verification, ability to edit tweets, and more on your profile. Twitter Blue is now available, across the globe including India. But there are several caveats to this Twitter Blue subscription that you should know about. We have curated a guide about Twitter Blue, and help you save money while buying this subscription for yourself.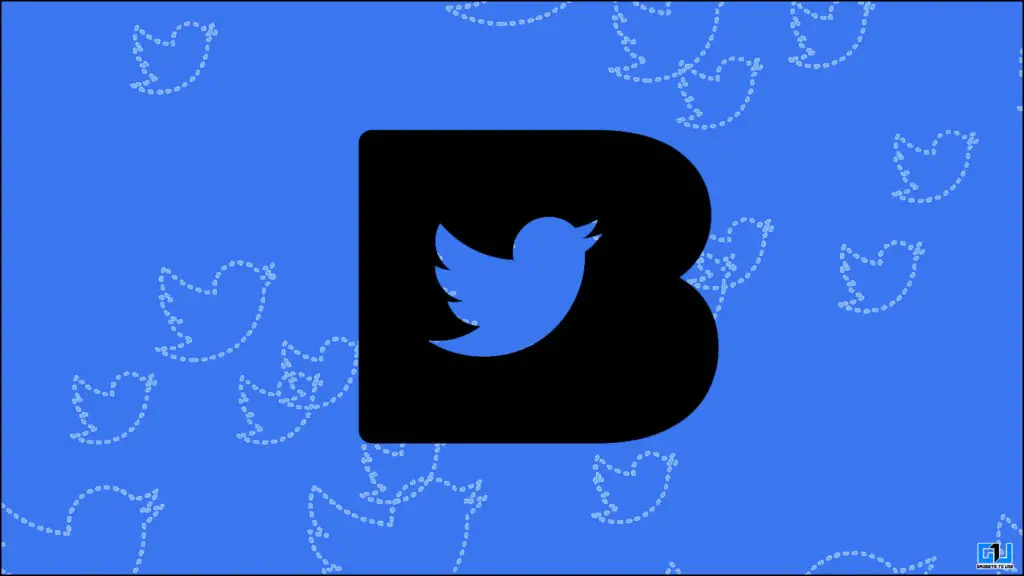 Save Money While Buying the Twitter Blue Subscription
Earlier, it is not easy to get your Twitter account verified to get that blue tick icon on your profile. Now after Twitter Blue, you can pay money and easily get your Twitter profile verified. But wait a minute, do you know everything about the Twitter Blue subscription? We have explained everything about the Twitter Blue subscription before you decide to buy it yourself.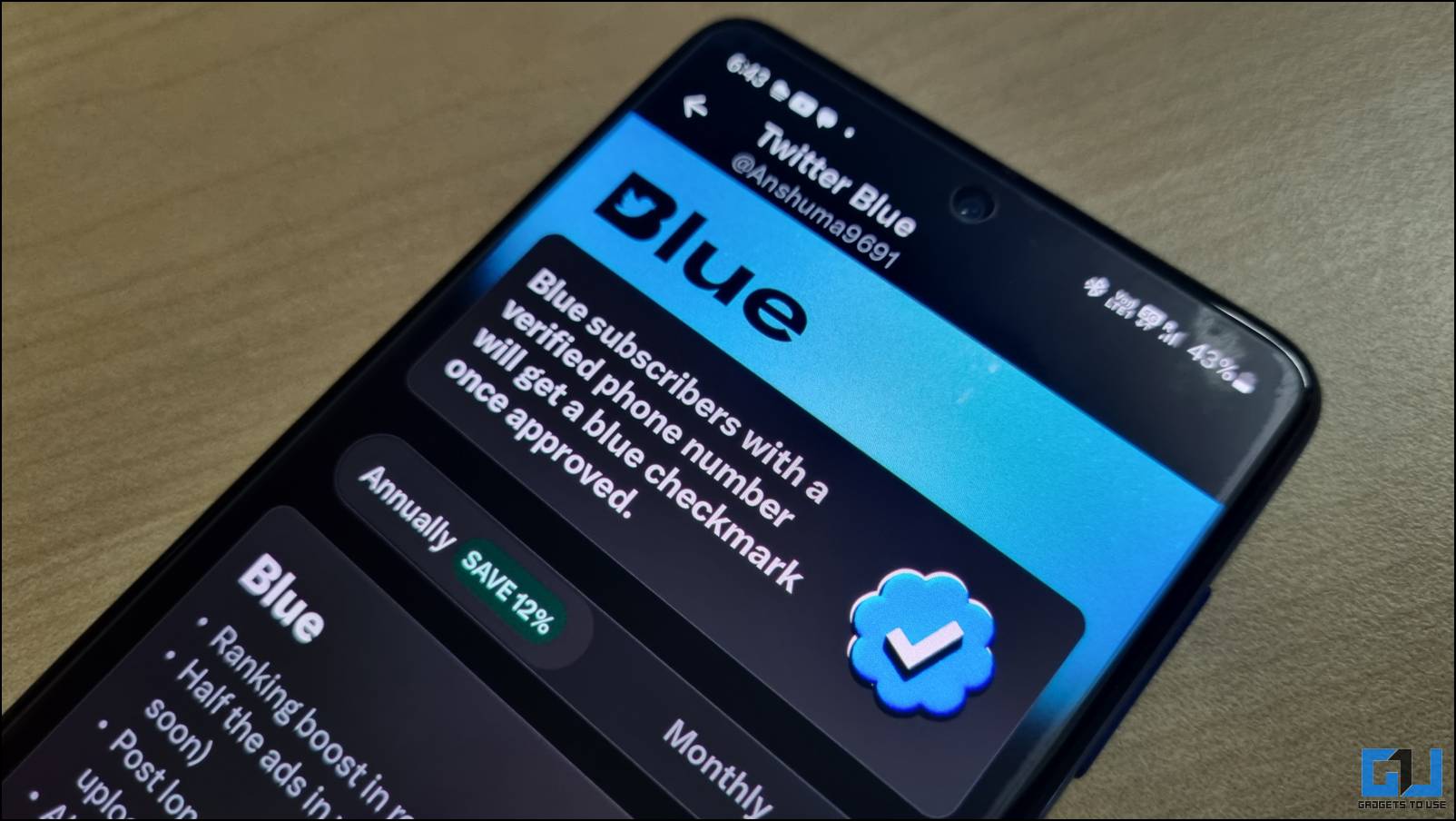 Twitter Blue Features
Apart from the Blue tick mark on your profile and access to new beta features before everyone else, you get all the below-mentioned features with the Twitter Blue subscription. There may be more features coming to the subscription, but right the following features are being offered:
Verified Checkmark: Every Twitter Blue user gets a Blue Verified checkmark next to their name.
Increased Character Limit: The character limit of the tweets gets increased to 4000 if you purchase the Twitter Blue subscription.
Edit Your Published Tweets: You can edit your tweets in a 30-minute window which is sufficient time to realize if you have published a wrong tweet.
Bookmark Folders: You can bookmark tweets so you can find them anytime you want. This allows you to create unlimited bookmarks and you can even create folders to categorize your bookmarks.
NFT Profile pictures: If you own an NFT and don't find a proper use for it then you can show it as your NFT Twitter profile picture with Twitter Blue. The profile picture gets a hexagon shape, showing that you are an owner of that NFT.
Spaces: Spaces tab is basically Clubhouse from Twitter, you will find all the audio content there. There are podcasts, recorded spaces, audio stations, and live Twitter Spaces.
Reader: This feature is just like the reader feature on any browser, this removes all distractions and turns it into a clean reading experience.
Longer videos: You get to upload longer videos of up to 60 minutes with a 2GB max file size. It is capped at 1080p video uploads only that too from the Twitter web.
Half the ads: You get to see half the number of ads that you usually see on your Twitter feed.
Two-factor Authentication: This feature should have been compulsory by now but Twitter is limiting it with a Twitter Blue subscription. It lets you add two-factor authentication to your profile which makes it more secure and protected.
Pricing for Twitter Blue
Twitter offers the Twitter Blue service at different prices for their mobile and web users, for example in the US it costs $11 per month on Android and iOS, while on the web it cost $8 per month. If you get it on an annual basis, then it'll cost you $115 per year on mobile, while costing just $84 if you subscribe via the Twitter web.
You can check out this chart to see the Twitter blue pricing across different countries.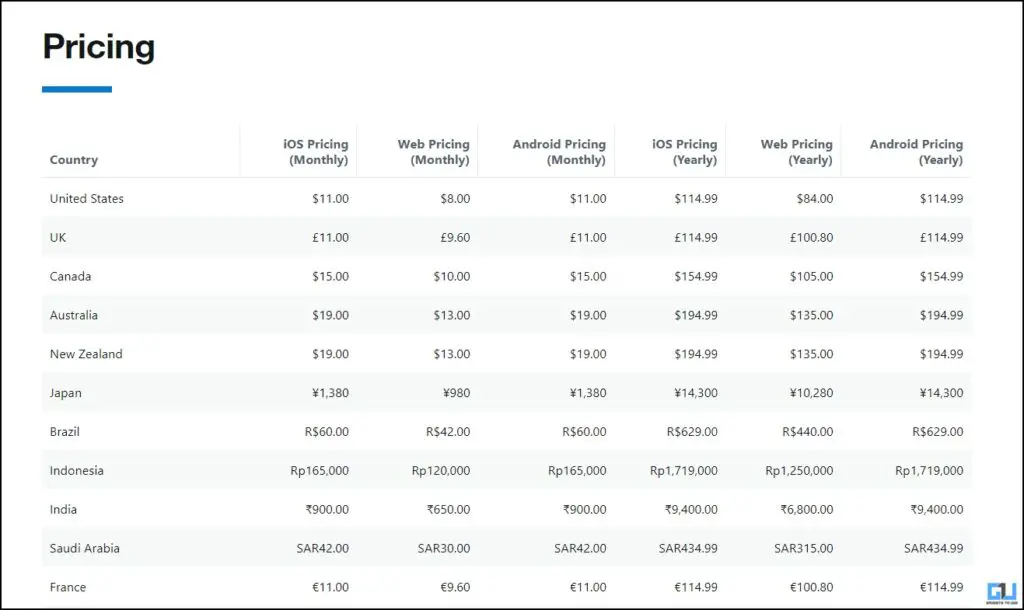 How to Save Money Buying a Twitter Blue Subscription
Twitter Blue is an expensive subscription, and if you think the features are worth it then you must go for it. The subscription starts from Rs. 900 Rupees for a month, and if you purchase the yearly subscription then you have to pay Rs. 9400 instead of Rs. 10,800. This way you can save Rs 1400 if you buy the subscription from a mobile device, iOS or Android.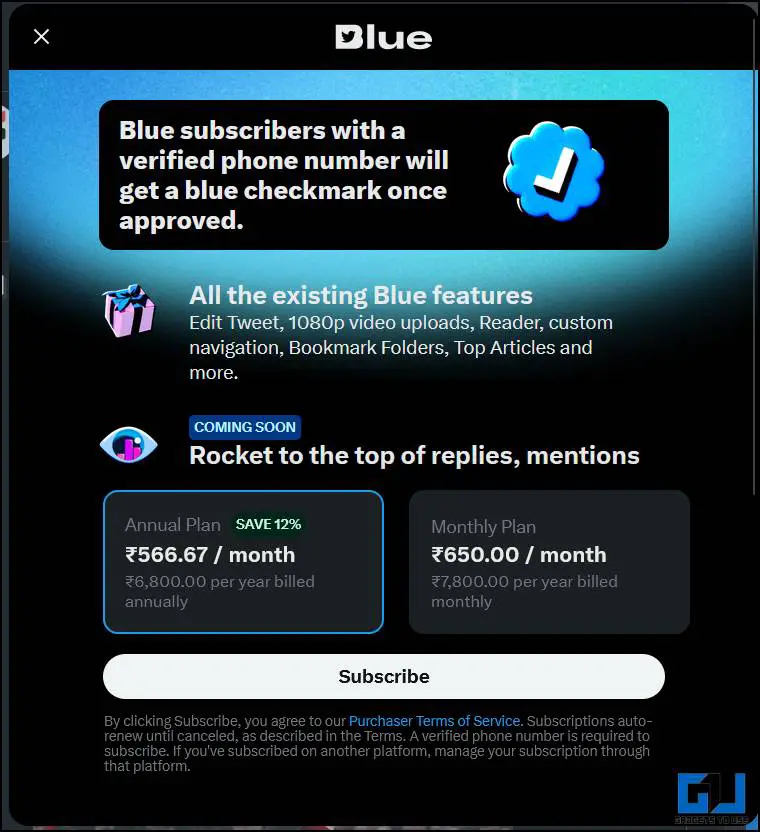 However, if you decide to buy the Twitter Blue subscription from the web, then you can save a lot more. As you only have to pay Rs. 650 monthly to keep the subscription. If you buy the annual subscription then you'll only have to pay Rs. 6800. This way you can save another Rs. 1000 by purchasing the subscription from the Twitter website.
What to Do if You Don't See a Blue Tick After Buying Twitter Blue
After subscribing to Twitter Blue, the blue tick does not appear instantly on your Twitter profile. If you don't see the blue tick even after 24 hours, you can try reaching out to Twitter support. If all the requirements are met, Twitter will contact you to get your details and hopefully, you will get the blue tick soon on your profile.
Steps to Contact Twitter Support
Twitter help and Support page is built into the website and in the app as well. Here is how you can contact the customer case through the Twitter website.
1. Open the Twitter website on your PC and log in to your account.
2. Click Settings and Support to expand it and then click the Help Center option.
3. Here click the Contact Us button in the top right corner.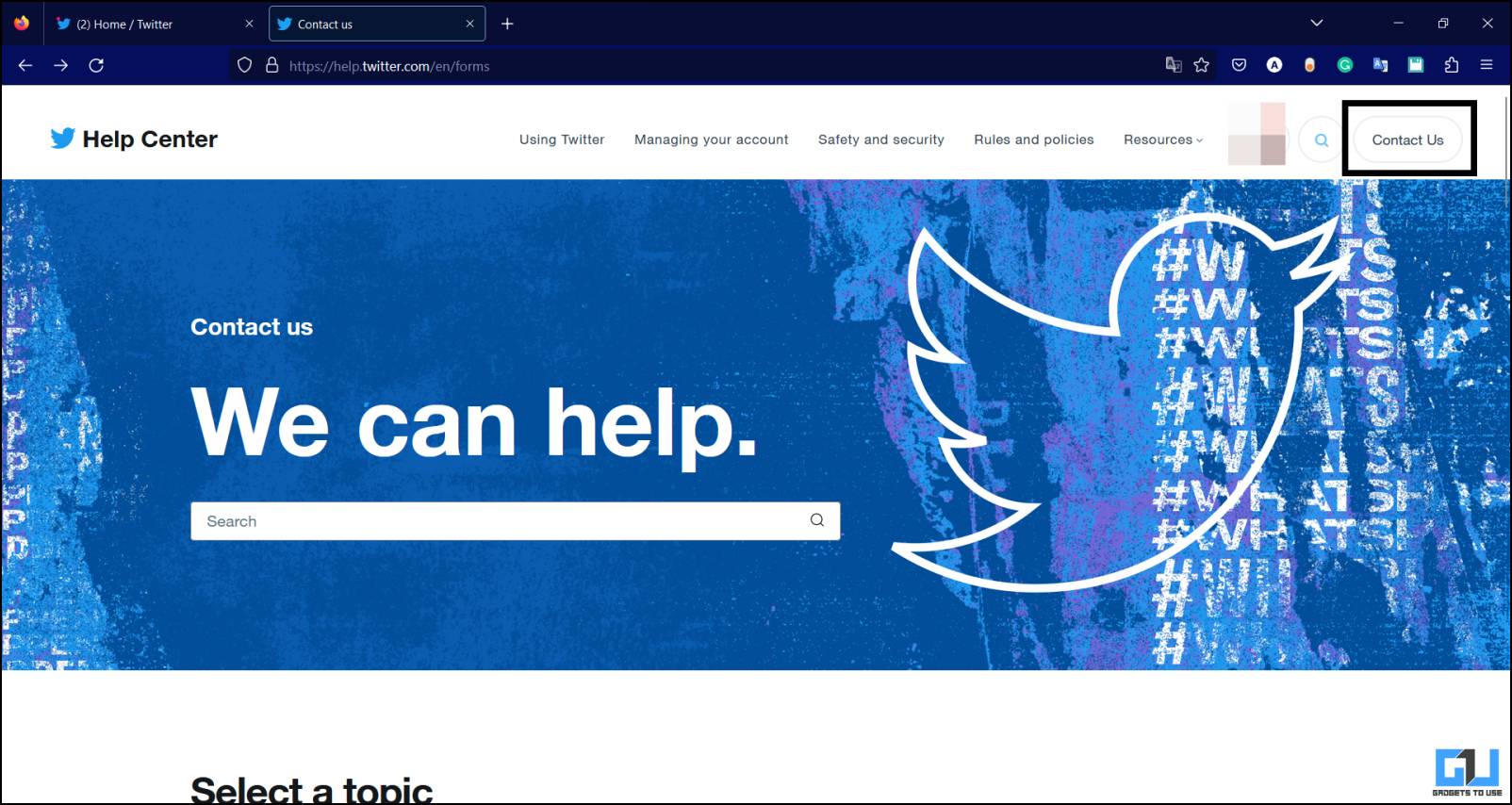 4. Scroll down to Help with paid features and click on it.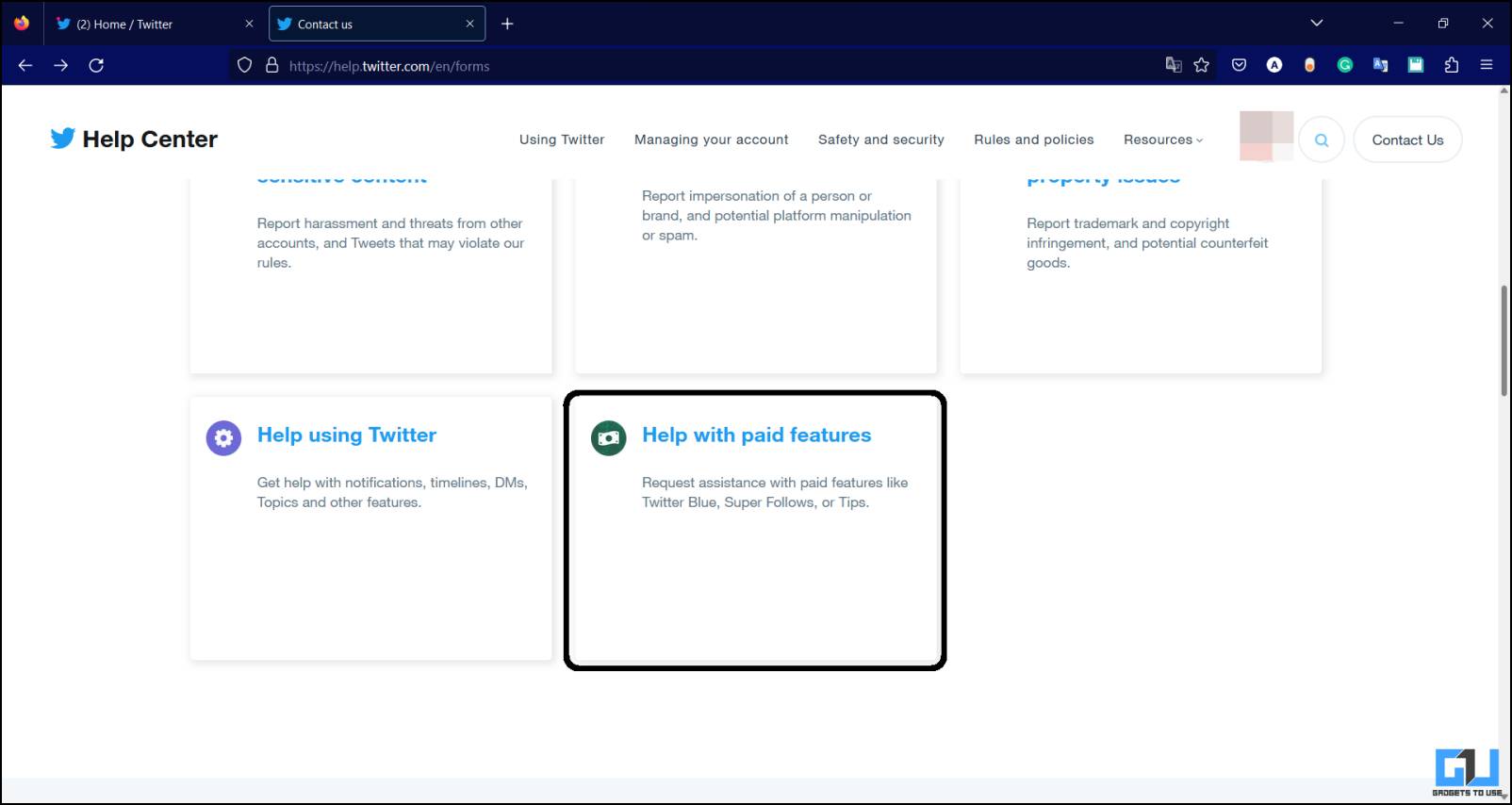 5. Here, you need to write your concern in the form and click Submit.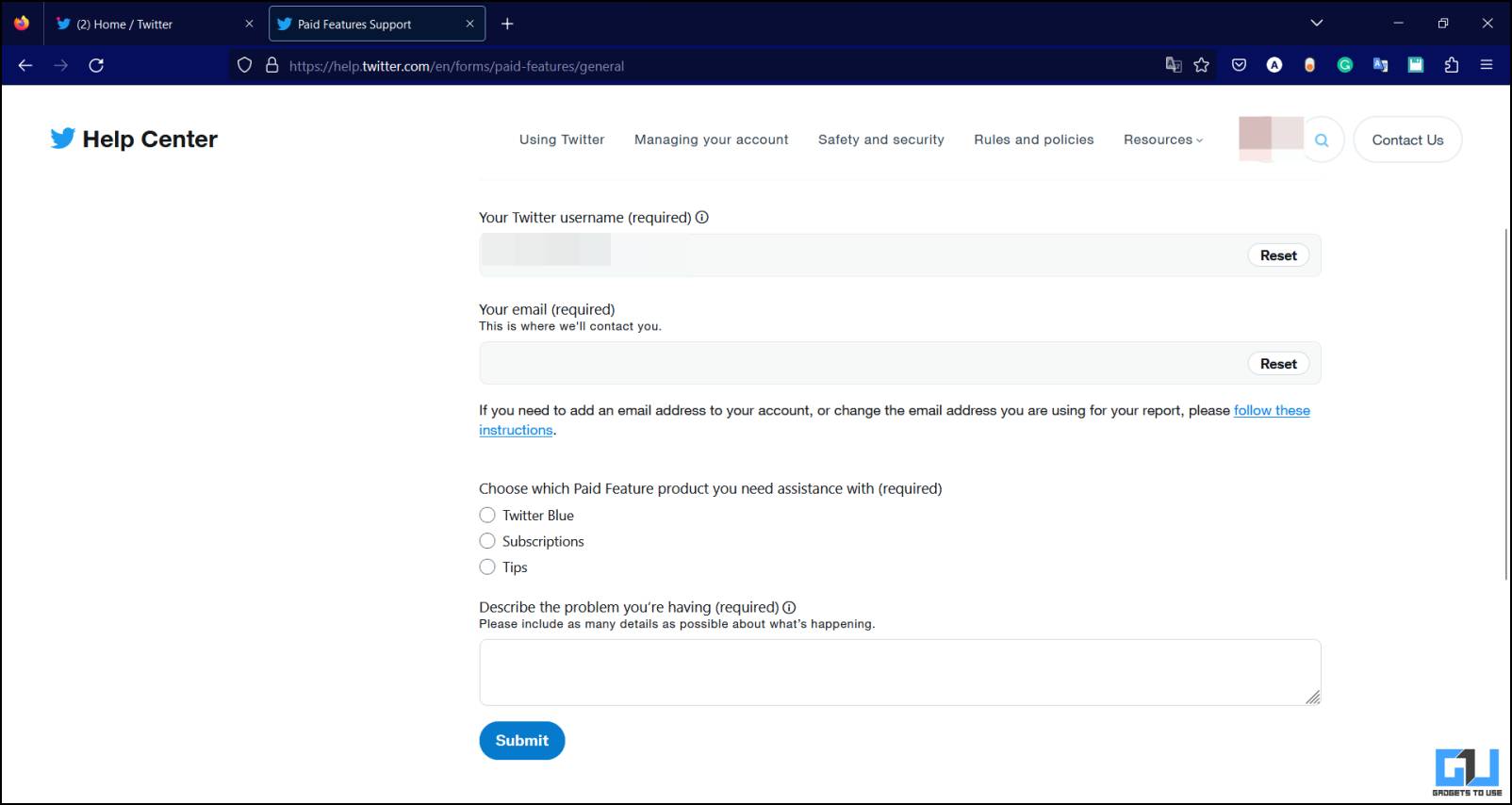 This is how you can easily contact Twitter support if you don't see the blue tick after buying the subscription. Or you can use this support page to get help with anything you want about your Twitter profile.
FAQs
Q: What is Twitter Blue Subscription?
A: Twitter Blue is a new subscription service from Twitter to provide premium features like longer tweets, editing a tweet, 2 Factor Authentication, and more. This subscription also gives you a verified tick mark on your profile which is always a plus.
Q: Where Can I Buy Twitter Blue Subscription?
A: You can buy a Twitter Blue subscription from the Twitter app or the website. However, if you buy Twitter Blue from the website, you will get it for a lower price.
Q: I Bought the Twitter Blue Subscription but Didn't Get the Blue Tick Mark, What Should I Do?
A: First, you need to give Twitter some time to show the tick mark on your profile. If you don't see the verified tag on your profile even after 24 hours, then you may talk to Twitter customer support. Follow the steps mentioned above to contact Twitter support.
Q: Will I Get a Refund If I Cancel My Twitter Blue Subscription?
A: No refund will be given if you decide to cancel the Twitter Blue subscription. You may contact Google or Android accordingly to get help with the refund process.
Wrapping Up: Get Twitter Blue Cheaper in the US and Other Countries
Now you know everything about the Twitter Blue subscription and what features it tags along with the price. If you get it from Twitter web, you can save money. Check out other useful tips linked below, and stay tuned to GadgetsToUse for more such reads.
You might be interested in:
You can also follow us for instant tech news at Google News or for tips and tricks, smartphones & gadgets reviews, join GadgetsToUse Telegram Group, or for the latest review videos subscribe GadgetsToUse Youtube Channel.