Instagram is no longer a photo-sharing platform, as confirmed by Instagram Head Adam Mosseri. As IGTV videos are not in fashion anymore, reels are the only option left. In order to get views on your reels, consistency is one of the most important factors so that the mighty algorithm works in your favor. One way to maintain consistency is to prepare your content in advance and then publish it regularly. In this tutorial, I'll tell you how to schedule Instagram reels for free.
How to Schedule Your Instagram Reels
Now, Instagram's API allows scheduling Instagram photos, videos, and reels. Here are a few ways to plan and schedule your reels to post them regularly to maintain consistency.
Steps to Schedule Instagram Reels
Instagram allows you to schedule reels from the app on Android and iOS. Scheduling a reel does limit some features like topics, and the ability to share on Facebook. Follow these steps to schedule your reels.
1. Launch the Instagram app and tap the Plus icon (+), and choose the reel option.
2. Now, follow the usual process to upload your reel, till you reach this page.
3. Scroll down and tap on Advanced Settings, to access more options.
4. Next, enable the toggle for Schedule this reel, and set the date and time you want the reel to be published at.
5. Finally tap on Done, then tap the back arrow, and choose to Continue Scheduling.
6. Lastly, tap type the caption, add tags, or collaborator, and other settings, and press the Schedule button.
Currently, the schedule feature is not available on all accounts, as the feature is rolling out gradually. If you haven't received the update yet, move to the other alternatives linked below.
Schedule Reels Using Assistant
There is a really simple yet effective way to schedule your Instagram reels, using your phone. Here's how it can be done.
1. Upload your reels to your Instagram account, but don't post them right away. Instead, save them as a draft, and keep them ready.
2. Now, set a reminder on your phone using your phone's assistant i.e. Google Assistant, Apple's Siri, or Amazon's Alexa.
3. Ask the assistant to remind you to post a reel during a specific time of the day, every day, or whatever time interval you prefer.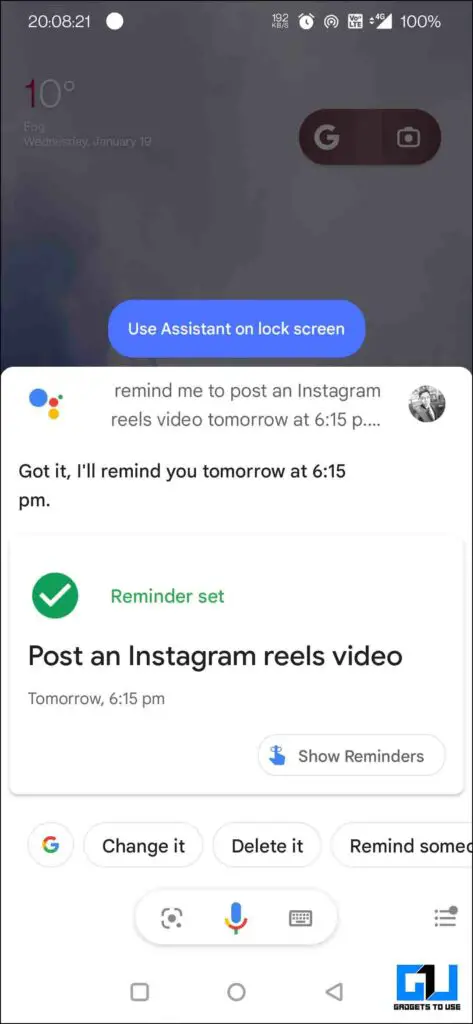 4. Alternatively, you can also manually set a reminder in your phone's calendar, and schedule the notification of the reminder according to the time you want to post the reel.
Use Third Party Tools to Schedule Reels
There are chances that the draft, saved on Instagram may get deleted due to some reasons, even though I have experienced it oftentimes. So you can use some third-party tools to plan your reels, here are some services you can use:
Metricool – This tool allows you to schedule your reels, you can type and save your caption, look for trending hashtags, and upload your video. On the scheduled date and time, the video along with your saved caption and hashtag will be mailed to you. All you need to do is, copy and paste it on Instagram right on time.
Plann – Plann also works like Metricool, it also comes with an Android App. Just tap the Instagram icon to 'copy and post' from the notification, and you'll find your Reel is now saved to the top of your camera roll. The caption will be available on your phone's clipboard.
Preview – Preview allows you to Plan your feed by dragging and dropping your reels on the calendar, preparing your captions, previewing your reels before you post, change the cover images. It also comes with an App.
FAQs
Q. Can you schedule reels for free?
Yes, Instagram does allow you to schedule reels, you can access the schedule feature under Advanced Settings, before publishing it.
Q. Why can't I schedule my reels?
The schedule feature is rolling out gradually to all users, you need to wait for the feature to be available on your account. You can also follow the other workaround to never miss publishing your reel.
Q. Is there an app to schedule reels?
Yes, there are some third-party social media tools and services to schedule reels. You can use the native tool to schedule your reels.
Q. What is the best scheduling tool for reels?
The best way to schedule reels is the native methods built into Instagram. Follow the steps above to learn the process.
Wrapping Up
So this is how you can schedule your Instagram Reels, using your phone or some third-party services. The native method is still rolling out to all accounts in a phased manner. Other methods have an advantage, saving a draft locally via the Instagram app, lets you post it quickly, as the reel is already uploaded. While using a third-party service mitigates the risk of losing draft, and also allows a team to work efficiently post a reel.
You might be interested in:
You can also follow us for instant tech news at Google News or for tips and tricks, smartphones & gadgets reviews, join GadgetsToUse Telegram Group or for the latest review videos subscribe GadgetsToUse Youtube Channel.