If you love creating content with your friends, family, your fellow influencers friends, brands, and businesses on Instagram, you're in for a treat. Instagram allows users to now collaborate with other creators and brands much faster using the newly launched Collab feature. In this article, we will provide you with a complete guide to using it. Additionally, you can add music to your Instagram Posts to attract more audience to your profile.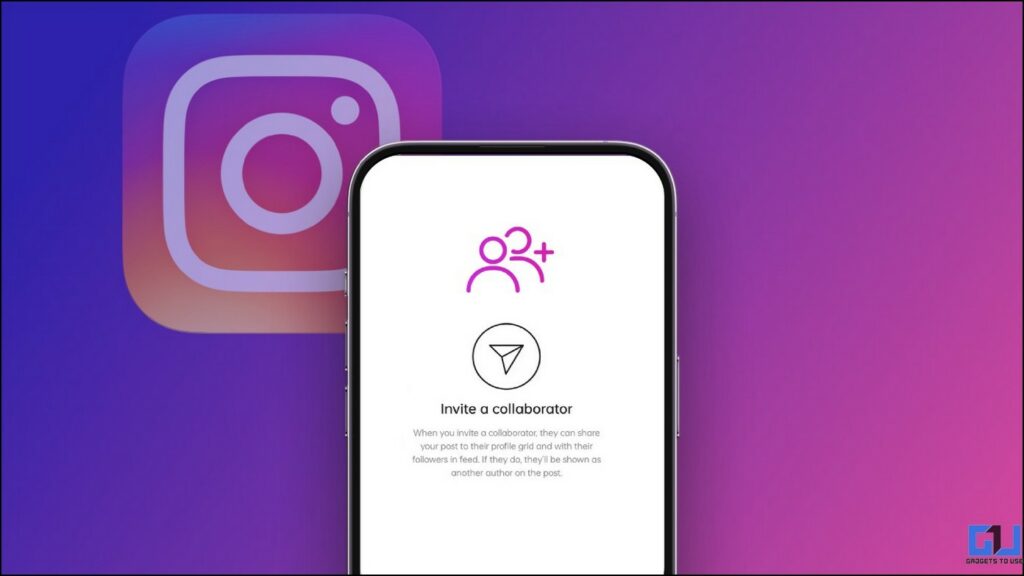 Key Highlights of Instagram Collab Feature
Thanks to the newly launched Instagram Collab feature, you can now easily co-author your posts or reels in just a few taps. Once the co-author approves the tag on your post, the likes, comments, and even the audiences/followers on your profiles for the collaborated post/reel will be shared. As a result, you can increase the reach of your content to a huge amount of viewers in no time.
You 🤝 Me

We're launching Collabs, a new way to co-author Feed posts and Reels.
Invite an account to be a collaborator:

✅Both names will appear on header
✅Share to both sets of followers
✅Live on both profile grids
✅Share views, likes and comments pic.twitter.com/0pBYtb9aCK

— Instagram (@instagram) October 19, 2021
The key highlights of this feature are as follows:
You can add 1 co-author to an Instagram post
Once approved, the collaborator names will appear on the header
The collaborated post will be live on both the co-author's profile
You will be able to share views, likes, and comments for the collaborated post
This is only limited to Instagram posts and reels
You can even co-author public or even private Instagram accounts, but it needs to be approved first
Benefits of Instagram Collab
The ability to collaborate with friends, other influencers, brands, and creators using the Instagram Collab feature can help you leverage the following benefits:
A Wide Audience: Collaborating your post on Instagram essentially merges two sets of audiences, creating a bigger audience cloud for the posted content.
Skyrocketing Engagements: When you get a wide range of viewers for your content, post engagements are bound to skyrocket!
Increased Interaction: When engagements on your posted Instagram content are higher, interactions will increase exponentially. This will prove to be a miracle for shopping pages as more interactions will contribute to higher sales.
Makes Collaboration Easier: The days of pre-planning a collaboration are now over. With Instagram Collab, you can set up a collaborated post with an influencer, brand, or creator in seconds.
How to Use Instagram Collab Feature for Posts and Reels
Collaborating with other creators on Instagram is quite simple, and is available to all Instagram users, it works on both Reels and Posts.
Use Instagram Collab Feature for Reels
Follow these simple steps to use the collab feature of Instagram for reels.
1. Open Instagram and tap the + icon at the bottom.
2. Select Reels from the bottom navigation bar and tap on the + icon to upload a pre-recorded reel. Alternatively, you can record a video directly by pressing the Shutter button to use it as an Instagram reel.
3. Tap on Next to let Instagram process the video.
4. Add your desired effects and filters to the reel on the editing page and tap on Next.
5. Here, tap on the Tag People option.
6. Next, tap on Invite Collaborator to add a new collaborator to your reel.
7. Search and add the username of the person you wish to add as a collaborator for the Instagram reel.
8. Finally, press the tick button in the top right corner of the app window to save changes. Add other required details and tap the Share button to publish it to Instagram.
9. Your collaborator will instantly receive a request for collaboration.
10. Once he/she approves it, the Instagram reel will show the names of both the co-authors in the collaborated reel.
Collab with others through an Instagram Post
Besides reels, you can co-author your posts using Instagram's collab feature. Follow these easy steps to achieve the same:
1. Open the Instagram app on your device and tap the + icon at the bottom of the screen.
2. Pick Post from the navigation below and choose the photo/video you wish to use in your Instagram post.
3. Tap on the next icon in the top right corner of the app screen.
4. You can add filters or edit your image on this page. When you're finished, tap on the forward arrow icon again.
5. Now, tap on the 'Tag people' option.
6. To invite collaborators, tap on Invite collaborators and search for their Instagram usernames to add them as co-authors.
7. Finalize your post by adding further details and press the blue tick icon in the top right corner of the app to post it.
8. Your collaborators will receive instant request notifications for the post.
9. As soon as your collaborator approves your request, the post will be visible on both profiles with their respective names in the post title.
FAQs
Q. How to Enable the Collaboration Feature on Instagram?
Follow the easy steps in this explainer to enable the collaboration feature on your Instagram posts and reels.
Q. Instagram Collab Feature Is Not Available on My Account. How Do I Fix It?
It is available for all Instagram users, if you don't see it, make sure to update your app to experience the collab feature on Instagram.
Q. How to Use the Collab Feature for Private Instagram Accounts?
Simply use a normal account to create a collaboration request and send it to a private Instagram account to co-author your content. Once the private account accepts the invite, he/she will be added as a co-author to your post/reel.
Q. How to Accept a Collaboration Request on Instagram?
Navigate to the DM section of your Instagram account to spot the received collaboration request. Further, tap the View Request button to accept or reject it. If you still don't find the option to accept it, check it our dedicated guide to accepting Instagram Collaboration Invite.
Q. How Can I Invite Another Collaborator to Co-author My Post or Reel on Instagram?
Make sure to tap the Tag People option while composing a new post/reel on Instagram to invite another collaborator. Check the steps listed above for precise details.
Q. Can I add a Collaborate on Instagram After Posting a Reel, Post?
During testing, we could add collaborators to our posted posts and reels in some Instagram accounts, while the option was unavailable on others. To do the same, you can edit the post and tag an Instagram user from the Tap People option to add a new collaborator.
Wrapping Up: Collaboration is just a Few Taps Away!
This is how you can use the Instagram Collab feature, to increase engagement and reach more viewers and audiences. If you find this read helpful, share it with your creator friends and subscribe to GadgetsToUse for more amazing walkthroughs. Also, don't forget to check the below useful links:
You might be interested in the following:
You can also follow us for instant tech news at Google News or for tips and tricks, smartphones & gadgets reviews, join GadgetsToUse Telegram Group, or for the latest review videos subscribe GadgetsToUse Youtube Channel.