Expanding its ecosystem further, OnePlus launched a new tablet called "OnePlus Pad." And despite being the first tablet ever built by the brand, it looks quite promising on paper. OnePlus has avoided cutting corners to give everything you'd want on an Android tablet. Plus, there are a few accessories that can be bought separately to turn it into a productive work machine. But does all of it translates from paper to real life? Let's find out in our full OnePlus Pad review with pros and cons.
OnePlus Pad Full Review
OnePlus Pad comes in only one "Halo Green" color. You can buy it in two variants in India- the base with 8GB RAM + 128GB Storage for a price of INR 37,999, followed by a higher-end model with RAM + 256GB storage which costs INR 39,999. In the US and UK, only the 8GB + 128GB variant is sold for $479/ £449.
Box Contents
Before jumping on to the review, let's first unbox the OnePlus Pad, and see what we get inside the box.
OnePlus Pad
100W SUPERVOOC charging brick
USB Type C cable
Quick Start guide
OnePlus Pad Design: Simple Yet Fresh
OnePlus brings a fresh and premium design to the table with high-quality materials. The aluminum unibody design with curved edges makes the tablet an easy-to-hold device despite its size; where curved edges blend with the display so beautifully that you can't feel the ridge between the frame and the display.
The display is curved toward the sides, making the experience a lot smoother. Bezels around the display are thin and uniform with a camera placed on the longer side for better usability in landscape mode.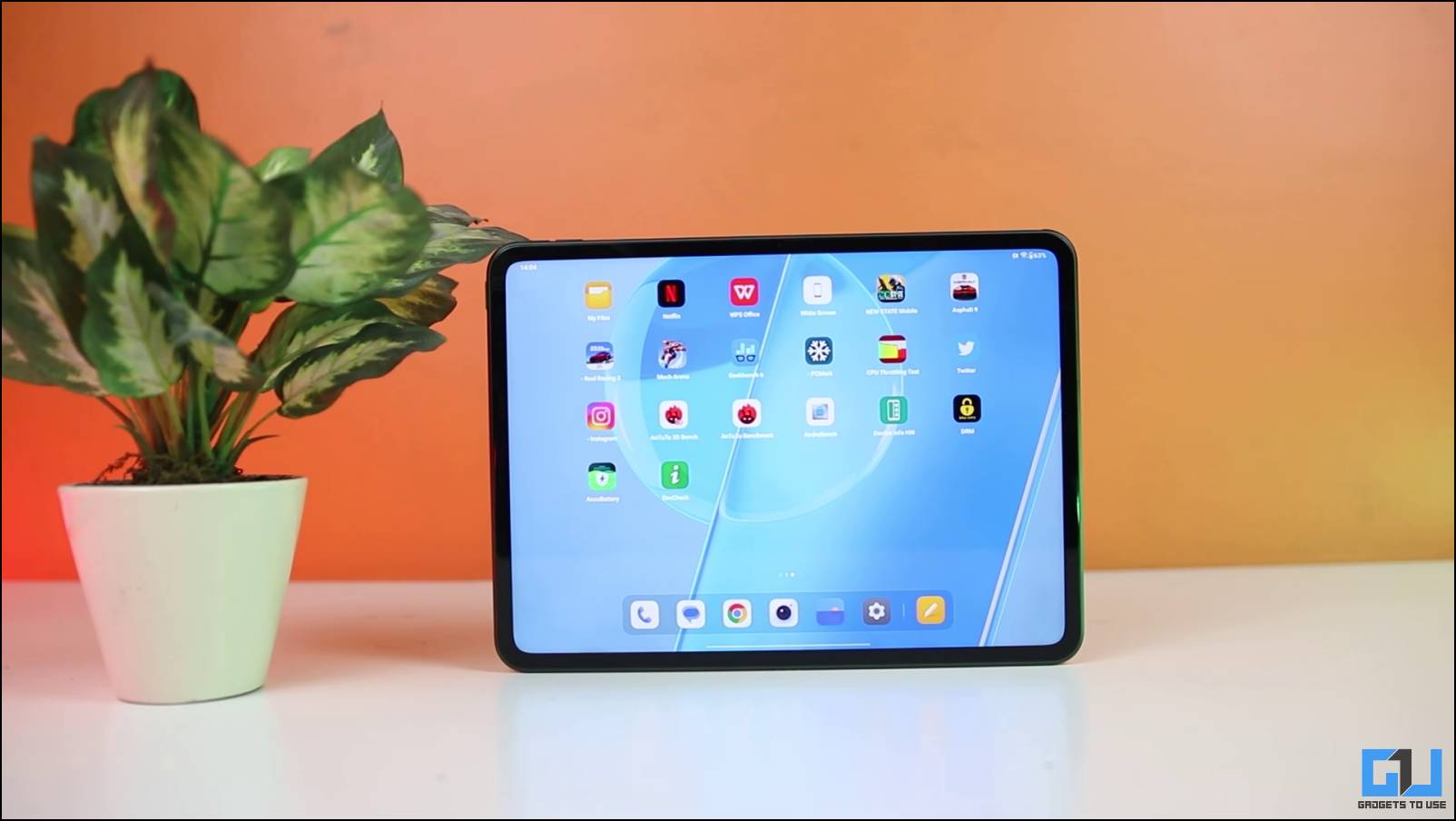 OnePlus added a brushed metal finish on the back with concentric Halo circles design going on around the camera module which looks really cool. When comes to the Green color choice which I am not a big fan of, I would have preferred a more traditional color like grey or metallic silver. The antenna bands running around the edges of the rear really go well with the design of this tablet.
The volume keys are placed on the top flat edge to keep the pen stable when connected to the OnePlus Pad. The bottom edge has the keyboard pogo pin connectors to attach the keyboard accessory directly to it. The right edge of the tablet has two of the four speakers alongside the Type-C port and microphone hole. The other two loudspeakers are on the left side with the power button towards the top.
The OnePlus Pad is surprisingly thin and lightweight despite being crammed with tons of hardware and features. It weighs around 550 grams which is manageable for a tablet this size. And with a thickness of only 6.5mm, it can be slid into any office bag without adding a bulge.
Overall, I loved all the design aspects of the OnePlus Pad- its thickness, weight, and material. It is good that OnePlus brings its own design which clearly depicts, that it is meant to be used in landscape rather than in portrait orientation, which is not inspired by the latest industry standards.
OnePlus Pad Display: Punchy and Smooth
OnePlus has always provided the best displays on its premium devices and the OnePlus Pad is no exception. You get a big 11.61 inches LCD 2.8K display with a resolution of 2800 x 2000 for a nice big view.
The display supports a refresh rate of up to 144Hz for a much smoother user experience. This display has an aspect ratio of 7:5 which is a unique form factor for a tablet. This makes this display even more productive than a regular tablet with a 16:9 aspect ratio.
This slightly taller aspect ratio gives a better perspective to view documents and web pages even in landscape mode. The bezels around the display are thin and uniform giving the tablet a very classy look.
The camera is placed on the longer side of the display which makes it a better companion for video calls. Since the OnePlus Pad does not have a fingerprint sensor, this camera is used to face unlock which works flawlessly.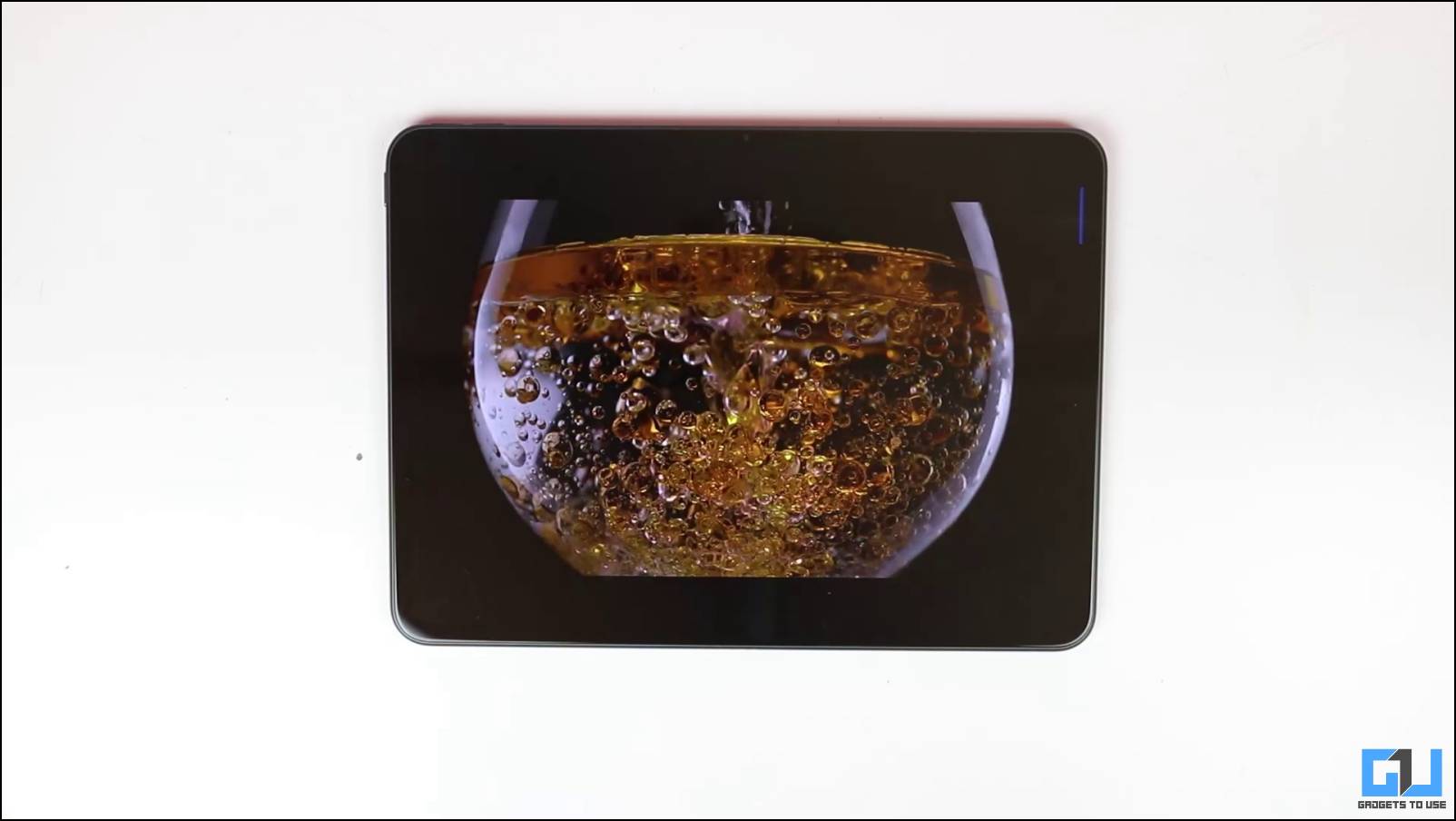 There are a couple of software tweaks that you get on the OnePlus Pad to personalize your viewing experience. To make the outdoor experience better, this display comes with 500 nits brightness. For better colour reproduction, it shows HDR content beautifully on this display.
And to up the experience, OnePlus has added Dolby Vision support as well, so you can enjoy all the Dolby Vision content on Netflix or Prime Video anytime. One thing that I noticed about this display is that most of the UI is locked at 120Hz which does not make much difference in performance.
The display has curves toward the edges which make the experience even smoother. The seamless blend between the metal frame and the display panel is so perfectly matched that you cannot feel its presence at all. Despite the fact that this is an LCD display, we get a much better experience than any other tablet in this price range.
OnePlus Pad Camera: Actually Usable Cameras on a Tablet
The OnePlus Pad comes with a 13MP single shooter at the rear and an 8MP wide camera at the front. Both cameras are placed in landscape orientation for a better video call experience. This single-camera shooter got a couple of nice tricks up its sleeve.
The camera takes really good pictures using the rear camera, with good details and a better color range. The front-facing camera too provides great results with details and better color reproduction.
The videos can be shot with up to 4K resolution from the rear camera and the front sensor can do 1080p videos at max. There is a video stabilization feature in the camera app but it doesn't do much to the videos except for lowering the quality. Slow-mo and timelapse modes are also available in the camera app. There's video portrait mode on both cameras for a nice bokeh around the person and it works amazingly well.
There's a "Limelight" feature to keep you in the center during video calls. In our testing, it didn't work at all. I tried this feature with Google Meet which is listed as a supported app but still no luck. Overall the image quality of the cameras is really great and it is one of the best that I have seen on any Android tablet at this price range.
OnePlus Pad Software: OxygenOS in Tablet Avatar
OnePlus Pad comes with Oxygen OS 13.1 which is based on Android 13 and it does comes with some really good tweaks but it still lacks something to be the perfect tablet OS. It will get 3 Major Android Upgrades and 4 years of Security Updates.
Being a tablet-optimized version of the OxygenOS, this looks a lot similar to the OxygenOS found on the OnePlus smartphones. You get a similar user interface with an app drawer and navigation gestures to navigate around the tablet's interface.
There's a dock at the bottom of the home screen to quickly access certain apps and also shows some active apps open in the background. You cannot summon this dock anywhere over apps which is a missed opportunity and I hope OnePlus would think about this and makes it possible in the next OS update.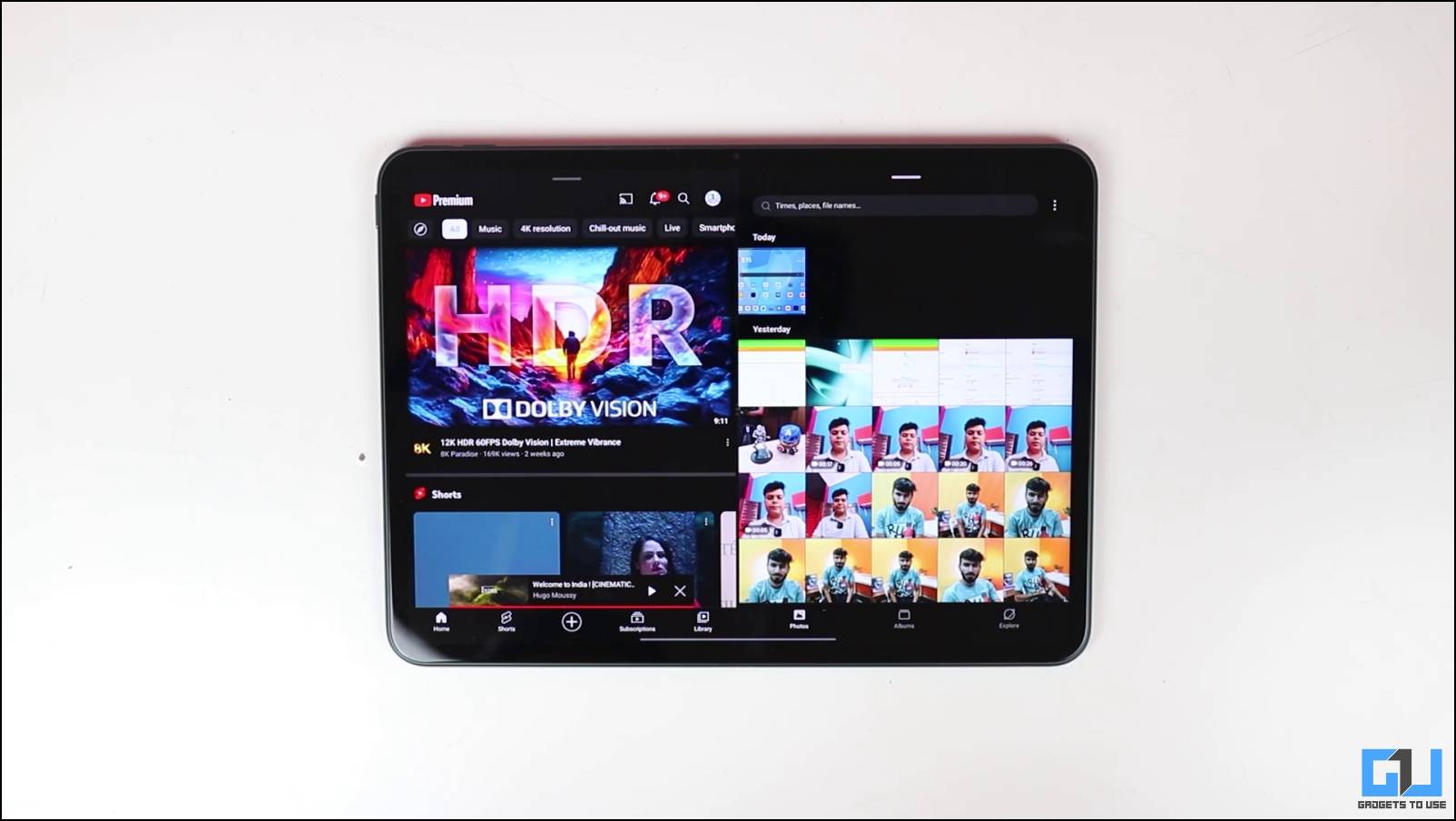 Since the tablet has an 11 inches display, multitasking is one of the major things that makes the tablet experience better. In terms of multitasking, you can do all those things that you can do on a OnePlus smartphone, and that is it.
I expected it to be running multiple apps in the pop-up window but no, as you can open only one app in the pop-up window or two apps in a split screen. This was very disappointing since a lot of screen space which could have been used well, is wasted if you can't even open more than two apps at once.
OnePlus needs to work on its software experience more to tap the full potential of that powerful MediaTek Dimensity 9000 chipset. Since we are talking about the chipset let's hop onto performance.
OnePlus Pad Performance: MediaTek Dimensity 9000
When I said that OnePlus didn't cut any corners while making this tablet, I meant it. This tablet runs the MediaTek Dimensity 9000 chipset which is one of the flagship chipsets that drives some of the most powerful flagship devices.
To keep it running even smoother, we got 12GB DDR5 RAM and 256GB UFS 3.1 storage. An 8GB RAM and 128GB storage variant is available but one thing that bugs me is that there's no expandable storage option.
If you go for the 128GB variant then you will be stuck with the storage. Some really good games that this chipset can run easily on high graphic settings and frame rates can take up to 10GB or maybe 20GB of storage. Having mere 128GB storage is not going to be enough for a heavy user like me who loves to play games like Genshin Impact and loads tons of media content on the device.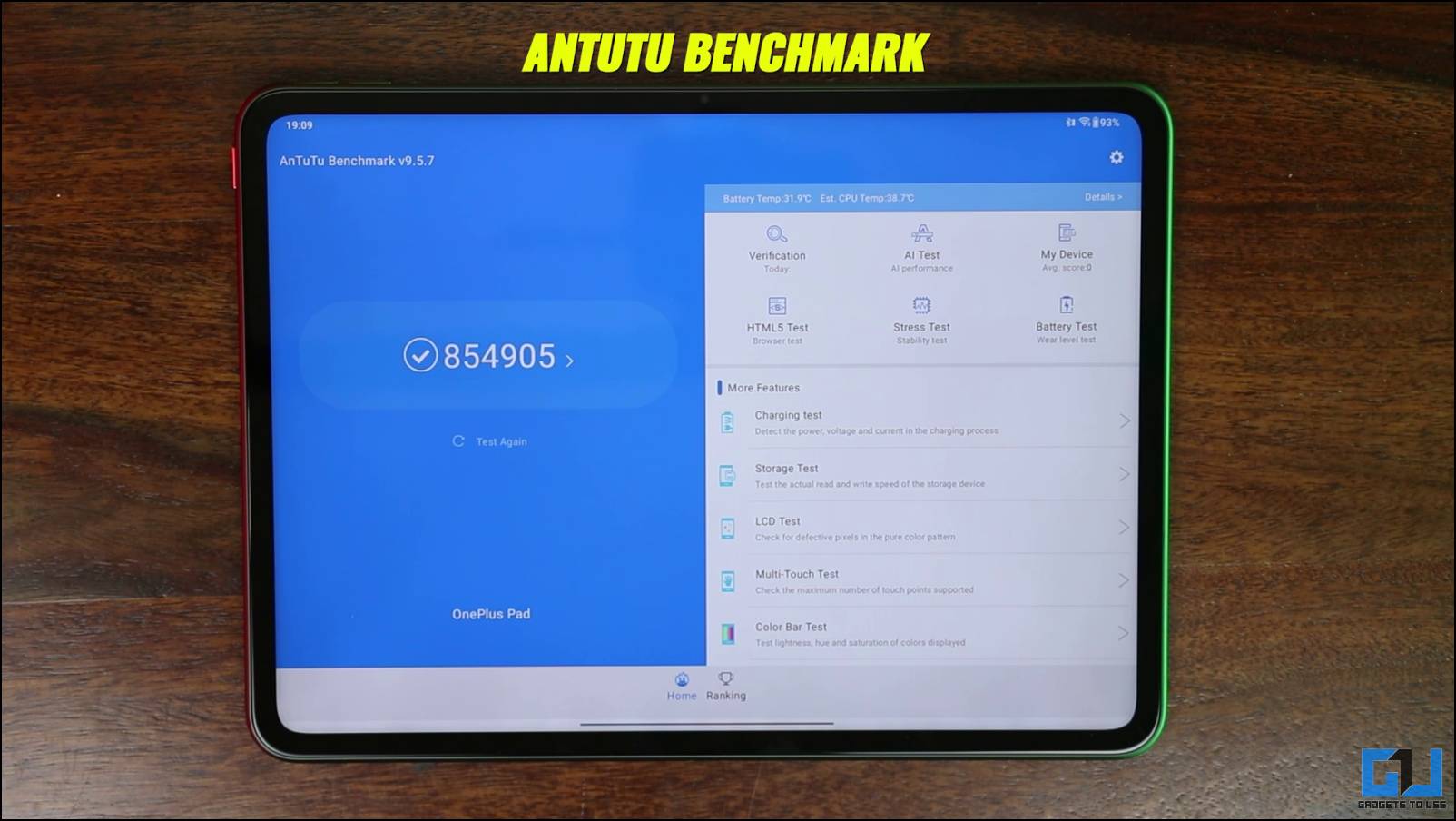 Apart from that storage, this tablet is smooth like a hot knife running through butter. We ran some benchmarks and the scores came out to be as expected from a flagship chipset. The AnTuTu got more than 850,000 which is a really good score for a tablet.
We also ran Geekbench and got a single core score of 1083 and a multicore score of 3285 which is again a really good score. It can handle heavy graphic-intensive games like Genshin Impact and Asphalt 9 at 60 frames per second on the highest graphics.
OnePlus Pad: Exclusive Ecosystem Features
The OnePlus Pad does come with some continuity features with OnePlus devices. Users can connect their OnePlus smartphones easily with the device and manage the notifications and other stuff right from the tablet. But that's not all, the user can also share the smartphone's 5G connectivity to take calls and do much more when connected together.
This feature doesn't work right now during the embargo period, but OnePlus will enable this feature once the tablet hits the market.
OnePlus Pad Accessories: Stylus, Keyboard, and Case
It comes with three accessories to protect or boost the productivity of this tablet; OnePlus Stylo Pen, OnePlus Magnetic Keyboard, and Folio Case. You can easily install the magnetic keyboard case by just putting it in the case. It magnetically attaches to the back of the tablet and with a strong grip. The keyboard comes with POGO connectors to attach it to the tablet, I always prefer this connection over Bluetooth but both connections have their own flaws.
One drawback of this connection is, on uneven surfaces like your lap the keyboard disconnects and reconnects again. This breaks the continuity of whatever you are doing on the tablet. The keyboard as you can expect from its compact size, has crammed keys even for smaller hands like mine. But I cannot complain much by looking at the price of this keyboard + case combo.
OnePlus has also launched a stylus that looks strikingly similar to an Apple Pencil in White color. I don't understand why OnePlus went with a white colors stylus when the whole theme of the tablet is Green. Whatever the reason might be, OnePlus Stylo looks cool and comes with 4096 pressure sensors. This stylus connects via Bluetooth but the connection is seamless; you only need to turn on the Bluetooth and it automatically gets connected.
This stylus lives on the top edge of the display, where the magnets keep it in place and charge it at the same time. There is a Notes app on the tablet where you can doddle a little bit but it has limited tools. Double-tapping the locked display brings up the notes app to quickly take a note and save it for later.
This stylus does support wider strokes when you use the stylus at an angle. The pressure sensitivity makes note-taking a very natural and effortless experience on OnePlus Pad.
OnePlus Pad Battery: Big Battery That Charges Quickly
OnePlus Pad packs quite a punch with a 9510 mAh battery and 67-watt SUPERVOOC charging. The 100-watt charging brick in-box can be used to power your other OnePlus devices at the highest possible charging speeds.
Even with very intensive usage, this battery can easily give you more than a day of usage. And with the 100-watt charging brick, it can be completely charged in about 80 minutes. It also comes with battery protection software features to keep the battery endurance higher for a long period of time.
OnePlus Pad: Pros and Cons
After spending my time with the OnePlus Pad, here are the Pro and Cons, to summarize my review:
Reasons to Buy
Looks and feels premium
Large high-refresh-rate display
Dolby Vision and Dolby Atmos Support
Smooth performance even in gaming
Decent cameras for a tablet
A massive battery with fast charging
Reasons Not to Buy
Software needs polishing
No fingerprint scanner
OnePlus Pad Review: Final Verdict
OnePlus Pad is a worthy competitor to some of the most popular Android tablets in the market. The price of the tablet is also very competitive which makes it a better choice over other tablets. If you are looking for an Android tablet this size, then I will definitely recommend OnePlus Pad to you.
Check Out Our Other Reviews:
You can also follow us for instant tech news at Google News or for tips and tricks, smartphones & gadgets reviews, join GadgetsToUse Telegram Group or for the latest review videos subscribe GadgetsToUse YouTube Channel.