Gaining new followers on Twitter feels fantastic but can be concerning in case bots and fake accounts increasingly follow you. If you're experiencing it, this guide will help you spot them quickly. In this read, let's look at various ways to identify a bot and a fake Twitter account. Additionally, you can improve your account's reach by removing Twitter ShadowBan.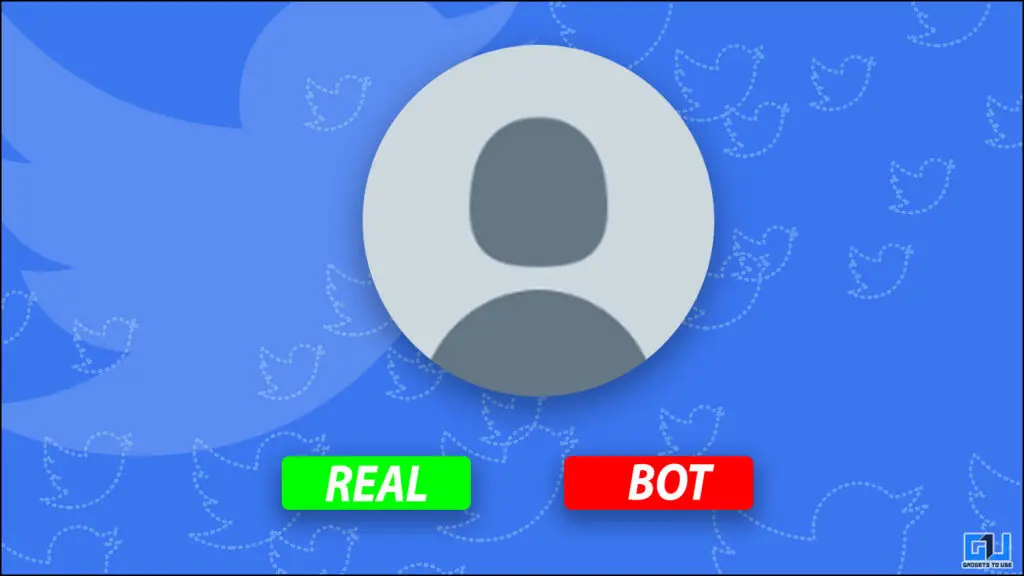 What Are Twitter Bots?
Twitter Bots are automated accounts run by software instead of a human. Such accounts are specifically designed to perform standard operations such as tweeting, retweeting, following, and unfollowing other accounts consistently. In addition, some bots can also send direct messages to users.
Why Do Bots and Fake Accounts Exist on Twitter?
With over 50 million active bot accounts on Twitter, they can be classified into good and bad categories. The former helps broadcast important information on a large scale or helps users with automated replies, while the latter is created with the wrong intent of spreading fake news, spamming, or bad marketing. 
The following parameters work as identifiers to help you spot a 'good/safe' bot among millions of Twitter bots:
A robot icon on the profile beside the "Automated by" label.

The account displays the name of the bot's account operator.

Information about the bot's purpose is mentioned in its bio.
On the other hand, fake accounts on Twitter are mostly designed to impersonate renowned users/accounts for posting parodies or hateful content against them.
How to Identify Bots and Fake Twitter Accounts?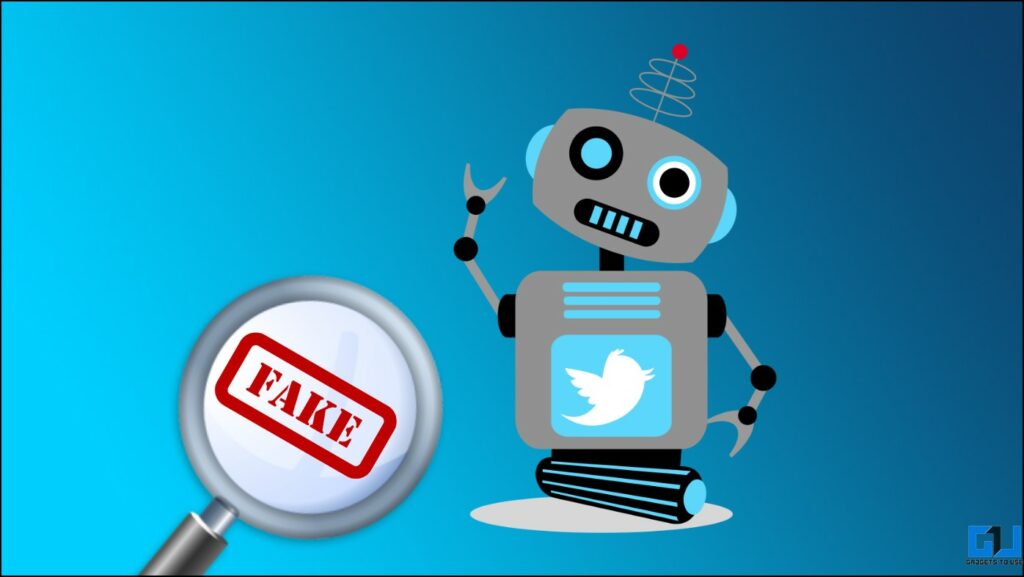 Identifying bots and fake Twitter accounts becomes relatively easier when you pay attention to various indicators and use appropriate tools. Let's have a detailed look at them.
Method 1 – Check for Red Flags
The following indicators help to identify a bot or a fake Twitter account. If any Twitter account matches four or more indicators, it is likely a fake or bot account.
These accounts either do not have a profile picture or generally have a fake one, with zero or minimum profile description.

Such accounts are usually recently created.

Fake or bot accounts contain a generic or fake username, such as @user1294523.
Bot Twitter account follow many accounts with zero or negligible followers compared to the following.

They follow the same pattern of tweets/retweets and usually post content repeatedly from a specific niche.

The frequency of tweets and account activity is very high.
Method 2 – Identify Bots and Fake Twitter Accounts With Browser Extension
Another quick alternative to identify bot accounts on Twitter is through the Bot Sentinel browser extension. Once installed, it will display a resemblance meter with its status below each account name on Twitter to denote the presence of a bot/fake account. Here's how you can make the most out of it.
1. Install the Bot Sentinel extension from Chrome Web Store to your browser.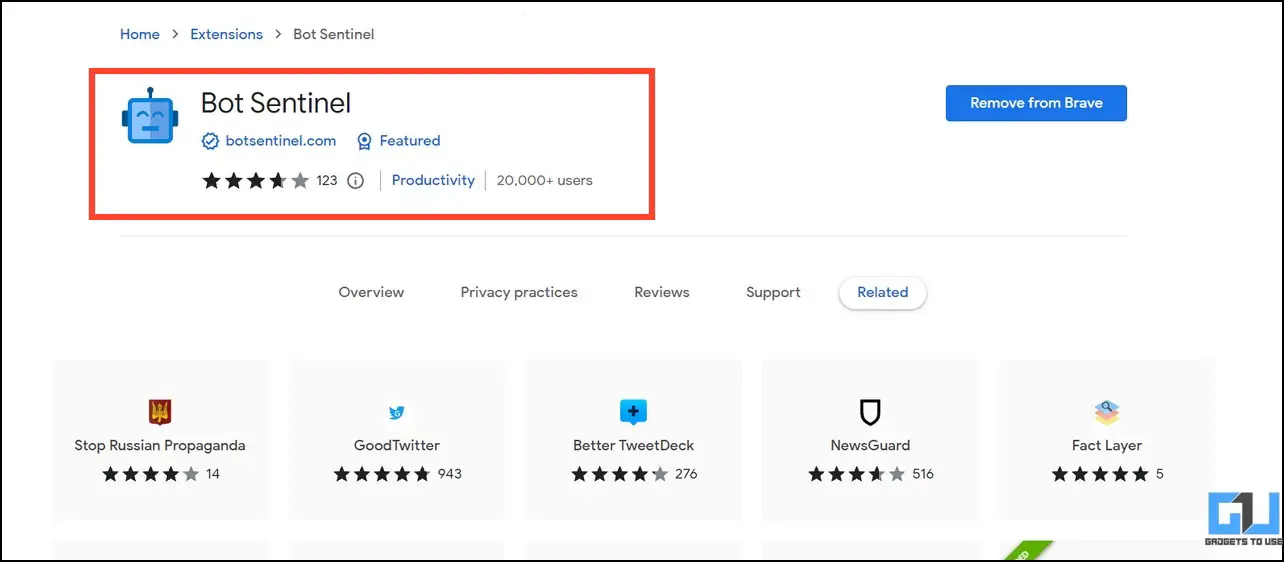 2. Refresh your Twitter timeline to see a new resemblance meter with bot status below each post.
3. The status will display Normal with a Blue bar if the account is genuine. On the other hand, the extension marks bot/fake accounts with an unknown grey tag.
Note: While testing, we noticed that Bot Sentinel sometimes doesn't generate accurate results and gets confused with accounts that have high activity. You can refer to the below-mentioned methods to double check whether it is bot account or not.
Method 3 – Use Bot and Fake Account Detection Tools
Besides installing browser extensions, you can take the help of various Twitter account detection tools to spot a bot/fake account. Botometer, Bot Sentinel, and FollowerAudit are popular tools in this segment. 
Botometer
This free online tool helps you check whether a Twitter account is real or fake/bot by checking the account activity. If the account activity for a searched username is high, it will label the account as bot/fake using its visual meter. For more details, refer to the easy steps to using Botometer.
Bot Sentinel
Besides its browser extension, Bot Sentinel offers an online Twitter analytics dashboard to help you search and identify whether an account is a bot or fake. Follow these steps to use it.
1. Go to the Bot Sentinel dashboard on your web browser and click the Analyze account button.
2. Enter the Twitter handle or tweet URL to search for it.
3. The tool will analyze the account activity and display its rating using the meter to indicate the presence or absence of a fake/bot account.
FollowerAudit
As the name suggests, FollowerAudit prepares a detailed report to display the exact percentage of real and fake followers of your profile, making it quite helpful for tracking your account's growth. However, viewing the fake/bot followers list requires a premium subscription.
1. Open FollowerAudit on your browser and enter the Twitter username in the search bar.
2. The tool will instantly create a detailed profile report listing the percentage of real and fake followers.
3. In addition, the tool also classifies your followers based on various parameters to provide you a detailed insight.
Method 4 – Download Twitter Data to Identify Bot/Fake Accounts
Another effective method to recognize a bot or a fake Twitter account in your profile is to download the entire data. Once downloaded, you can browse the list of your followers to identify the ones that aren't genuine. Here's how it can be done.
1. Access TwtData and provide your Twitter handle and email address to get the download link for your Twitter data.
2. Choose your preferred file format and click the Get Free Sample button to receive a list of 25 followers. To download the entire list, you need to pay a calculated amount.
3. Once downloaded, you can browse the list to find fake followers using the indicators listed in the first method.
FAQs
Q. How to Use the Twitter Bot Detection Tool?
Botometer, Bot Sentinel, and FollowerAudit are some of the popular bot detection tools for Twitter. You can check the steps listed above for more information to use them.
Q. What Are Some Examples of Twitter Bots?
Twitter houses two kinds of bots, i.e., good and bad bots. The former can be easily identified with their Automated label, while the latter requires free online tools to spot them. You can check various methods listed in this explainer to identify all kinds of Twitter bots quickly.
Q. Which Is the Best Twitter Bot Checker?
Bot Sentinel is unarguably the easiest bot checker tool for Twitter. Download the extension and refresh your timeline to check for bot/fake accounts.
Q. Are Twitter Bots Dangerous?
Not all Twitter bots are dangerous. Some are quite helpful in broadcasting important information to users on a large scale, while others help visitors with automated responses.
Q. How Do I Know if a Twitter Bot Is Following Me?
You can authorize your Twitter account to use the FollowerAudit tool that analyzes and generates a list of bots and fake accounts following you. For more details to use it, refer to the steps above.
Q. How to Identify a Fake Account on the Twitter App?
You must pay attention to the username and the account activity to identify a fake Twitter account. These accounts generally use fake profile photos and tweet questionable content.
Q. How to Tell if a Twitter Account Is a Bot?
Such accounts usually follow a huge number of users with repeated tweets and have high account activity.
Q. Is There an App to Detect Bots on Twitter?
You can use various free online tools and Chrome extensions to detect bots on Twitter. Bot Sentinel and Botometer are popular tools in this segment.
Wrapping Up
We hope this guide has assisted you in identifying bots and fake accounts on Twitter. If you found it helpful, spread the word with your friends, and subscribe to GadgetsToUse for more interesting reads. Meanwhile, don't forget to check the below links for more informative Twitter articles.
You might be interested in the following:
You can also follow us for instant tech news at Google News or for tips and tricks, smartphones & gadgets reviews, join GadgetsToUse Telegram Group, or for the latest review videos subscribe GadgetsToUse Youtube Channel.