The iOS 17 brings major improvements to communication and personalization features. You can create and flaunt full-screen contact posters and share your contact magically using NameDrop. Plus, any voice message you receive on your iPhone can now be transcribed and converted to text in real time. In this article, let's see how you can transcribe audio messages to text on iOS 17.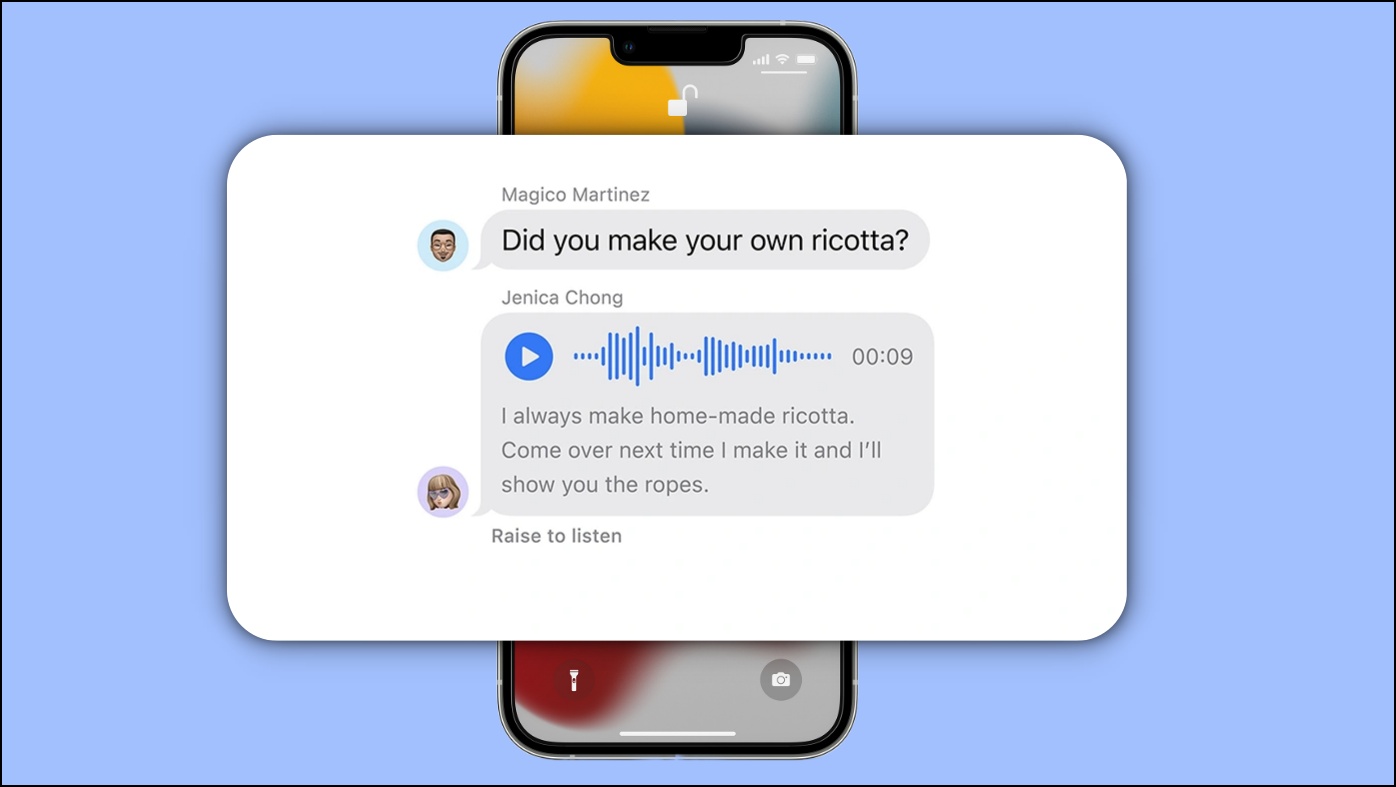 What are Audio Message Transcriptions on iOS 17?
Voice notes or audio messages have been popular in Apple's iMessage for years. They are more convenient than typing long texts, allow you to carry on a conversation when your hands are dirty or busy with cooking, and are far more expressive than text messages can ever be.
Apple has given it a major overhaul this year by introducing transcriptions for audio messages on iOS 17. Whenever you receive a voice message on your iPhone, it will automatically transcribe it to plain text for situations where you cannot listen to the audio.
How to Enable "Voice Message to Text" Transcriptions on iOS 17?
Audio transcriptions for messages are enabled by default on iOS 17 and do not require manual activation. Any audio message you receive on your iPhone will automatically be transcribed. And the text will appear directly below its corresponding voice message.
All the data is processed and stored locally on the device and not shared with Apple.
The feature is available on the following iPhones:
iPhone 14, 14 Plus, 14 Pro, 14 Pro Max
iPhone 13, 13 Mini, 13 Pro, 13 Pro Max
iPhone 12, 12 Mini, 12 Pro, 12 Pro Max
iPhone 11, 11 Pro, 11 Pro Max
iPhone XS, XS Max
iPhone XR
iPhone SE (2nd and 3rd generation)
Here's how to update your iPhone to iOS 17 to enable audio message transcriptions:
1. Open Settings on your iPhone or iPad.
2. Scroll down and select General.
3. Tap Software Update and install the latest software.
At the time of writing, iOS 17 is available through the developer beta channel. To update the beta build, click on Beta Updates and change it to iOS 17 Developer Beta. But before doing so, read our detailed iOS Stable vs. Public vs. Developer Beta comparison.
How to Transcribe Audio Messages on iOS 17?
As mentioned, messages are automatically transcribed in the Messages app on iOS 17. The converted text is immediately available under the voice message, as shown below.
However, the audio needs to be very crisp and clear. While it worked well for messages I and other people spoke directly onto the mic, it struggled with audio from other sources.
We recorded and sent multiple English YouTube videos (played on Mac) as an audio message, which the software didn't even bother to transcribe for some reason. Or, probably, it recognized them as a non-voice message, so the transcription didn't apply.
It also randomly skipped some of the words in my transcriptions, and in some instances, the whole transcription if I spoke from far, tested on iPhone 13 and iPhone 14 Pro, both running iOS 17 Developer Beta 2.
So as of yet, it is very unreliable and works only for clear audio recordings. We're hoping it to get better as iOS 17 paces ahead for the public release.
Convert Voice Messages to Text on iOS 16 or Older iPhones
1. Open the Messages app and long-press the Voice Message you want to convert to text.
2. From the options that appear, select Save to Voice Memos.
3. Open the Voice Memos app. You'll find the audio saved as "Audio Message" here.
4. Select the audio, tap the three dots next to it, and select Save to Files.
5. Select a destination, preferably the Downloads folder, and hit Save.
6. Now, open Safari or Chrome and head to flixier.com/tools/convert-audio-to-text.
7. Tap Transcribe > click on Upload > Files and select the audio recording.
8. Once the audio is uploaded, tap Generate to transcribe the audio.
You can then view or download the transcription text and subtitles in different formats. We tried it with a couple of recordings, and it worked great. More importantly, of the many apps and websites I tried, this is free and does not require sign-up or any subscription.
FAQs
Q. Does Message Transcription on iOS 17 Only Support Voice Messages Recorded in English?
Yes, the audio message transcription is only available in English for now.
Q. Does Audio Transcription Support Hindi?
As mentioned, the feature only supports English for now. When you speak in Hindi, it does try transcribing it to Hinglish, but it's more of a failed attempt since there's no native support.
Q. Can You Transcribe Audio Messages on iOS 16 or Older Devices?
On iPhones running iOS 16, 15, or older, you can save the voice message to your device and use the website mentioned above to transcribe it into text for free without signup.
Wrapping Up
This is how you can use the audio message transcription feature on the latest iOS 17. I hope the above guide enables you to transcribe voice messages on your iPhone running iOS 17 or earlier versions. Stay tuned for more such tips, tricks, and how-tos.
You might be interested in:
You can also follow us for instant tech news at Google News or for tips and tricks, smartphones & gadgets reviews, join GadgetsToUse Telegram Group or for the latest review videos subscribe GadgetsToUse Youtube Channel.