iPads are an effective productivity tool for both working professionals and students. One may use them for drawing and taking notes, attending video conferences, multitasking as an extended display, or entertainment. In either case, buying a desk stand can give your iPad an optimal viewing angle, dock ability, and better ergonomics. For everyone who wants to keep their Apple tablet in place, here are the best iPad stands for your desk at home and office on a budget.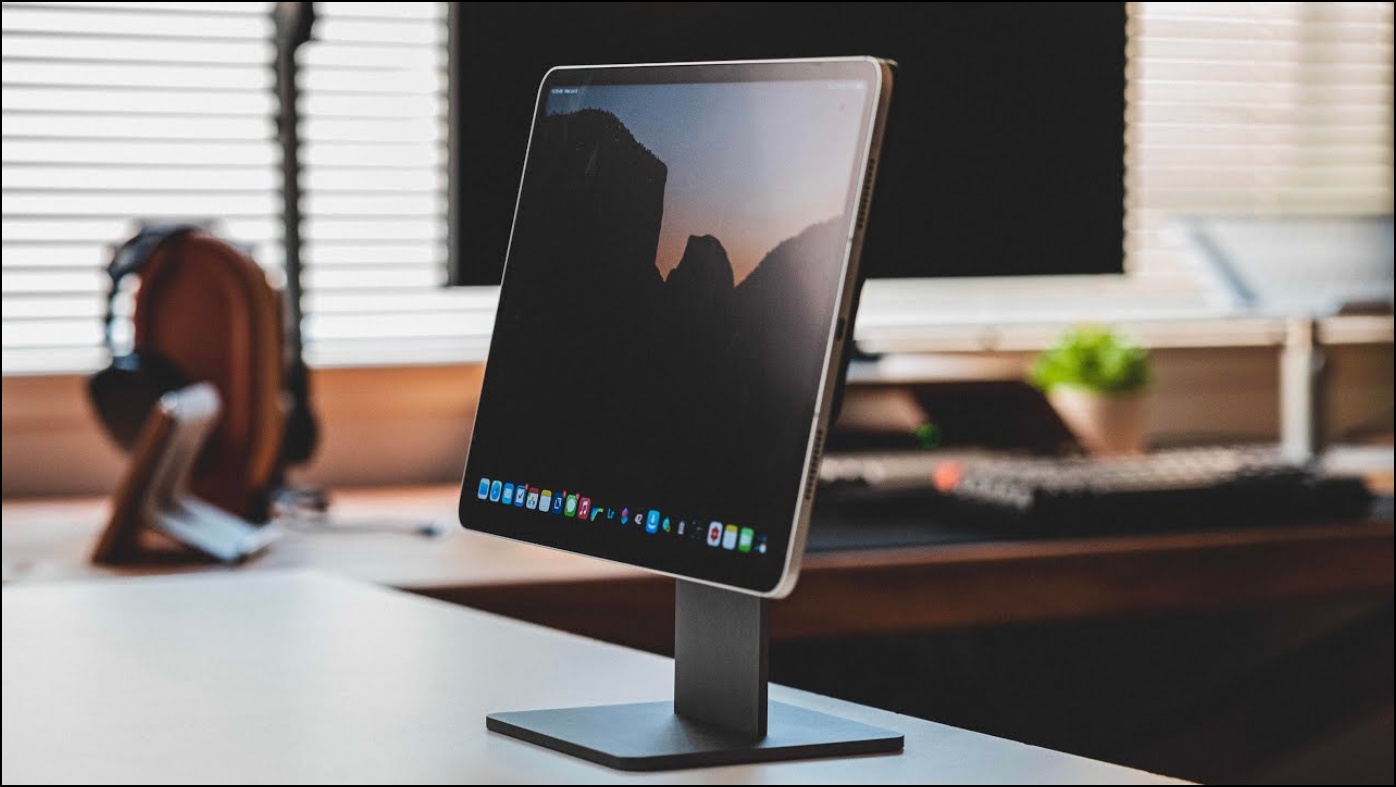 Why Buy an iPad Stand for Your Desk Setup?
Whether you are an artist, designer, or working professional, an iPad stand that keeps it docked in place, allows adjusting viewing angles, and offers additional features like magnetic hold or 360-degree rotation can take your desk setup to the next level.
Here are some reasons you may need a desk stand for your iPad:
Stability and Dockability: A desk stand makes the iPad dockable. It secures the tablet in one place, avoiding accidental falls or wear and tear when positioned against other objects.
Ergonomics: Using a desk stand, you can position your iPad at an appropriate height and viewing angle. This will help maintain proper posture and save you from neck, shoulder, and back pain when working for extended hours.
Multitasking: Since a stand eliminates the need to hold the iPad in your hands, you can put them to some other use, like cooking while watching a recipe, attending a video conference, or working on something else simultaneously.
Optimal camera angle: You can raise your iPad to the neck level for a straight angle when attending video conferences and meetings on Zoom or Google Meet.
Aesthetics: An iPad stand makes your desk look professional and saves essential space, keeping the workplace clean, clutter-free, and more productive.
How to Pick the Best One?
When choosing the best iPad stand in the market, you must remember some important points. Here are our criteria (which you can also refer to) for finding the right desk mount for your iPad: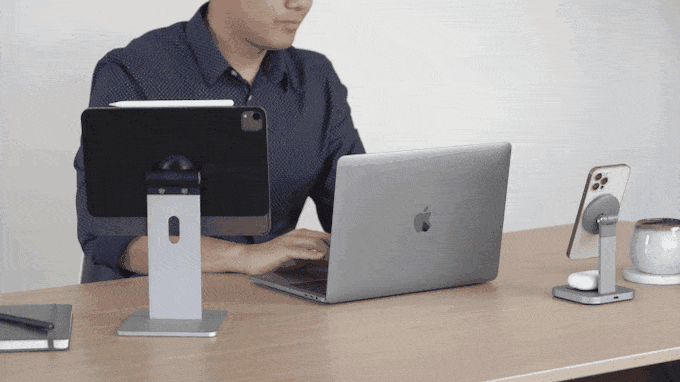 Primary Use: What do you use your iPad for? Is it for attending video calls that need a stand to raise its height to your neck, or is it for taking notes, which requires a stand that can stay stable at an incline while you scribble with your Apple pencil? Zero down on your primary requirement.
Size and height: A stand needs to match your iPad size. It would be useless if you have a larger 12.9-inch iPad and get a stand designed for the 10.9-inch or 8.3-inch models. Similarly, the height should allow you to look at the screen from your eye level comfortably.
Flexibility: Do you want a stand that can be rotated 360 degrees? Or the one that comes with a foldable arm? Or the one that lets you magnetically attach and remove the iPad as and when you want to. Consider your work and the flexibility it demands when choosing the right stand.
Durability: Ensure the stand is durable enough to hold your iPad. It should not tip over and fall off when kept at a particular angle or height. Some iPad models can weigh over a kilo with the case, so remember this when finalizing a stand.
Best iPad Stands For Desk at Home and Office
Below, we have curated a list of the best iPad stands for your desk setup at home and office based on different usage scenarios and professional requirements. Read on.
Lisen iPad Holder Stand for Desk
1
Lisen iPad Holder
Adjustable height and easily can reach your eye level
Ideal for video conferences, presentations, and reading ebooks
The Lisen iPad stand is made of aluminum alloy. It has an elastic clip to hold to the device, a thickened metal support rod, and a round metal base with a rubber cushion to hold your iPad in place without tipping over.
The stand has an adjustable height ranging from 10.2 to 20.7 inches, touching a maximum height of 52.7 cm. Plus, you can rotate the head 360 degrees in any direction. This helps brings your iPad to the eye level for a comfortable viewing experience.
It is compatible with 4.7-inch to 13-inch devices, such as iPad Pro 12.9 and 9.7, iPad 1- 4, iPad Air 2, and iPad Mini 1-4. However, we won't recommend it for the 12.9-inch model. It doesn't fit well with third-party cases, especially thick ones, and can be a little shaky, too, if your work involves gaming or touching the iPad screen often.
The Lisen iPad stand can mount your iPad on an appropriate height when attending video conferences, presentations, trading in the stock market, reading Kindle, etc., while ensuring lesser strain on your back and neck. It is best suited when iPad is used with a mouse or as an extended display for your Mac.
Pros
Adjustable height and 360-degree rotatable viewing angle.
Aluminum built with rubberized bottom for grip.
Supports all iPad sizes.
Cons
May have issues when fitting an iPad with a case.
Stability issues when touching the iPad screen.
Questionable mount neck durability
Price: $29.99
UGREEN iPad Stand with
Multi-Angle Riser
2
UGreen iPad Stand
Simple, functional, and most compatible iPad stand for your desk
Folds into a small space for better portability
This is a rather simple and affordable stand for iPad that can elevate your tablet to the MacBook level, thanks to its sturdy dual rod design. The practical design allows for apt airflow and ensures the device does not overheat.
Since it's an open stand without any clips or holders, it can fit in devices sized 4-12.9 inches. You can place almost any iPad, including 12.9-inch models, smartphones, and e-readers, with a maximum thickness of 0.53 inches (including case).
You can customize the viewing angle and height for attending meetings, watching movies, or playing games comfortably. The rubber padding under the base and silicone-covered padding up top prevent your iPad from sliding or scratching when placed on the stand.
Coming to the best part, it folds and fits easily inside a bag, making it feasible for on-the-go use. Overall, it's a great iPad stand if you prefer functionality over fancy features and are on a budget.
Pros
Durable design
Ventilated placement for airflow
Supports all iPad models
Folds up into small size for storage
Cons
Stability issues when iPad is placed vertically and on max-height
Price: $23
CharJenPro MagFlott Magnetic Stand for iPad Pro 
3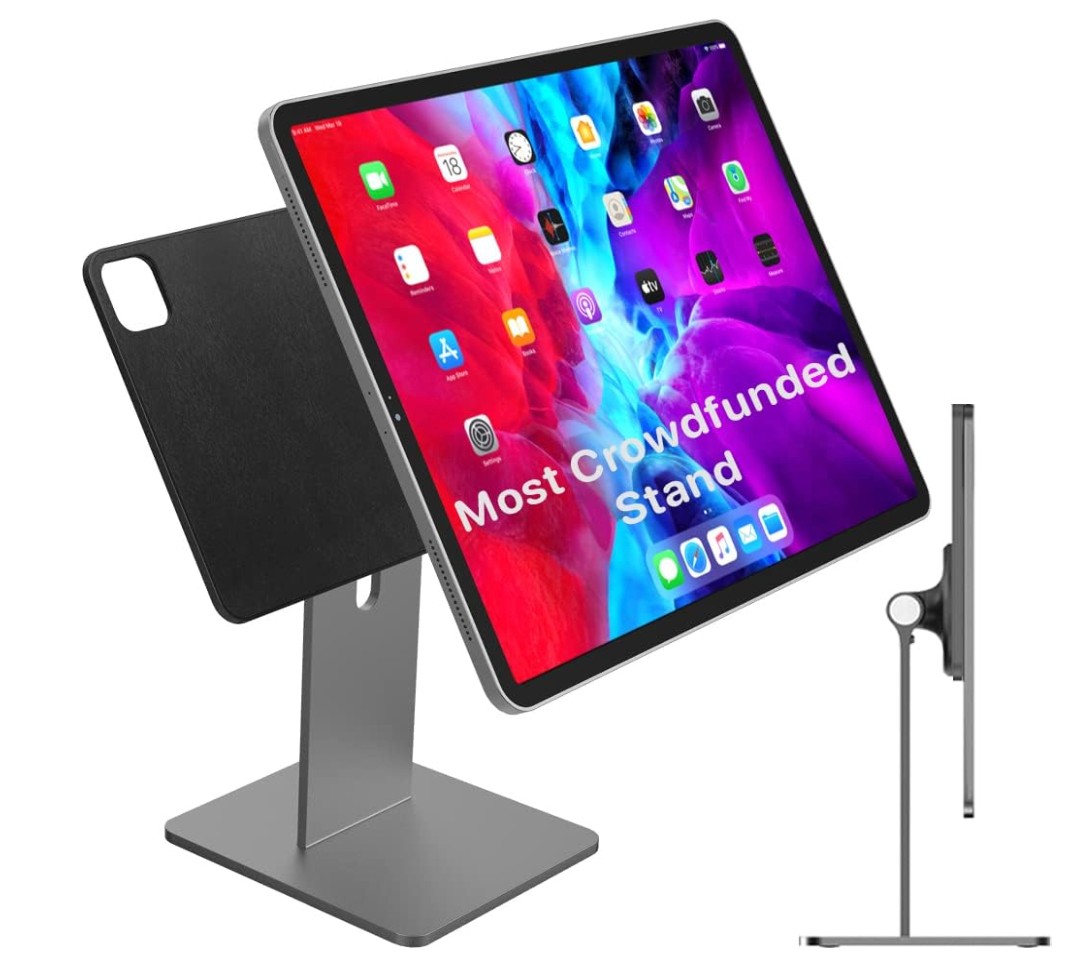 CharJenPro MagFlott Magnetic Stand for iPad 
Known for its premium design and great build quality
Offers the convenience of slapping on iPad magnetically
The CharJenPro MagFlott stand is solely designed for newer iPad, iPad Pro, and iPad Air models with built-in magnets. The stand initially became popular on Kickstarter and Indiegogo and is currently selling on Amazon for upwards of $99.
The stand has a premium design available in Space Gray and Silver finish. In fact, it almost mimics the base of an iMac which looks clean on the desk even when empty.
You can slap your iPad to the stand to attach it magnetically. It uses thick metal for sturdiness and strong magnets to keep it stable even during gaming. It can rotate 360 degrees and tilt 180 degrees with a smooth swivel for the perfect viewing angle.
The frame has space for a USB cable and comes with a free 6-feet curved-end USB C charging cable that supports up to 60W of power. All-inclusive, the CharJenPro magnetic stand plays on its build quality, overall stability, and aesthetic when placed on the desk. However, it's fairly expensive at almost 100 bucks.
Pros
Excellent build and stability
Attach your iPad magnetically
Looks aesthetically pleasing
Comes with a free curved-end USB-C cable
Cons
Does not support all iPad models
It may not be compatible with most iPad cases (except for Smart Folio)
Quite expensive
Price: $99
Pitaka iPad Magnetic Stand with Wireless Charging Base
4
Pitaka Magnetic iPad Stand
Attach your iPad magnetically to the mount
Looks super minimal and modern in black color with a carbon fiber-styled base
Use the stand's base to charge your iPhone or AirPods wirelessly
This modern-looking Pitaka stand utilizes magnetism to attach your iPad. You can either paste the included magnetic sticker on the back of your iPad or use Pitaka's MagEZ Case 2 for your iPad from Pitaka (or similar cases with built-in magnets). It supports all iPad models.
The magnets are strong enough and prevent your tablet from wiggling or tipping when writing, drawing, or typing, compared to regular docking stands that are more suited for a no-touch operation.
The mount can be tilted to 32.5 degrees and down to -5 degrees. This allows adjusting the viewing angle to switch between landscape (when using it as a monitor) and portrait orientation (when attending video calls) to match your desk requirements.
Interestingly, the stand also has a wireless charging base that can charge your Qi-enabled mobile phone or earbuds at up to 15W. This not only reduces the cable clutter on your desk but also saves the space that a wireless charger would have otherwise occupied.
It looks fairly minimal and is made with zinc, aluminum, and aramid fiber. The package includes a magnetic sticker, a USB C cable, and a mini Allen wrench to assemble the stand. Once set up, the stand offers the desk a clean look with a modern touch, thanks to the carbon fiber styling on the base.
Pros
Simple, minimal, and durable
The base doubles up as a 15W wireless charger
Mount can be tilted to change the viewing angle
Package comes with a metal sticker and USB-C cable
Cons
Height cannot be adjusted
You'll have to use the sticker or a magnetic iPad case to use the stand.
Price: $99
Lisen iPad Holder Mount for Desk
5
Lisen Flexible Arm iPad Holder
Keep your iPad at any angle and orientation
Highly flexible for a desk setup
Best for podcasts, audio recordings,, and video conferences
The Lisen tablet holder is a crane-styled mount that fits onto the edge of your desk. It has a clamp to affix your iPad (or any other tablet or phone ranging from 4-13 inches) and a long arm that can move and adjust at any angle and orientation.
The stand has four joints with six nodes, allowing you to adjust and rotate it to 360 degrees for the best viewing angle and height. The two arms are 14.2 and 14.9 inches and can reach over and above your eye level for a monitor-like viewing experience.
The stand has been manufactured using carbon steel and has anti-shock springs for better resistance to vibrations and stability when working on the desk. Apart from office and home desks, the iPad stand can also be used on dining tables, kitchen countertops, or any surface with a max thickness of 1.85 inches.
It is claimed to bear up to 3.2 kilograms of weight and has two clamps to support small and large-sized tablets. However, we recommend it only for lighter iPad models considering it may wobble or the springs may loosen up over time.
Pros
Move and adjust to any angle and orientation
Supports almost all tablets and iPad models
Immense flexibility when working on the desk
Cons
May wobble on heavy tablets
Springs may loosen up over time
Price: $29
Wrapping Up
These were some of the best stands you can buy for iPad to place on your home or office desk. If you only want to dock your iPad on the table, we recommend saving money and opting for a simple yet functional stand. But if you can shell out money, those fancy magnetic stands and those with built-in wireless chargers are my recommendations. The crane-style tablet holders are more suited for people into podcasting, recording audio, and other professional work.
You can either pick one of the iPad stands mentioned on the list or choose your own based on the important points mentioned in the first part of the article. Stay tuned for more such how-tos, buying guides, and recommendations about gadgets you use.
---
Gadgetstouse.com has affiliate and sponsored partnerships. We may earn commissions on purchases made using our links. However, this does not affect the recommendations we make.
You might be interested in:
You can also follow us for instant tech news at Google News or for tips and tricks, smartphones & gadgets reviews, join GadgetsToUse Telegram Group or for the latest review videos subscribe GadgetsToUse Youtube Channel.