Both Amazon and Flipkart run offers and discounted sales back-to-back throughout the year. And it's hard to miss them, thanks to TV and social media being bombarded with ads screaming how crazy the discounts are this time. But how do you know if the deal is really a deal or just an illusion created by deceptive words and prices? If you often wait for sales to make your purchases, sit and read as we discuss identifying fake discounts on Amazon and Flipkart alongside fixing your shopping habits.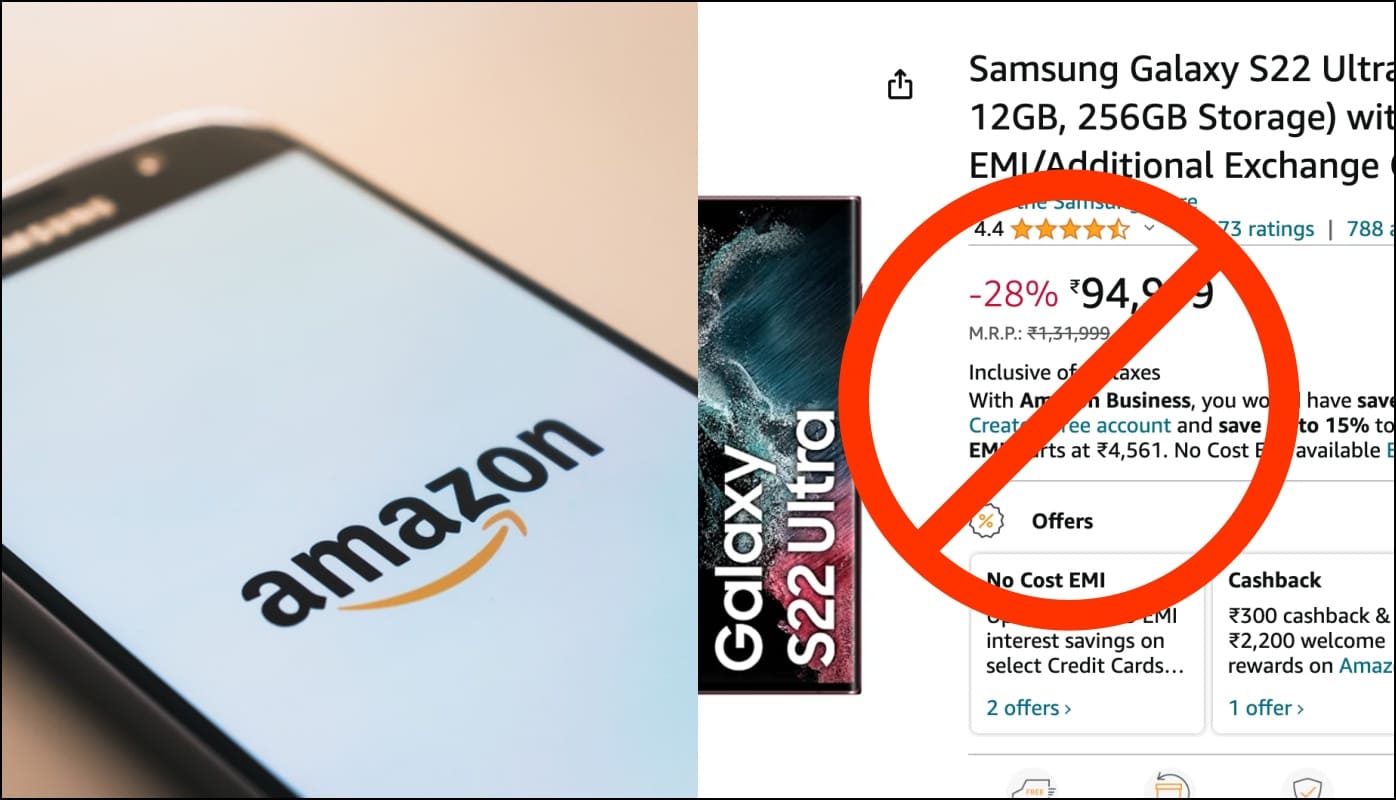 How to Identify Fake Discounts or Deals When Shopping Online?
Gone are the days when you actually got jaw-dropping deals on Amazon and Flipkart. The last Flipkart Big Savings Day and Amazon Great Indian Sale merely gave any discounts, excluding the usual card offers. This is because e-commerce has now heavily penetrated India, and the need for extravagant offers has gone down.
Hence, while it's hard to hold yourself from buying the new phone that you've always wanted or the new air conditioner at a discount, you must verify if the deal is really a deal or a hoax created by artificially inflating the prices or other psychological tricks. Keep reading.
Ignore Strikethrough Price Discounts!
Most online stores, including Amazon and Flipkart, have been overinflating the prices before discounts to trick people for years. The practice is to increase the price more than what it regularly sells for and then slash the prices back to normal, creating an illusion that you're getting a discount.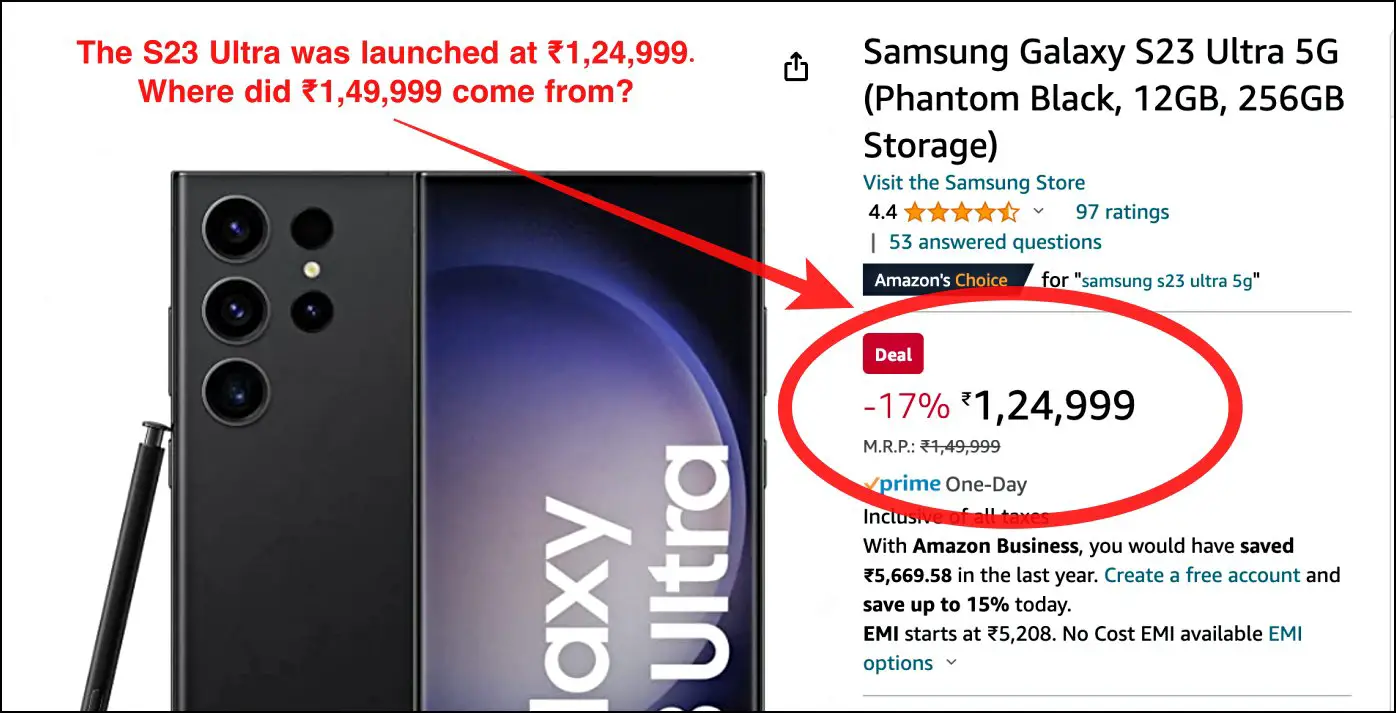 In reality, the discounted price might not be much different from the product's actual market value. Some sellers also temporarily inflate the original price and offer a discounted price. This lures you into buying the product by creating a false sense of urgency and manipulating your perception of value.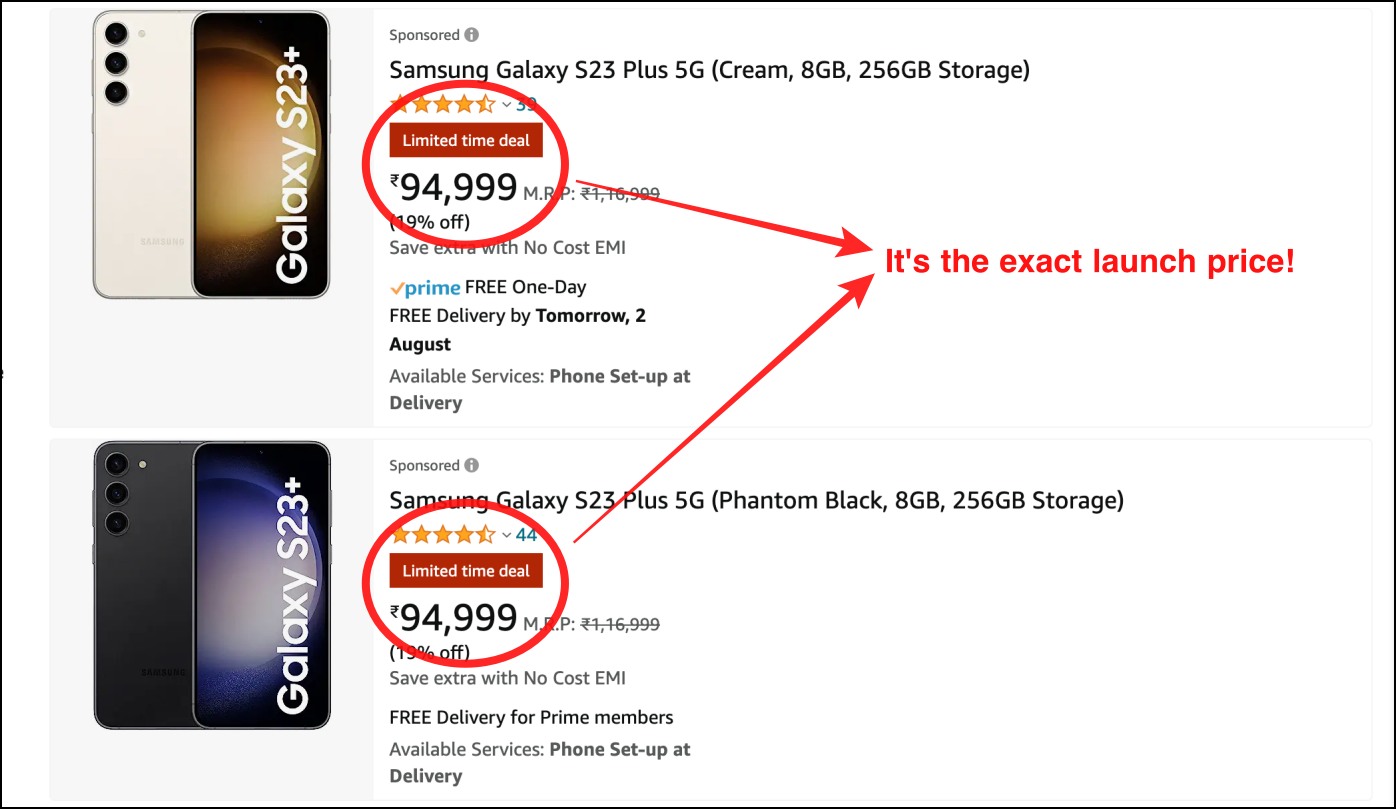 So, do not fall for the strikethrough prices. You must also be wary of words like "limited period discount," "ending soon," "x% discount," "only a few sticks remaining," and more. We'd advise ignoring the words and letting the numbers tell the story. Don't fall for these fake discounts on Amazon and Flipkart.
Check Historical Pricing of the Product
An easy way to determine whether a deal or discount is genuine or fake is to check the product's historical pricing. What was it selling for a week ago, a month ago, and during the last big sale? This will tell you if the discounted price is genuinely lower than previous selling prices.
You can use online tools, browser extensions, and mobile apps to check the price graph for any product on Amazon and Flipkart, as shown below.
Price History App (Android, iOS)
Price History is a popular app that lets you track the historical price of products on Amazon, Flipkart, Myntra, Tata Cliq, Ajio, and other stores. You can check up to one year of the price history and even set alerts for price drops, stock alerts, and future price drop predictions.
1. Download the Price History app (Android/iOS) on your phone.
2. Open it and search for the product. Or enter the product link from Amazon or Flipkart.
3. Once you have selected the product, tap the Chart button to see a detailed price history graph of the previous selling prices.
4. You can further down to check the current price, the lowest price ever, and the average price. This will help you find if it's the best time to buy the product.
Don't want the hassle of searching for products? You can directly tap the share button in the Amazon or Flipkart app and select Price History from the share menu. If the app doesn't work properly or lacks data for specific products, consider using alternatives like Keepa Amazon Tracker.
Price Tracker Extension (Chrome, Edge, Brave)
If you regularly shop online using your laptop or desktop, having a price tracker extension could be handy at times. Here's how it works:
1. Download the BuyHatke Price Tracker extension on your Google Chrome browser. It also works on other Chromium-based browsers like Edge and Brave.
2. Head to the product page on Amazon or Flipkart.
3. Buyhatke will automatically appear on the right of the screen. Tap the Price Graph button.
4. The extension will now load a detailed price history graph of the product. You can hover over the chart line to check the exact pricing at that time. You can also know the price drop chance in 2-3 days, a week, and a month using the given option.
If the extension does not appear, tap its icon in the extension menu to trigger it manually. Alternatively, you can use other price tracker extensions here.
Price History Tracker Website
Alternatively, you can paste the product link on a price tracker website which works on both phone and desktop, as shown below.
1. Open https://pricehistoryapp.com/ on your web browser.
2. Paste the product link in the quick search box and tap Search.
3. Once the product tracking page opens, scroll down to check the detailed price history graph.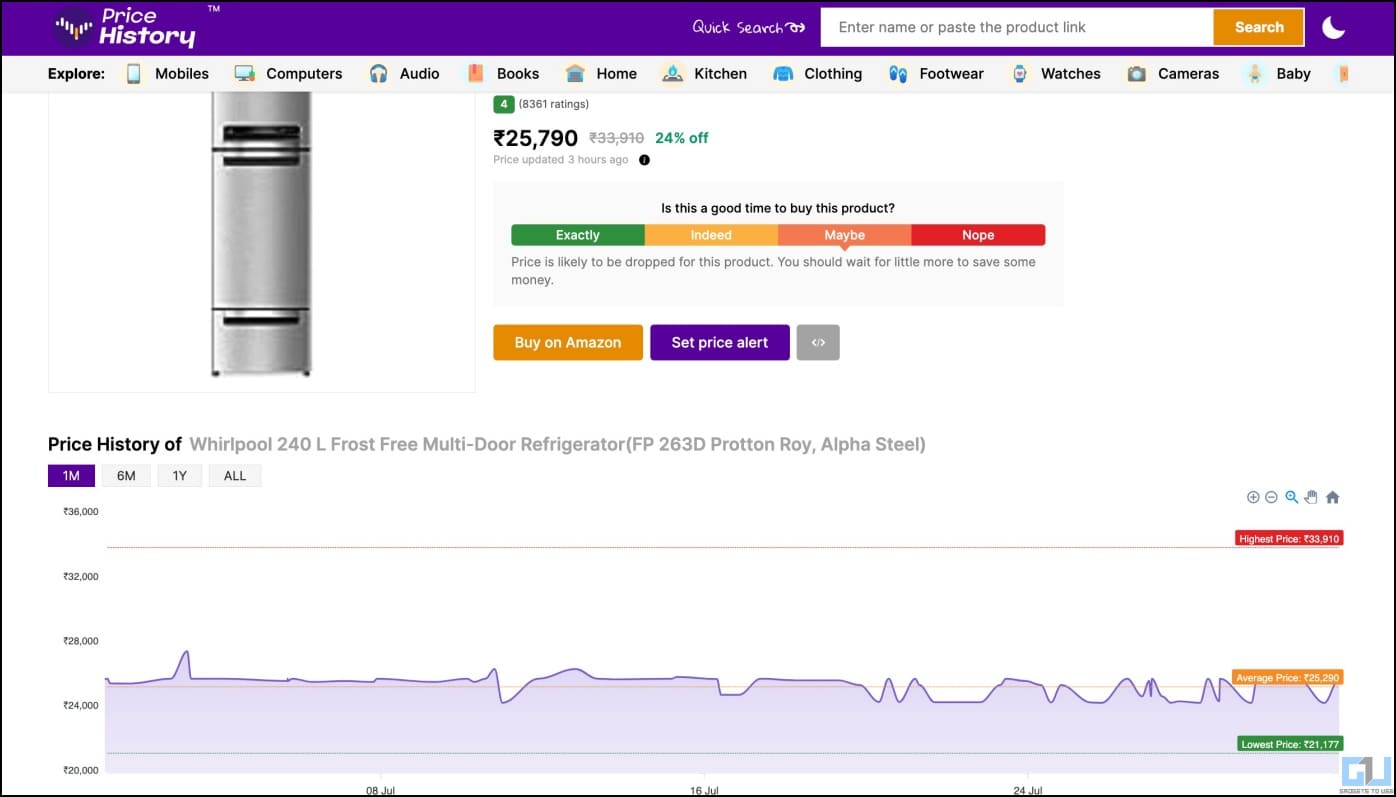 You can hover over the graph to find the exact price over those dates.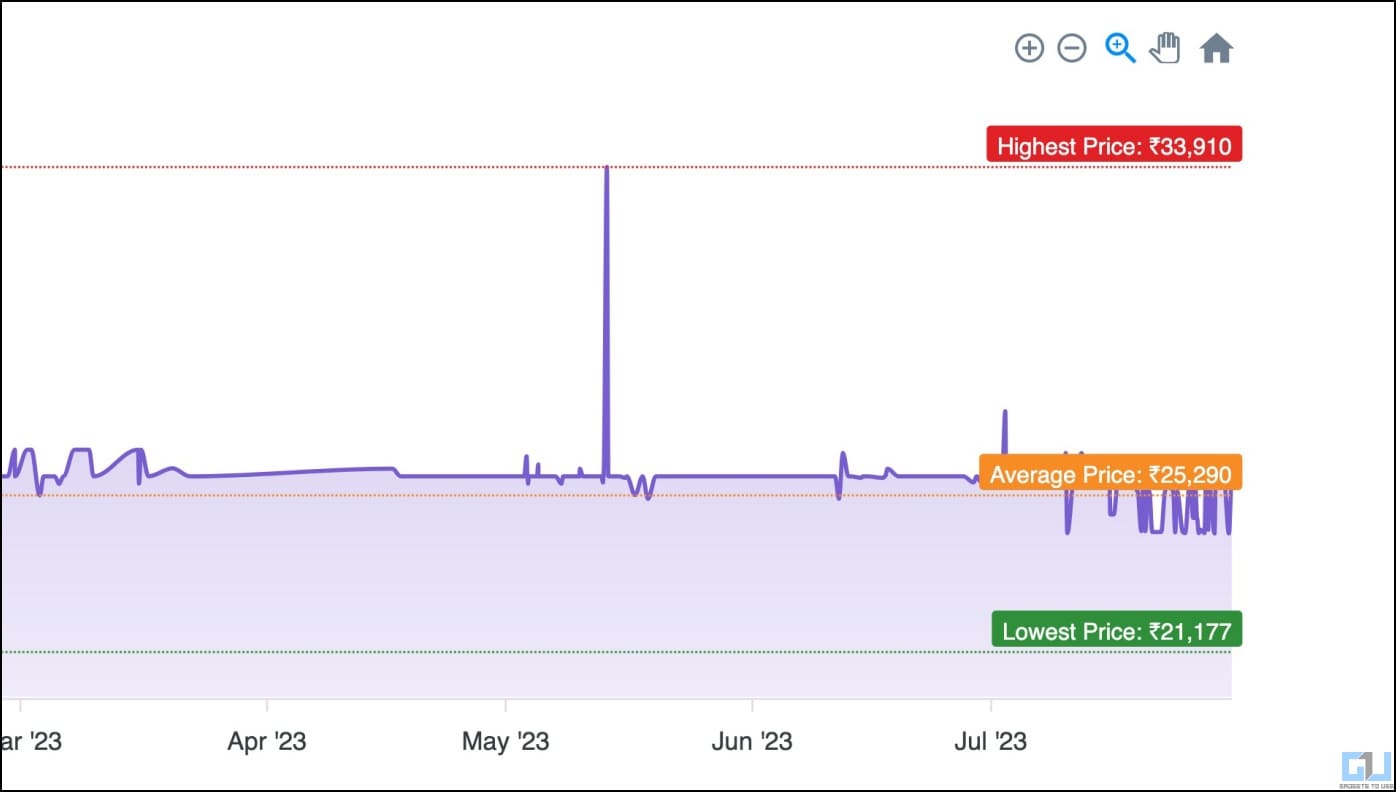 While the above methods will let you check an online product's price history in detail, here are other ways to specifically check price history on Amazon.
Compare Prices Across Different Stores
An important thing to do when lured by "only a few remaining" banners, "can expire anytime" coupons, or other limited-time offers is to compare product prices across different websites. Note the exact name and model of the product and give it a quick search on Google.
Check all the trusted e-commerce stores (Amazon, Flipkart, eBay, Myntra, Ajio, Tata Cliq, Croma, Reliance Digital, Vijay Sales, etc.) selling the same product. Compare the prices and available offers to find the best bargain.
Often, the discounted price in one store is the regular price in another. And it's the fake discount that retailers make you fall for by using strikethrough prices and "limited-time deal" tags that creates a sense of urgency.
For instance, once you reveal the price, CRED Store gives you only a 15-minute window to buy a product from the "today's deals" section. A lot of the time, these products are available for a similar price on Amazon. The fear of missing out on a great deal makes you buy something you don't need.
Check Coupons and Card Offers
Now that you know how to verify if an online deal is genuine or fake, it's time to pay the best price possible. And hence, while comparing prices across different stores online, you must also consider the available card and coupon offers.
All popular online stores regularly offer 5-10% discounts on select credit and debit cards, especially during the festive season and sales. When you factor in this, it could be that a product that appears cheaper on one website may be available for even lesser on another with card offers.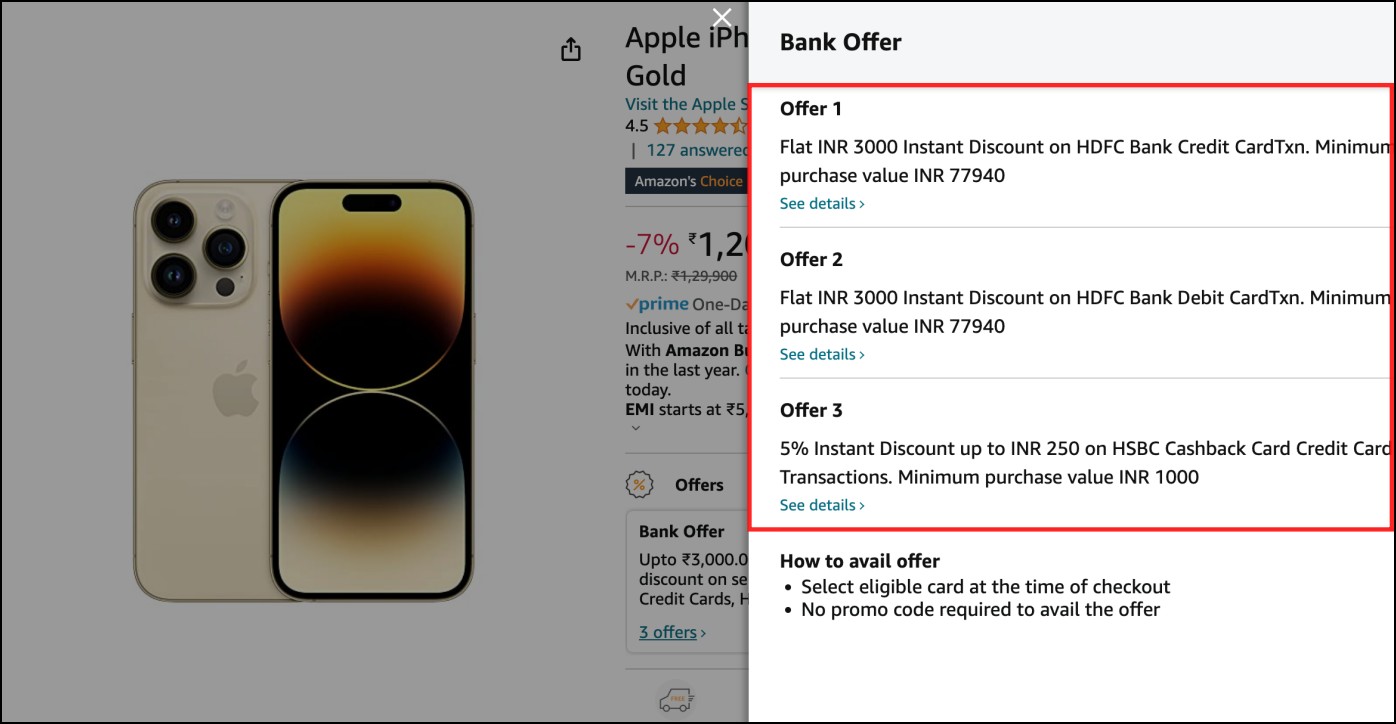 For example, even when the product price is the same, using an Amazon ICICI Pay credit card (on Amazon) and an Axis Flipkart credit card (on Flipkart) will reward you with 5% cashback. Similarly, TataNeu gives you a 5% additional value when shopping on Croma and TataCliq over and above card discounts.
Spending Habits to Keep a Note of!
Alongside being able to differentiate between fake and genuine deals and discounts, one must also keep track of their spending habits and behaviors that may save money in the longer run.
Know When to Buy What!
Buying things when you actually need them is the right time to buy them, be it a phone, an air conditioner, or any other appliance. For example, the best time to buy an AC is two to three months ahead of summer (off-season, March-April), when you get the best discounts. But there'll also be sales promoting heavy discounts on ACs just after the summers are over.
While it's easy to get tempted, you must check the chances of getting it for similar prices just before the season starts. Buying an AC after summer will render it useless for a year until the next season.
This translates to stuck money in a redundant purchase that would otherwise have earnt interest, a year less of actual warranty since you'll start using it a year later. Plus, there's a chance of missing out on newer models that may arrive by then.
"I Really Need It" vs. "I'll Buy Because It's So Cheap"
"I reallized wasn't the one saving money by paying less. Instead, it was the platform making money by selling me things I wouldn't have bought otherwise."
Having a habit of tracking expenses, I observed my shopping expenditures increasing multi folds over the last few months. I bought dozens of products from Amazon, Flipkart, Tata Cliq, and Cred just because they were selling for cheap and not because I needed them.
Petty expenses pilled up to form a significant chunk of the monthly budget which is when I realized I wasn't the one saving money by paying less for the products. Instead, it was the platform making extra money by selling me things I wouldn't have bought otherwise.
Wrapping Up
This was all about how you can identify fake discounts and deals on Amazon and Flipkart. We also discussed common behaviors to note when shopping online. I hope the above guide helps you save money or avoid overpriced deals the next time. Stay tuned for more such tips, tricks, and how-tos.
You might be interested in:
You can also follow us for instant tech news at Google News or for tips and tricks, smartphones & gadgets reviews, join GadgetsToUse Telegram Group or for the latest review videos subscribe GadgetsToUse Youtube Channel.