Besides other instant messaging services, Telegram tops the list for sharing videos with large audiences through Telegram Channels. However, some creators restrict their channels from copying and forwarding the posted video content, making it impossible to download or share with friends. But worry not; this explainer discusses several ways to download a restricted video from a Telegram channel with a few clicks. Additionally, you can learn to download private Twitter videos.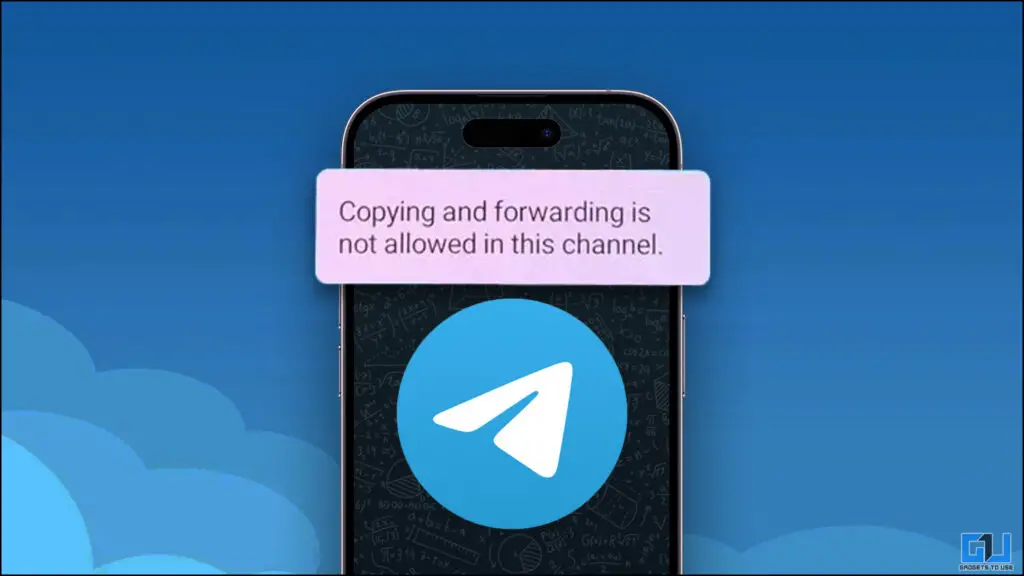 How to Download Restricted Videos From Telegram Channel?
The recent Telegram update introduced the 'Restrict Content Saving' feature for channels to enforce content protection for creators. Once enabled, copying and forwarding the content is restricted for a channel member.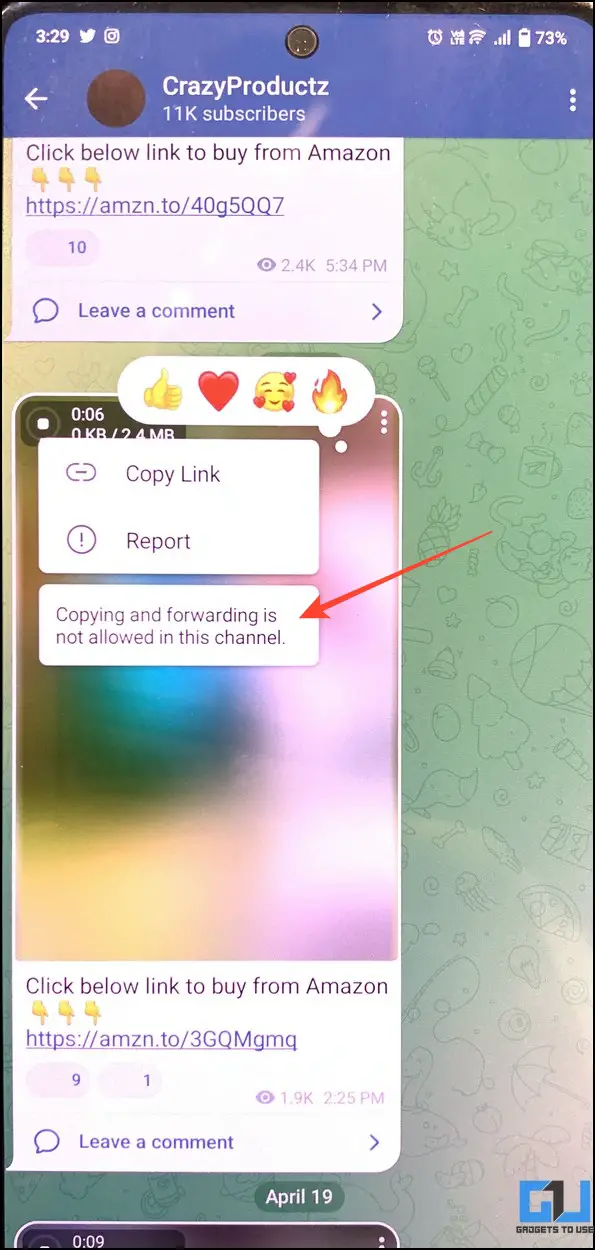 While this feature looks convenient, it's a curse for users who prefer downloading videos from Telegram channels. If you've encountered such channels and wish to download their videos, we will help you with these easy methods.
Method 1 – Use Bots to Download Restricted Telegram Channel Videos
Telegram bots are your portal to fulfill any task you may have. Consequently, you can use them to download videos from a restricted Telegram channel with the bare minimum effort. Here's what you need to follow:
1. Tap the three-dot menu of the restricted video inside a Telegram Channel to copy its link.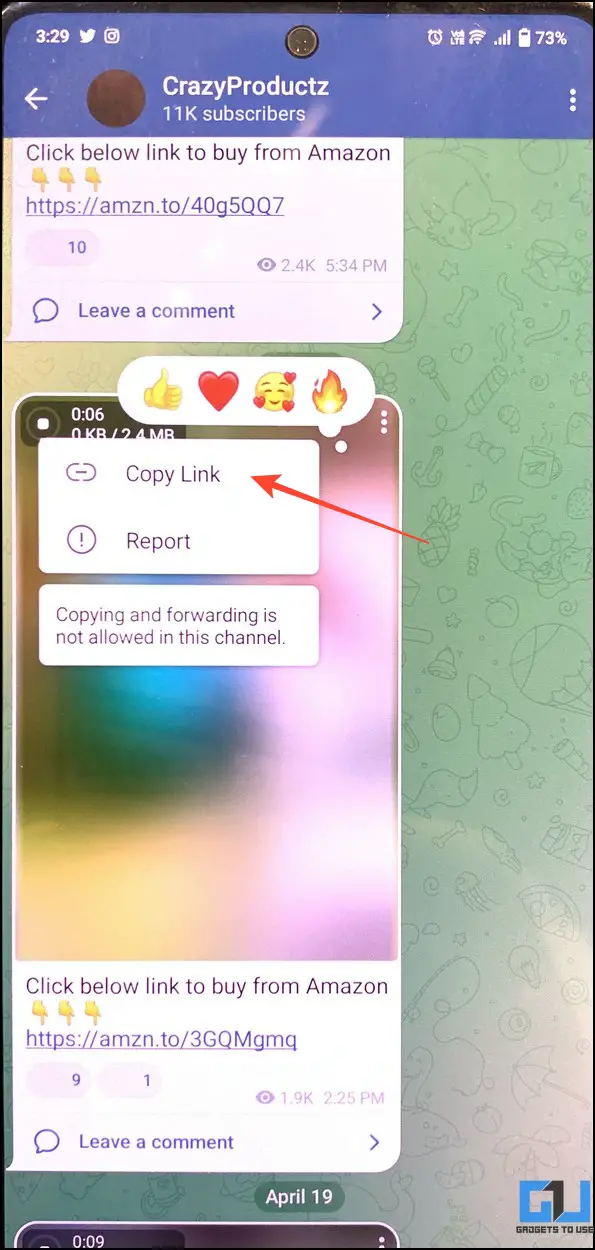 2. Next, tap the Search icon and type Save_Restricted_Content.
Tip: You can try the SaveRestrictedBot if the above bot is taking longer than usual to respond.
3. Join the Telegram Channel and tap its bot address to access it.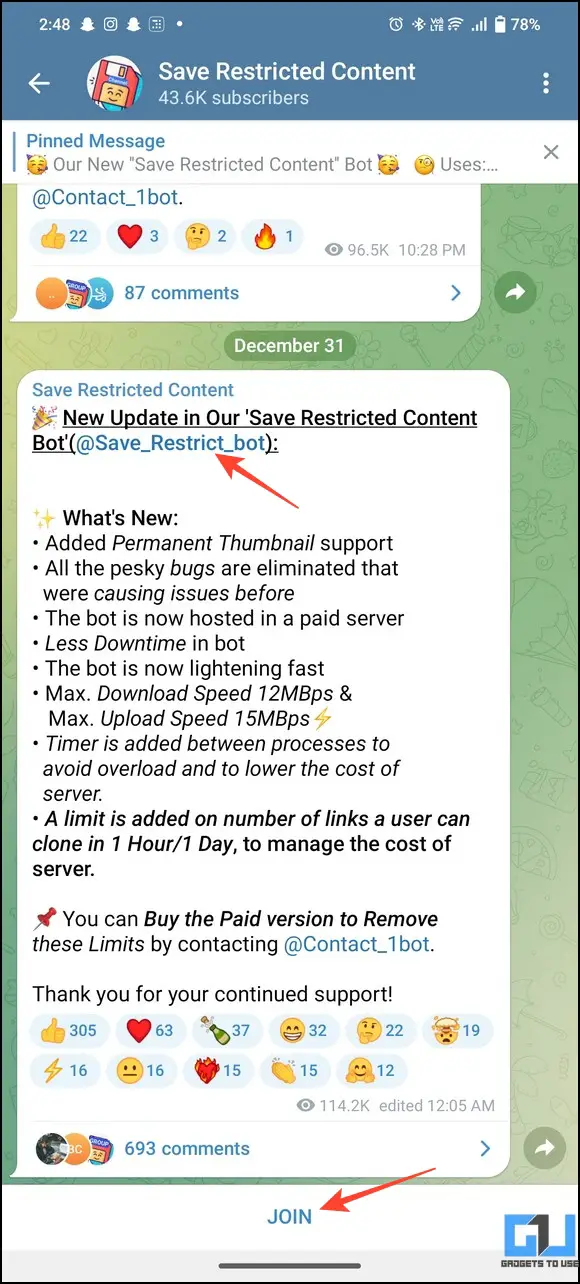 4. Press Start and paste the link of the restricted channel video you copied earlier.
5. Wait a few seconds to get the download link. Once received, tap the three-dot menu on its thumbnail to save it to your phone's gallery.
Congrats! You've successfully downloaded a restricted Telegram channel video using a bot.
Note: You might have to repeat the process sometimes, as the bot often gets busy due to high conversion requests.
Method 2 – Locate Downloaded Restricted Videos with a File Manager App
Playing a video inside Telegram starts the download and saves it to your internal storage. You can utilize this fact to locate and extract the restricted video using free Android file manager apps. Here's what you need to do:
1. Access your desired video in the restricted Telegram channel and play the video to download it inside the app. In most cases, it gets automatically downloaded while playing it instantly.
2. Install the Files By Marc Apps on your Android device.
Note: We tested different file manager apps including the Files App by Google. However, only a few file manager apps (Files by Marc, Amaze File Manager, etc.) let you access the desired directory for viewing downloaded Telegram videos.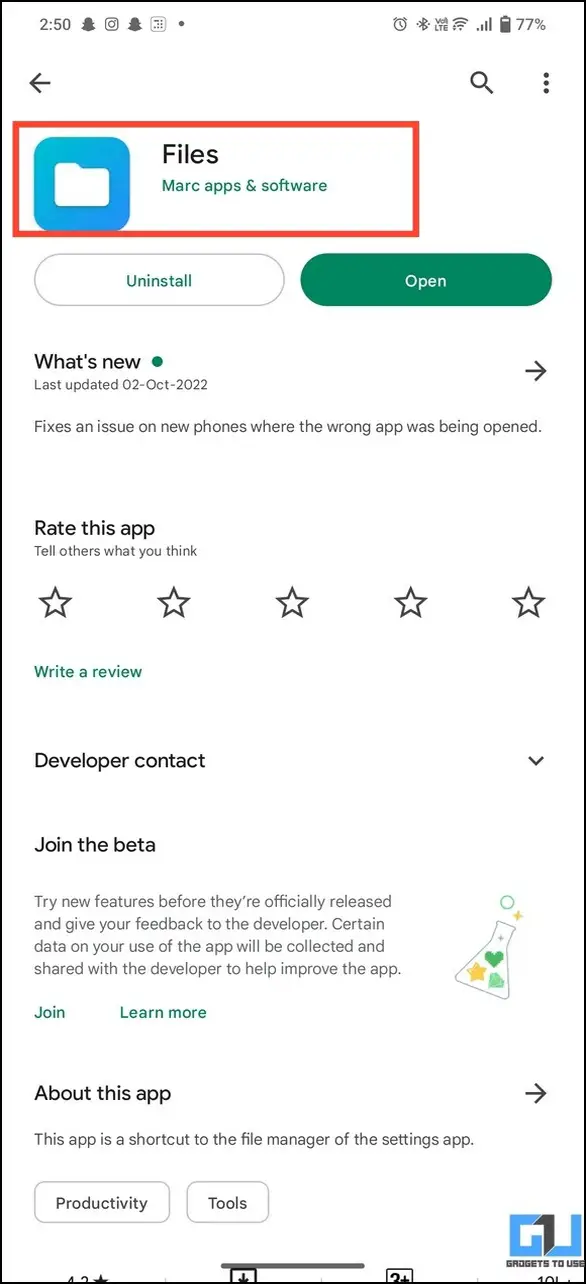 3. Go to the internal storage and tap Android to access the Data folder.
4. Scroll to the bottom to locate the Telegram package folder and tap on Files.
5. Further, tap Telegram and navigate to the Telegram Video folder where all the downloaded files are stored.
6. Move down to the bottom to locate the recently downloaded file. Alternatively, you can tap the video file to identify and watch it.
7. Finally, long-press the file to move it to a different location for easy identification. Additionally, you can send it directly to your friend from the Share button.
8. You can also get similar results with the Amaze File Manager. Head to Android > Data > org. telegram.Messenger > Files > Telegram > Telegram Video and scroll down to the bottom to locate and play the downloaded video.
Method 3 – Download Private Telegram Videos on PC
If you use Telegram's desktop client, here's how to download private videos from Telegram on your PC.
1. Convert your desired Telegram private video to a downloadable version using the Save Restricted Content bot explained in the first method.
2. Open the Telegram desktop app and sign in with your account to open the converted video in the chats.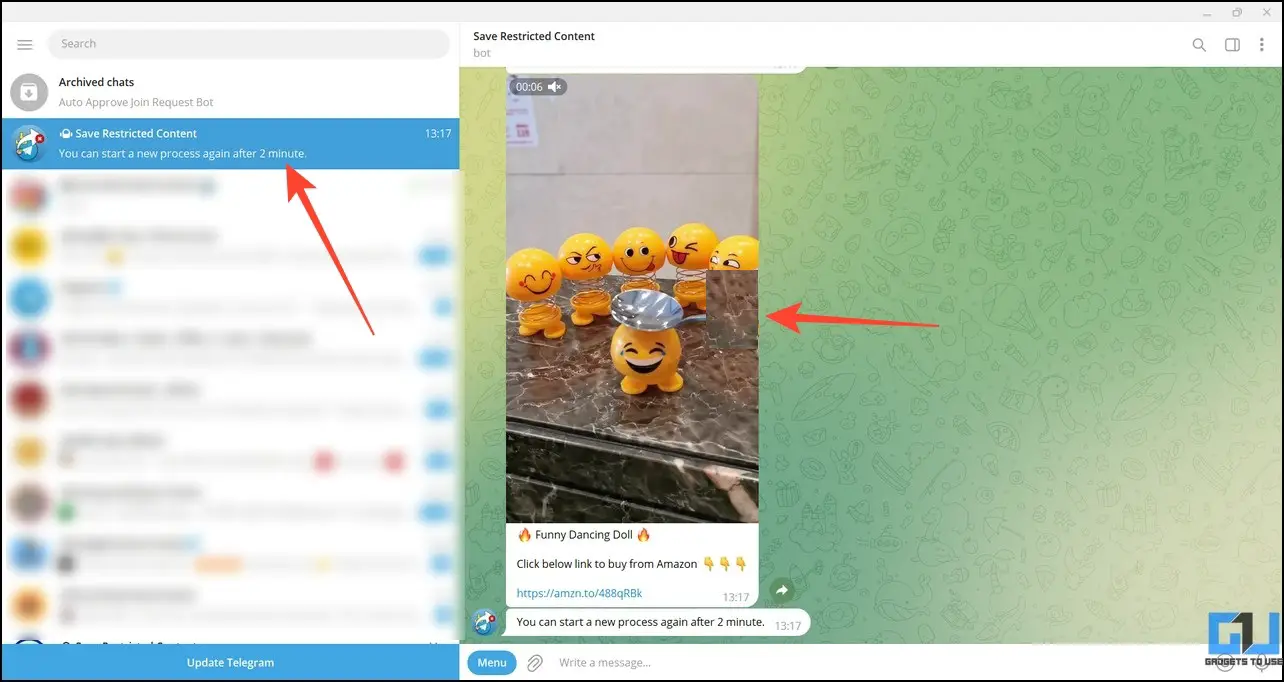 3. Right-click the video and click Save As.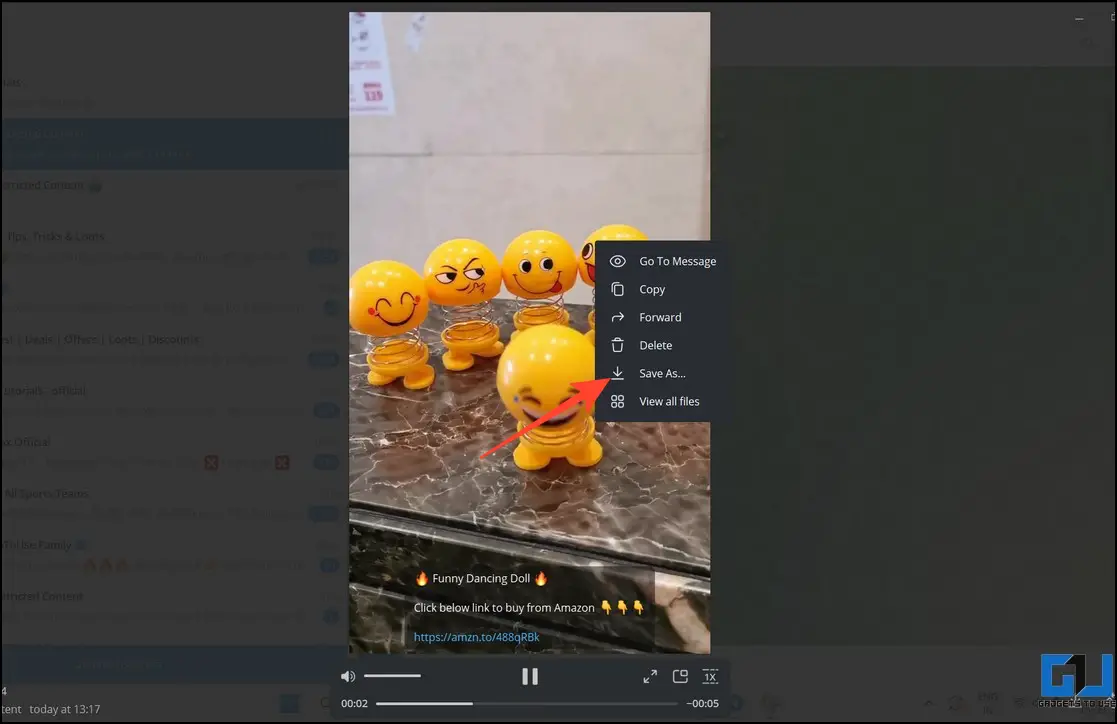 4. Set your desired filename and choose your preferred directory to Save it. By default, the video gets saved to the Downloads directory on Windows.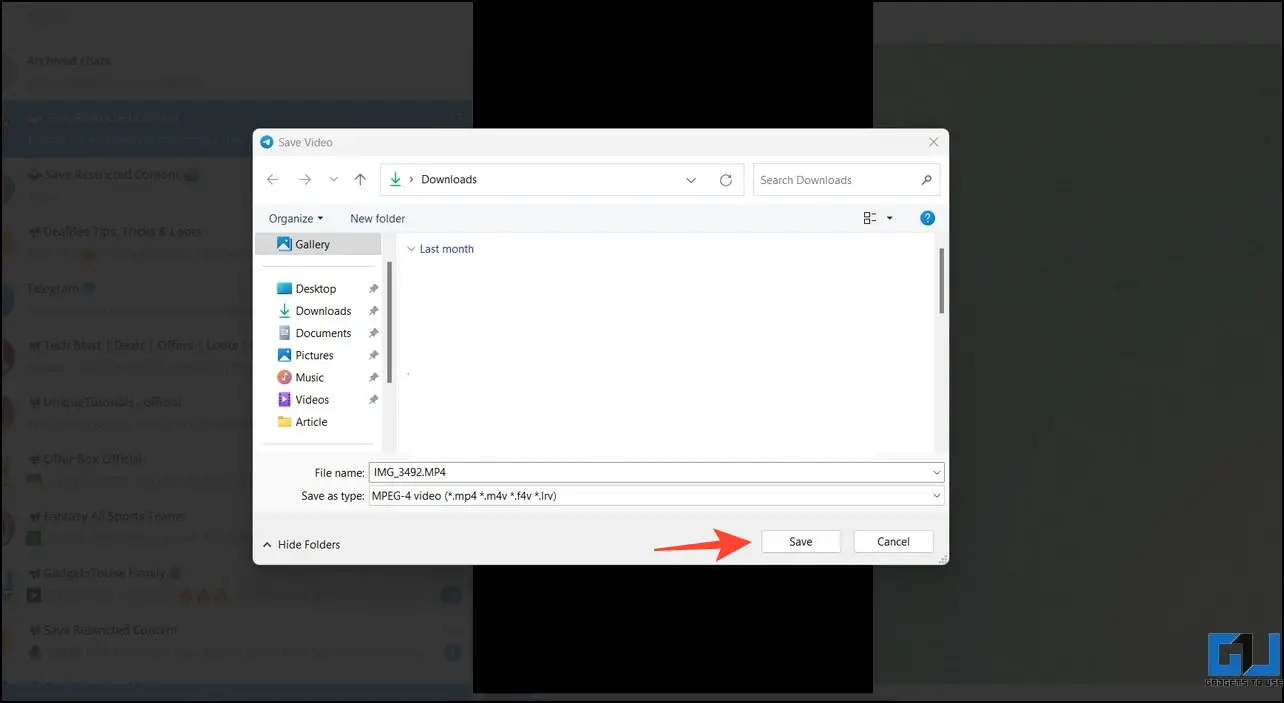 FAQs
Q. How to Download Videos From a Restricted Telegram Channel?
You can use a telegram bot to save the video or prefer the old-school way of finding downloaded videos inside the file manager app. Check the steps above to get precise details.
Q. Can I Download a Restricted Telegram Video Through a Bot?
Yes. You can download such videos from the Save Restricted Content bot on Telegram. If you don't get an appropriate response, you can retry the steps to get desirable results, as the bot often remains busy due to large conversion requests.
Q. How to Download Videos From Telegram?
To download videos from a public Telegram channel, tap the three-dot menu on the video thumbnail to save it to your phone. If the channel is restricted and doesn't support downloading, copying, or forwarding links. You can use the above-listed methods to save them.
(Resolved) Download Restricted Telegram Channel Videos
We hope this guide has helped you to download video content from a restricted Telegram channel. If you found it useful, forward it to your friends and subscribe to GadgetsToUse for more interesting explainers. Meanwhile, you can also check out the links below for more Telegram tips.
You might be interested in:
You can also follow us for instant tech news at Google News or for tips and tricks, smartphones & gadgets reviews, join GadgetsToUse Telegram Group, or for the latest review videos subscribe GadgetsToUse Youtube Channel.