Whether it's prying eyes or the growing public awareness, maintaining privacy has become increasingly crucial on social messaging apps. Like WhatsApp, you can safeguard your privacy by hiding personal chats on Telegram. In this article, let's look at several ways to hide your private chats on Telegram. Additionally, you can learn to hide your Telegram profile photo.
How to Hide Your Chats on Telegram?
Hiding your personal or private chats is convenient, thanks to various Telegram features. You can archive the chats, create a separate chat folder, or use the saved message feature to conceal your personal conversations easily. Let's look at each of these methods in detail:
Method 1 – Archive to Hide Personal Chats on Telegram
Archiving Chats in Telegram was initially introduced to organize your chat home screen. However, you can archive your personal messages to hide them. Here's how you can move your desired conversations to the Archive folder:
1. Open Telegram and swipe left on the chat you wish to archive.
2. The chat will be instantly archived and nested in an Archived Chats folder at the top.
3. If you change your mind, swipe left on the archived chat again to remove it.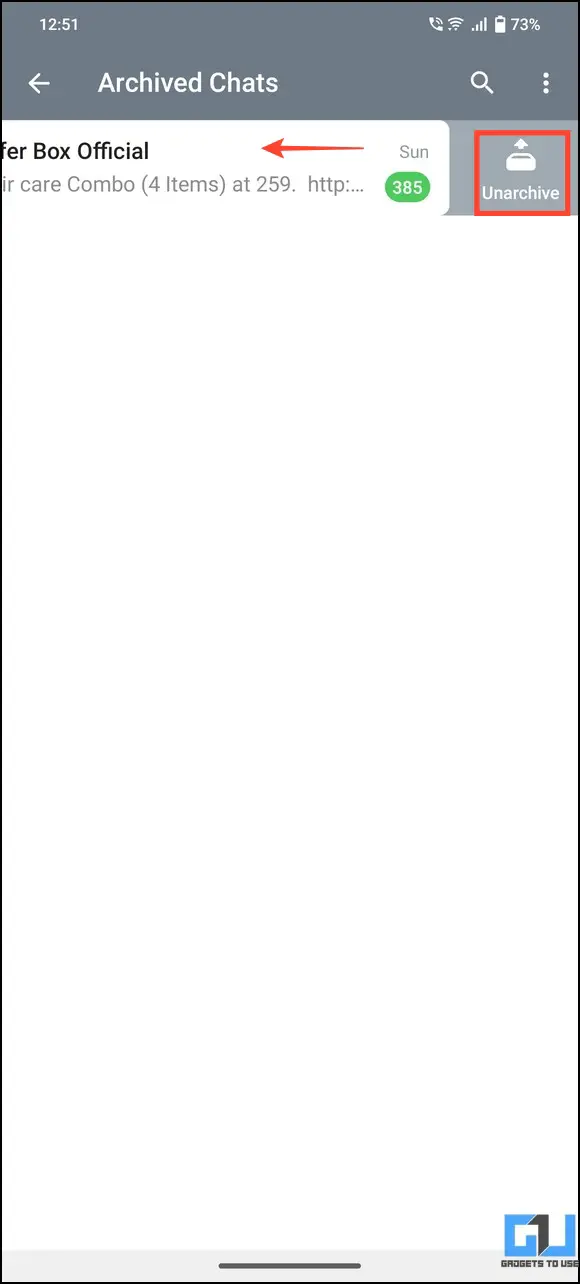 Method 2 – Hide Archive Chats Containing Personal Messages
When you archive a chat, Telegram creates a dedicated Archive folder at the top of your chat home screen containing all the archived conversations. If you're wondering how to hide it, follow these easy steps:
1. Open the personal message inside the Archived Chats folder.
2. Tap the three-dot menu in the top-right and press Mute.
3. Press Mute For and set your desired mute duration. You can also mute it forever by tapping the Mute Forever option.
Note: Muting an archived conversation is necessary to ensure that your Archived folder stays hidden. This is because new notifications from any archived chats will constantly bring it back on your chat home screen.
4. Return to the chats section, long-press Archived Chats, and select Hide From the Chat List.
5. That's it! You've successfully hidden the Archived chats folder containing your personal chats on Telegram. You can reaccess them by pulling down the chat home screen in the Telegram app.
Method 3 – Use Chat Folders to Hide Your Personal Chats
Wouldn't it be nice to separate your personal Telegram chats from a vast pool of messages? The Chat Folders feature delivers the exact result. It allows you to create a new tab containing all your desired conversations, hiding them from appearing on your primary chat home screen. Here's how you can set it up:
1. Tap the hamburger menu in the top-left to open Telegram Settings.
2. Tap Chat Folders and Create a New Folder.
3. Name the new chat folder, Tap Add Chats, and pick your personal messages to include them.
4. Finally, tap Save to apply changes. Telegram will create a new tab with your selected personal messages separated from the main chat screen.
Method 4 – Utilize the Saved Messages Feature
The Saved Messages feature in Telegram allows you to save messages inside a chat (including attachments) to a separate folder, which can be viewed later. Forward the message to the Saved Messages folder and delete the original chat to remove the source. Follow these steps for an easy fix:
1. Open your desired personal chat and long-press a message to access the forward chat option.
2. Tap Saved Messages to forward the chat to it.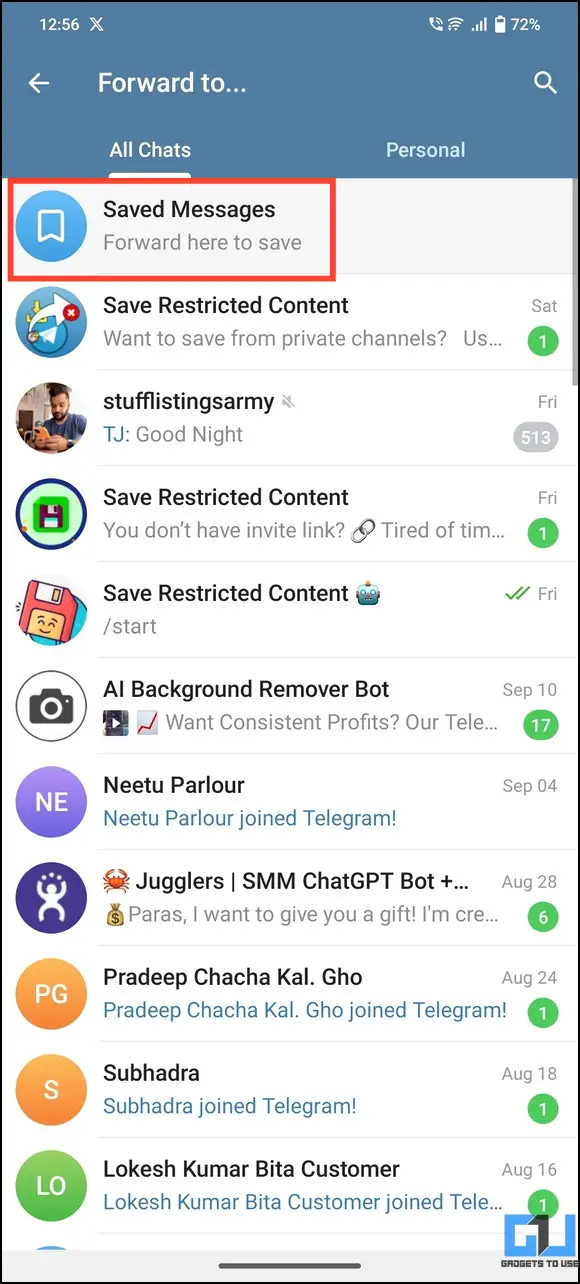 3. Next, delete the original conversation by pressing the three-dot menu> Delete Chat.
4. Open the Saved Chats folder to view the saved message on your chat home screen.
Method 5 – Hide Your Personal Chats on Telegram Desktop
If browsing Telegram on a desktop, you can archive the chat or create a new chat folder to hide your personal messages. Here's what you need to follow:
1. Open the Telegram Desktop app and right-click a personal chat to Archive it.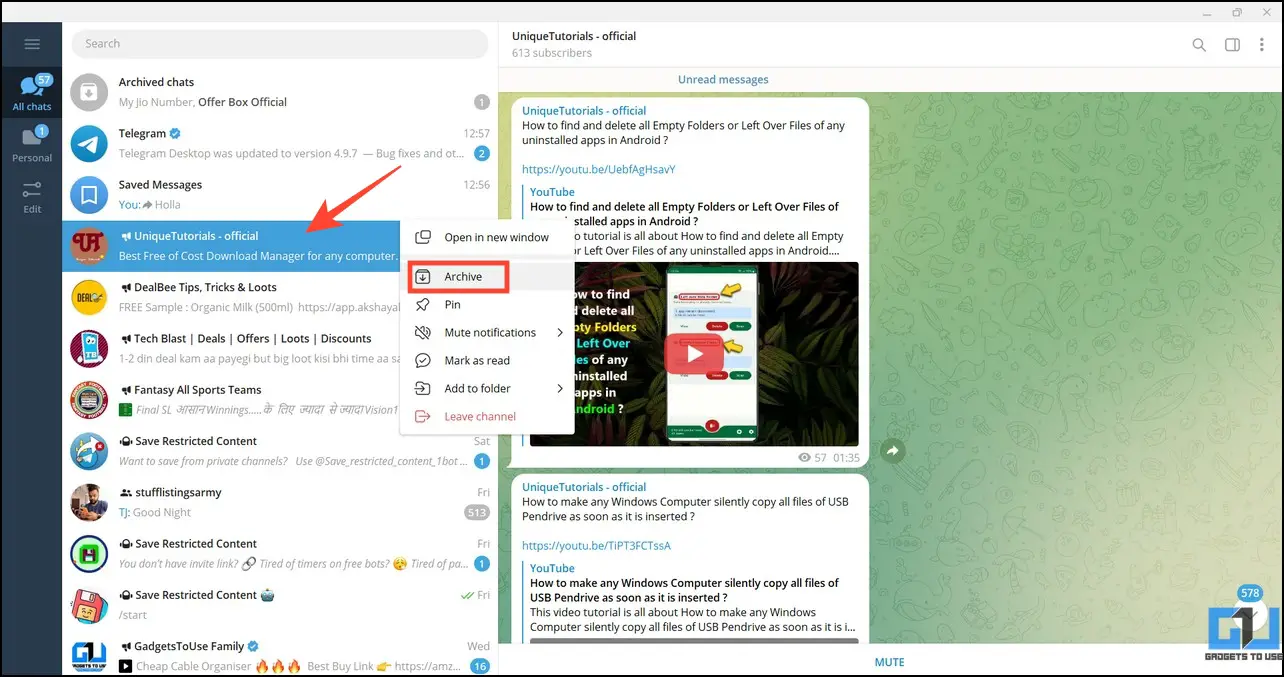 2. Similarly, you can repeat the steps in Method 3 above to set up a separate chat tab on Telegram.
FAQs
Q. How to Hide and Lock Chat With a Password on Telegram?
While Telegram doesn't provide the feature to lock chats with a passcode individually, you can enable the Passcode Lock for the Telegram app to hide all your chats. Head to Telegram Settings, tap Privacy and Security, and press the Passcode Lock to set it up.
Q. Can You Hide Chats on Telegram?
You can archive a chat, create a new chat folder, or use the Saved Messages feature to hide any chat on Telegram. Read the steps above for more details.
Q. How to Hide Archived Chats on Telegram?
Long-press the Archived Chats folder to hide it from the main chat screen. However, ensure to mute notifications from archived chats to stop them from popping on your chat home screen. For more details, check the steps above.
Q. Can You Unhide a Telegram Chat?
If you've archived a Telegram chat to hide it, swipe it towards the left to bring it back to the main chat screen.
Wrapping Up
We hope you've picked up nifty methods from this guide to hide your personal chats on Telegram. If you found it helpful, spread the word with your friends and subscribe to GadgetsToUse for more awesome reads. Also, don't forget to check the below links for more amazing Telegram tips and tricks.
You might be interested in:
You can also follow us for instant tech news at Google News or for tips and tricks, smartphones & gadgets reviews, join GadgetsToUse Telegram Group, or for the latest review videos subscribe GadgetsToUse Youtube Channel.