Call it safety or privacy-mindedness; sometimes, hiding your profile photo from contacts is necessary. Consequently, popular social media apps like WhatsApp, Facebook, and Telegram allow you to control and mask your profile information. In this article, we will discuss several ways to hide your profile photo on Telegram. Additionally, you can learn to read Telegram Messages without getting seen.
How to Hide Your Profile Photo on Telegram?
Telegram offers several ways to hide your profile photo from everyone or a specific contact. You can control your profile picture privacy, set exceptions, or add a public profile photo to your account to hide the real one from restricted users. Let's have a detailed look at each of these methods.
Method 1 – Configure Account Settings to Hide Profile Photo on Telegram
Telegram provides a dedicated privacy and security tab to help users configure their account settings, such as the visibility of their profile picture. Follow these steps to hide your profile photo on Telegram by adjusting your account settings.
1. Open Telegram and tap the hamburger button at the top-left to open Settings.
2. Expand Privacy and Security and tap Profile Photos.
3. Telegram offers the following privacy levels to hide/show your profile photo:
Everybody: This privacy setting makes your profile picture visible to all your Telegram contacts.
My Contacts: Configuring this setting lets you control your profile picture visibility to selective contacts on Telegram. Once you've enabled My Contacts, you can selectively add contacts or restrict them from viewing your profile photo using exceptions (as discussed later in method 2).
Nobody: Setting your profile photo visibility to Nobody will restrict all Telegram contacts from viewing it.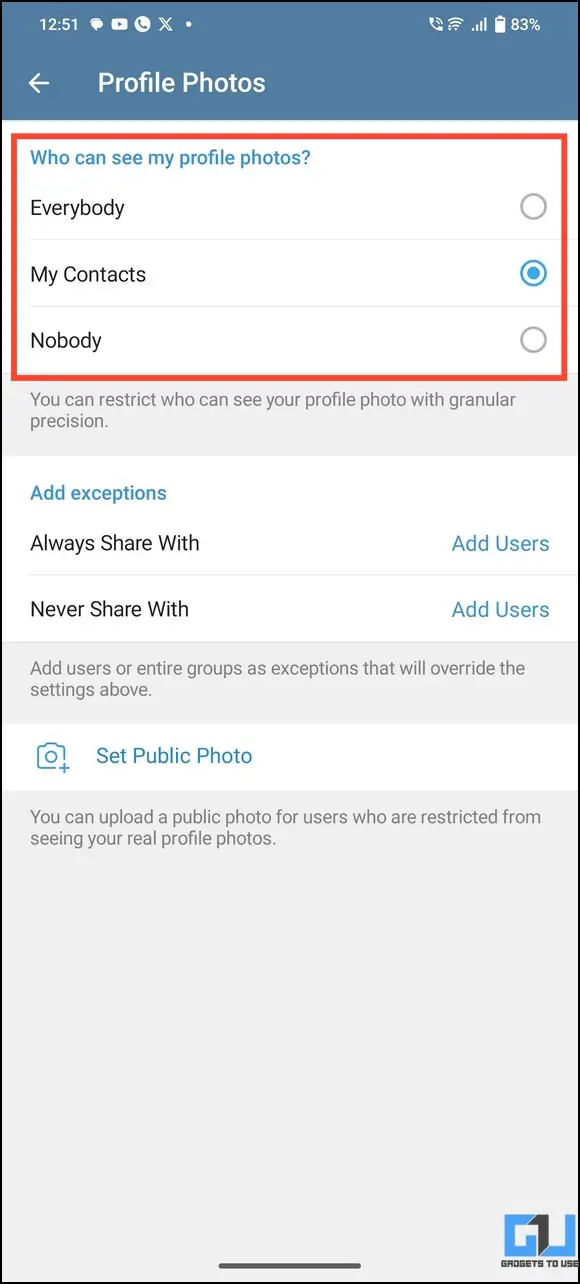 Method 2 – Define Exceptions to Hide Your Telegram Profile Photo
Exceptions in Telegram allow you to exclude selective contacts from a defined privacy level. For example, you can restrict a single Telegram contact from viewing your profile photo while keeping your privacy set to 'Everybody.' Here's how you can make the most of it.
1. Open Telegram's Privacy and Security settings to access Profile Photos control.
2. Next, set profile picture visibility to your desired privacy level and tap 'Always Share with' under 'Add Exceptions.'
3. Pick your preferred contacts to let them view your Telegram profile picture.
4. Similarly, tap 'Never Share With' and include the contacts list to restrict them from viewing your profile photo.
Note: The 'Always Share With' and 'Never Share With' exceptions are tailored separately for different privacy levels. For example, 'Everybody' will only allow you to add a 'Never Share With' exception while 'Nobody' will offer the 'Always Share With' exception. On the other hand, you can set both exceptions simulatenously with the 'My Contacts' privacy setting.
Method 3 – Set a Public Profile Photo to Hide Your Real Telegram Photo
Unlike other social messaging apps, Telegram provides a remarkable 'public profile photo' feature that allows users to set an alternate profile picture for restricted contacts. This can be helpful when you don't want the connection to find out you've restricted them from viewing your profile photo, as the public picture will always remain visible. Here's how you can set up a public profile picture.
1. Open the Profile Photos setting under Privacy and Security.
2. Tap on Set Public Photo.
3. Pick your desired image or emoji and tap Set Profile Photo to save changes.
4. That's it! You've successfully set a public profile photo for all restricted contacts on Telegram. If you change your mind, you can delete it by tapping the Remove Public Photo option.
Method 4 – Hide Telegram Profile Photo on Desktop/Web
If you're running Telegram on your browser or desktop, you can follow these easy steps to hide your profile photo:
1. Open the Telegram Web/Desktop app and click the Hamburger menu.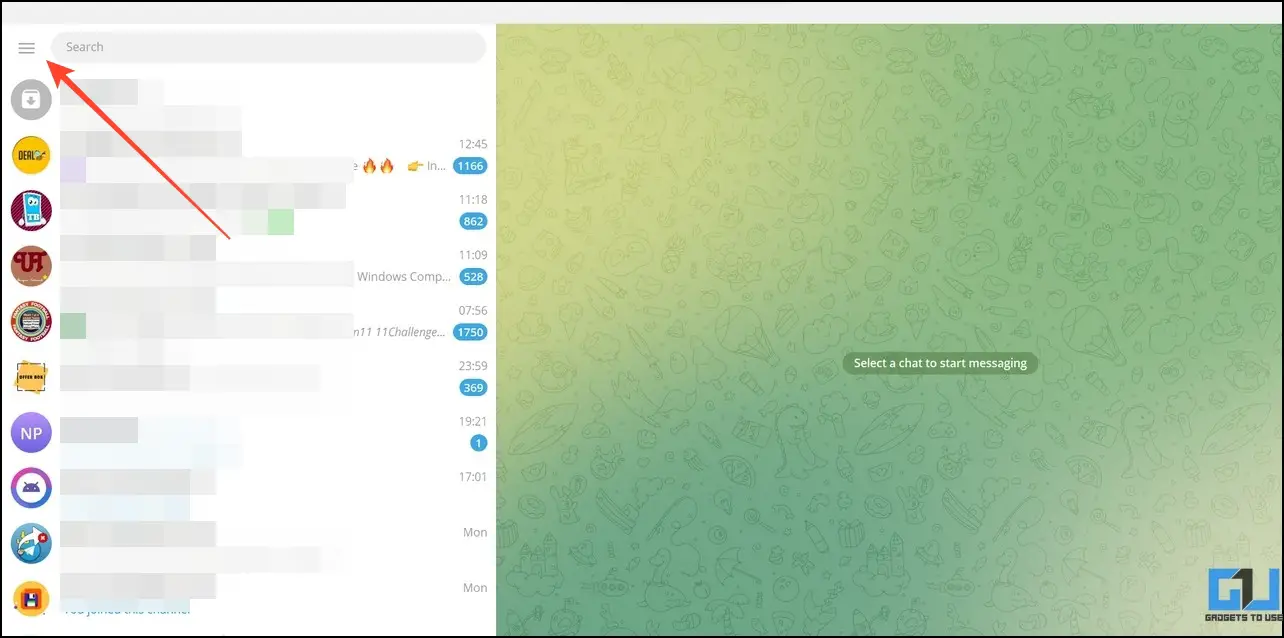 2. Click Settings.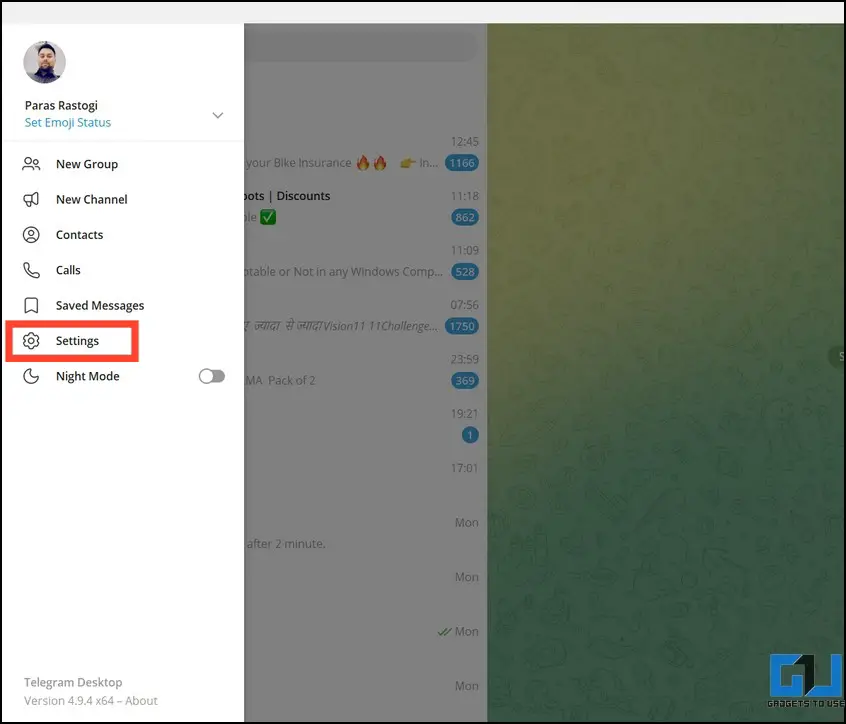 3. Locate and click Privacy and Security.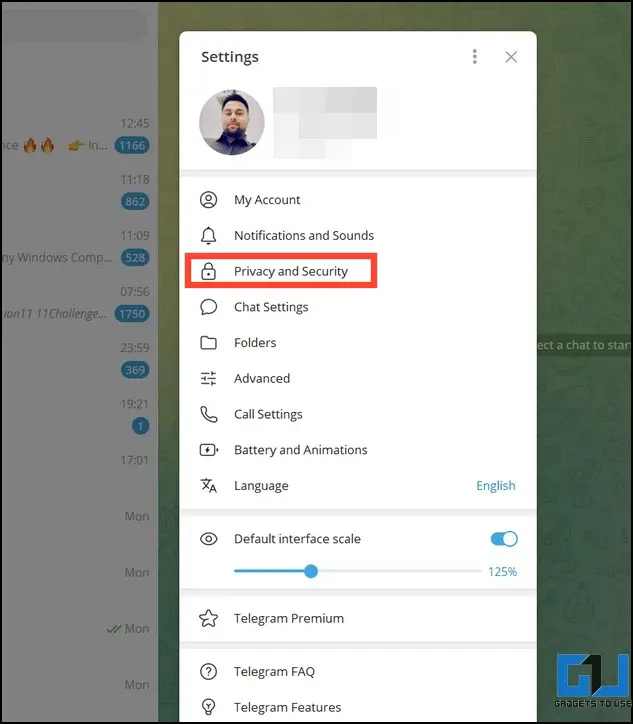 4. Next, click Profile Photos.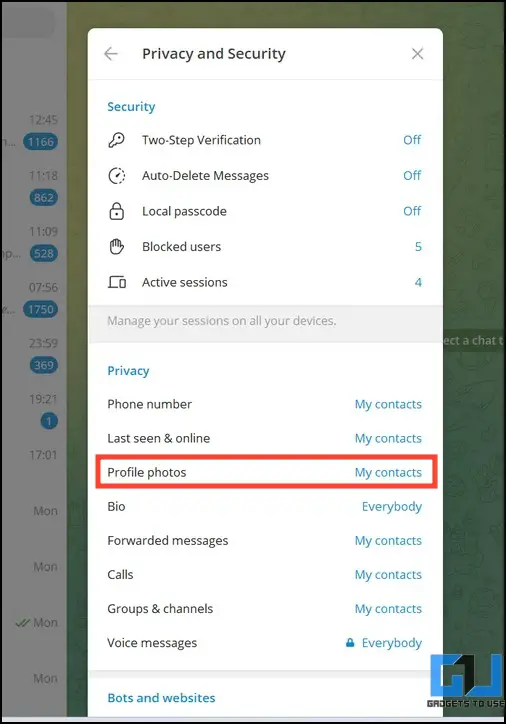 5. Finally, set your desired privacy level to hide your profile picture from your Telegram contacts.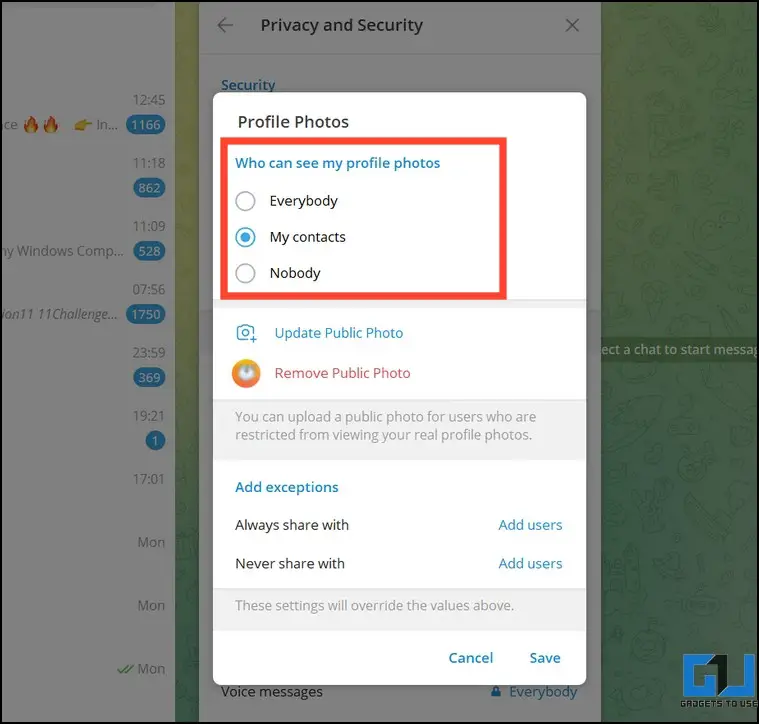 Bonus: Hide Additional Profile Information on Telegram
Besides your profile picture, you can set up and control privacy for additional account information like phone number and bio using Telegram settings.
Hide Your Phone Number on Telegram
1. Open the Telegram account settings and tap Privacy and Security to configure it.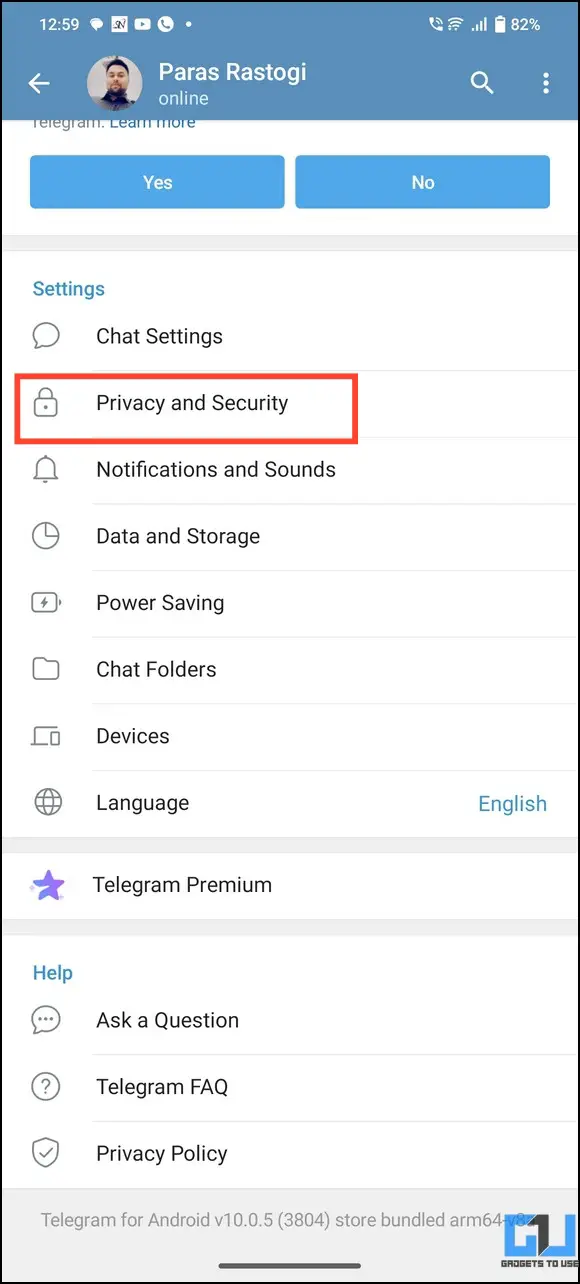 2. Press the Phone Number and pick your desired privacy level to display/hide it from contacts.
Hide Your Telegram Profile Bio
1. Tap Bio under Telegram's privacy and security settings.
2. Choose who you wish to share/hide your bio with using 'Everybody,' 'My Contacts', and 'Nobody' privacy settings.
FAQs
Q. How Do I Hide My Telegram Profile Picture From Everyone?
Navigate to Telegram account settings > Privacy and Security> Profile Photos and set its visibility to Nobody. For more details, check the steps listed above.
Q. How Can I Hide My Profile Picture on Telegram From Only One Person?
You can do it by setting up a privacy exception. Set your profile photo visibility to 'Everybody' and add the contact you wish to restrict to the 'Never Share With' exception list. Alternatively, set Profile Photo visibility to 'My Contacts' and handpick individual contacts to add them to the 'Always Share With' and 'Never Share With' exception lists.
Q. Where Can I Access My Telegram Profile Picture Settings?
The profile picture setting is nested in the Privacy and Security tab when you access the Telegram account settings. Check the steps written above for more details.
Wrapping Up
This brings us to the end of this guide, where we discussed nifty methods to hide your Telegram profile photo. If you find it helpful, spread the word with your friends and stay tuned to read more awesome explainers on GadgetsToUse. Also, don't forget to check other useful Telegram help links below:
You might be interested in:
You can also follow us for instant tech news at Google News or for tips and tricks, smartphones & gadgets reviews, join GadgetsToUse Telegram Group, or for the latest review videos subscribe GadgetsToUse Youtube Channel.