If you are an Airtel user, you can activate the caller tunes, also known as "Hello Tunes," to make your callers hear your favorite music or songs when they call your phone number. Here are all the ways to set a caller tune on your Airtel number for free.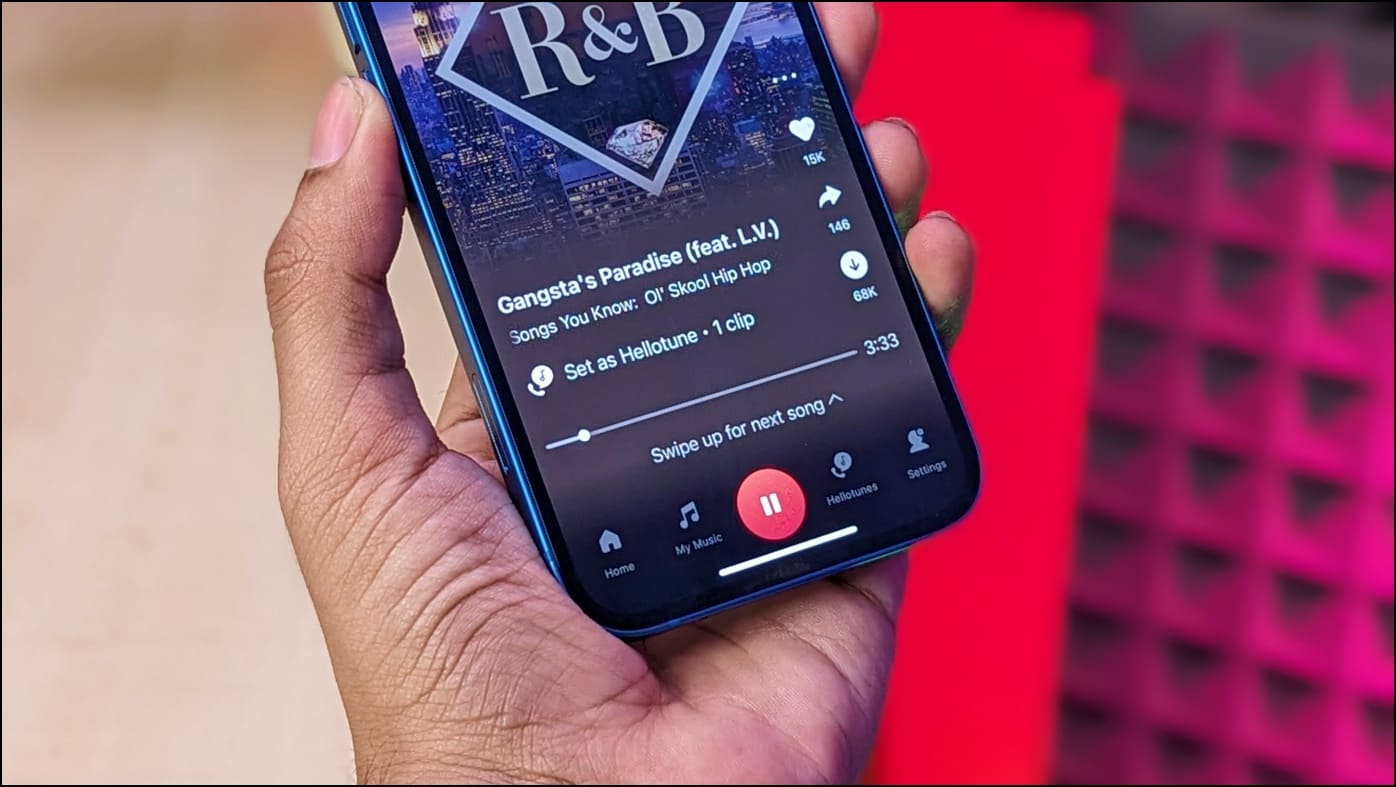 What are Airtel Hello Tunes?
Airtel Caller Tunes, or Hello Tunes, is a value-added service offered by the telecom operator. It allows you to replace the classic "tring tring" sound that callers hear when they call your phone number with a song or music of your choice. This helps you express yourself while entertaining your callers at the same time.
The Hello Tune service is absolutely free to all prepaid or postpaid plans of Rs 129 and above. Once enabled, it stays active for 30 days, after which you'll have to renew it from the app.
How to Set a Caller Tune on Airtel?
You can activate your Airtel caller tune using the Airtel app and website. Earlier, you could dial Airtel's caller tune service number or send an SMS to set a dialer tune of your choice. However, that doesn't seem to be working anymore. Read in detail below.
Method 1- Set a Caller Tune Using the Wynk Music App
The easiest way to activate caller tune on your Airtel number is through the Wynk Music app. All you need is a smartphone with an active internet connection. Here's how it works:
1. Download the Wynk Music app (Android, iOS) on your phone. Sign in with your Airtel number and OTP (one-time password).
2. Select Hellotunes from the navigation bar at the bottom.
3. Choose any of the top-grossing songs on this page. OR use the Search button on the top right to find your favorite music for the caller tune.
4. Tap the song you want to set as your Airtel caller tune.
5. You'll hear a preview of the song's caller tune. If you like it, tap Set Free Hellotune.
6. Choose whether you want to set hellotune for Close Friends (select contacts) or All Callers. Tap Set Free Hellotune again.
The Hellotune will be activated on your number for 30 days. If you want to continue with the same caller tune, return to the app to extend it.
Method 2- Activate Hello Tune Using the Wynk Music Website
Alternatively, you can use the Wynk Music website to activate the Hello tune on your Airtel number:
1. Open the Wynk Music website on your phone or computer. Login to your Airtel account using your mobile number and OTP.
2. Search for the music you want to set as your caller tune.
3. Tap the song name to open the playback screen.
4. Here, tap Set Free Hellotune and follow the on-screen instructions to activate your caller tune.
Method 3- Copy Hello Tune from Other Airtel Users
If your friends or relatives have a caller tune you like and you want to set it as your own, don't worry. You don't have to use the Wynk Music app. Instead, when you call their number and the music starts to play, press *9 or #9 on your phone. Doing so will copy their hello tune to your Airtel number.
Methods That Don't Work Anymore!
Here are some methods that are mentioned on the Airtel website but do not work anymore:
Caller Tune via USSD Code: Earlier, you could dial *22788# on your phone and follow the instructions to set up Airtel tune service. However, it now throws an "Error performing request" error.
Caller Tune via SMS: Sending CT START to 23123 allowed users to activate caller tune on their Airtel number. However, it doesn't work anymore.
Caller Tune Through IVR: Dialing 22788 would open the IVR menu to set the caller tune. Unfortunately, it, too, has turned obsolete.
How to Stop the Pre-Hellotune Message?
By default, Airtel plays promotional audio before the caller tune, asking users to press (*) star and (9) nine or install the Wynk Music app to copy your caller tune. You can disable this pre-hello tune message on your number using the steps below:
1. Open the Wynk Music app and select Hellotune at the bottom.
2. Click Manage next to your hello tune on the top. Select your caller tune again.
3. Finally, click on Stop Pre Hellotune message under "More."
From now on, anyone calling your Airtel number will hear the chosen caller tune directly without any promotional message.
How to Disable the Airtel Caller Tune?
If you no longer want the Hello Tune to play when others call your number, you can disable it in the Wynk Music app, as shown below:
1. Open the Wynk Music app on your phone. Tap Hello Tunes in the bottom navigation bar.
2. Click on Manage > All Callers.
3. Tap Remove Current Hello Tune.
4. Select Yes to confirm.
The hello tune service will be disabled on your number within a few minutes.
Wrapping Up
This is how you can set a Caller Tune on your Airtel number. I hope the above guide helps you activate the Airtel Hello Tunes service without any issues. As mentioned, many old methods have become obsolete, and most of the things related to the Hello Tunes service are now solely handled by the Wynk Music app.
You might be interested in:
You can also follow us for instant tech news at Google News or for tips and tricks, smartphones & gadgets reviews, join GadgetsToUse Telegram Group or for the latest review videos subscribe GadgetsToUse YouTube Channel.