IRCTC now runs several executive lounges on select railway stations to provide travelers with comfortable waiting areas, refreshments, and other premium amenities. You can access these lounges free of charge with the right set of cards in your wallet. Here's how to check if your credit card supports complimentary railway lounge access in India.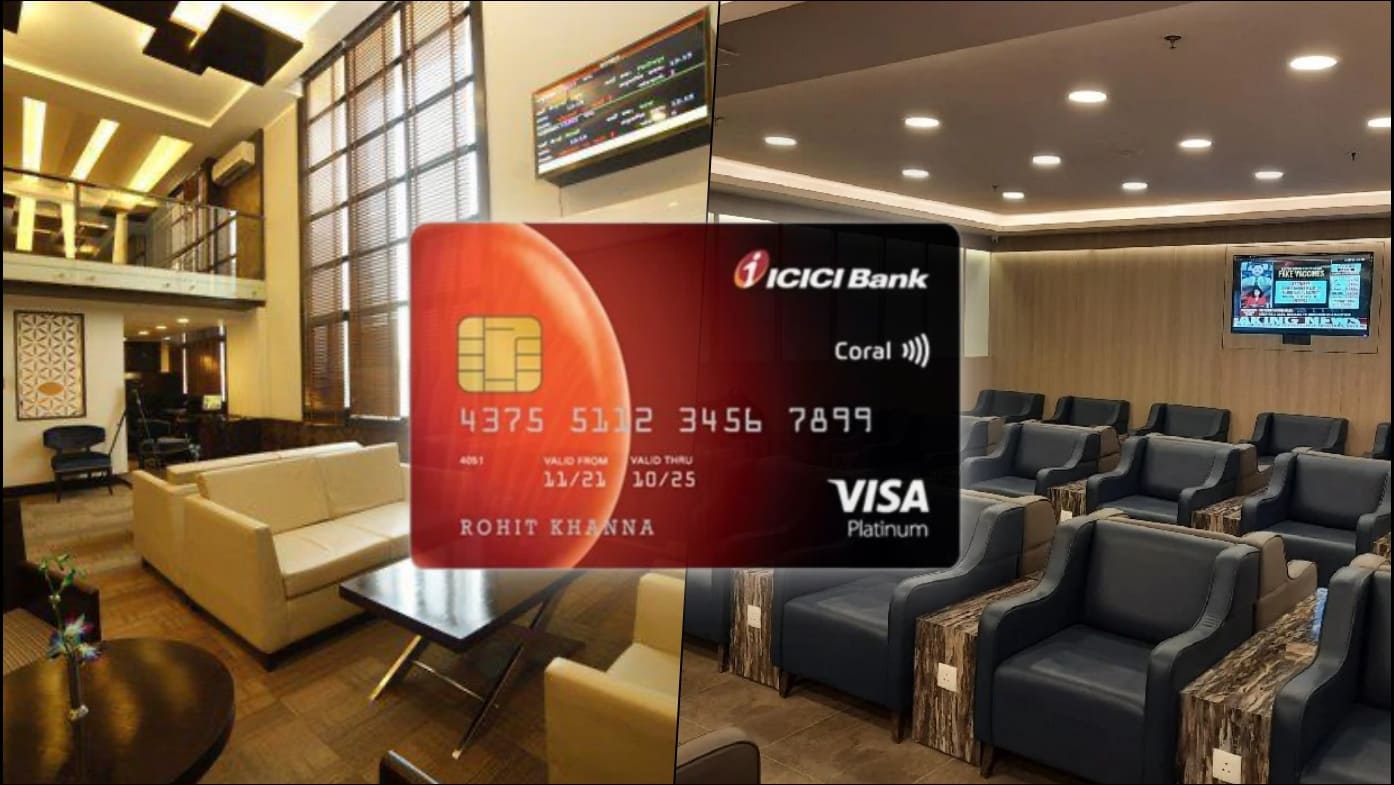 What is the Railway Lounge Program?
The Railway Lounge program, offered by select credit cards, allows cardholders to access executive lounges at select railway stations in India.
These lounges are often air-conditioned and offer comfortable seating while you wait for your train. You also get free WiFi, magazines, access to showers/ restrooms, and complimentary food and beverages.
All you need to do is preset a valid credit card and train ticket at the supported railway lounge. INR 2 will be charged to validate the card for complimentary lounge access, after which you can access the facility for limited hours.
How to Check Railway Lounge Access on Your Card
While it's fairly easy to check airport lounge access on your card, it can be challenging in the case of railway lounges, given the fewer cards, lounges, and overall popularity. Most credit cards offer airport lounge access. However, only a handful of them allow complimentary railway lounges.
If you have a credit card and want to find out if it allows free railway lounge access, you can use third-party apps like Card Insider or rely on the bank's website. Read all methods in detail below.
Check for Railway Lounge Access Using Card Insider App
Card Insider is a popular app for comparing credit cards and checking their features, including airport and railway lounge access. Here's how you can use the app to check if your card allows free railway lounge access:
1. Download and open the Card Insider app (Android, iOS). Log in with your mobile number and OTP.
2. Once on the app home page, tap Add Your Card. Select your card-issuing bank name, search for, and select your current credit card.
3. Tap Add Card to add it to your list. Similarly, add all the credit cards you have.
4. Return to the app home page and tap Railways in the bottom right corner.
5. You will see the list of all railway stations with lounge availability. Tap the station you're planning to travel from.
6. Select the available lounge to see if you have complimentary access to the cards you currently have.
7. Tapping the lounge name will show you its timing, location, directions, and amenities.
8. Tap You Have Access at the bottom to see which of your cards offer lounge access.
However, the app is currently not very reliable. For instance, I have railway lounge access on my ICICI Bank Coral credit card, but the app refuses to say so. So, always make sure to double-check the information.
Check and Book Railway Lounge Access with DreamFolks Website
DreamFolks is an airport and railway aggregator platform that lets you check airport and railway lounge access on your credit card. You can also check the remaining visits and get a virtual entry pass for the lounge before you head to the station. Here's how it works:
1. Visit https://webaccess.dreamfolks.in/login-user on your phone or desktop. Login with your mobile number and OTP.
2. Tap the Add Card + button on the top right corner.
4. Enter the name on your card, card number, expiry date, and CVV. Tick both boxes to authorize a non-refundable charge of ₹2 to validate and save your card.
5. Tap the Register button and authorize the transaction. It will deduct ₹2 from your credit card for verification.
6. The card is now added to your Dreamfolks account.
7. The app home screen will show you the railway lounge access on your credit cards.
8. Tap Browse under Railways Lounge.
9. Use the search bar to find and select the railway station, where you'll see the available lounges.
10. Tapping Details will show you the lounge timings and amenities.
11. Tapping Access Now lets you get an entry code, which you can show at the lounge counter (no need to carry a physical credit card in this case).
Check the Bank Website or Customer Care
The last resort is to check the credit card's official page or bank website, where you will likely find information about airport and railway lounge access. You can also check the web by doing a simple Google search- "credit card name + railway lounge access."
If you're still confused, call your bank's customer care to confirm. Below, I have linked the railway lounge program pages for popular banks in India:
How to Access Railway Lounge Without a Credit Card?
Currently, only a handful of credit cards from ICICI, HDFC, SBI, AU, and IDFC offer complimentary railway lounge access. However, that doesn't stop you from enjoying the premium waiting experience. Here's how you can book the railway lounge through the IRCTC website at a nominal fee:
1. Open https://www.irctc.co.in on your web browser. Tap the hamburger menu in the top right corner.
2. Select Holidays > Stays > Lounges. OR directly visit https://www.irctourism.com/accommodation.
3. Select the station name, lounge, and number of people.
4. Enter the check-in date, check-in time, and duration hours.
5. It will show you the price for lounge access. Tap Book to proceed.

6. Login to your IRCTC account and make the payment.
The entry fee for the initial 2 hours is Rs.150/- per person, excluding all taxes. An extra Rs. 50 is charged for each extra hour. On the other hand, a meal per person is charged at:
Buffet Breakfast: Rs.150/-
Buffet Lunch: Rs.250/-
Buffet Dinner: Rs.250/-
The prices may vary across the lounges. Other amenities like bath and change, use of computer with internet, and infotainment zones will cost extra. Kindly confirm the same at the lounge.
Wrapping Up
This is how you can check lounge access availability on your credit card. I hope the above guide helps you find and book the railway lounge online with your card. Do try and let me know your lounge experience via the comments below. Stay tuned for more.
You might be interested in:
You can also follow us for instant tech news at Google News or for tips and tricks, smartphones & gadgets reviews, join GadgetsToUse Telegram Group or for the latest review videos subscribe GadgetsToUse YouTube Channel.