Two of the latest and the most hyped desi phones go head to head – the Canvas 4 and the Canvas Turbo, both from the house of Micromax. Both phones come with quad core processors, but the Turbo being the newer one out of the two, comes with specifications better than the Canvas 4. However, there's the obvious difference in price. Keeping these factors in mind, which one should you go for?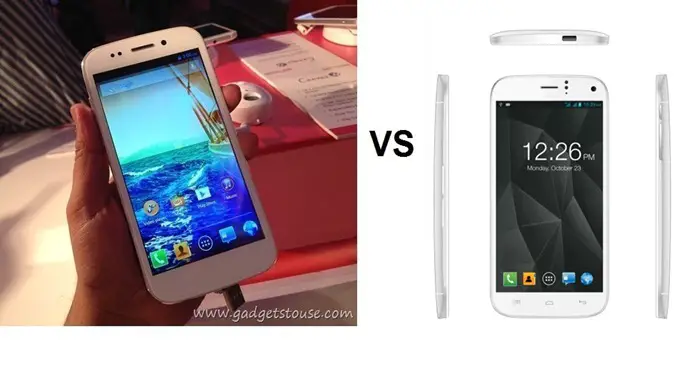 Weight and Dimensions
The dimensions and weight of the Canvas Turbo aren't known yet, while it is known that the Canvas 4 measures 144.5 x 73.8 x 8.9 mm and the weight, 158g.
Going by the looks of the Canvas Turbo, we expect the device to have a similar feel and footprint, however we will have to wait for the official numbers to show up to carry out a precise comparison.
Display and Processor
The Canvas Turbo is Micromax's first full HD device, and with the same 5" screen you are guaranteed to have an enjoyable experience while using the device. On the other hand, the Canvas 4 which was a device which received a lot of flak for not having a full HD screen, packs a 720p resolution on the same screen size. Then again, it is much easier on the processor since a full HD display has more than double the number of pixels compared to a 720p screen.
Both devices sport MediaTek processors, which are a favourite among domestic and Chinese manufacturers. While the Canvas 4 comes with the older gen MT6589, the Canvas Turbo, true to its name, features the MT6589T which is the updated version of the MT6589. While the former operates at 1.5GHz per core, the latter does at 1.2GHz, and there's a difference in performance just short of significant. If you're looking for a device for gaming and multimedia, you should go for the MT6589T powered Canvas Turbo, since it also features a more powerful GPU.
Camera and Memory
Nothing to choose between the two devices on the imaging front. Both come with 13MP shooters on the rear and 5MP ones on the front. It won't come as a surprise if Micromax use the same units on both devices, since they're probably enough to serve their purpose. The image quality from the 13MP unit can be compared to an 8MP unit on phones from manufacturers like Sony and Samsung.
Both devices come with the same amount of on-board ROM as well, i.e. 16GB. However, the Canvas 4 takes the lead here with its microSD card slot which the Canvas Turbo lacks. It is a shame that a device like the Canvas Turbo doesn't offer a microSD slot. This very reason might be a deal breaker for many out there who like to have tonnes of multimedia on their device, including games, music, movies, etc.
Battery and Features
Both phones come with 2000mAh units. You can expect the Canvas Turbo to have worse battery life than the Canvas 4, since it has cores operating at a higher frequency than the Canvas 4. We expected Micromax to learn from their mistakes and have at least a 2500mAh unit on the Canvas Turbo. With the full HD screen and power hungry internals, it will be a tough task to have the phone running through one whole day without hitting the charger twice.
The Canvas 4 and Canvas Turbo are quite similar in terms of software features. The Turbo can play most or all tricks which the Canvas 4 first pulled off, like blow to unlock, shake to unlock, gestures, etc. Turbo adds more to these software tweaks  and gesture features. Camera UI also comes with three added features of 360 degree panorama, object eraser and cinemagraph.
Key Specs
| | | |
| --- | --- | --- |
| Model | Micromax Canvas 4 | Micromax Canvas Turbo |
| Display | 5 inches, 1280x720p HD | 5 inches, full HD |
| Processor | 1.2GHz quad core | 1.5GHz quad core |
| RAM | 1GB | 2GB |
| Internal Storage | 16GB, expandable by up to 32GB | 16GB |
| OS | Android v4.2 | Android v4.2 |
| Cameras | 13MP/5MP | 13MP/5MP |
| Battery | 2000mAh | 2000mAh |
| Price | 17,999 INR | 19,990 INR |
Conclusion
Indeed it is a big step forward for Micromax and the domestic smartphone market, but the non inclusion of a bigger battery disappoints us. However, if you can overlook only that, you get a great powerful smartphone with a full HD screen and powerful set of internals. The Turbo is undoubtedly much more powerful and appealing compared to the Canvas 4, but again, it is the lack of a potent battery and a microSD slot that might break the deal.
If you plan to use your phone for casual gaming, want your apps to load fast, and of course, want the taste of a full HD screen, then the Canvas Turbo is for you. If you do not associate yourself with the aforementioned, you can go for the Canvas 4 and save some bucks.
If you liked, what you read above or it helped you, then follow our Founder and Editor on Twitter for real time updates on tech and gadgets
Follow @abhishek
Share It With Others
To stay updated you can get free email updates or follow us on twitter or like us on facebook. You can also subscribe our youtube channel to watch video reviews by clicking subscribe button below.